Polaris Predator 500 Specs, HP, Weight and Top Speed
The Polaris Predator 500 is a 415 lb, 41 horsepower all-terrain vehicle(ATV) manufactured by Polaris Industries from 2003 until 2007. It was manufactured to be trail tough and track ready. It has several stock high performance parts like sturdy Maxxis Razr tires, strong Aluminum Douglas rims, a chromoly axle, braided stainless steel brake lines and a polyethylene skid plate. The Polaris Predator 500 is classified as a sport ATV and has a top speed of 73 MPH in stock condition.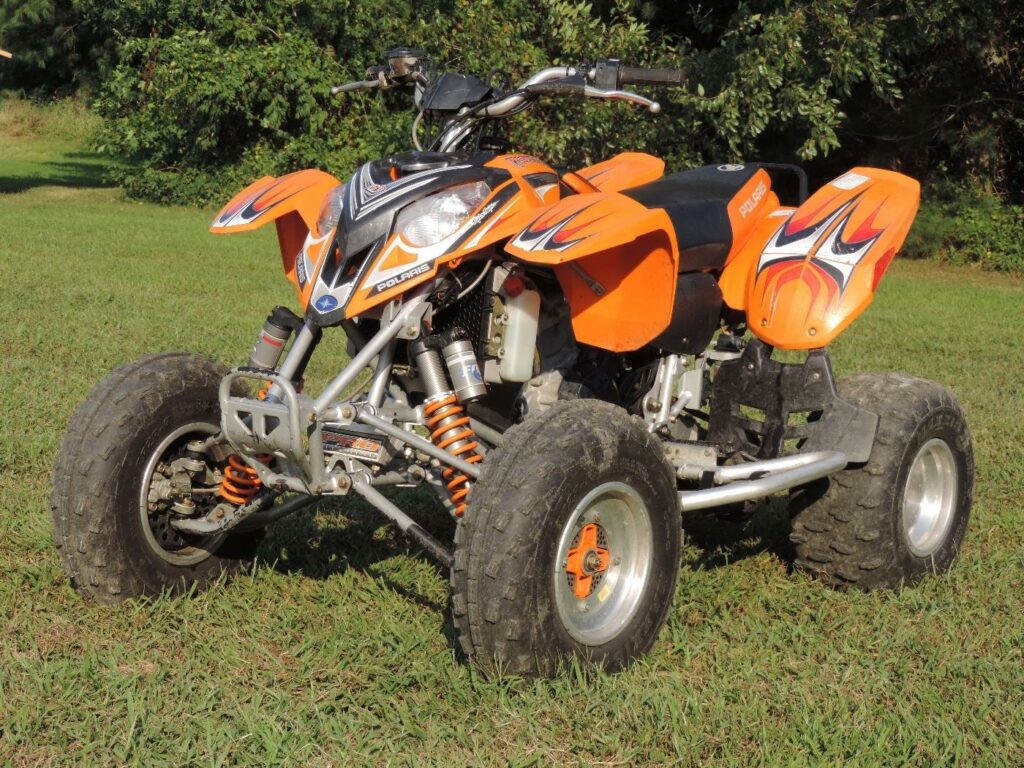 The Predator 500 offers plenty of power and smooth performance at an affordable price and it looks good doing it. It won an impressive seven major awards including the coveted Sport ATV of The Year award multiple times for its signature Troy Lee built Predator 500 model.
The Polaris Predator 500 has aluminum shocks and an adjustable suspension for your riding style and terrain of choice. Seat height is 32 inches.
Tighter gear ratios also improve acceleration make shifting feel effortless. Plenty of aftermarket high performance predator 500 parts are available to customize this model further, check your local classifieds. Kudos go to the designers of this great ATV, I recommend you find a used Polaris ATV dealer near you for a test ride.
Polaris 500 Predator Specs
Engine : 4-stroke DOHC
Displacement : 499 cc
Carb : Mikuni 42mm BSR
Cooling Type : Liquid
Polaris Predator 500 Weight: 415 lbs
Starter : Electric
Final Drive : 520 O-ring chain
Polaris Predator 500 oil type: 10w40
note: Polaris brand PS-4 oil is also common
Oil Capacity: 2L (2.25L w/ filter change)
Polaris Predator 500 Horsepower: 41 HP
Transmission : 5-speed with reverse
Drive System Manual clutch and Manual shift
Front Suspension : Dual A-arm with 10 inches of travel
Rear Suspension : Non-link Swing-arm with 11 inches of travel
Polaris Predator 500 Top Speed: 73 MPH
Front Brakes : Dual Hydraulic Disc with single bore calipers
Rear Brakes : Hydraulic Disc with single bore calipers
Front Tires: Maxxis RAZR, 21×7-10 inches
Rear Tires: Maxxis RAZR, 20×11-9 inches
Wheelbase : 50.5 inches
Turning Radius (inside tire) : 67 inches
Length, Width, Height : 71.5, 47.5, 45 inches
Polaris Predator 500 Seat Height : 32 inches
Fuel Capacity : 3.25 U.S. gallons
Ground Clearance : 4.5 inches
Polaris Predator 500 Avg Stock Used Price: $1600 to $2800 US
You can order and download a copy of your Polaris Predator 500 service manual from emanualonline.
Polaris Predator 500 Top Speed
Polaris Predator 500 top speed is a respectable 73 MPH in stock condition. Top speed varies slightly due to altitude, wind, rider weight, road condition, maintenance and other factors. The general consensus is that 73 MPH is a good baseline reading for the Polaris Predator 500's top speed, which is good for a 405 LB ATV.
Polaris Predator 500 Value
Industry sale publications suggest that a used Polaris Predator 500 in good running condition ranges in value from $1600 US to $2800 US. You can read more detailed information about pricing using our ATV value guide. In general the most popular ATVs eventually settle at a top used price of between 40% and 50% of it's MSRP when new. New Polaris Predator 500 quads had a retail price in the $6000 US range when new.
Polaris Predator 500 Oil Type and Capacity
Polaris recommends using PS-4 oil when performing routine oil changes on your Predator 500 ATV. PS-4 is Polaris's own brand of oil which causes some confusion. Stamped on the engine details of the quad itself you can also find 10w40 as the recommended oil type.
If you are not sure which oil type is currently in your Predator 500 engine it's important to perform a full oil change, including filter, during your next maintenance oil change.
You do not want remnants of one oil type in the filter mixing with the other during your oil change. Synthetic is recommended but costs a little more. The engine typically holds 2L of oil without changing the filter or 2.25 liter w/ filter change.
Polaris Predator 500 Troy Lee Edition
In 2004 and 2005 Polaris manufactured a Troy Lee Edition Predator 500 quad. The difference between a stock Polaris Predator 500 and the Troy Lee Edition was largely cosmetic. The Troy Lee edition had black metallic plastics and custom graphics instead of stock graphics. There were some small functional changes such as the addition of a horn and a chain tensioner but nothing that dramatically affected performance. The chain tensioner was a nice touch, it kept the chain off the a-arm suspension.