UPDATED OCTOBER 25: When young Dutch woman Kim Bernds said she wanted to ride a motorcycle, everyone laughed. Now she's the most popular female motorcyclist in her country!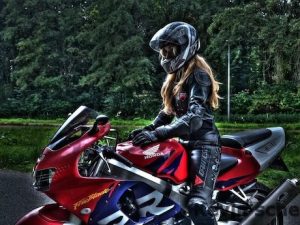 Kim is an enterprising young girl who reached out to MotorbikeWriter to help her win a popularity contest in her home country, so we thought we'd oblige. And thanks to your votes, she has won!
MotorbikeWriter is a great advocate of more women riding motorcycles and although the competition may be considered sexist, the photos are of women in their riding gear, not out of it!
"I wanted a motorbike, and everybody laughed and said I wasn't allowed or supposed to ride one," says Kim who now rides a 900cc Honda Fireblade. "I wanna prove these people wrong and I am going to do that by winning this competition."
The annual competition is called "Motobabe" run by Dutch motorcycle magazine Motodrive, in combination with Motoport biker store. Female riders are invited to enter with a photo on which readers can vote.
"I really wanna try to win, because I want to make clear to all girls and also guys in this world that you should do what you want," she says. It's an empowering statement even though the competition could be seen as fairly sexist.
If you would like to help see Kim's photos and her competition, got to www.motodrive.tv which is in Dutch, so Kim has supplied the following guide:
1. Go to www.motodrive.tv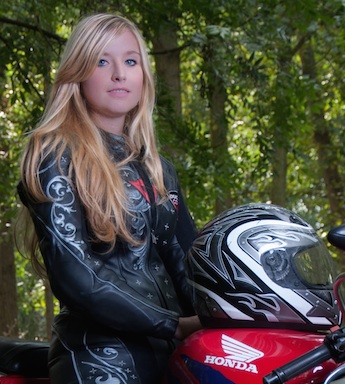 2. Log in. It's in the right upper corner on "Members login". You can use your Facebook or Twitter account for this. (It won't be able to post on your behalf.)
3. When logged in, go to "Motobabes" in the red menu banner.
4. Click my name or photo and you will be sent to a new page with an enlarged picture of me.
Kim received over 1000 votes and wins a photoshoot for the December magazine of Motodrive as well as new Difi leathers. "And maybe … well, maybe something more in the future but we will see," she says.
Congratulations, Kim, and keep riding that Blade!