Here's a wacky Christmas present for the motorcycle fan who has everything – a pizza cutter in the shape of a motorcycle!
The Motorcycle Pizza Cutter costs $16.33 and has an eight-inch long handle that is designed to look like a classic matte black and red motorbike.
The front "wheel" is the pizza cutter, which is made of stainless steel. They claim it will slice straight through a pizza, leaving clean, neat slices in any size or design you like.
In fact, the swivel on the front wheel makes it possible for diners to make whatever design they like out of their pizza slices.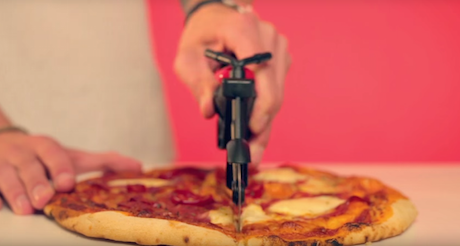 It's probably as comfortable as your motorcycle, too, with a high-grip surface on the handle.
The Motorcycle Pizza Cutter cleans up with just a little soap and water, or it can be thrown into the dishwasher.
DISCLAIMER
No, this is not an advertisement! We do not receive a "slice" of the profit from the sale of any of these. We just thought it was a cute enough motorcycle-related product to feature here.
If you know of any other quirky motorcycle products, please contact us!