Pirelli Scorpion Rally motorcycle tyres are made for the hard-core adventure rider. And now they have sizes for the big-bore adventure rider, as well.
While they don't have a tyre yet for the new water-cooled BMW R 1200 GS, they do fit the rest of the GS range as well as bikes from such manufacturers as KTM, Yamaha and Triumph and anyone else with adventure bikes featuring a 19 or 20-inch front and up to a 150mm rear.
According to the manufacturers, most of the riders of these bikes only do the occasional ride dirt road and rarely take them off-road. So they fit dual-sport tyres such as the Pirelli Scorpion Trail I've recently run on my 2013 R 1200 GS.
READ MY SCORPION TRAIL REVIEW HERE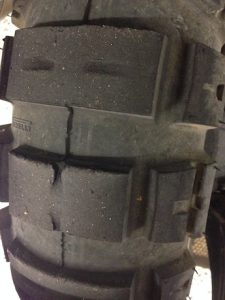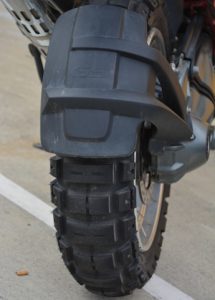 When those tyres finally wore out, Link International offered me the more aggressive Scorpion Rally tyres to get me back to some more adventurous riding. Pricing is about the same as similar Continental and Karoo tyres.
I've only had the Scorpion Rally tyres  on the bike for a few hundred kilometres so far, but it is enough to make some initial observations. I will write more long-term reviews as the tyres wear and as I cover more varieties of terrain.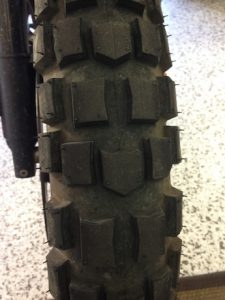 The first thing you notice when you go to a knobby tyre is the notchy feel as you wheel your bike across your garage floor. It seems impossible that they will have any comfort or feel on the bitumen which is where most adventure riders will start out on their journey into the outback.
But I was surprised to find the Scorpion Rally feels pretty sure-footed on the tar with good directional stability in the front. And when you get up to highway speed, they don't howl like some knobby tyres.
From the photos you can see how the front tyre is a conventional knobby pattern, but with an arrowed middle knob which probably helps the directional stability and breaks up the usual droning noise.
The front tyre has good braking grip on the tar, but the rear is very limited and surprised me on several occasions when it backed into corners if I geared down too aggressively – even without the addition of rear brake.
Lateral grip on the tar is ok, but the high profile means the bike leans, then suddenly dips as it reaches the outer knobs. Surprisingly, it doesn't squirm on the outside knobs.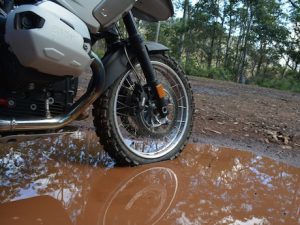 However, these Pirellis do not pretend to be road tyres. They won the 2009 Dakar and were made for rough and loose terrain.
The rear tyre has a lateral arrangement of aggressive knobs, much like a small version of a hillclimb tyre. So I was eager to see how this would perform on some steep hills in the Border Ranges of Queensland and NSW.
Getting off the tar on to gravel, the front performs well with exceptional braking performance, directional stability and cornering confidence. However, if you lean it over too far it suddenly drops away and starts to wander. Then you need to gas it up and get the back around to stand the bike up again.
On the first section of loose and coarse gravel on a hard-packed surface, the back didn't have much grip at all. It was easy – and enormous fun – to perform huge power slides. Here, and on crushed granite roads, the back end felt loose and flighty.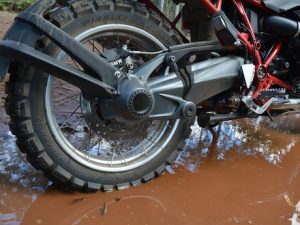 However, these tyres are meant to dig into the earth for their grip, so I headed to some loose loam and mud. Now the tyres were in their element, hurtling me up steep slopes and digging in like the hillclimb-esque tyre they are.
Being the 2009 Dakar winners, the Scorpion Rally tyres should also perform well in sand, so I will have to find some and have a play.
Many big-bore riders want a knobby tyre that will carry them, and a fair-size load long distances at high speed across the tar to where the adventure really starts. That could be a problem for these tyres. After only a few hundred kilometres, the back is already looking worn and tired.
Pirelli says they have a new "advanced mixing process" which means a mix of varied compounds in the tyre – usually a hard-wearing centre and softer edges for grip. I suspect the initial tyre wear is due to my preponderance for lunatic power slides on coarse gravel. I'll try to tame that habit and we'll see how they last on some longer trips.
Meanwhile, I'm pretty happy with the performance of the Scorpion Rally tyres on the loose stuff and looking forward to adventures with renewed confidence.