It's not every day you get to tear off the black motorcycle leathers and dress up in pink, frilly underwear! But October 26 is one day you can … while supporting cancer sufferers.
It's the 13th annual Bras and Bikes ride on the Sunshine Coast of Queensland and it's only one of many activities to raise funds during international cancer awareness month. Other events include the Pink Ribbon rides and the Distinguished Gentlemen's Ride.
Bras and Bikes has raised more than $60,000 in the past dozen years for the Bloomhill Cancer Help Centre in Buderim. The centre helps both men and women suffering from cancer.
The ride is organised by Girl Torque, a Sunshine Coast motorcycle group for women. Organisers say 350 riders attended last year, raising more than $7000.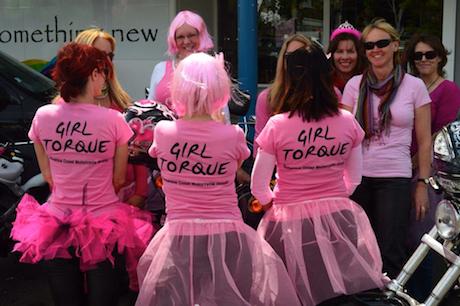 Riders of all types of bikes are invited to participate with registration from 7.30am at Aussie World on the Bruce Highway next to the Ettamogah Pub. The scenic hinterland ride starts at 9am with morning tea and lunch along the way.
Registration cost is a $10 donation per bike, with pink bras available to buy for $2. Raffle prizes and auction items include a diamond ring and several leather jackets.
Girl Torque is still looking for more products and services for the raffles and auction.
Contact  Cheryl (0409 875 571) or Judi by email.