Inexpensive Winter Gloves From Pilot
The Pilot Obsidian gloves have just about every feature you need for winter, all at a great price.
Materials used include about 40% soft leather and 60% textile.
There's a big carbon fiber main knuckle protector and a secure wrist strap.
Touch-sensitive overlays are included for working that smartphone.
The lining is Thinsulate for about as much warmth as you'll get in a non-heated glove.
And don't forget the visor wipe squeegee strip on the left thumb.
There's even a Hipora waterproof and breathable liner.
Our left glove is perfectly waterproof but as fate would have it, the right glove unfortunately leaks through the fingertip.
The price is right at just $49.03 with free shipping, so the malfunctioning Hipora liner can be overlooked.
If they could get that sorted in production, the Obsidian gloves would be the winter deal of the decade.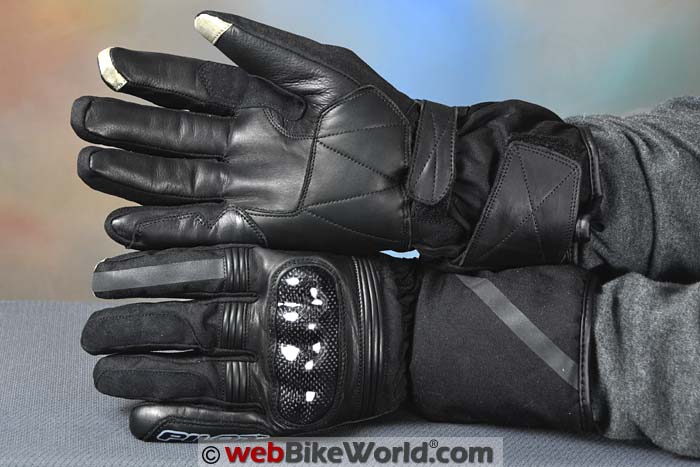 Introduction
I don't have a lot of info on the Pilot Obsidian gloves, but I do know they're priced right at $48.95.
You get a lot of features for the money also, with maybe the most important being the very secure wrist strap. Most cheap gloves (and even some expensive ones) don't have that.
In fact, the hook-and-loop on the gauntlet and the strap are the strongest I've ever seen on anything motorcycle. You really have to pull to get this stuff apart!
The gloves are made from a combination of leather and textile, with soft leather completely covering the palm side and the large main knuckle protector is also double-stitched on to a leather overlay.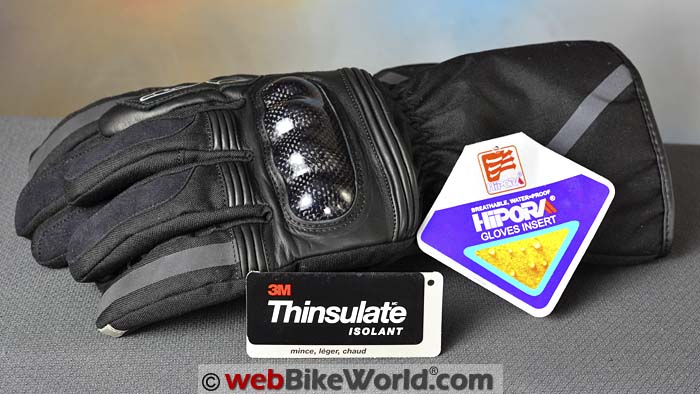 ---
Where to Buy Pilot Obsidian Gloves
Check Reviews & Prices on Amazon
Check Reviews & Prices On RevZilla
Also: Motorcycle Jackets, Motorcycle Gloves, Motorcycle Boots, Motorcycle Pants
---
The Bucket Test
These gloves have a Hipora waterproof/breathable liner, according to the hang tags. Hipora is sort of a poor-man's Gore-Tex.
So when gloves are labeled waterproof, we give them the webBikeWorld "Bucket Test", holding them underwater to see if they leak.
It's a Test extrême; sometimes the "waterproof" gloves pass and sometimes they don't.
The right-hand glove started leaking through the fingertips in a fast 18 seconds — maybe a world record.
But the good news is that the left-hand glove is fully waterproof after being submersed for 2 minutes.
This tells me that the intentions are there, but there's something missing in production. Usually when a waterproof liner leaks it's because the stitches popped through by mistake in assembly.
So a bit more QC in manufacturing may be called for.
It could just be that we got a bum pair by chance and if yours don't leak, then there's no question that the Obsidian gloves are the deal of the decade at $48.95.
But even if not, they'll still keep you hands warm.
One more thing: the textile quickly becomes soaking wet and heavy when exposed to water, taking nearly 24 hours to dry. Maybe a couple of blasts of waterproof Woly Wet Blocker is in order?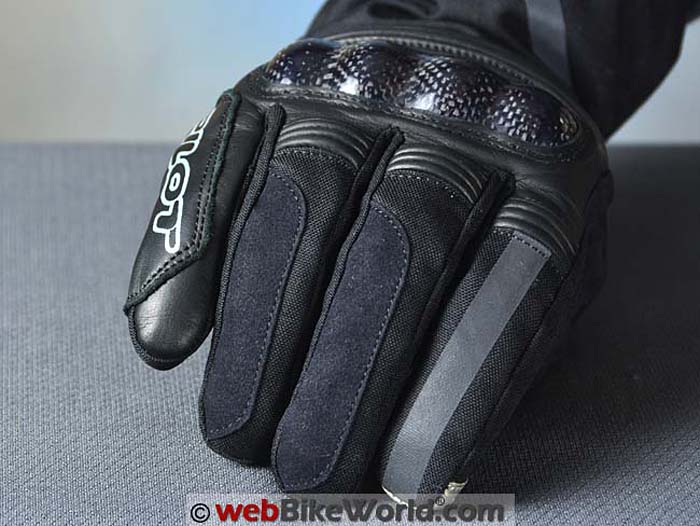 Insulation and Ventilation
The Thinsulate lining does the deed, although this crazy winter weather probably isn't the optimal testing environment, since it's been up to 70 F the last couple of days.
But I rode with the gloves a few days in 42 F (4-7 C) and they were fine.
Anything colder than that and I'd probably break out the heated gloves, but I'd rather not because they're so bulky that it sort of kills the fun.
I don't really notice any extra cold air leaking through on the right glove with the perforated Hipora liner either. I guess the back of my hands are still protected by Hipora, which blocks wind also.
The Thinsulate is thick and adds some bulk but I'd say these are middling thickness.
I've certainly worn thicker winter gloves and I'm not fond of them because it just takes too much feel away from the grips and levers.
So actually, the Obsidian gloves have about just enough Thinsulate or thermal lining to do the job, without being too thick and bulky.
Sure, you won't get the feel of unlined leather but it's not bad actually.
The Thinsulate must work also because it does a good job of insulating my hands from the heated grips, although if the grips are on high, I can feel it after a while, perhaps 30 minutes or so.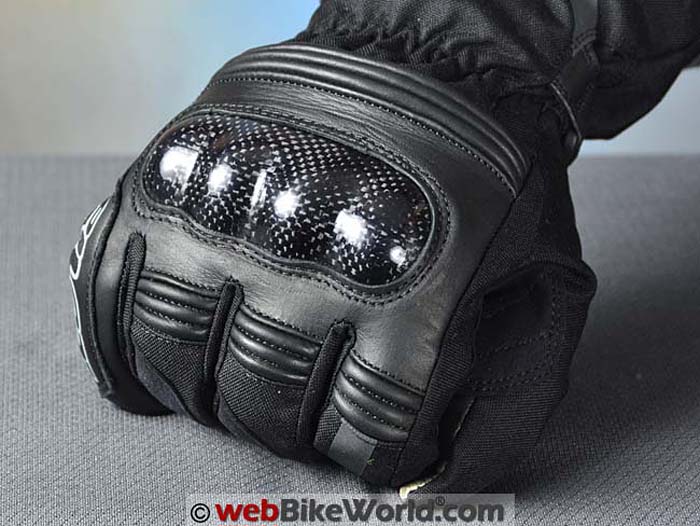 ---
Where to Buy Pilot Obsidian Gloves
Check Reviews & Prices on Amazon
Check Reviews & Prices On RevZilla
Also: Motorcycle Jackets, Motorcycle Gloves, Motorcycle Boots, Motorcycle Pants
---
Ventilation
There's no ventilation here, because these are winter gloves.
I will note however that the internal liner — some type of microfleece — is both comfortable and secure. It does not pull out when I remove my sweaty hands.
But actually, my hands don't get very sweaty with these gloves, so the breathability of the Hipora must be helping.
I've owned expensive winter gloves with a liner that turns inside-out like a magic trick every time, so being able to put my hands in and out with no problems is another excellent feature of the Obsidian gloves.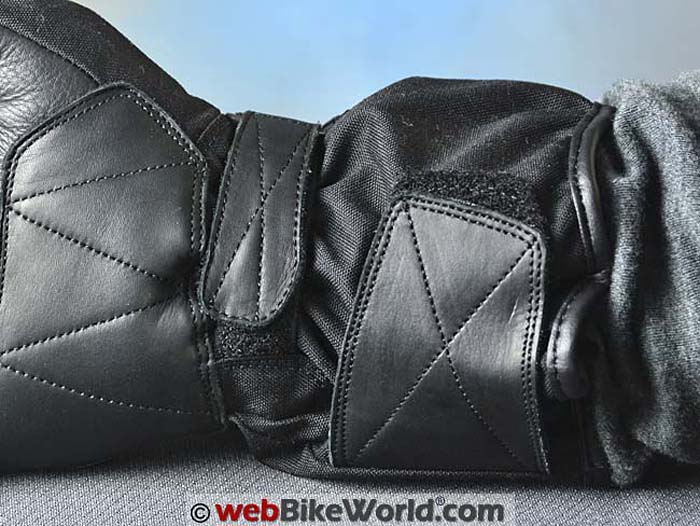 Fit and Sizing
This pair in the photos is a size large and I think it fits slightly tight; I'd say about 1/2 size small.
My hands measure 9″ around at the widest part of my open palm and it's a tight or snug fit pushing my hand through the wrist area on these gloves.
Once I'm in, it's fine but slightly tight when I bend my fingers.
None of this is a big enough deal and I'd guess that the size XL may have fingers that are too long. The fingers on these are good, giving me just a little room at the end.
But the thumb seems long, like it's from a size XL. This may be due to the construction, which is the "blade" type, coming to a flat tip top and bottom.
That design means they have to make the finger longer than normal, otherwise you wouldn't be able to squeeze the tip of your finger into the end that gets very narrow or thin.
The other four fingers have the "box" type construction, with top and bottom meeting a single piece of textile that wraps around the sides of each finger.
There are no seams on the four fingertips, and that's another interesting and good design feature for gloves at this price range.
So overall, bottom line here is that the size large shown here feels slightly snug. Anyone with a palm over 9″ circumference should probably go for the XL.
There's currently no information on the Pilot USA website about the Obsidian gloves and the Amazon.com sale page for doesn't have a size chart either.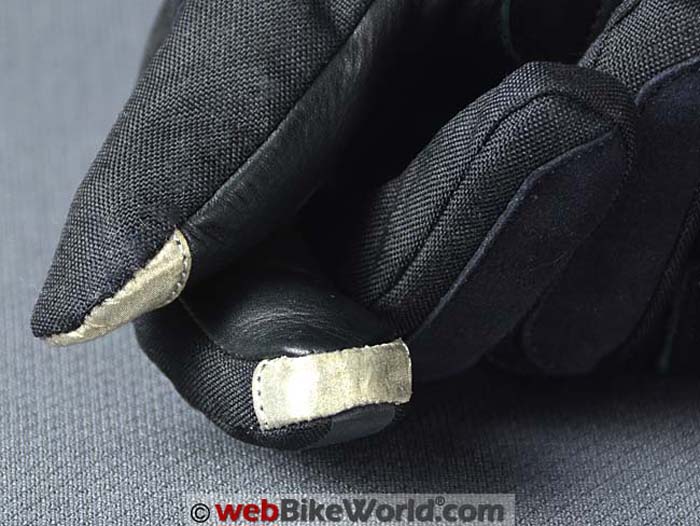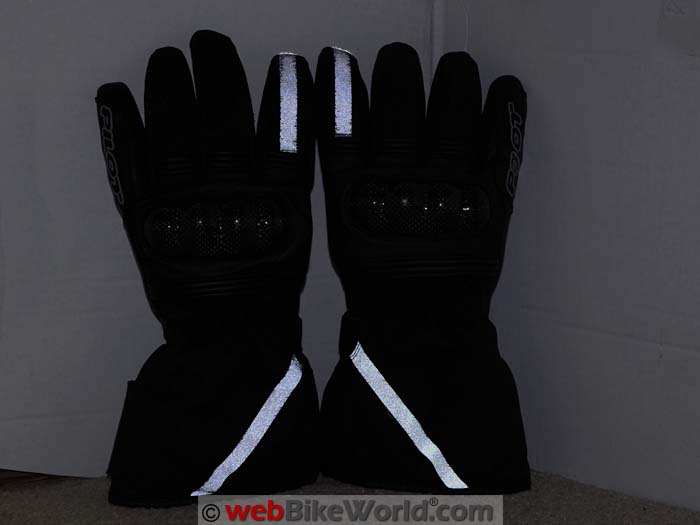 ---
Where to Buy Pilot Obsidian Gloves
Check Reviews & Prices on Amazon
Check Reviews & Prices On RevZilla
Also: Motorcycle Jackets, Motorcycle Gloves, Motorcycle Boots, Motorcycle Pants
---
Other Features
Besides everything else you get for 49 bucks, the Obsidian gloves have reflective strips on the back of the gauntlet and the forefinger of each glove.
The strips are flush to the glove using some type of bonding or heat welding. It's not the brightest retro-reflective material I've seen and it's of the type that's hard to get to "pop" under the camera flash.
But it's not bad — I've seen worse for sure.
Also included are the touch-sensitive fingertips on both right and left hand — another feature missing from most gloves, even very expensive gloves.
Cuff, Gauntlet and Closure
The Obsidian gloves must have the toughest, meanest hook-and-loop ever. I really have to pull hard to separate the "hook" from the "loop" on the gauntlet.
Also, there's a separate wrist closure for safety, so the gloves won't pull off your hands. It's sewn on towards the outside and fits through a square "D" ring on the inside wrist.
The "D" ring is held by a small leather strap on the inside of the wrist. The strap uses the same rugged hook-and-loop material, so it holds very well.
The gauntlet is average size; about what you'd expect on a winter glove.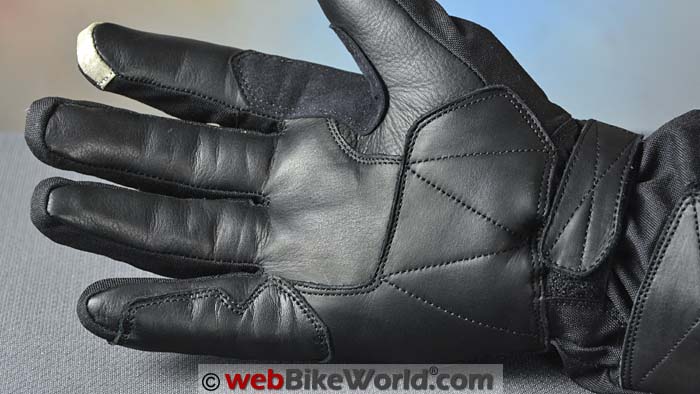 Protection
On the back of the third and fourth fingers is a kind of rough-out leather or synthetic fabric. I'm not sure what this is for, although it may provide some abrasion resistance.
It's also handy for wiping the visor or your face.
A strip of this softer unfinished material is also sewn between the thumb and forefinger for extra wear on the grips.
On the outside of the pinky fingers is an extra layer of leather, also for added abrasion resistance. The "Pilot" logo is printed here in white ink.
There's also an extra piece (at least it looks like it's additional) added on the palm, covering the "heel" of the hand.
No other hard protectors are included but the leather and the main knuckle protector should do a pretty good job of it. Not many textile winter gloves have added protectors, so nothing unusual here.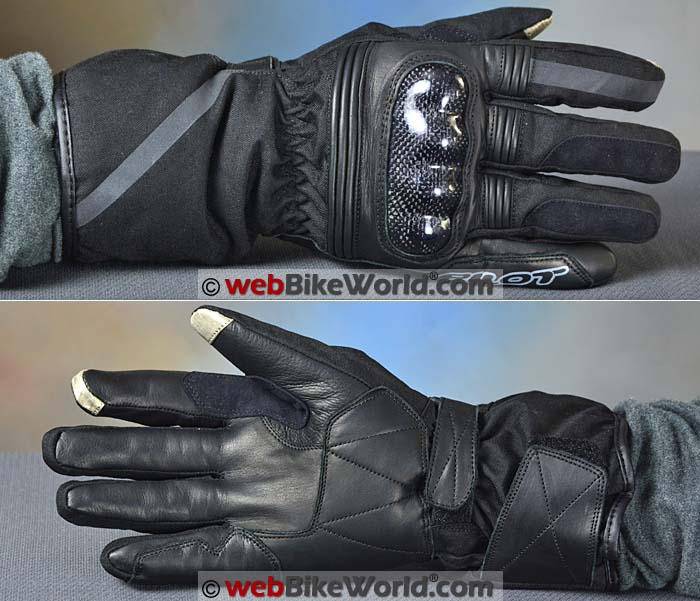 Conclusion
If the list price on these was something like $79.95 or $89.95, I'd still think it was a pretty good deal.
But the fact that you can buy a pair for $48.95 is pretty remarkable actually, because there's a lot of glove here for that price.
[UPDATE: The list price is now $60.00 but the Obsidian gloves retail for around $49.00 here, which includes free shipping.]
They keep your hands reasonably warm with the brand-name Thinsulate.
The wrist safety strap is a big improvement over other price-conscious competition and you even get reflectivity and touch-sensitive fingertips on both hands, not just one.
And don't forget the visor squeegee, that some people feel is mandatory on any type of foul-weather glove.
The Hipora is the only catch here; it works fine on the left hand but quickly leaked on the right.
I'd hope that this is just a one-off problem because if Pilot can get a hold on the QC at the factory to make sure this doesn't happen, the Obsidian gloves would be an outright steal.
I mean, basically they are anyway but that would be "icing on the cake". Definitely worth checking out though at this price.
w

BW

 Review: Pilot Obsidian Gloves
Made In: Pakistan
Colors: Black
Sizes: S-3XL
Review Date: February 2017
Note:
 For informational use only. All material and photographs are Copyright © webWorld International, LLC since 2000. All rights reserved. See the webBikeWorld® 
Site Info page
. Product specifications, features and details may change or differ from our descriptions. Always check before purchasing. Read the
Terms and Conditions
!
---
Where to Buy Pilot Obsidian Gloves
Check Reviews & Prices on Amazon
Check Reviews & Prices On RevZilla
Also: Motorcycle Jackets, Motorcycle Gloves, Motorcycle Boots, Motorcycle Pants
---
Owner Comments and Feedback
Other WebBikeWorld Gloves Posts
Other WebBikeWorld Gloves Posts