Riders love to photograph their travels and their motorcycle and share them on social media, but so many of the photos really don't do justice to the location or bike.
So we asked long-time rider and photographer Phil Wood for his tips.
Your motorbike
Make sure you give your bike some TLC before you head out for a photo shoot. No one wants to see a build-up of road grime or mud on your bike, unless it's a dirt bike and you are getting some action shots.
Give it a really good detail so that everything shines the way it should. Don't forget the radiator grill if is has one. These are a magnet for dirt and it really stands out in photos.
When you get to your location, give it a quick wipe down with a soft cloth to remove any bugs that wanted a ride or dirt on the tyres.
Photographic gear
You don't need an expensive DSLR to take a good photograph of your bike. A basic DSLR will do the job with a good lens. Some point-and-shoot cameras will also cover the task well.
Most modern smartphones also take photos that are more than adequate enough to get a great shot of your bike. But they are still limited in what they can achieve even with good editing software.
If you don't own a DSLR, try to borrow one for the day.
If you have an idea of what you are doing when it comes to cameras, experiment with different settings. Use the aperture setting to blur the background a bit more. Use a high shutter speed to freeze the action or a slower one to blur the photo while keeping the bike sharp.
For lenses, I would recommend a wide angle to get some more of the background to tell a story and if you have a telephoto, you can get a long distance shot and blur out the background a little more.
Telephoto lenses can be used for the detail shots of the bike without going out and buying a macro lens. You can get some great shots just using the kit lenses that might come with your camera without spending thousands of dollars.
Location
Choose a background that suits your bike. A cafe racer or bobber would look good with a wall behind it. Maybe some street art on the wall would look good having some contrast with the bike.
A tourer with some rolling hills or a campfire in the background adds a story.
These are the things that set the mood for the photograph and tell a story.
Try not to have things in the background that will distract you from the subject.
Use the aperture setting if it's available to blur the background a little so that your bike will stand out more in the photograph.
If you are at a track getting some of the action, try panning for your shots. This is where you keep the bike in the frame and follow it with the camera while firing off a few frames.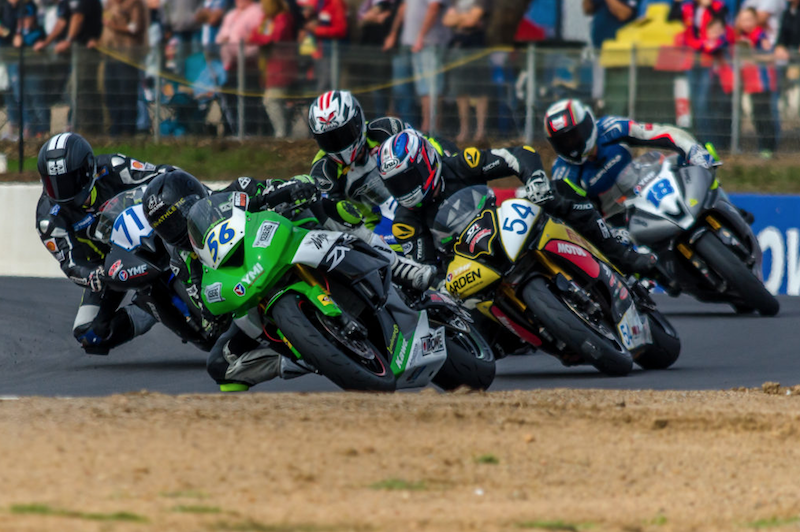 You can get a nice blurred background while the bike stays in focus. It's not an easy thing to master, but once you get the hang of it, you will be glad you did it.
You can use your garage as a pop-up studio and get some good shots in there. Find a wall or something to use as a backdrop (large roll of paper, wallpaper, big print etc) and you can set your bike up for the perfect shot. The advantage of this would be you have complete control over the light and conditions.
Framing the photograph
You want your bike to stand out and there are so many things you can do to help this happen. Try taking some shots from low down or from above to give a different perspective. You might get a few stains on your jeans or shirt, but the results can be amazing.
Most shots of bikes you see in magazines etc are from a different perspective that you have from just walking down the street.
You will often see people looking over a bike and getting right up close and personal with it. They are getting the best angles to see the details and this is what you want to get with your photos.
Try getting some shots of parts of the engine (the cooling fins, badges, decals, discs etc.) to help make your photo stand out. If you have custom paintwork, then get the details of it by getting up close so you highlight these things.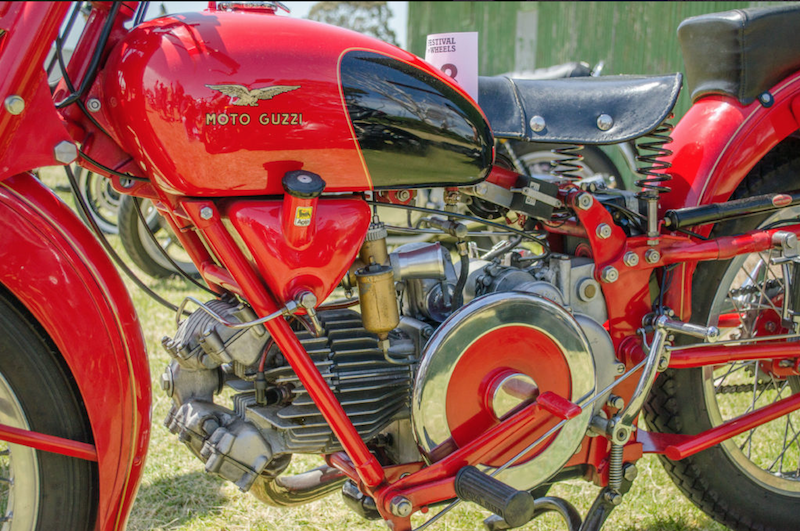 When you are getting a shot of the whole bike, try and leave some space around it in the photo. Don't shoot it so all you see is the bike and not the setting as this will not tell the story that you want to convey.
When taking a front-on shot, turn the front wheel so you can see more rim than tyre.
Night shots
Sometimes you might want to get a photograph of your bike with the city or the harbour in the background. People even get the Milky Way in the background but this is something that takes a lot of practice and skill to achieve.
Get to your night location early and be sure to check that it is OK to be there as some areas are out of bounds to bikes. Ask the local council or authority for permission to do a photo shoot on that location.
Set your camera up on a tripod as you will be using a longer exposure than normal. It could be up to 1 -2 mins to let enough light in to get a good exposure.
Have your aperture opened up to let more light in (smaller the number, bigger the aperture). You can use a flash to light up your bike but there is the risk it will overexpose the bike and underexpose the background.
Set up the bike in the best way to showcase it and try different angles to get some details in the background. Take a torch or some sort of light source to shine on the bike while the shutter is open and this will highlight your bike while keeping the background well exposed.
You, the rider
How many times do you see a photograph of a bike and its rider? Try getting some nice portrait shots of you, a mate or the wife/ girlfriend on the bike.
It sounds cheesy but looks great.
You could be standing behind the bike or next to it, leaning on the handlebars or just sitting on it. Just try and get some different shots from different angles and the poses are all up to your imagination.
About the author
Phil Wood is aged 51 and has been riding for 35 years.
His first bike was a Honda CB175 and he has had a lot of bikes since then.
"I love touring this great land and there is nothing better than a bike to do it on," he says.
"I am currently riding the best bike I have ever owned in a 2007 Ducati ST3s. Nothing has come close to the beauty and comfort of this bike to ride, no matter how far I travel in a day."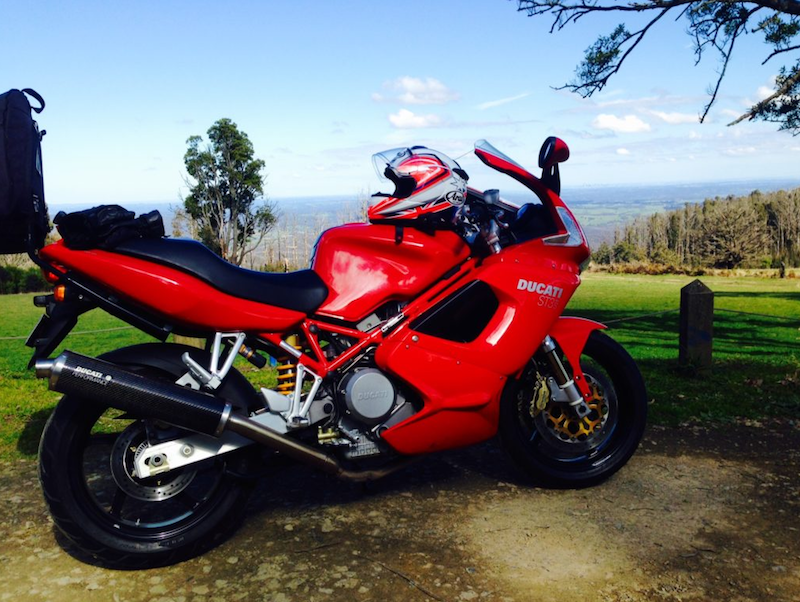 Cameras he uses are Nikon D700, D300 and D7000 with a variety of lenses.
"My first choice for lenses is the 24-70 f 2.8 from Tamron. Clear and sharp. I would also use Tamron 70-200 f2.8 to help me blur the background on longer shots and to help me get some detail shots. For wide angle shots I use a Tokina 11-16 f2.8."
You can see more of Phil's photography on his website, Facebook page and Instagram account.