We love a tank bag for the convenience of having what you need right in front of you, including your wallet, phone, maps, etc.
Magnetic or strap-on tank bags tend to scratch your tank and they aren't very secure.
Now Oxford, the makers of those handy grip warmers and other bike accessories, have released a range of Quick release (QR) tank bags that lock on to the fuel filler cap so it snaps on and off in just a couple of seconds with the flip of your thumb.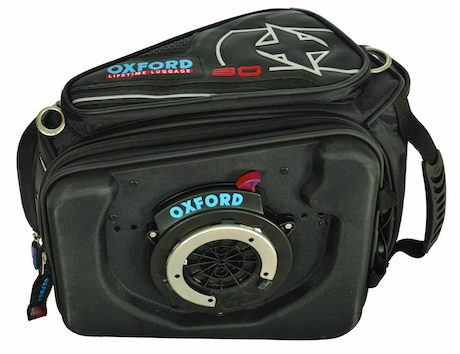 And because it sits up off your tank, it should ensure you don't scratch the paintwork.
The bags cost from $169.95 up to $199.95 depending on size (four litres, 15L, 20L and 30L) and they come in a choice of black, red and blue, except the 20L bag which is only available in black.
The universal quick-release mechanism requires a special tank ring to be fitted for an extra $29.95. However, they only available Suzuki, Triumph, Honda, Kawasaki or Yamaha motorcycles.
All Oxford tank bags have waterproof zips and rip-stop nylon. The larger bags come with carry straps supplied, backpack straps and a roll top waterproof internal bag.
There is a see-through top section on the tank bags for a map, or even your iPad.
Oxford QR Tank Bags:
Oxford X4, $169.95, Black, Blue, Red
Oxford X15, $189.95, Black, Blue, Red
Oxford X20, $199.95, Black
Oxford X30, $199.95, Black, Blue, Red