Women's Super Jeggings Review Summary
Review Summary
The Oxford Women's Super Jeggings are stylish motorcycle jeggings that have an excellent amount of protection and are a great choice for long days in the saddle. The comfortable fit and ease of mobility make it a top choice over jeans and leggings choices.
Pros
Full coverage Kevlar lining
Very comfortable & stylish
Comes with knee armor
Snug fit should keep the armor in place
Great Value
Cons
Back should come up higher
No way to attach them to a jacket
Front button comes apart a little too easy
Background
When I first started riding there was absolutely no motorcycle clothing dedicated to women riders. Even just 10 years ago women's motorcycle pants were still difficult to find and those that were available tended to make your backside look like the Stay-Puff marshmallow man.
Although we still have less than a third the choices men have, manufacturers have made great strides in just the last few years in making motorcycle pants for women that are not only more fashionable and comfortable but also safer.
I have recently been riding in motorcycle jeans but somehow I seem to have outgrown my most recent pair with the waist suddenly being a bit too tight for comfort (might have been the donuts). So I began a quest for motorcycle pants that were a little more comfortable. No sooner had I thought about it than an internet ad popped up for some motorcycle leggings (it's freaky how it knows what you're thinking).
Legging reviews, however, are filled with complaints on how difficult it is to get them on, but the next thing to pop up was jeggings (a little easier to don with a front zipper) and that eventually led to finding the Oxford Super Jeggings.
A Little About Oxford
I had never heard of Oxford motorcycle clothing but apparently they've been around since 1973. We've even had the pleasure of reviewing their Super Leggings here at wBW. According to their website they are a global leader in motorcycle and bicycle aftermarket products.
They have a huge range of products from clothing to luggage to accessories. Their products are designed in-house at the company's gigantic headquarters is Oxfordshire, UK. They also have a wholly owned subsidiary right here in the US in Jacksonville, Florida.
Oxford products are sold in over 90 countries and they are the exclusive distributor for HJC, Alpinestars, and BULL-IT denim to name a few brands that I'm certain everyone has heard of. So, let's take a look at one of their products – the Super Jeggings.
Construction & Quality
I ordered my jeggings from RevZilla and received them within the week. Opening the package I was immediately impressed with how soft they were. They felt like jeans that I had been wearing for a year. They look like pre-washed jeans while still retaining most of the 'indigo' color – in other words they looked 'broken-in' right out of the package.
That soft outer shell is made of 92% polyester and 8% Elastane which provides a good amount of 4 way stretch to go along with that soft feel.
The main front to back flat felt seam has two rows of stitching, as do the side seams, while the top 6 inches on both sides have an extra line of stitching to make them triple stitched. Stitching is in a contrasting gold color and is all very neat and even.
These look like regular 4 pocket blue jeans until you turn them inside out. The yellow lining is made of 5% Elastane with the balance made of 100% Dupont Kevlar. What makes them different from other motorcycle jeans I've owned is that the liner completely covers the front and back down to within 4 inches of the bottom hem.
Most other pants cover just your bottom in the back which leaves the back of your legs exposed to the pavement. The liner is also very soft and stretchy thanks to the Elastane so it's quite comfy against your skin.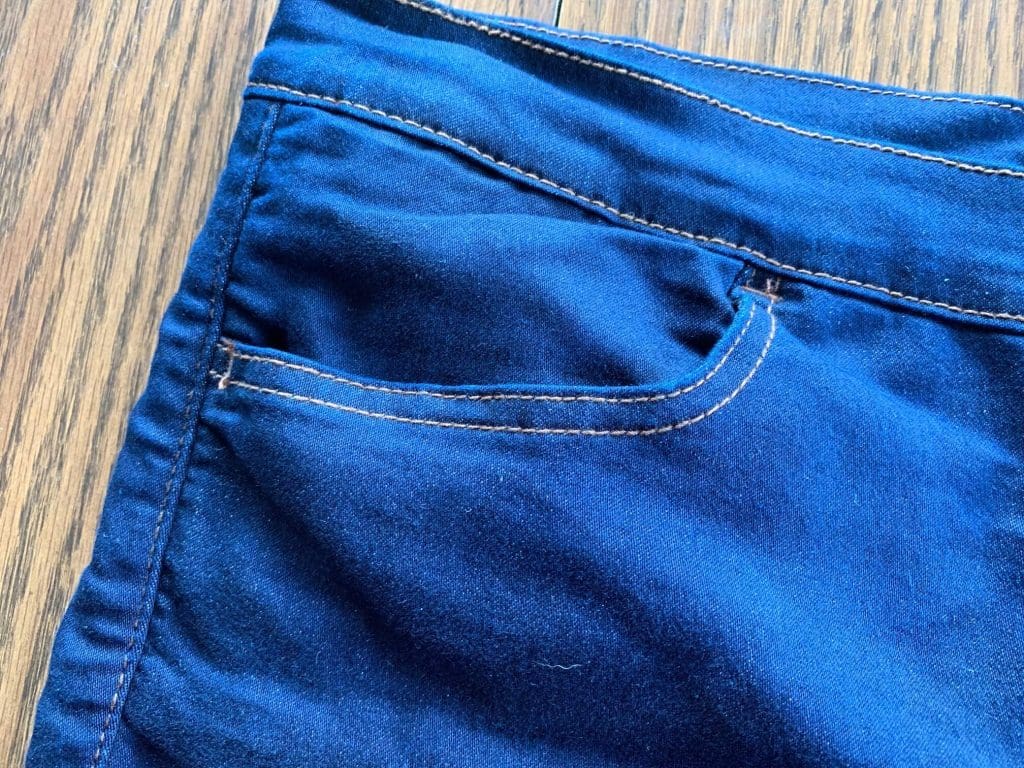 For storage there are 2 front hand warmer pockets that are a bit shallow at 4 inches. The two rear pockets are 6 inches deep and 5 inches wide. So there is plenty of room to carry my cell phone and keys when I get off the bike.
Personally, I never carry anything in my pockets when I'm riding. I'm always very aware that I might be landing on that hard set of keys or phone if I have an unplanned exit from the bike.
Safety
Along with the full coverage Kevlar lining which should provide superior slide protection, the Oxford Jeggings also come with CE Level 2 knee protectors (CE:EN1621-1-2012). The knee protectors are fairly thick and very soft. When squeezed they retain your handprint for a moment before they return to form – almost like dense memory foam.
They do slide to the inside slightly when riding but they are wide enough at 6.5 inches to still provide coverage for my knee cap. They are visually noticeable with the tighter fit of the jeggings but they don't feel that intrusive when you're wearing them.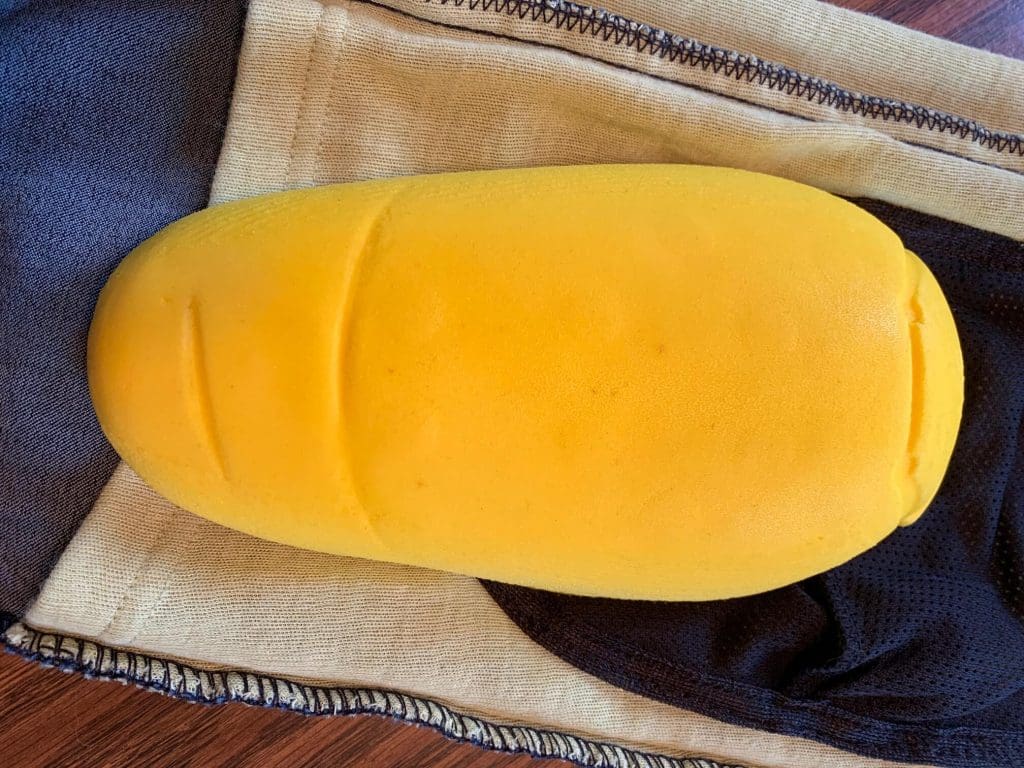 The soft material of the armor does require more careful handling. I removed them several times during the course of the review and ended up tearing one slightly where there is an indentation in the design.
I super glued it back together but the armor is covered under Oxford's guarantee so they would have shipped me a new one. They seemed very surprised when I contacted them so this must not be a common occurrence.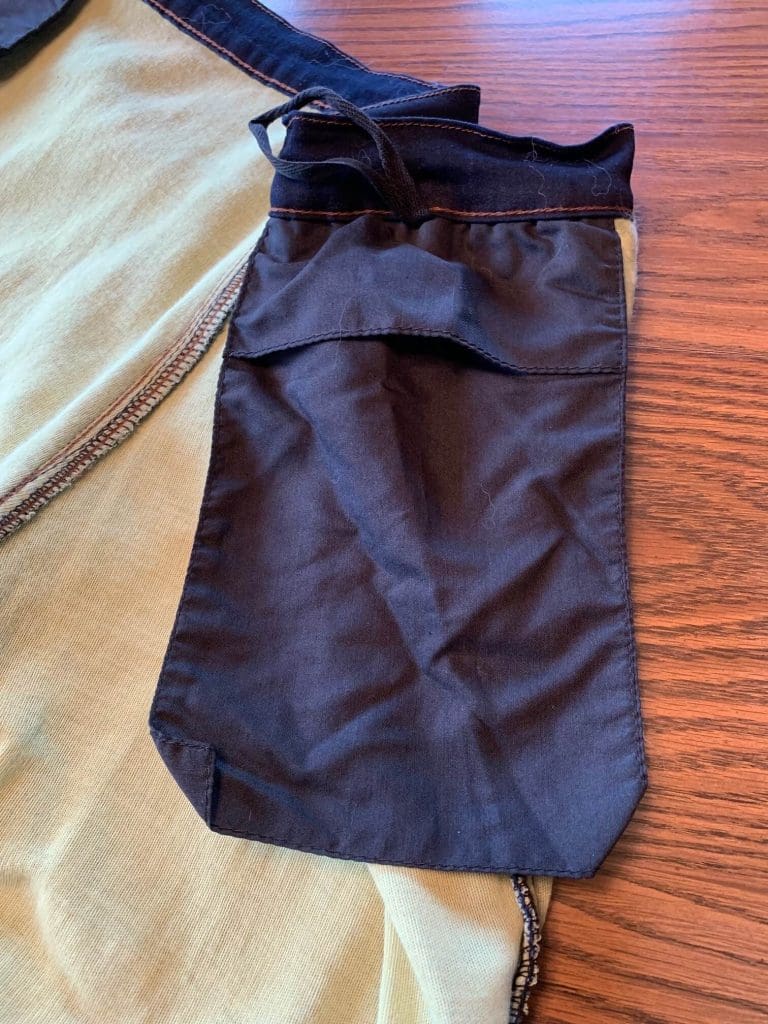 There are pockets for hip armor but no armor is actually included. It would be nice if manufacturers would just include the armor anytime there is a pocket for it but really it's quite easy to move hip armor from one pair of pants to another (much easier than moving knee armor) and it looks like the size is fairly standard since these pockets fit my REV'IT hip armor with no issues.
I guess I'd rather buy good protection and move it from one pair to another than settle for cheap armor that the manufacturer just throws in. It probably does keep the price down also to leave the hip armor out.
These pants do not have any belt loops so there is no way to connect them to a jacket. I must confess I never do that anyway. I tried it once on a long trip and it lasted until the first bathroom break when I realized that you have to completely disrobe to get your pants off which is quite a feat in a narrow bathroom stall.
I do believe Oxford includes belt loops on their leggings and received complaints that it ruined the look, so that could be why they left them off these pants. Most jackets with zipper attachments include the other side of the zipper so you could sew that into these pants if you want that extra safety net.
Front zipper closure is with a fairly heavy duty YKK jean zipper. It does lock down so you don't have to worry about them accidentally unzipping. The metal-like button at the top does release a little too easily for motorcycle pants although it's never come open spontaneously. It would be easy to add a stitch to tighten it up for added safety.
There is no reflective material on these pants and that is not unusual on riding jeans.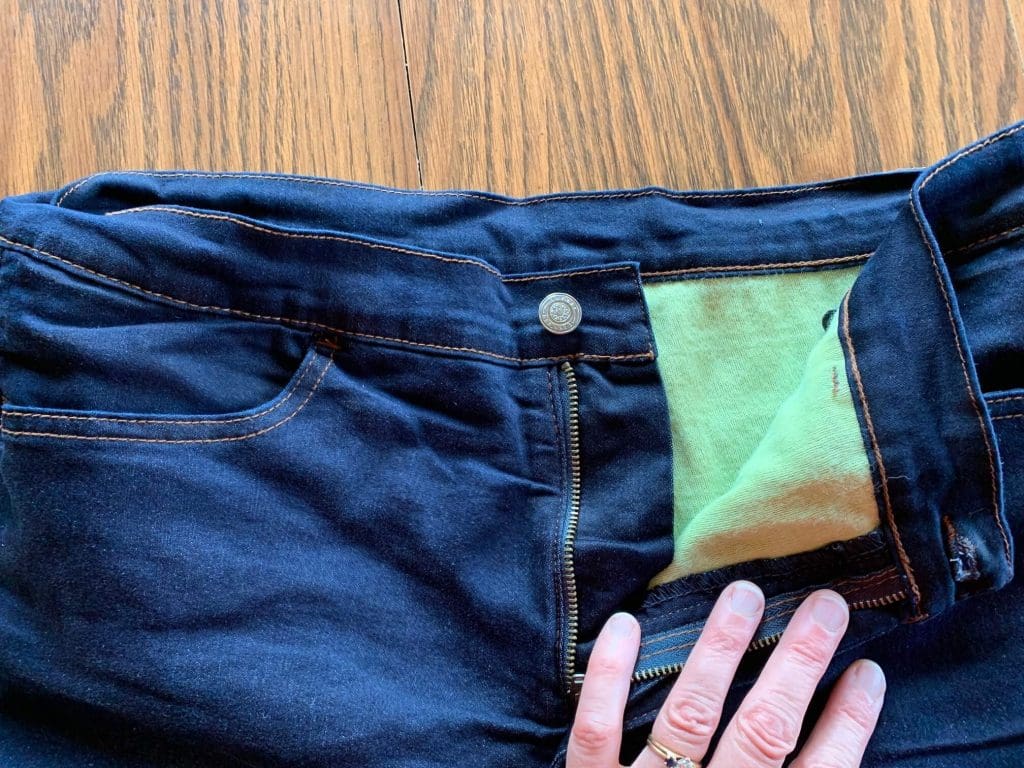 Styling
Jeggings are a hybrid women's garment that combines the look of jeans and leggings. So at first glance they look like regular slim fit denim jeans. When you put them on though they feel a lot different. They're softer, stretchier, and more form fitting. I don't own any jeggings so I wasn't sure what to expect but they're a lot more comfortable than I thought they would be and a lot better looking.
They aren't seriously tight, or at least they don't feel tight, and unlike leggings they don't accentuate every curve and blemish. They move with you very well without wrinkling or binding. They are also a lot easier to put on than leggings – really, they're even easier than putting on regular jeans.
The fit is a little different though. The back doesn't come up quite as much as I would like so I feel like I need to pull them up all the time. I have a couple pairs of regular pants that do that too so that may be a 'me' thing. They do shrink slightly with washing which actually improved how they fit and helps them stay up better.
Still, motorcycle pants should provide better coverage in the back, especially for sport bike riders. I think a more robust waist band would help but that might impact comfort. Otherwise I would characterize the waist as high-rise, coming up just past the level of my naval in the front.
The styling of these Oxford jeggings is very understated. Other than the contrasting stitching there really is nothing fancy or extra on these jeans. In fact, there is no branding whatsoever, outside the stamp on the button that indicates the manufacturer and the year Oxford was established.
So if you're looking to go incognito and not advertise that you're wearing motorcycle specific pants these would fit the bill. 
Fit & Sizing
The Oxford Super Jeggings come in a fairly wide range of sizes from women's size 2 to 18 and to my delight also come in different lengths of short/regular/and tall. I followed the size chart and ended up ordering my regular size.
They fit just as I would expect them to with just a little bit of extra room in the waist (yay, more donuts!) thanks to the stretchy waistband. They do shrink a little with washing as I noted before but that must be worked into the sizing since they actually fit better after washing.
It would be nice though if they made them in larger sizes as well. I don't believe any of my riding friends are a size 2. Most of us are in the double-digit range as is most of the world's population.
I ordered mine in a size short which has a 26 inch inseam. The hem is wide and stretchy enough to fit over the tops of my 6" boots but that looks a little weird. They are slim enough to fit inside my boots but that feels weird. I ended up folding them up an inch and having them sit on top of my boot which was 'just right'.
Just a word of warning, the tags on the pants are in UK sizes which are 4 sizes larger than US sizing. I was a bit upset when I pulled them out of the package and saw the size and then tried them on and they fit, but the gear geeks at Revzilla assured me they were the size I ordered.
Riding with the Oxford Jeggings
The idea of wearing jeggings on a motorcycle is an interesting one. The material and fit of jeggings really make them ideal for bike use. They fit tight enough to keep the armor in place while the stretchy material really makes them comfortable for a long day of riding.
I was a little worried that the heavier double-layer material would be hot on the bike but they were much cooler than I expected so the material must have quite a bit of breathability to it.
An added bonus of the full Kevlar coverage in the back is that it provides additional protection from the exhaust heat that normally toasts the back of my leg. The only thing that got warm was my knee where the armor covered them but that was only when I was walking around, not while riding.
The biggest compliment that I can give motorcycle clothing is that I didn't notice it at all when I was riding and I can say that about the Oxford Super Jeggings. Once underway I really didn't think about them again.
Options & Price
The Oxford jeggings come in both indigo and black colors. They retail for $124.95 which is an excellent price considering I regularly pay over $200 for my motorcycle jeans. They also come with a 2-year guarantee which just adds that much more to the value.
Conclusion
Reading back over this review I noticed I mentioned that these jeggings are comfortable a number of times, and that is the outstanding feature of these pants. But combine that with full Kevlar coverage and knee armor, and you have a winning formula for motorcycle pants. And if that's not enough, they're also an excellent value!
Pros
Full coverage Kevlar lining
Very comfortable & stylish
Comes with knee armor
Snug fit should keep the armor in place
Great Value
Cons
Back should come up higher
No way to attach them to a jacket
Front button comes apart a little too easy
Specs
Manufacturer: Oxford Products
Price (When Tested): $124.95
Made In: Oxfordshire UK
Alternative models & colors: Black or Blue Denim available
Sizes: Sizes 2-18 available in Short, Regular, & Tall
Review Date: August 2019