Oxford Micro Clock Image Gallery
The Oxford Micro Clock is a multi-function electronic device with time, date, temperature and an "ice alert".
It can be switched from Celsius to Fahrenheit and can display 12- or 24-hour time formats.
The Micro Clock runs on a CR2032 battery that lives behind a door secured with two small Phillips head screws.
Unfortunately, the display contrast is poor when the clock is mounted at certain angles and the buttons are difficult to find and push when wearing motorcycle gloves.
In fact, it's size may work against it and the actual display uses only a small percentage of the available surface area. This limits its usefulness.
At first glance, the Oxford Micro Clock is a gadget freak's dream.
After all, what gadget guy or gal wouldn't want to have the time and temperature literally at their fingertips? That it tells the date and has a backlight is the hard sauce on the plum pudding and the ice warning is, well, a cherry on top (with apologies for the lame analogies..).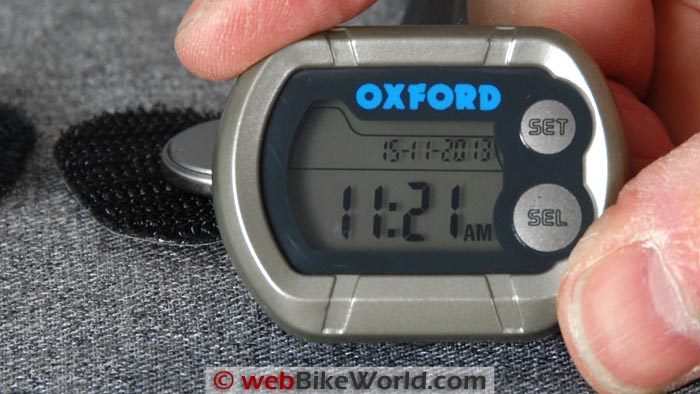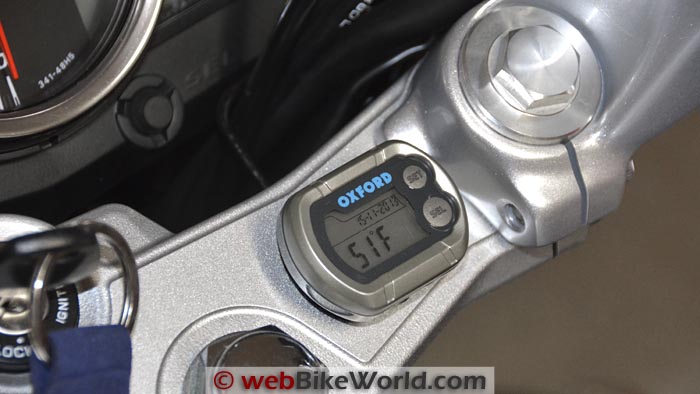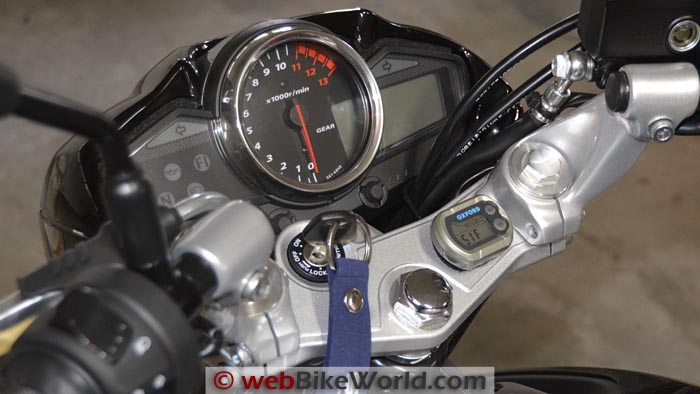 Micro Clock Details
The Oxford Micro Clock weighs just 90 grams and measures about 46 mm wide by 35 mm tall and it's 12 mm thick. Those dimensions that seem petite at first may not be, depending on where you want to mount it.
Forget a round handlebar, because it's not really designed for that. So you'll need to find some flat real estate on the triple tree top or dashboard or maybe the fairing or possibly even the fuel tank, and there lies the rub.
The soft clear plastic cover on the face of the Micro Clock helps make it weatherproof, but it also can be easily overwhelmed in the light, creating a lot of glare and low screen contrast.
This makes it difficult to read the clock and you don't wan to be spending a lot of time looking down at it whilst you're riding a motorcycle.
The other issue is the buttons. To switch between time and temperature, you have to press the "SEL" button on the bottom. To turn on the backlight, the SEL button must be pressed and held for about 2 seconds.
So what's the problem? Well, the buttons are membrane types, again to maintain the water resistance.
This makes the buttons difficult to find and press when you're wearing motorcycle gloves and difficult to find by feel, so you'll again have to take your eyes off the road to fuss with it.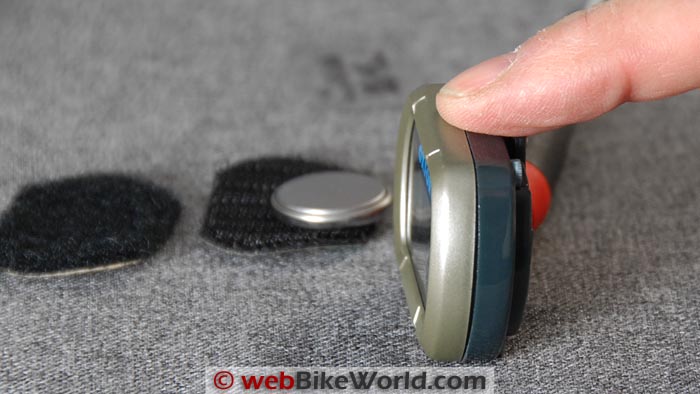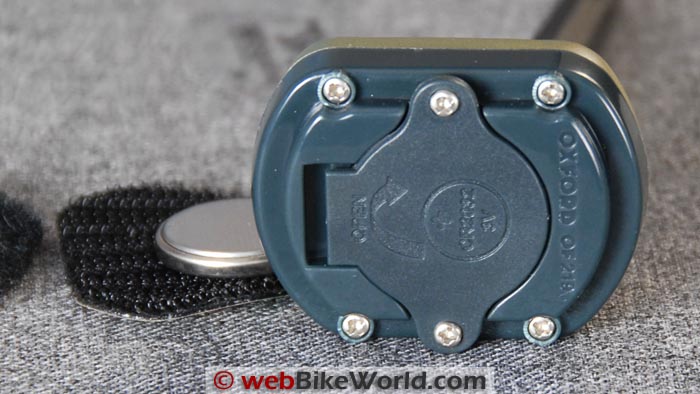 Mounting the Micro Clock
The Micro Clock comes with matching sections of hook-and-loop. If you're careful, you can stick a section on the back of the clock so that it doesn't interfere with the Phillips head screws you'll need to access when it comes time for a battery change.
Our clock came with two CR2032 3V lithium batteries (must have been an error; it's supposed to have only one) and you'll have to install the first one to initialize the system.
The use of the Phillips head screws isn't the best idea; it would have been better to have a simple snap lid. And CR2032 batteries aren't all that common and can be expensive when you have to buy a pack (they seem to be sold in pairs) at a local 7-11 when you're on the road.
Don't forget: Murphy's Law says that the battery will die when you least expect it and when you're farthest from a store that sells that type of battery (although the law applies to any electronic device you'll be carrying on the bike!).
On the other hand I suppose, you could sew a couple of spare batteries in your jacket liner for that trip to Irkutsk.
Mounting the Micro Clock on a vertically oriented instrument panel helps to reduce the glare but it's even more difficult to find the buttons because of the angle and reach.
The photos below show the clock mounted on the flat triple tree of the Suzuki GW250 (Blog), where it's easy to reach but as you can see, the glare in this mounting location makes it nearly impossible to read in daylight.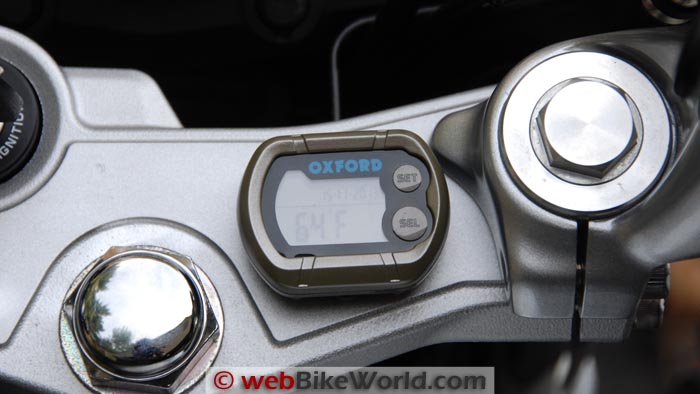 Using the Micro Clock
We mounted the Micro Clock on the GW250 about a year ago and have been using it ever since. The thermometer is a consistent 3-4 degrees off (reads cooler than it is) but there's apparently no way to compensate for this electronically.
The clock can be switched between 12- and 24-hour formats by pressing the SEL button after pressing and holding the SET button. The SET button is used to set the time and date. The year range is 2005 to 2025.
An ice alert flashes if the temperature drops to 3 C (37 F), but depending on how the clock is mounted and the amount of glare on the screen (time of day dependent), you may or may not see it.
Pressing the SEL button switches between the time and temperature displays. The date is displayed across the top in European format (day/month/year). It's too bad the screen wasn't bigger and both the time and temperature were both displayed.
Pressing the membrane buttons is not easy when wearing gloves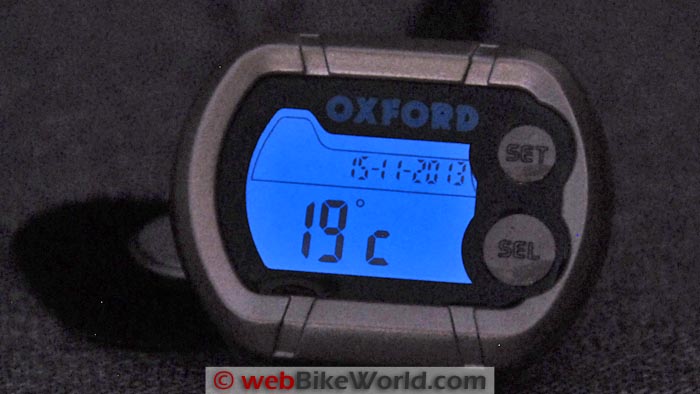 Conclusion
As you can tell, we're not all that fond of the Oxford Micro Clock. The concept — a stick-on multifunction display device — is a good one but it needs another trip through the drawing board (or CAD system).
A sleeker, thinner design with a larger readable face and a better, more visible display (it is, after all, 2014) showing both time and temperature would be a good start. Forget the date, add more tactile buttons and while you're at it, how about solar charging?
Make the sides "squeezable" so you can easily grab it to turn on the backlight.
In its current form, the Micro Clock seems to be the result of a quick trip to some anonymous subcontractor who did nothing more than splash on the Oxford label.
It's time (pun) to update the execution to something that feels more like state-of-the-art for 2015, especially for 30 bucks.
Master Listing of All wBW Motorcycle Product Reviews
w

BW

 Review: Oxford Micro Clock
Review Date: December 2014
Note:
 For informational use only. All material and photographs are Copyright © webWorld International, LLC since 2000. All rights reserved. See the webBikeWorld® 
Site Info page
. Product specifications, features and details may change or differ from our descriptions. Always check before purchasing. Read the
Terms and Conditions
!
Owner Comments and Feedback
---
From "N.S." (January 2015): "When I was looking for an MC clock a couple of years back, I came across the Oxford clock you just reviewed.
Didn't buy it because of the LCD screen — figured the lack of contrast would render the whole thing useless, as your review points out.
What I ended up buying was the much better analog clock (item codeOF218, $34.95), though I had to buy it online, as the LCD clock is all that's available here in my country.
People looking at an Oxford MC clock would be better off with their analog offering, IMO."
Follow-up From "N.S." (February 2015): "I think I jinxed my Oxford MC clock. 😛 It was still there when I left the office parking, and it was gone about an hour later. From what was left, it looks as though the spot weld gave. Probably from excessive vibration; there're a bunch of long-ish rough stretches in my route to and from work.
It stuck around for almost three years, so it's not a total loss. I'd just rather it broke on me, rather than getting lost as it did because of (what looks to me like) a lousy weld. I'll probably just get another one, if I don't find another MC clock that's more solidly built. If I do, I'll probably either use heavy-duty double-sided tape, or douse that part with steel epoxy."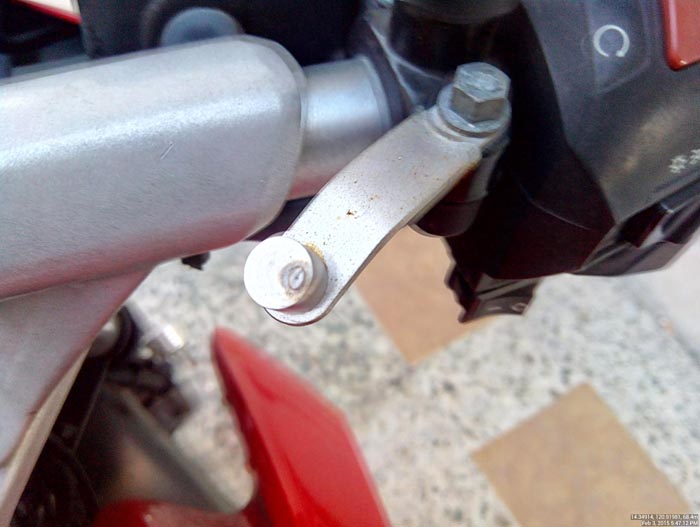 ---
From "B" (December 2014): "Like to read your reviews from time to time because I think they're very thorough and there is a clear opinion stated.
Last year, I've owned the reviewed Micro Clock. I bought it because like to know what time it is, while riding to work or appointments. My motorcycle has no clock so an accessory needed to be found, and it was the Oxford Micro Clock. I found that, depending on where you install the device, the readability of the screen may not pose a problem. I 've found a good spot on my bike so I had no trouble there.
I found it to function properly for about a year, without having to change batteries (I never use the backlight), and this includes use for one to two hours in rain. Time lapsing was never more than a few minutes, good enough for me.
However, every night it slept indoor at minimum 15 degrees Celsius. After a year I had to travel wider for work and the bike needed to stay outside in autumn months with moist and colder weather. The second time it had to stay outdoors for 4 nights I found it broken with moist inside the device. Even after drying thoroughly it did not function any more. The battery was completely corroded so I think the sealing of the battery compartment is insufficient for this use.
So I can say that it does not fear a rainy ride but it's not suited for the real commuter where it's left in moist for a day or more. Still looking for a replacement that will hold this use…"