Certified Used
Buying a secondhand bike isn't always a fun and joyous experience. Motorcycles are quite robust and resilient, but there's always a possibility of buying a used motorcycle just to have it crap out on you shortly after purchasing.
Triumph recognizes this and has brought American riders their new Certified Pre-Owned Program to resolve that issue. This program is aimed at having customers purchase their used Triumphs through the brand itself to ensure the bike is up-to-date and ready for the road. The program begins November 23rd and is currently limited to American buyers.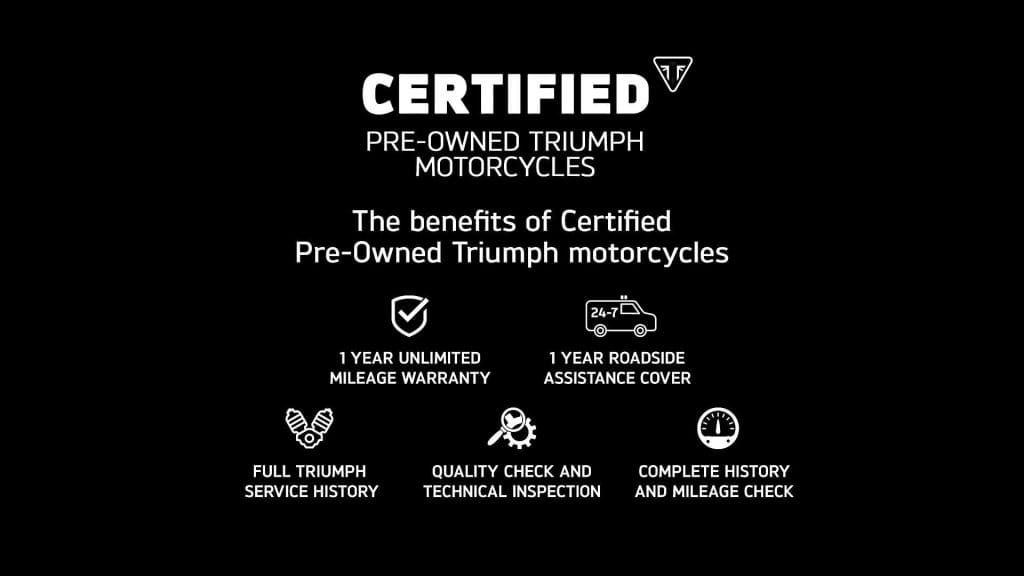 Why pay Triumph instead of the guy down the block with a for sale sign sitting on his bike? Triumph is giving you a 1-year unlimited mileage warranty, 1-year roadside assistance, a full-service history of the bike, and an in-depth inspection, a quality check through their dealerships, and even financing if needed. Your Craigslist picks won't have these great additions.
The bikes within the program cannot be older than 5 years, must be under 25,000 total miles, include a detailed service history, undergo a full multi-point inspection with any issues being resolved immediately, and must have all services (for the next 1000 miles) complete.
If you head on over to the Triumph Certified website, you'll be able to get a good look at the current models available. Keep in mind that since this is a brand new initiative, it will take some time for many more models and bikes to populate the list; but I assure you in the coming years this will be a hot-spot for anyone looking to buy a pre-owned Triumph motorcycle.