Kevlar Jeans Review Summary
Kevlar Jeans Image Gallery
The new Overlap Imatra jeans have many protective features, including SAS-Tec knee and hip protectors.
A full-length Kevlar lining is included and the Imatra jeans have been tested and certified to meet several CE Level 1 and Level 2 protection standards, according to the company.
The jeans are considered "PPE", or Personal Protective Equipment.
Beyond that, the Overlap "Overskin" technology adds a water-resistant barrier that was bonded between the Kevlar and the outer denim jean shell, which makes the jeans weatherproof.
Altogether, the Overlap Imatra jeans are probably more protective than many textile or even leather motorcycle pants.
They also look great on or off the bike, with a comfortable fit and breathability.
We're seeing a renaissance in motorcycle jeans in 2013, with several new brands that are getting serious about protection and testing to CE standards. This has made us "take a 180" in our thinking on motorcycle jeans for everyday riding.
Up to this point, wearing jeans on a motorcycle usually had too many compromises, despite the inclusion of various amounts of Kevlar or other types of abrasion-protection linings.
There is still a dire need for an independent Snell-like testing lab for motorcycle clothing — especially in the U.S.A., where standards and testing are left up to the discretion of the private sector. But in the absence of that, the CE Personal Protective Equipment (PPE) standards are all we as motorcyclists can go by.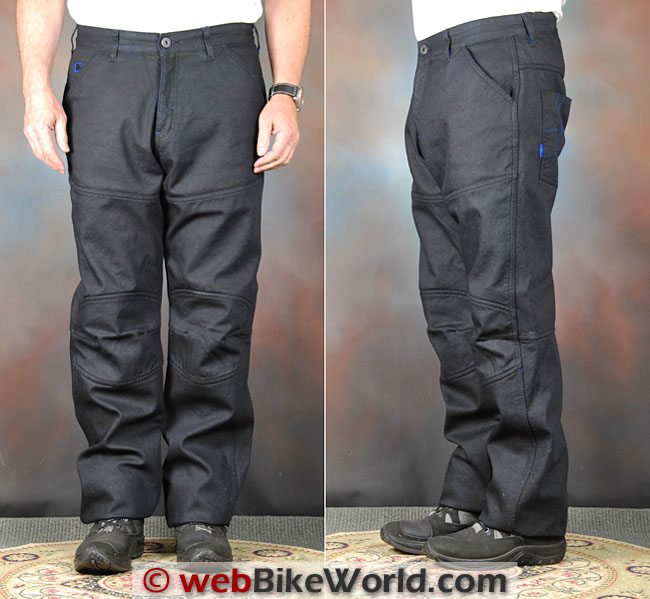 Overlap Jeans
For more than 13 years, webBikeWorld has specialized in bringing you information on unique and hard-to-find motorcycle gear and Overlap jeans definitely fit that description.
Overlap Denim is a new brand, brought to you by the Aixstream Group (France), who also own VQuattro. VQuattro makes an excellent but hard-to-find line of motorcycle gloves (here's a list ofVQuattro motorcycle gloves reviewed on webBikeWorld).
Besides Overlap jeans, Aixstream is introducing a line of VQuattro motorcycle boots (which will be reviewed on webBikeWorld soon), along with Astone Helmets (ECE and DOT) and other products.
Part of the "charm" of the Aixstream brands is trying to find a retailer; it isn't easy, even in Europe. But the search is worth the effort and makes ownership that much sweeter. This problem will be resolved in 2013 however, according to VQuattro.
They are working on a new website that will allow customers around the world to purchase all of the excellent VQuattro products. You'll read about it first on webBikeWorld as soon as it's ready, so stay tuned for that.
In the meantime, Overlap jeans have been for sale in Europe to wide acclaim. Aixstream has committed to testing their gloves, jeans, boots and other clothing to as many applicable and appropriate CE standards as possible and the Overlap Jeans are no exception.
Each Overlap jeans type has been tested by an approved certification lab (Critt Sport Loisirs, Z.A. in Châtellelerault, France) and comes with the official CE certification information.
Overlap Jeans Styles
Overlap jeans are available in 5 men's styles and 2 women's styles. The men's jeans come in 5 different cuts: regular, straight, tapered, twisted (wide/narrow/wide) and loose. The two women's styles include the "Brooklands" (twisted) and the "Crystal Palace" (straight).
All Overlap jeans are available either in black (Imatra jeans shown on this page) or "smalt", which is the traditional cobalt blue denim jeans color, as shown in the Overlap Manx jeans review.
Men's styles include the Imatra (loose); the Manx (regular); Misano (tapered); Daytona (straight) and Indianapolis (twisted). The difference in the cuts is subtle; for example, the "loose" fitting Imatra jeans aren't too loose.
Overlap Imatra Jeans Certifications
The Overlap Imatra jeans meet CE Level 1 and Level 2 standards based on EN 13595-1.
(UPDATE: The standards were modified by the three testing labs in France, see sidebar). The Imatra jeans are fully lined with Kevlar, from the waist right down to the leg cuffs.
The "Urban" level is "able to provide effective protection in road traffic accidents a speeds below 50 kph", according to the information provided with the jeans, while Level 1 does the same up to 130 kph and the Level 2 means that "The product must be able to successfully pass the requirements expected of a Level 1 product more than once after a fall."
The CE and other standards tested and certified for the Imatra jeans include:
EN 13595-2 ABRASION RESISTANCE – Defines the minimum friction resistance during impact.
EN ISO 4674-B TEAR STRENGTH – Defines the minimum force the product must resist for tensile strength during impact.
NF EN 13594-C SEAM TENSILE STRENGTH – Defines the minimum force that the seams must withstand during impact.
NF EN 13595-4 IMPACT CUT RESISTANCE – Defines the product's resistance to cuts.
ISO 11642:1993 COLOUR FASTNESS – Color will not bleed on contact with water.
PR EN 14362-1 AZO COLOURANTS – Product contains no carcinogens in detectable amounts.
VQuattro (Overlap) said that besides the familiar (to webBikeWorld readers) Level 1 and Level 2, there is one other PPE certification level for the Overlap jeans, called the Urban Level. The jeans are divided into 4 different zones, depending upon the amount of protection required, from low to high risk of abrasion.
Here is a graphic, taken from the owner's booklet that comes with the Imatra jeans. It illustrates the 4 different protection zones in the jeans: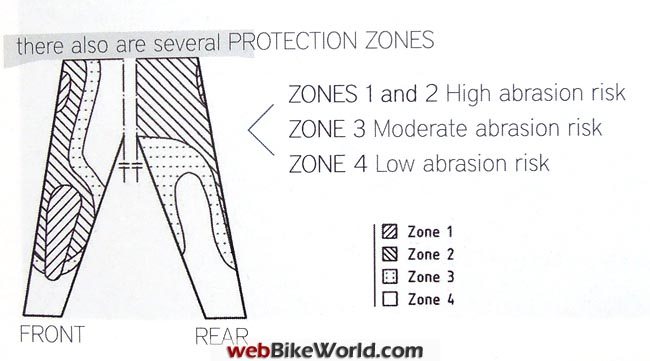 The Overlap jeans are tested in an CE certified testing lab and the results must be published along with the other official data. Note that some motorcycle clothing manufacturers will state that their clothing meets the standards, but unless the official certification information is included, along with the name and address of the certified testing lab, the clothing item is not approved.
Here is a copy of the table from the Imatra jeans owner's manual that shows the various testing results for the different abrasion zones: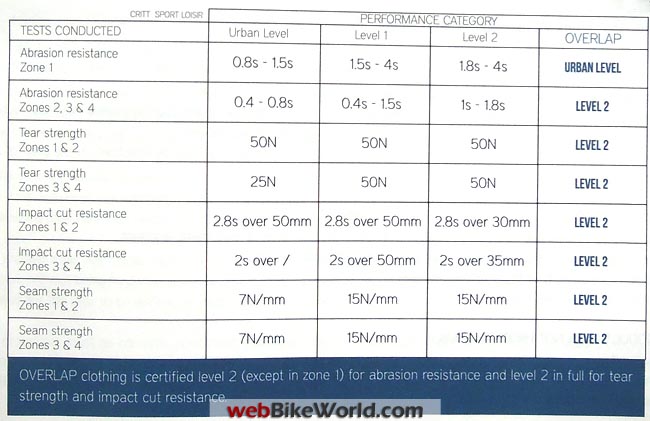 Overlap Jeans "Overskin" and "Overhide"
The protective qualities in the Overlap Imatra Jeans with the Kevlar and meeting the various CE standards is called "Overskin" by VQuattro. The Overskin consists of 11.5 oz. denim on the outside, bonded to the Kevlar on the inside and includes a water-resistant barrier sandwiched in the middle.
The Overlap Manx jeans (review) have the "Overhide" technology, which is designed for summer or hot weather riding. This means a slight reduction in the amount of Kevlar liner used and a softer, very street-like denim jeans outer shell, with no water-resistant barrier sandwiched in the center. The absence of the barrier in the Manx jeans gives them more air flow in the summer.
Here are two close-up photos we took of the Imatra Overskin textile sandwich, with the Kevlar and a cotton facing on one side and the black jeans shell on the outside. A graphic illustrating the sandwich is shown in the inset in the photo directly below: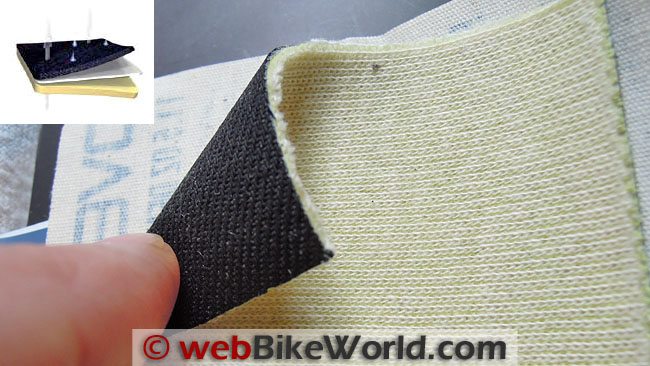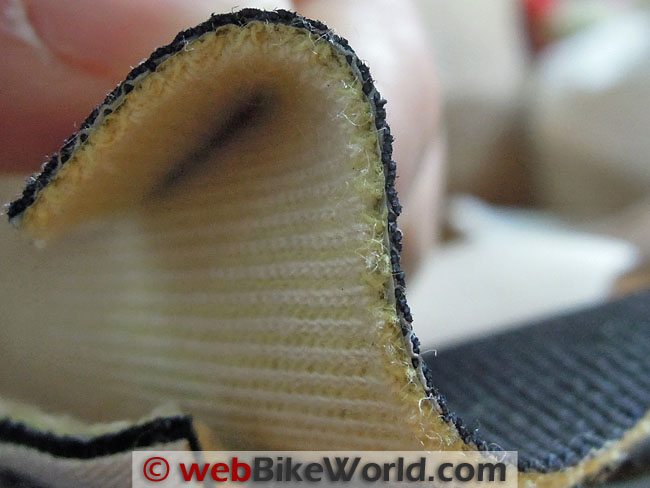 Overlap Imatra Kevlar Jeans Details
The Overlap Imatra jeans do have a heavier feel than the Overlap Manx jeans, which feel no different from a pair of old favorite street jeans.
The Imatra jeans have a different type of outer shell; first of all, it's not the "worn" or "broken-in" look of the Manx jeans, but a newer-looking black fabric that needs a few rides, a roll in the dirt and a few washings to give it that "used" look.
The Imatra jeans also feel thicker, possibly due to the textile used for the outer shell, which also has a slight waxy feel on the Imatra jeans only. They have a slightly loose fit and you can compare the fit on the same model in the photos in this review compared to same model shown in the Overlap Manx jeans review. The Imatra jeans aren't too baggy — just right actually, especially if you like 'em a little loose.
Otherwise, these are standard five-pocket jeans, with two front slash pockets; two rear patch pockets and the change pocket living kangaroo-style in the right-hand front. The jeans have a touch of narrow blue stitching details here and there on the rear pockets and the lining in the front pockets is blue also, which gives a bit of a contrast to the black version of the Imatra jeans (which are also available in "smalt" or traditional cobalt blue jeans color).
There are five belt loops and an aged brass button front; don't forget, jeans are made to be worn with a belt, which does the work of holding the pants on for regular use and in case of a crash. We left the belt off in the photos so you can see the waist, but a big black leather Ariat belt with a cool-looking rounded metal tongue-style buckle does the honor otherwise.
Even though the Imatra jeans are slightly heavier and thicker and have full-length Kevlar lining on both the front and back, they're still rather comfortable even when riding in weather with temperatures up to about 30 C (85 F) or so and higher. They don't have the flow-through ventilation of all-mesh nylon pants, but they sure look at lot better and you can walk in to the local konditorei or 7-11 with these without looking like Boy Racer.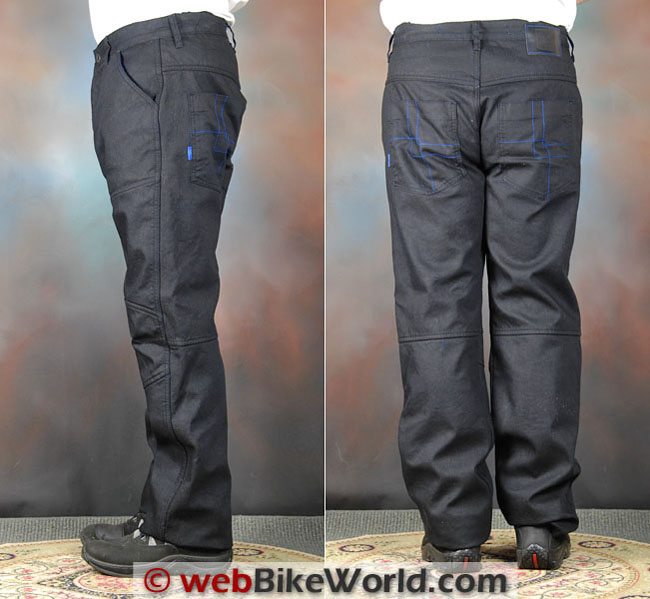 Shell Construction and Protective Features
Besides the full-length Kevlar lining, the Imatra jeans feature a plethora of double-row stitching and rolled seams, a sign of high quality. Since the stitching meets the CE Level 2 seam strength impact standard, we're at least confident that they'll hold together in a crash…which is more than can be said for many/most textile or even leather pants that aren't certified.
Inside the Imatra jeans are pockets for knee/shin and hip armor or padding. Overlap provides high-quality SAS-Tec armor inserts and it's comfortable and not at all in the way. In fact, on both the Imatra jeans and the Overlap Manx jeans, which have a "regular" jeans fit, the armor is virtually unnoticeable.
The SAS-Tec armor or padding, for those who have seen it or touched it, has a hard/soft feel. If you press softly on it you can feel it compress, but if it undergoes a hard impact, it stiffens to provide the protection. The SAS-Tec armor is labeled as a CE certified Level 1 protector, just like some of the street back protectors.
The upper part of the inside of the front of the Imatra jeans is covered with a light mesh lining, for added comfort in the front "sensitive" areas of the rider.
Here are a couple of photos showing the front (on the left) and rear of the Imatra jeans, turned inside-out to illustrate the lining and armor pockets: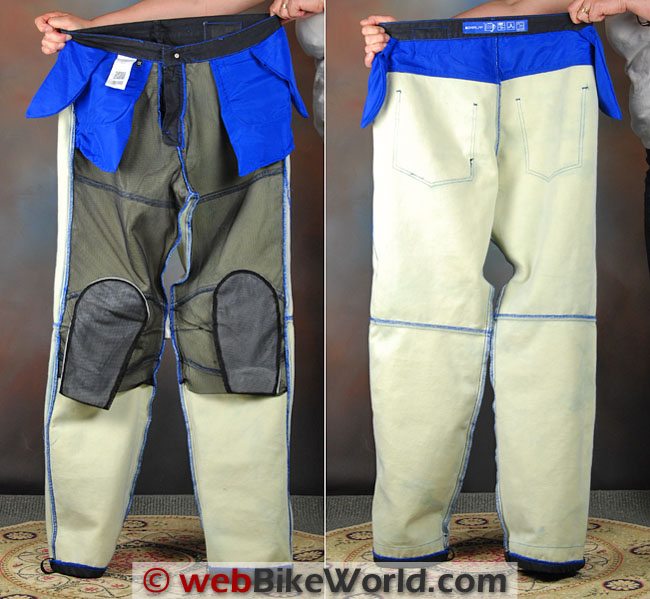 Overlap Imatra Jeans Fit
The Imatra jeans are available in a size range from 28 to 40 waist (US sizes). These are the size 36 US waist and they fit just as expected. We measured the inseam length as 34 inches, so there's plenty of room for a hem if you don't have proportional legs.
Our 36 waist pants usually have a 32 inch inseam, so these are a couple of inches too long and we have the cuff folded and tucked up in the photos with the model wearing the jeans.
There's also plenty of room for the Bohn or other type of wearable body armor underneath if you so desire, although that would make the pants less "streetable".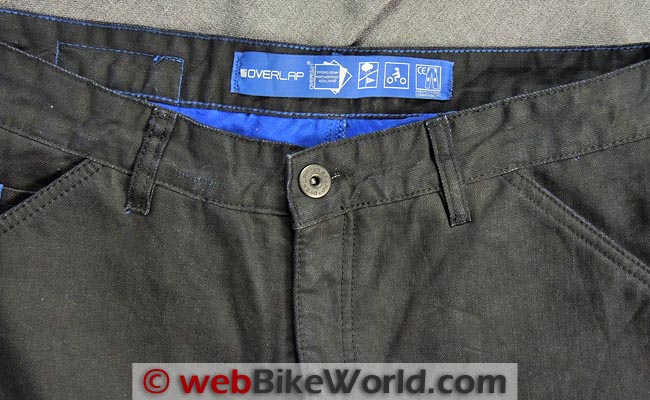 Conclusion
The Overlap Imatra jeans are good-looking and comfortable while providing better levels of protection than most motorcycle jeans and perhaps even many other textile or leather pants.
The CE testing and certifications give a good level of confidence that these pants will protect a rider when it counts.
The Overlap Imatra and Manx jeans have changed our attitudes towards wearing motorcycle jeans for riding, especially in hot summer weather when wearing leather or other full protective gear is pretty much out of the question.
The only issue at this point is the availability of the Overlap jeans and other Aixstream products, but hopefully this will be resolved when their eCommerce website is up and running. In the meantime, some European retailers are selling the jeans and it's definitely worth your while to find a pair if you can.
Next: Overlap Manx Jeans Review  | wBW Motorcycle Jeans Reviews
More wBW Motorcycle Jeans Reviews  |  Motorcycle Clothing Reviews
w

BW

 Review: Overlap Imatra Jeans
List Price (2013): €169 (Inc 19% VAT)
Note:
 For informational use only. All material and photographs are Copyright © webWorld International, LLC since 2000. All rights reserved. See the webBikeWorld® 
Site Info page
. Product specifications, features and details may change or differ from our descriptions. Always check before purchasing. Read the
Terms and Conditions
!
Owner Comments and Feedback
---
From "R.S-T." (June 2013): "If only I had them when I crashed on the freeway at 70-80 km/h a month ago. The rivet on the hip section of my caused a gash in my hip, the knees area was ripped and so were the bottom outer section of the jeans leg section! (Note: no rivets on these Overlap jeans)."
Editor's Note: Good tip on the absence of rivets on the Overlap jeans.
---
From "K.H." (June 2013): "These riding-specific jeans appear to be the highest quality of any reviewed by wBW yet.    Using my currency converter, 1 Euro = $1.33 USD, I get €169 = $224 before S&H, etc. That's some serious dosh for a pair of jeans, albeit very high-quality CE-tested jeans!
Regardless, I imagine there would be a market here for both Overlap items, despite the high price: you do get what you pay for in many cases. Hopefully, the price and availability will be at least  a little more reasonable if they get an official US importer. Here's to hoping they do so soon!"
Editor's Note: Don't forget, the European price includes the 19% VAT. Deduct that and it brings the price down to roughly $185.00, about on par with a good pair of Kevlar jeans at the current rate.
---
From "J.O." (June 2013): "I was reading your review of Overlap jeans with great interest. It looks like a great product which I would love to have. Then, when I got to the end , I find out they are not really available. This has happened before and is very disappointing. I don't understand why you review a product I can't purchase right now.
I have noticed this with a few other items you have tested in the past. Now I guess I will go directly to the end of the article to see if it is something I can buy before I read the full review."
Editor's Reply: Actually, I suspected I might get an email like this. I get one or two similar emails each year. Here's my more-or-less stock response:
webBikeWorld receives around 8 million visitors each year from 220+ countries around the world. About half the visitors come from Europe. So not every product is readily available in every country.
I get much more fun and reward out of bringing information to people about rare, unique and hard-to-find products than anything else. Let's face it — anyone can go down to their local motorcycle shop and buy a Joe Rocket jacket or an HJC helmet and write about it. But very few people knew about Overlap jeans or VQuattro gloves or Vertix intercoms or FandyFire flashlights or dozens and dozens of other great products before we published a review.
In fact, not many people knew about Rev'it and Clover clothing; Caberg, Vemar and Lazer helmets and many more companies until they were first introduced on webBikeWorld and are now well known.
To me, writing about these types of unique and hard-to-find products is worth much more than anything else I can do for the motorcycling community. Can you imagine how boring webBikeWorld would be if we only published articles about commonly available products?
In fact, I started webBikeWorld over 13 years ago solely to bring information to motorcyclists about products that they weren't aware of.
In the old days, finding a way to buy a really great product that no one else had was half the fun — and that was before the internet was as ubiquitous as it is now. Actually, it's because of that very pervasiveness of the internet in 2013 that makes it so difficult to actually bring you information about unique products.
So if you want to only read about mundane, everyday products that are available anywhere, I guess webBikeWorld is not for you — not that we don't do that also.
But I do believe that the vast majority of our readers are indeed very interested in learning about new and exiting products that they weren't previously aware of — indeed, that's what learning and expanding horizons is all about. Publishing this information and creating "buzz" about these types of products is what motivates the manufacturers to actually get the products to market — another benefit of publishing this type of information.
And by the way, you can buy the Overlap jeans if you really want to. I'm sure you can find an online retailer who will sell you a pair and ship them to you. That's more magic of the internet; everyone has worldwide access to any of these products and manufacturers.
Also, as was mentioned in the articles, Overlap and VQuattro are in the process of building an international eCommerce site so anyone can buy their products. This is a direct result of the enthusiasm generated by the original webBikeWorld reviews of the VQuattro gloves last year. So you see — it does work out nicely in the end!