An "olive branch" should be offered to recreational motorcycle riders for the inconvenience and injustice of the VLAD Act and the "over-reaching" by police in the early stages of Queensland's  anti-bikie laws, says a Brisbane motorcycle business operator.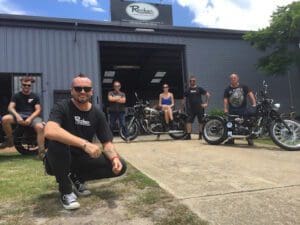 Matt Jones, owner of Rocker Classic Motorcycles, Nundah, says he has asked his local Member, Treasurer Tim Nicholls, for a "peace offering" to compensate for the VLAD Act and associated anti-bikie and anti-association laws which caught innocent riders because of "over-jealous police". In one infamous incident, a rider was detained by several police cars for his 21st ID check. The video of the incident attracted more than half a million hits. Read the story below.
Matt says his business suffered a 50% decline in trade in the last few months of 2013 in the wake of the intrroduction of the VLAD Act. "Riders felt demonised by the media and unwanted by hotels and clubs with signs saying 'no leather and no tattoos'," he says. "In the early stages over-zealous police were over-reaching their authority and instead of just ID checks they were harassing riders checking their exhausts, and so on."
He says he has met with the Treasurer and asked for an "olive branch" to riders by following the NSW example and introducing lane-filtering. "It might go some of the way to compensating riders," he says. "He promised he would take the matter to the police and transport ministers for consideration."
Riders "are a little bit over it" and have now started to return to the streets, says Matt. "Trade is starting to pick up. However, the bar area is now more profitable than the garage."
SEE ALL THE PHOTOS ON MY PINTEREST PAGE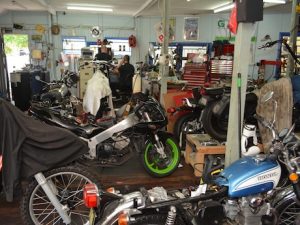 Matt set up his custom bike shop and Ton Up Cafe in 2011, but soon found it so popular he was running out of room, so he leased the area next door and now has a bar and entertainment area that features bands, stand-up comics and an open-mic for musician jams. "The open mic is for riders who can play and sing, but, of course, can't carry their instruments on their bikes," he says. "We provide house instruments including a full drum kit." The garage is open normal business hours, while the bar and entertainment area are also open on Friday from 5-9pm, Saturday from noon to 9pm and Sunday 11am-8pm.
And in the far corner is the Hero Cuts Barber Shop Matt leases to licensed hairdresser Brett van Berkel or "Geezer" as he is known. "We're more than just a motorcycle shop," Matt says. "Geezer does all kinds of haircuts and we attract a lot of locals who come down here for a coffee. We're part of the community. We have a mothers' group that comes in for morning coffees."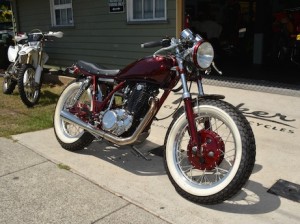 But the central part of the business is still the garage that specialises in custom builds but also des repairs, maintenance and servicing. It started as a very rockabilly-style garage with cafe racers and bobbers in the tradition of London's famed Ace Cafe, but has now broaden its style. "We're non-elitist and driven by the customers' needs, so we work on everything from sports bikes to Harleys and stuff others won't even touch," Matt says. "We're not glorified part changers. We're proud of our diagnostic mechanics. We provide old-school service and people trust us."
Their most unusual custom request was to install a waterproof 30W stereo system in the frame of a Yamaha SR500. "It was hilarious," says Matt. "We don't enter bike show competitions as we don't see it as something that needs to be judged. The customer is the judge."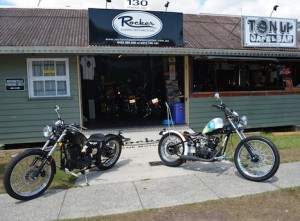 The garage is also an agent for Deus ex Machina parts and accessories, and sells new Cleveland CycleWerks (CCW) Heist bobbers powered by a 229cc air-cooled single with two pushrod-actuated overhead valves, modelled after the 1970s Honda CG125. The entry-level retro bobber costs $4495 with six months rego and a two-year warranty. It is designed in American and made in China.
The Heist helps complete the broad picture that is Rocker Classic Motorcycles, a business that caters for rockers, customisers, young and old bikers, mums, comedians, musicians and people just wanting a haircut.
Where: 130 Ryans Road, Nundah, 4012
Email: info@rockerclassicmotorcycles.com.au
Phone +61 7 3161 9231
Ton Up Cafe: open 7.30am-5pm Mon to Fri, 730-1pm Sat.
Bar: 5-9pm Fri, noon-9pm Sat, 11am-8pm Sun