Think of Cuba and you think of cigars, salsa music, communism and old cars.
Few would think of motorcycles, but the country also has an interesting collection of motorbikes.
And just like the cars, they are ancient and held together with tape and glue.
However, unlike the cars, there are no American models, nor Japanese.
Most are from communist countries such as CQMotor from China, MZ from former East Germany and Jawa from the former Czechoslovakia.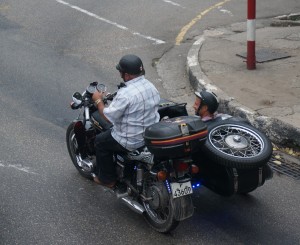 But there are a few others such as Mondial from Italy and many have sidecars attached and there are some brightly coloured scooter/taxis.
A good friend, Harry Bohler, who rides a Ducati and my brother, David, who is in scooter rider and artist recently travelled to Cuba and took many interesting photos which you can see on my Pintereset page.
Harry says there is not a huge motorcycling population in Cuba.
"I'm guessing only those who are rich enough to not catch public transport but not rich enough to buy a car own a motorcycle," he says.
"The roads in town are in reasonable condition but once out of the major cities it's not unusual for big potholes etc. Most roads (even multi-lane) don't have white lines to indicate where the lanes are but for some reason what appears as chaos to a tourist seems to work OK for the locals.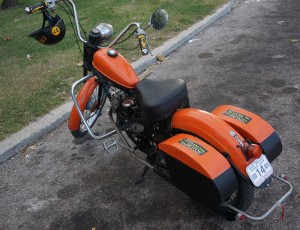 "I didn't see any accidents while we were there. Everyone drives/rides quite slowly. I'm not sure what the speed limits are but I guess the clapped-out old Yank tanks need a fair length of road to stop so people drive accordingly."
David says Cuba's massive storehouse of vintage US cars is "a great irony".
"Cuba is one of the few remaining communist countries in the world, perched on the edge of the world's greatest capitalist country, just 90 miles from Florida coast," he says.
"One of the most famous icons of this communist country  are the very cars for which the US is most famous – those monster shark-finned gas guzzlers from the 1950s. It was in the 1950s that the Mafia in the US took over de facto control of the then Batista government whose corruption paved the way for a successful revolution led by Fidel Castro, his brother Raoul and the now immortalised Che Guevara.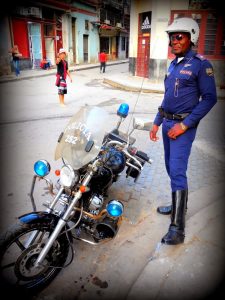 "The mafia and Batista henchmen cruised Havana in these massive cars. They were the symbol of indulgence and corruption. Now they have become symbols of Cuban communism. If that's not irony, I don't know what is.
"The cars ands bikes are obviously hung together by string and sticky tape, but they still seem to operate. I doubt that any but the very best would come close to complying with our Australian road standards.
"That doesn't seem to stop the Cubans. They simply have nowhere near the finances to keep 50, 60 and 70-year-old vehicles in top working order.  That there are so many vintage US cars on the road is a testament to the resilience and make-do attitude of the Cuban people."
David was so impressed by the cars that he has created several paintings featuring the vintage iron. Check them out here.