BT Bluetooth Brake Light Image Gallery
he MotoBrakeBT is a "Deceleration Sensing MotoBrakeBT Light With Bluetooth Connectivity".
It's an evolution of the original Ohmics MotoBrake we reviewed in 2015.
While not the only auxiliary deceleration-sensing (dynamic) brake light system on the market at that time, the MotoBrake arguably had the best combination of features, function, performance and adaptability.
The MotoBrakeBT picks up from where the original product left off, while advancing the yardsticks a country mile or two.
With a 30 percent increase in screen size over the original MotoBrake, the Bluetooth version features a new housing containing a new processor, new LED segment and new algorithms for even better sensing and filtering.
The new components and features, along with its proven self-calibration routine, are primarily focused on providing better performance for many different motorcycles or conditions.
The MotoBrakeBT provides auxiliary tail and modulated brake output, deceleration-sensing (dynamic) braking output, centre strobe lighting and integrated turn signal indicators.
All features are now programmable using a new wireless Bluetooth interface and and an iOS or Android MotoBrake app.
The MotoBrakeBT module still includes the a micro-USB port for firmware updates and it adds a Bluetooth v4.1 BLE (Bluetooth Low Energy) interface to manage the updated features now included in the light system.
The BLE-compliant iOS and Android apps allow users to connect and manage the MotoBrakeBT using an intuitive screen input to tailor output to individual riding environments.
This is a quick "pre-review" look at the Ohmics MotoBrake Bluetooth brake light, (aka MotoBrake BT).
It's based on our ongoing evaluation of a pre-production unit.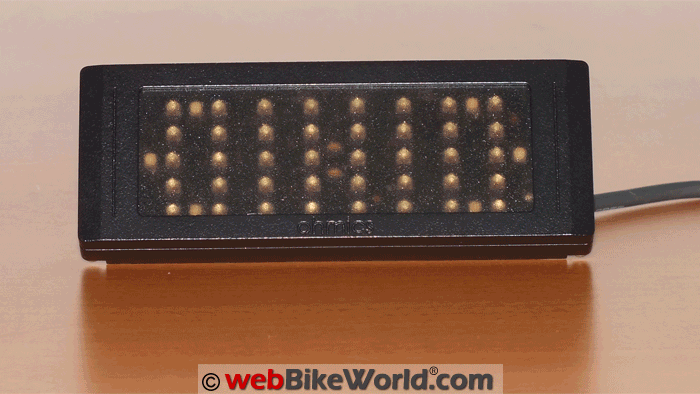 The Ohmics MotoBrakeBT is an "intelligent" brake light that functions as a deceleration sensing and warning light for motorcycle use.
This latest version is housed in a wider 101 x 41 x 15 mm (4 3/8 x 1 5/8 x 1/2 inch) lightweight powder-coated housing. It includes 40 LEDs laid out to utilize the increased screen size and support the new features.
The MotoBrakeBT is a self-contained rear facing auxiliary LED lighting system with the following features and outputs:
It functions as an auxiliary tail light (at 10 percent output).
A deceleration-based brake light with three levels of output.
An auxiliary brake light with four pattern options.
Includes a centre strobe light (white) that is switchable.
It also includes turn signal light outputs.
Light Output Types
The MotoBrakeBT provides four modes of operation: mixed deceleration and brake light; brake activation only (accelerometer is disabled); deceleration only and tail light mode.
If the turn signal feature is connected, the turn signal output functions with the motorcycle's OE turn signals.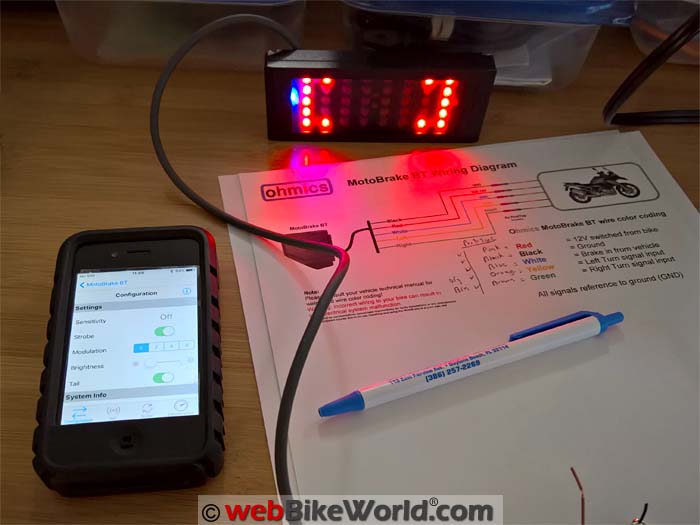 Programming the MotoBrakeBT
A micro-USB 2.0 port is recessed into the right side of the module and can be sealed with a provided silicone plug when not in use.
It provides a wired programming interface to a PC running the Ohmics Pattern Designer BT Suite for firmware updates and feature programming.
In addition a Bluetooth v4.1 Low Energy (BLE) interface provides wireless connectivity for dynamic management of output features.
That includes four sensitivity levels, light modulation and persistence, brightness, strobe lights, the tail-light function and the brake light and three-level deceleration-based brake light output patterns
Programming Notes
webBikeWorld was initially provided with a prototype MotoBrakeBT unit that has now been replaced with an early production variant so that we could continue with the full review (as soon as the current winter weather permits!).
Ohmics has continued to update the firmware with tweaks and some new features that once fully tested at the factory will be available to MotoBrakeBT owners via firmware updates.
Many of the tweaks and new features being tested for implementation are based on feedback received from original MotoBrake owners, current MotoBrakeBT testers and from comments gleaned from other road users.
The MotoBrakeBT can be programmed by the owner for tail light, brake light, deceleration and strobe functions using either the PC-based Pattern Designer software or the iOS and Android apps with the Bluetooth link established.
Some owners use the MotoBrakeBT as an auxiliary brake and tail light only, so the turn signal light feature can be discontinued by not connecting the signal light leads of the five-wire harness.
Overall, installing and connecting the MotoBrakeBT is just as easy as the original model and following the simple clear instructions, an owner should have the device up and running in short order.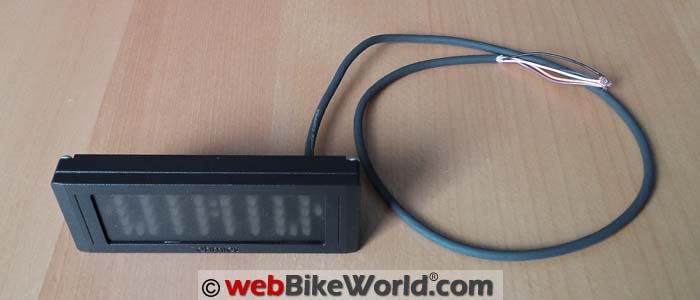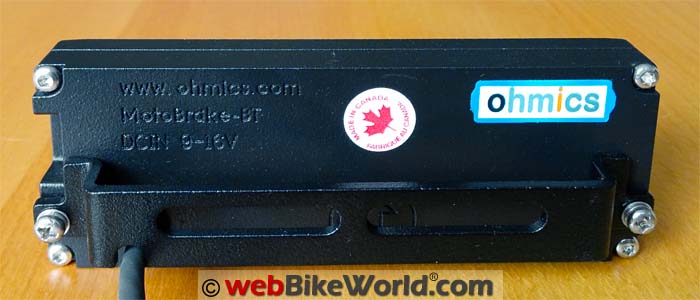 Initial Impressions
So far, the MotoBrakeBT in our possession is proving to be feature-rich, fully programmable and despite an abundance of real-world road testing (scheduled for March), a potentially useful motorcycle safety product.
Like the original MotoBrake brake light, the MotoBrakeBT can enhance the safety envelope of both the motorcycle it is mounted on and that of other road users, especially following traffic.
We're planning a comprehensive Part 2 full review of the MotoBrakeBT, with more details, including some significant feature enhancements currently being tested, along with ongoing tweaks and firmware updates.
Update on webBikeWorld Dynamic Brake Light Reviews
What might be termed a "dynamic brake light" technology is rapidly evolving, as are (we hope), national motor vehicle standards for their deployment and use.
In the meantime, other similar systems with programmable or integrated lighting capabilities include products like the BMW Motorrad Dynamic (Control) Brake (report) and the standaloneVololight (review).
Other systems include the Clearwater CANopener (review) or the new HEX ezCAN system, also in the webBikeWorld review queue.
The early-warning aspects and attributes of dynamic brake lights have much potential for motorcyclists and we will continue to bring you information on this new technology.
w

BW

 Review: Ohmics MotoBrakeBT Bluetooth Brake Light
List Price (2017): $150.00-$160.00
Colours: Standard/Translucent.
Note:
 For informational use only. All material and photographs are Copyright © webWorld International, LLC since 2000. All rights reserved. See the webBikeWorld® 
Site Info page
. Product specifications, features and details may change or differ from our descriptions. Always check before purchasing. Read the
Terms and Conditions
!
Owner Comments and Feedback
---
From "M.N." (March 2017): "The new improved Admore Smart Brake Light has been out and in production for probably about a year and it features the same or similar features as the Ohmics light. It can be programmed and upgraded via USB cable and software.
Personally I think the form factor looks better as longer and thin with a solid construction and excellent tech support. It is designed to work with BMW CANBUS systems as well as others.
I previously used the original Admore Light Bar on a Honda and now the new Admore Smart Light Bar on my C650GT for about 6 months."