Motorcycle Luggage Image Gallery
The Ogio tail bag is a versatile, medium-sized storage option for your motorcycle.
It should fit on a wide variety of motorcycle passenger seats.
It has adjustable quick-release loop straps, which make it easy to mount securely, perhaps with some ROK Straps (review).
Three compartments, with the main one being expandable, offer up to 30 liters of storage.
A slim easy-access pocket on the top can be used for quick access to a wallet, mobile device or other similarly sized items.
Ogio motorcycle tank bags and tail bags have an excellent reputation with motorcyclists.
The Ogio tail bag can be difficult to find; it's very popular and disappears quickly as soon as it's re-stocked.
They're worth the effort though, so be sure to search around at the various retailers and if you find one, act fast!
Note that this Ogio tail bag is also sold by Dainese, labeled as the Dainese D-Tail bag.
Introduction
Some motorcycles are designed to carry luggage and a few have bespoke factory luggage installed or available as an optional accessory.
But quite a few bikes have little accommodation for carrying or even attaching much of anything in the way of storage beyond what fits in the rider's pockets.
For example, on my own bike — a 2013 Kawasaki Ninja 1000 (review), luggage is readily available and I presently have a SHAD top case installed.
Side cases are also available both from Kawasaki and from aftermarket sources and I rarely seem to run into a situation where I need more than the top case and my tank bag.
But what about those rare situations where more storage is needed?
Last year I was preparing to head down to Barber Motorsports Park for the MotoAmerica races and I had the top case full of clothes, shoes a laptop and various sundries needed for the weekend.
But, I still needed space to store my camera gear and had to decide what to do.
Add on some side cases? Not a bad idea…but an expensive one for the once or twice a year I need them.
My previous ride (a Triumph Sprint 1050) had factory side cases and I can confirm that twice a year was about how often they were used.
So what about a tail bag? I don't carry a passenger, so the pillion space is always available.
A tail bag seemed like perfect solution and they don't make your bike wider, which can be an issue with panniers when you have a 30″ inseam and you're trying to duck-walk your bike backwards in a tight parking situation. Trust me, I know!
There are lot of tail bag options from various manufacturers, so I thought choosing one would be difficult, but the Ogio tail bag quickly rose to the top of the choices. Let's look at why.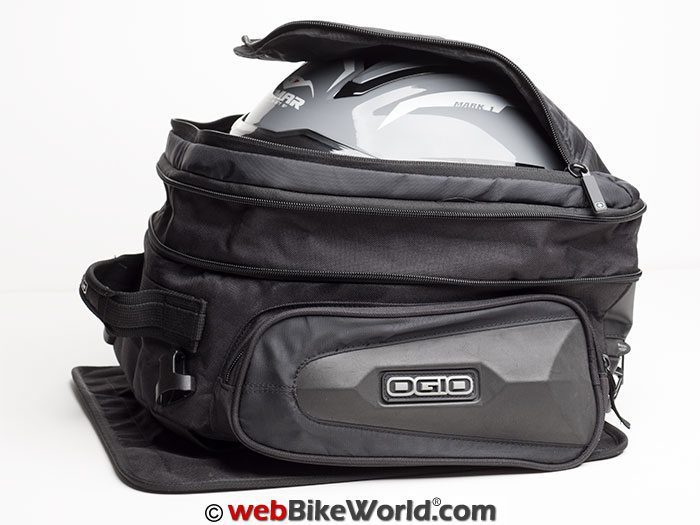 The Ogio Tail Bag
The item I chose is the Ogio Part Number 110091.36 "Stealth Black Duffle Tail Bag" and it's what I would consider to be a medium-sized tail bag.
When it's in the normal configuration, it is wider than it is tall, giving it a low-profile look.
The overall shape narrows slightly to the rear, mimicking the shape of the average sport or sport-touring motorcycle passenger seat.
The widest part extends to about 15 inches (38 cm) and shrinks to 12 inches (30.5 cm) as toward the rear.
Both of those measurements take into account the the outside side pockets but it still gives an idea of the overall shape.
When placed in its normal installed position, the bag measures 7 inches (18 cm) tall and the front-to-rear length is 14 inches (35.5 cm).
The main compartment can be expanded via a gusset that is opened using a zipper that runs around the top edge of the compartment. This adds 3 inches (7.5 cm) to the overall height and adds nearly 50% more storage capacity.
Black is the only color available for this bag and this is pretty standard across the industry, with only a handful of options I've ever seen available in other colors.
Still, it would be nice to see brighter colors like white, silver, or even a Hi-Viz option that could help to improve the conspicuity of the bike.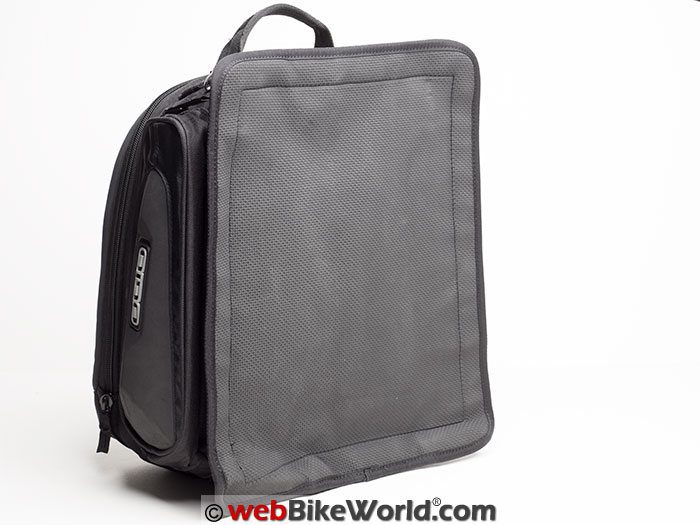 Pockets and Compartments
There are three compartments that make up the overall bag, plus a slim pocket in the top cover; the main compartment, which encompasses the bulk of the storage, and two outside side pockets.
Total capacity is 21 liters in standard configuration or 30 liters with the main compartment expanded.
The side pockets I would say carry about 1 liter each (more on that later), which means that the main alone is 19 liters (or 28 liters when expanded).
In the top cover is a zippered pocket that can hold thin items like a smart phone, wallet or other small items that require quick and easy access.
On top of that is a shield-shaped piece of polyurethane with the Ogio logo and graphic embossed in it.
The side pockets have even larger, but thinner, pieces of polyurethane on their outside facing surface, with the Ogio logo embossed there as well.
These help add some structural rigidity and should offer some abrasion resistance too. At the front of the bag is a reinforced carrying handle with an embroidered Ogio logo.
The whole bag sits atop a "pad" with a textured neoprene bottom surface; the pad helps keep the bag in place with a non-slip surface and the same surface is soft to help protect any painted areas from being abraded by the mounting straps.
The pad is larger than the base of the bag and it's nearly square, measuring 15 inches (38 cm) long an 13 inches (33 cm) wide at the front and tapering to 12 inches (30.5 cm) wide at the rear.
Rain Covers
At the rear of the bag is a zippered pocket that contains a rain cover. The cover is permanently attached to the inside of the pocket and can be pulled over the entire bag to provide waterproof protection.
The cover is large enough to work in both normal and expanded modes and uses a shock cord to cinch the cover down and keep it in place.
It's a good solution compared to the separate covers that come with most tank bags or tail bags, because you can't lose this one and it's always there, ready to go.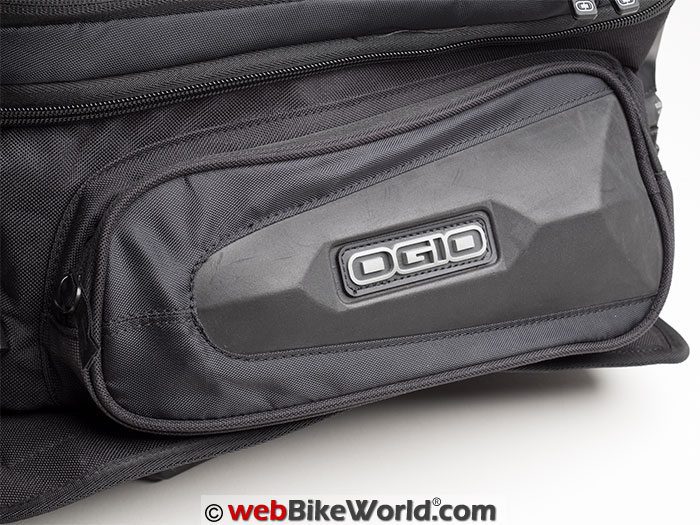 Construction
The main body of the bag is made from a 600D polyester that has a similar appearance to Cordura. Other areas (the top cover and interior) use a 420 denier "Dobby" nylon.
Dobby refers to the type of weave and in this case it gives the material a different look than typical rip-stop nylon.
Taking a close look at the build of this tail bag, Ogio has gone a bit above and beyond what I expected.
For instance, the main compartment walls are lined, so there is the outside layer of 600D poly and then an interior lining of 420D. This certainly adds extra durability…and it gets even better.
For example, there's also a type of foam padding that sits between the layers for additional cushioning of the contents in the main compartment; that's a nice and unexpected touch.
The overall feel is rugged and durable and yet the bag is lighter than you might expect, considering the quality of the build.
The carrying handle is another good indicator of the expected longevity for this bag, because it's made of two separate pieces of nylon webbing which are in turn attached to another piece of nylon webbing sewn into the shell. That handle is built to last!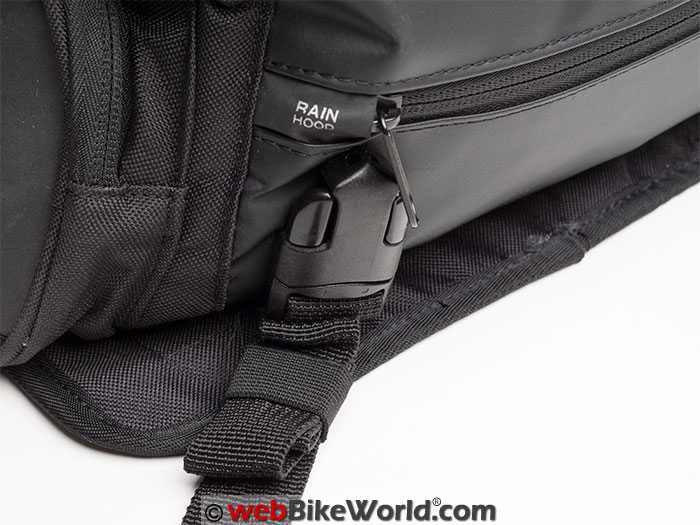 Zippers and Pulls
The main compartment uses a dual-zipper configuration and both zippers have a large plastic (or polyurethane) pull-tabs making them very easy to grab when you're wearing gloves.
The top compartment and side pocket zippers have a nylon fabric pull for the same reason, but they're not as nice as the main compartment zips.
Zippers used throughout the bag are unbranded, except for the closure of the rain cover compartment, which is branded with an "Ogio" label.
One other feature that Ogio has included is a snap ring on a nylon tether inside the main compartment for attaching a key ring. This makes it easier to locate and grab your keys or other small items that might be attached to the ring when the bag is stuffed full.
Attaching the Bag
One of the reasons I decided on the Ogio tail bag is the mounting system.
Included with the bag are four 17 inch (43 cm) long straps. These straps have a loop sewn in one end and a pinch buckle connector at the other end.
These "loop" straps make it easy to create a connection at any exposed frame tube, foot peg mount or yes, even a luggage hook. Just slip the loop around a suitable anchor spot and pull the buckle through the loop.
Ogio has even included elastic strap keepers on each strap. After adjusting to the needed length, the excess strap can be captured using the keeper so it doesn't flap in the wind and potential beat on any painted bike parts.
The buckle is then snapped into place at one of the four receptacles places at each corner of the bag.

Adjusting and Securing the Bag
The straps can be adjusted from their full 17 inch (43 cm) length down to a couple of inches (5 cm). It really couldn't be simpler…almost.
It could actually be a little easier if Ogio had added some twist to the front receptacles or raised them from the bottom slightly.
As can be seen in the photos, the buckle has a very small space to connect in the front locations. If the receptacles were turned a bit to or a little higher up this wouldn't be so bad.
As it is, I simply connect the front two straps first and cinch them down after both are "buckled in". Doing up the rears after is easier since they are already canted away from vertical.
This attachment setup is really versatile and easy to completely remove.
Once at your destination, the straps can be released and they can then be removed from the bike quickly and stowed in one of the outside pockets leaving no trace of mounting hardware on the bike.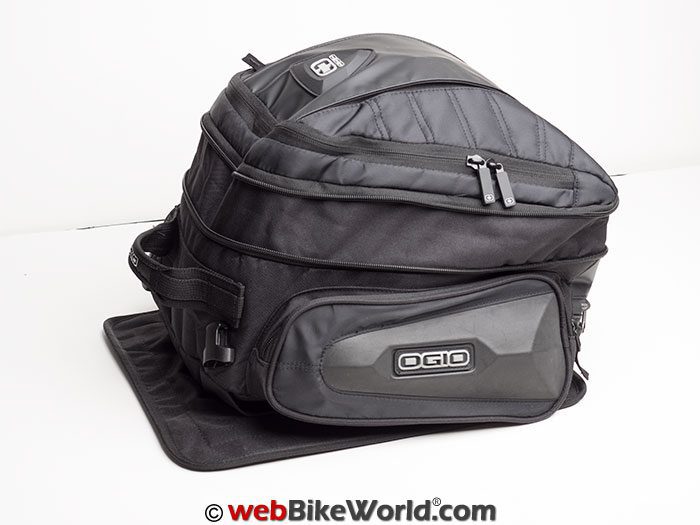 Notes on Storage Capacity
I mentioned earlier that the storage of the main compartment is about 19 liters (or 28 expanded) but it's hard to get a "real world" feel for what that means.
First, let's have a quick look at the side pockets. I estimate that each side pocket will hold about 1 liter maximum, based on my testing with a water bottle.
The bottle I had on hand for test is a 750ml size and you can see in the photos that it fits with some room to spare.
This isn't very scientific, but I feel comfortable with my 1 liter estimate.
It is a little more difficult to evaluate the maximum capacity of the interior of the main compartment, but I found a good example that most riders can relate to: a full-face helmet.
I took the Vemar Zephir helmet I reviewed recently and placed it in the bag.
You can see in the photos that when the bag is not expanded that the helmet is, not surprisingly, too large to fit.
But I was surprised to find that the expanded main compartment provided just enough room for this size large full-face helmet to be completely enclosed and the bag can be properly zipped shut.
I don't know that I would ever use it to store a helmet, but this provides a good idea of the available storage and I'm not sure there are too many tail bags that can fit a full-face size large helmet.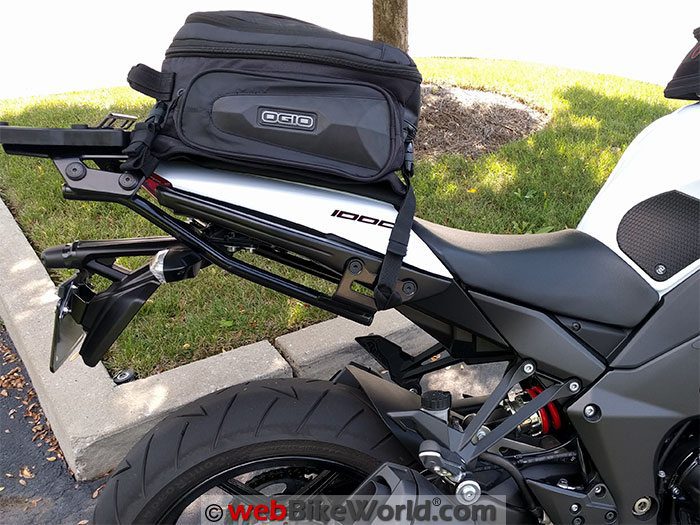 Conclusion
The Ogio tail bag is the right size for day or even weekend trips and you should be able to secure it to wide range of motorcycle types.
For my use, it is a perfect augment for the storage capacity of my 42 liter top case and tank bag combination.
A tail bag like this works really nicely for heavy payloads such as camera gear, where you might easily exceed the designed weight limit for top or side case racks.
It's a good bet that you won't be able to pack more weight in this bag than the seat could handle.
Add up the storage space, the "always ready" rain cover, and the versatile mounting system and the Ogio tail bag ticks a lot of the right boxes.
Factor in the robust construction that should last for many seasons and the $89.95 (USD) price makes the Moto Sport Tail bag a bargain!
Only problem? Ogio no longer lists these on their website, probably because they were losing money on each bag due to the robust construction!
But it's worth the search, so if you find one, grab it quick!
w

BW

 Review: Ogio Tank Bag
Manufacturer: Ogio
List Price: $89.95
Colors: Black
Made In: China
Review Date: July 2017
Note: Item provided by a retailer, distributor or manufacturer with these Terms and Conditions.
Note:
 For informational use only. All material and photographs are Copyright © webWorld International, LLC since 2000. All rights reserved. See the webBikeWorld® 
Site Info page
. Product specifications, features and details may change or differ from our descriptions. Always check before purchasing. Read the
Terms and Conditions
!
Owner Comments and Feedback