NSW is now officially the Scrooge State after police swooped on a Sydney toy run today (December 17, 2017), says Motorcycle Club of NSW secretary Steve Pearce.
The incident happened at the Kings Cross Bikers Social and Recreation Club toy run held annually for more than 30 years.
The run is a short ride from the centre of Kings Cross to St Vincent's Hospital where adults and kids on long-term palliative care are given Christmas presents donated by generous individuals and corporates.
Scrooge act
"Today, for the first time in over 30 years, the police decided to do a Scrooge act, moving on almost 100 bikes at the assembly point on Darlinghurst Road," says Steve.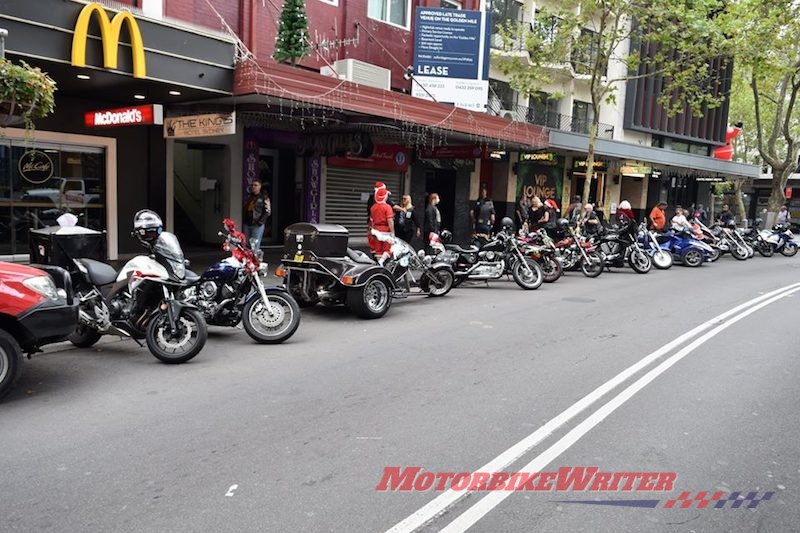 The bikes were parked in a No Standing zone, at 8am on a quiet Sunday morning, waiting to receive the gifts to be taken to St Vincent's and given out, he says.
"Rude, arrogant, unapologetic was the attitude from the Police, forcing the organisers to get underway before gifts had been handed out to Bikers.
"The Police took details and photos of all the bikes, and no doubt an extra Xmas present awaits some of the riders."
UPDATE: NSW police took three days to respond to our request for comment. Here is what a "NSW Police spokesperson" had to say:
Officers attended and detected a number of offences, however, used their discretion not to issue infringements for parking and other offences. Anyone with concerns about the event is urged to contact the Police Assistance Line on 131 444 or their local police.
Steve Pearce says the toy run was still a success, despite the police incident.
"St Vincent's were still glad to receive the group, providing food and drink for the Bikers, and the smiles on the faces of patients as always is priceless.
"It seems NSW has turned into the Scrooge State."