It has taken almost 18 months, but the new Norton Commando motorcycles are about to ship to Australia from $29,990 through dealers in most states.
NF Importers, the Australian and New Zealand distributor for Norton Motorcycles, announced in July last year that they would bring the gorgeous bikes in "by early 2014".
However, the process has been held up by lengthy Australian Design Rules compliance formalities.
The importers have now announced that all ADR approvals have recently been completed which allows for importation and sales to begin. Boss Warren Lee also announced a five-dealer network in most states with more to come.
"With the ADR formalities behind us, it's a very exciting time as we now look forward to one of the world's oldest motorcycle marquees founded in 1898 re-entering the Australasian markets after an absence of more than 35 years," says Warren. "I'm sure many would understand that the ADR process can be lengthy and we certainly appreciate the understanding and patience of the many very interested customers waiting to purchase."
The Norton range of Commando 961 has three model variants all powered by a 58kW/90Nm 961cc parallel twin. The traditional Sport will cost $29,990 (plus on-road costs), the sporty Café Racer is $33,990 and the street naked SF is $35,990.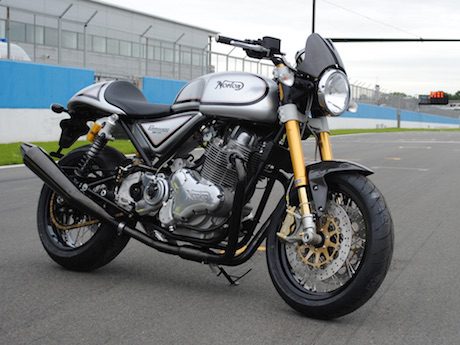 First shipments of motorcycles are en route from the UK to the following dealers: Fraser Motorcycles City, Sydney and Melbourne; Rocker Classic Motorcycles at its coming Redcliffe location; Italian Motorcycles, Adelaide; and Cyclespot Group, Auckland. A West Australian dealer is yet to be announced.
All Norton Motorcycles are hand built in Donington, UK, and can be custom ordered with factory fit options. It is believed supply will not be a problem since Norton expanded its production volumes in May under a new funding facility by Santander bank.
Australian dealers will even have demo bikes on hand for potential customers. The company is also now exporting into the USA for the first time in some 30 years as well as Canada and Japan.
Norton has been around since 1898 and making bikes on and off since 1902. In 2008, businessman Stuart Garner bought the rights to Norton from some US concerns and relaunched Norton in its Midlands home at Donington Park.