The Norton Cafe Racer
EARLY NORTON CAFE RACER
The Norton Manx, the BSA Gold Star and other big singles like them really paved the way, and laid the groundwork for Cafe Racers prior to World War II. After the war, a plethora of new bikes, including fast new vertical twins from Triumph, BSA, Norton, and the rest, attracted adventurous veterans home from the war, and rowdy young upstarts who began street racing. That's what we call it today, but back then, they called it 'Cafe Racing'. Because they raced from cafe to cafe, often for the next round of drinks. One famous trick was to start a song on the jukebox, run outside, kickstart your bike then race to a certain spot, turn around and get back before the song finishes.
NORTON CAFE RACERS AND THE FEATHERBED FRAME
In 1950, Norton introduced the revolutionary new "Featherbed Frame" on the Manx, and by 1953, they'd dropped their 500 twin-cylinder engine from the Model 7 into it, creating the new Norton Dominator 88. So named for it's smooth ride, the Featherbed was light, rigid and handled better than anything else on the planet. As it spread through Norton's entire model line from 1950 through 1970, Featherbeds became the bones of many a Norton Cafe Racer, and some that weren't quite Nortons.
NORTON CAFE RACERS LIVE ON
Whether cross-bred with another engine or pure Norton, or something else altogether, Cafe Racers have been a part of the motorcycle landscape. Over the years, they have benefited from new technologies, while many hang on to their Old World roots.
---
1975 Commando Production Racer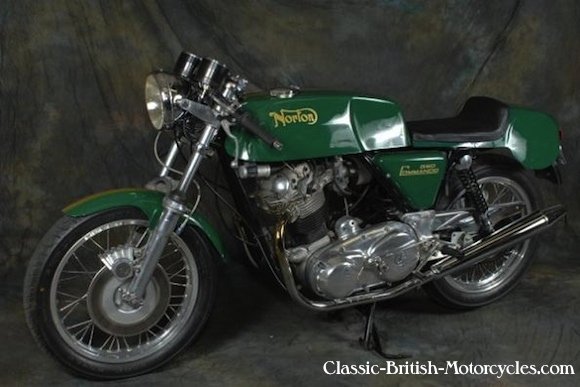 NORTON'S FACTORY CAFE RACER
The Norton Production Racer began in 1971 with a special high-compression Norton Commando 750 engine. By 1972, the Production Racer was essentially a stock Commando with an appearance package added. The series ran until Norton Motorcycles fizzled out in 1975. Gorgeous motorcycles.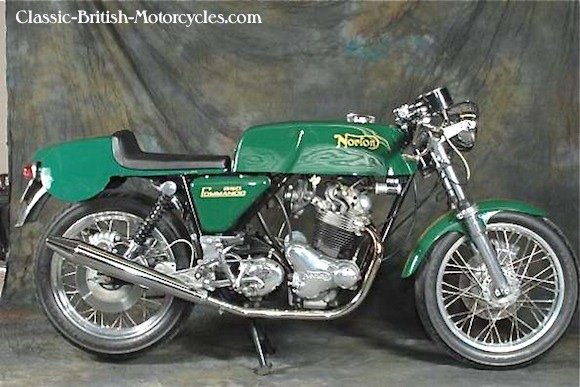 ---
1974 John Player Norton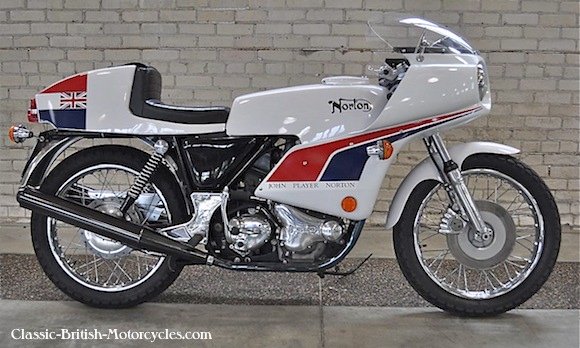 NORTON'S ULTIMATE CAFE RACER – THE JOHN PLAYER
Norton teamed up with John Player Special cigarettes & went racing. After Peter Williams achieved a stunning Formula 750 victory at the Isle of Man in 1973 on Team Norton's John Player Special, the company scrambled to create a road version of its famous racer to sell to the public. Clearly a case of "Win on Sunday, sell on Monday".
---
1972 Commando Production Racer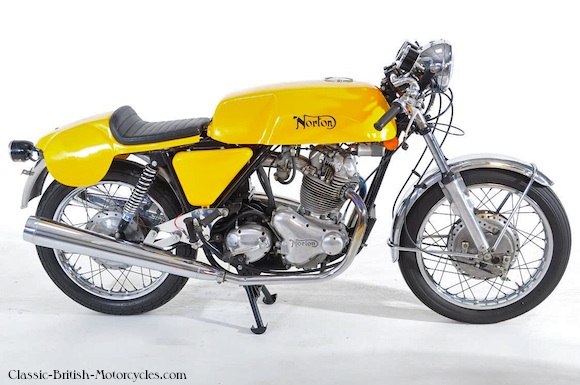 1972 NORTON PRODUCTION RACER
This 1972 Norton Production Racer is the epitome of a Cafe Racer: fast, sexy, hunkered-down & street legal. These bikes have beautiful lines. But then, what Norton doesn't? (Well…the High Rider was pretty ugly!)? There's some about yellow bikes that really turn me on.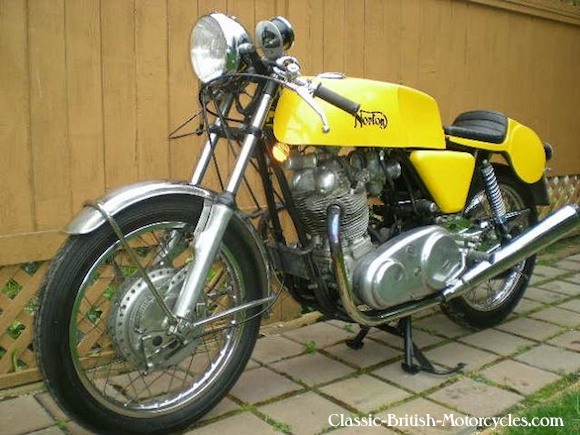 ---
TRITON = Triumph Engine + Norton Frame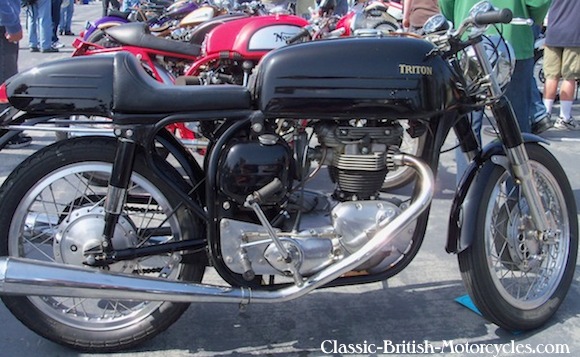 THE NORTON CAFE RACER WITH A TRIUMPH ENGINE
The Triton is a cross-breed or hybrid, created with you put a Triumph (the "TRI"-part) engine in a Norton (the "TON" part). Of course, these weren't factory-built bikes. Many were built by fabricators in private shops, some were cobbled together in garages. This is a prime example & very nicely done. The 1963 Triumph Bonneville 650 engine fits nicely with custom-made alloy mounting plates. So, is it a Norton or a Triumph?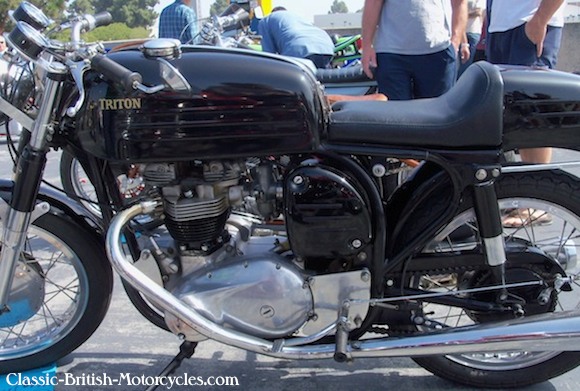 ---
NORVIN = Norton Frame + Vincent Engine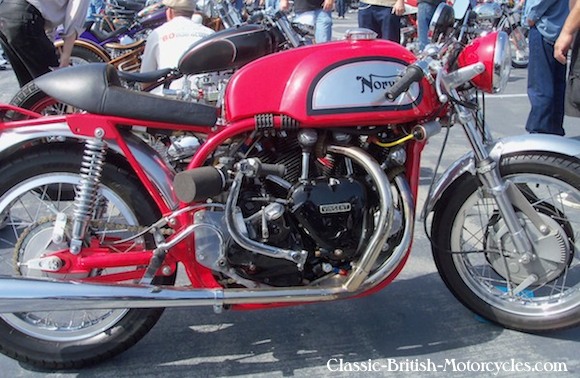 THE NORTON CAFE RACER WITH A VINCENT ENGINE
Norton Featherbed meets Vincent V-twin. The Norvin is what you get when you cross a NORton frame (Norton Featherbed Frame to be exact) with a VINcent engine (in this case a 1000cc Vincent Black Shadow V-twin. It's a beautiful installation all around. You can see that the engine had to be tipped back slightly to make it fit. Wonderful machine!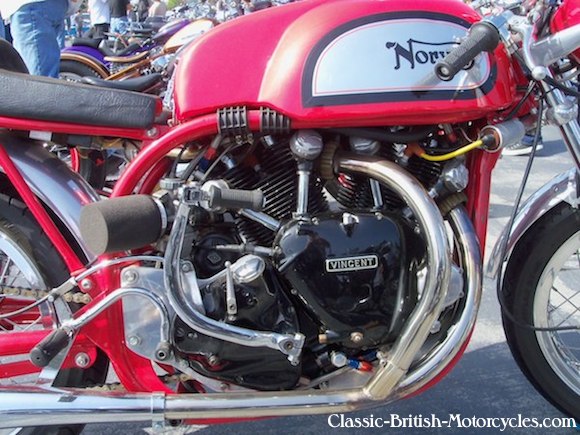 ---