Noco Genius Image Gallery
The Noco Genius G750 is a 0.75A "entry level" battery charger and maintainer.
It's especially popular for motorcycles and it can be used for lead/acid or AGM snowmobile, ATV or jet ski batteries.
This is a very nicely made battery charger and it's fairly simple to operate; more or less a "plug and play".
It can charge and maintain both 6V and 12V batteries with either positive or negative ground (earth), a plus for vintage bike owners.
Noco chargers do not use an SAE type connector, however, a type that has become something of a standard on motorcycles, thanks to Battery Tender.
So if you already have a Battery Tender SAE Wiring Harness (review) on one or more motorcycles, you'll have to buy an additional Noco-to-SAE adapter.
But the Noco terminal connector is perfectly fine if not.
The Noco Genius G750 kit also comes with a very nice — even overbuilt — pair of battery terminal clamps for temporary connections.
The Genius G750 has a list price of $37.95, which compares well to other "entry level" charger/maintainers.
Those include chargers such as the 0.75A Battery Tender Junior at $39.95 or the 1.0A Yuasa Automatic High-Efficiency charger at $40.17 list.
There's really only one problem we discovered with the Noco Genius G750, which is a problem it shares with other entry-level chargers.
It does not have a separate electric cord, so you must plug the entire charger unit into the wall outlet.
For the G750, that means covering as many as 3 outlets, due to the design. This may be a "deal-killer" for many, so be aware of this issue (more info and photos below), especially if you have only one two-plug wall outlet in the garage (like me).
Otherwise, the G750 works well and it seems very fast, despite its 0.75A output. The LED lights can be a little confusing I think, so be sure to read the owner's manual carefully.
Noco?
It's kind of a strange fate that even after all of the many motorcycle battery charger and maintainer reviews published on webBikeWorld, there has never been a full review of the Battery Tender Plus.
Even stranger when you consider that three Battery Tenders have kept the various webBikeWorld Project Bikes going for many years.
Rick bought the trio back around 16 years ago when the online switch was turned to start webBikeWorld, and they've been running non-stop ever since.
But one just died recently — so much of a surprise that we felt like maybe it needed a funeral and decent burial.
Instead, we stripped it of useful parts, like the SAE connector cable, and sent it to the recycling graveyard. RIP!
A quick trip to the local motorcycle shop for a replacement brought another discovery: they no longer carried the Battery Tender brand. Instead, they switched to Noco, a "battery products and accessories" specialist.
II've heard of Noco and even seen some advertisements, but had no idea the company celebrated a 100 year anniversary in 2014. As I learned from the enthusiastic sales rep at the bike shop, Noco makes just about everything battery related…except batteries.
Their catalog really is amazing, just loaded with everything from battery terminals to cables to battery chemicals to solar chargers and lots more.
And they have a pretty strong design theme that runs through all the products; i.e., you know it's a Noco product as soon as you see it.
So we were sold and the Noco Genius (the brand name given to their charger/maintainer lineup) G750 was chosen.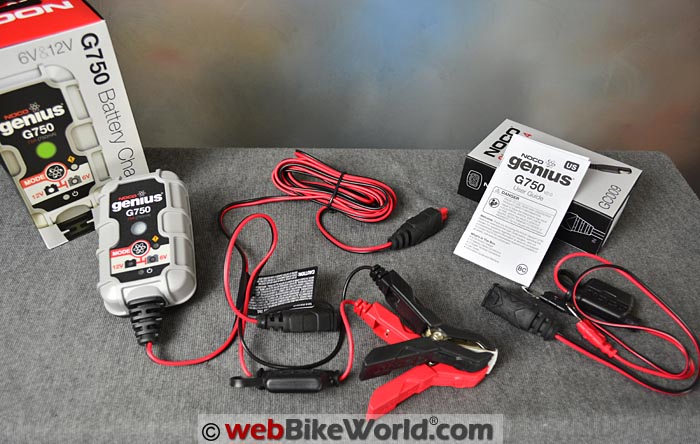 The Noco Genius G750 Battery Charger
The $37.95 list price Noco Genius G750 (0.75A rated) is the company's "entry level" battery charger or trickle charger or battery maintainer — whichever you like.
I'm not sure what I really mean when I say "entry level", other than it's currently the least expensive product in the lineup.
It competes with other "entry level" charger/maintainers, like the 0.75A Battery Tender Junior at $39.95.
Or the 1.0A Yuasa Automatic High-Efficiency charger, which has a rather strange list price of $40.17.
Now there are as many opinions about motorcycle batteries, chargers and maintainers as there are about oil or tires and probably more.
And I'm no electrical engineer, so like 99% of the rest of you, I can only go by what I read.
There are plenty of good information sites out there — see the sidebar for more info.
We chose the Noco Genius G750 because it's very easy to use and doesn't have the complicated features that you don't need anyway. A good example of one of those is the OptiMate 4 (review).
The G750 is fairly compact, measuring about 115 mm by 70 mm wide by 35 mm thick (4.5 x 2.7 x 1.3 Inches). The main unit weighs around 230 grams (0.5 lb.).
Genius G750 Features
One of the main selling points of the G750 is that it will easily charge both 6V and 12V batteries with the push of a button.
There aren't many 6V motorcycle batteries still in use but that feature may come in handy for vintage bikes or other battery-powered gear around the garage.
It will also charge both positive or negative ground motorcycles by simply switching the red and black terminals. You most likely don't have a positive ground and if you don't know, then don't mess with the battery until you learn more.
The G750 will recognize if it's not connected correctly and you'll get an orange LED. It has built-in error sensing for polarity and the charger system is protected from an inadvertent frying.
The G750 is one of the newest type of "smart" chargers/maintainers, with an onboard CPU, called the "VosFX Processor", to monitor and control the charge and maintenance. The VosFX Processor is used in all of the other higher-end Noco chargers as well.
About the VosFX Processor, Noco says it has "sophisticated levels of intelligence to alter the charge process based on organic feedback from the battery to extend battery life. The VosFX Processor quickly and efficiently makes decisions on how to charge the battery without risking user safety or damage to the battery."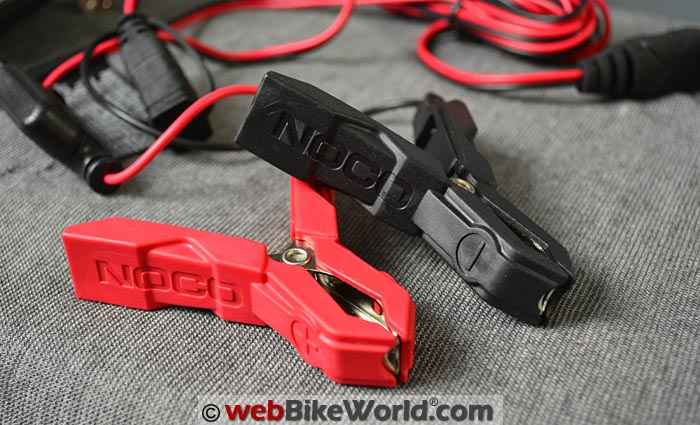 Battery Charger Amp Ratings
But the G750 has all you need for a motorcycle or powersports battery. It's rated for any battery from 1.0 to 30.0 Amp-Hours. More isn't necessarily better when it comes to Amp output, at least for maintenance charging and maintaining.
From what I have read, a slower charge is actually better because the current becomes more evenly distributed through the electrolyte and the battery plates.
Charging too fast can cause gassing and a potential explosion from hydrogen gas in lead/acid batteries.
So the 0.75A rating of the G750 is suited for light recharging and long-term maintenance of a motorcycle battery. The basic Battery Tender Junior is also 0.75A rated and Yuasa recommends their 1.0A YUA1201000 charger for their own motorcycle batteries.
"Smart" Charging
The G750 has a five step charging and maintaining process, controlled by the VosFX Processor.
From the Noco literature, the five steps include:
Diagnostics: The G750 checks the battery voltage to make sure the charger is properly connected and the battery is in a stable condition before beginning the charge process.
"Soft Start": What Noco calls a "gentle" or "soft" charge begins.
Charging: The charging process to bring the battery up to 90% of capacity.
Absorption: Brings the charge level to 100% with small amounts of current to provide a safe, efficient charge and limit battery gassing.
Maintenance: Monitors the battery voltage continuously to determine if a maintenance charge should be initiated.
If the terminal voltage falls below approximately 6.4V for a 6 Volt battery or 12.8V for a 12 Volt battery, the charger will start a maintenance cycle.
This continues until voltage reaches approximately 7.2V for the 6V battery or 14.4V for the 12Volt battery. Then the charge cycle is discontinued.
The maintenance cycle is repeated indefinitely to keep the battery at full charge, without overcharging. The battery charger can be left connected indefinitely.
All of this information is available in the Noco Genius G750 Owner's Manual (.pdf), but note that the current Noco owner's manual .pdf apparently shows an older version of the G750, so the lights are not the same as the current G750 units we've found on sale.
Desulfation and Battery Sizes
Although Noco doesn't list a "desulfation" mode, the G750 is recommended only for use with lead-acid batteries, including Wet (Flooded), Gel type, Maintenance Free and AGM (Absorption Glass Mat) batteries.
The G750 is designed for charging batteries of all sizes that are rated from 1.2 Amp-Hours to 30 Amp-Hours, which surely covers all motorcycle batteries.
Note that it's not always easy to find the Amp-Hours of a motorcycle battery; some manufacturers list an Amp rating and a few list an Amp-Hour rating.
You'd be surprised at the ratings, as they're not always what you might think.
For example, a 2005-era big Harley-Davidson FLHT touring bike can take a 3.0 Amp, 400 CCA battery, while a modern 2015 BMW K1600GT takes a 1.8A, 170 CCA battery and a 2010 Suzuki DR650SE needs a 0.9A, 135 CCA battery to turn over that big single cylinder.
This is all according to the Yuasa battery charts.
The point? You can't always tell which bike has a monster battery and the 0.75A G750 should be fine for maintenance charging and maintaining all of the above.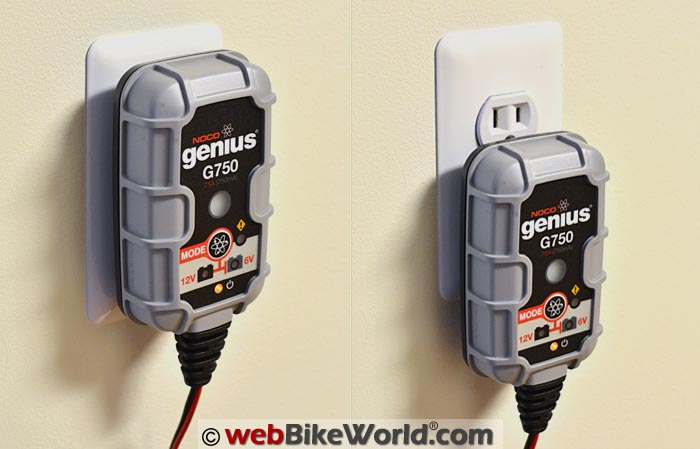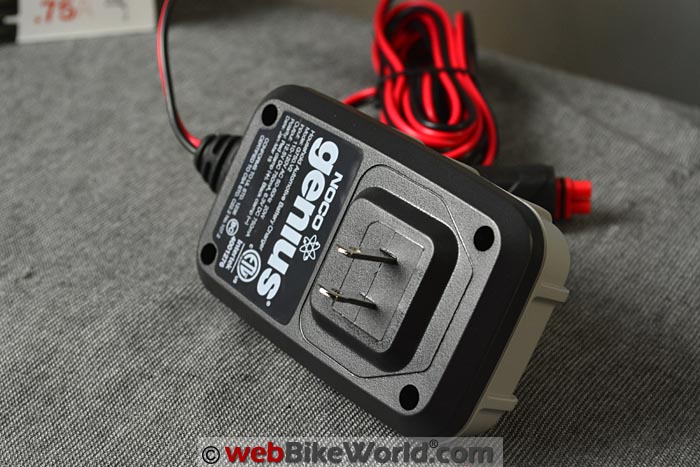 Noco Genius G750 Cons
One big issue we noticed as soon as we pulled the G750 out of the box — and something we did not see in the store — is that the G750 has a built-in electrical outlet connector on the back. It's not on an extension cord.
This is the same as the Battery Tender Junior and the Yuasa charger, and it's something to take note of.
If you only have one dual-plug wall outlet in the garage like I do, then the G750 covers both outlets, no matter how you mount it. It's kind of a poor design.
First of all, they should have put the electrical plug on an extension cord. This is the way it's done for all the other Noco chargers, from the 1.1A G1100 on up. obviously, they were trying to save money on the G750.
That's fine, but they put the dual-prong (North American style) plug too low on the back of the G750, so the top of the charger case covers the grounding outlet of the plug above on a standard double wall outlet.
The wire for the cables that go to the battery come out the bottom of the G750 case, and the vinyl reinforcement also somewhat blocks access to any plugs underneath.
Noco also warns against using the G750 on an extension cord, as does every other charger/maintainer manufacturer like Battery Tender, Pulsetech and others.
But many of the "beyond entry level" chargers have their own extension cord connected, so the entry level versions should also and this problem would be greatly mitigated.
Here's a graphic from the owner's manual that you can use; it's a good indicator for extension cord sizing when using a charger: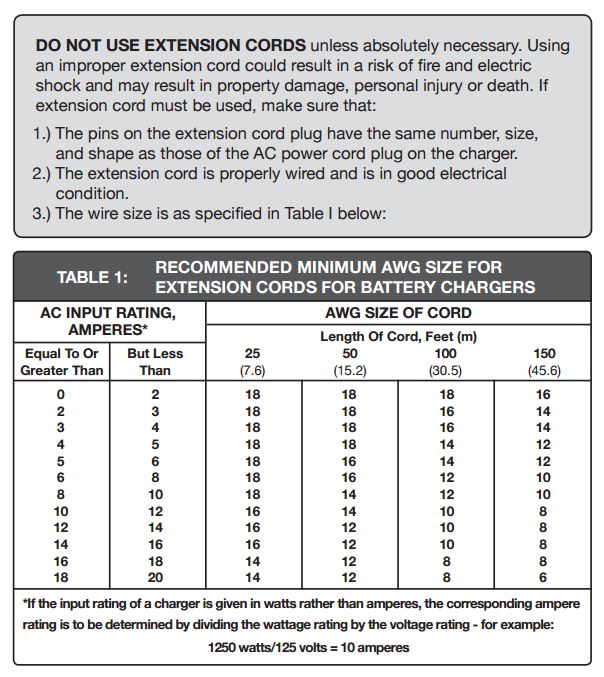 We had no choice but to put our G750 on an extension cable in the garage. It's been working for several weeks, and seems to be fine and the extension corde and the G750 remain at a perfectly cool temperature.
So maybe Noco's warning is a bit of liability butt-covering.
Bottom line here: they should have used an electrical extension cord built in and we highly recommend that Noco do that on the next version. Even if it adds a couple of bucks to the price.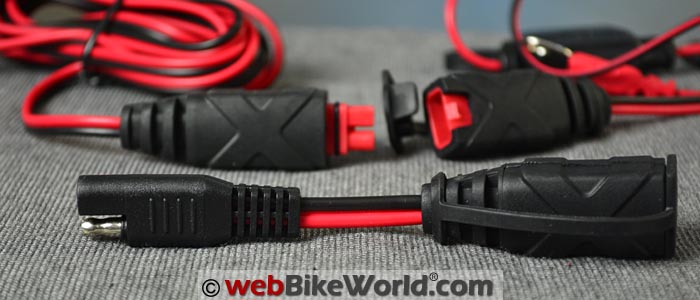 The SAE Conversion Cable
Since we were heavily invested in Battery Tender technology for many years, all of the bikes that have ever come through the garage and all of the battery charger cabling here has the SAE type connector.
These are small, very handy, with a protected power side (the ground is the exposed terminal on an SAE connector) and there are even many accessories designed to use an SAE connector if you have a fused SAE harness attached to your motorcycle battery.
See the webBikeWorld Battery Tender SAE Wiring Harness review for more information.
But, Noco uses its own connector type. It's actually a pretty nice connector, dual plug, but it's not SAE.
The G750 kit comes with its own fused harness with the Noco connector, so if you're starting from scratch or you don't mind swapping out your SAE harness, go for it.
But if you want to keep your SAE harness because it connects to other devices, you'll have to buy the Noco GC009 SAE-to-Noco adapter, which lists for 10 bucks but can be found for around $6.95.
Since we already have SAE harnesses on all the bikes, that's what we did. (The G750 was purchased to keep the BMW R65 AGM battery maintained during the winter layaway).
On top of that, a few of the bikes have a Euro-style round accessory outlet, similar to the Powerlet type.
We have a couple of SAE-to-Euro outlet adapter cables for those, so we have to go from the Noco GC009 to the SAE end of the Euro outlet adapter cable, then to the male Euro plug and then into the Powerlet outlet on the BMW.
Sounds complicated but it's not…
Additional Cables and Accessories
Noco offers a bunch of different accessories for the G750 and other chargers, including various adapters, couplers, extensions and two very interesting LED battery condition indicators that can be attached to the battery terminals.
The LEDs indicate the battery charge and one of the accessories even has a built-in Noco dual-plug adapter so you can quickly attach a Noco charger when the LEDs indicated a low Voltage condition in the battery.
These might come in handy on a motorcycle and are similar in function to the Clearwater Voltage Sentry we reviewed we reviewed that was installed on the Suzuki DR650 (Blog) Project Bike a few years ago.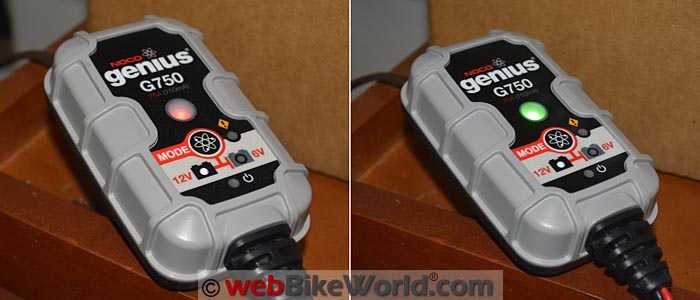 Using the Genius G750
As always, it's important to read the owner's manual before starting. But the G750 is about as easy as it gets.
Once you've connected the Noco harness to your battery or used the SAE adapter or even the hefty "alligator" clamps that come with the kit, you're ready to go.
Noco warns in big bold letters that you must not connect to the AC power in the wall outlet until all the other connections have been made. In other words, always plug it into the wall outlet last.
That is not an unusual warning. Every charger/maintainer we've seen from Battery Tender, Pulsetech, Ctek, etc. all have the same warning (that's why it's important to read the owner's manual!).
Connecting the charger to the AC outlet last helps avoid sparks at the battery.
Does everyone follow this rule? Does everyone use a correctly sized extension cord? Well, no and no. But, you have been warned…
Once you plug it in, the G750 LEDs light up for a a moment to confirm all LEDs are operational.
The charger then starts in Standby mode with a green LED. No charging takes place here, it's waiting for you to select either 6V or 12V charging mode. Of course, most motorcycles today are 12V.
Once the selection is made, the evaluation and charging process begins.
Possible Error Conditions
When the battery is fully charged, the LED turns green again and if the power goes off and on or the charger is disconnected and then re-connected, it remembers where it was in the cycle and restarts automatically (we deliberately tried this once and it worked).
If there's an error condition for some reason, the LEDs will blink simultaneously at a rate of 5 blinks per second. Then it's time to check the owner's manual.
Error conditions might include incorrect Voltage selection; heavily sulfated or damaged battery or a battery with such low Voltage that it can't be charged with the G750 (below 2.0V for a 6 Volt battery or below 7.0 Volts for a 12 Volt battery).
If that happens, you'll have to charge the battery with some other means to bring it up to the minimum threshold.
That's all there is to it. I've noticed that occasionally the light switches from red back to green, so this must be the G750 sensing a Voltage drop and topping off the charge.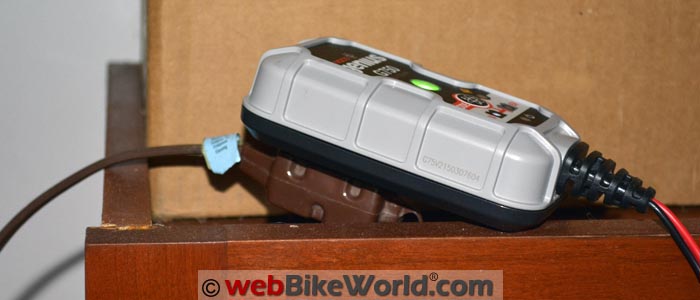 LED Weirdness
The only issue with the LEDs is that the green LED signals both success and failure.
If the LED immediately turns green when the G750 is connected to the wall outlet, the battery is either already fully charged or "the battery is in extremely poor condition as a result of sulfation or damage", according to the owner's manual.
This seems confusing — you'd think there would be a red or orange light or something if the battery had a problem. With a green light for both, you might think the battery is fully charged when it isn't.
But, there is also confusion in the owner's manual, because if the G750 starts making a clicking sound, that also indicates the possibility of "a battery in extremely poor condition as a result of sulfation or damage".
And there's more: the manual states that if the battery Voltage is below the 2.0V (for a 6V battery) or 7.0V (for a 12V battery), the orange and red LEDs will blink, indicating an out of range condition.
So which is it? Green, clicking or red/orange?
We had an old and unused 12V electric fence battery and connected it to the G750, thinking we might replicate one of these conditions, but the G750 happily went through its cycle and quickly charged the battery with no problems.
So we don't really know anything more about these error conditions beyond what is described in the owner's manual.
Charging Speed
It's impossible to know for sure how long it might take to charge a battery, because it depends on the state of the battery and its Voltage at the time the charger is connected.
But based on our experience over the last few weeks, I can say that the G750 is FAST.
It's quite unlike the older technology Battery Tender, which seems to take forever sometimes to get a battery up to snuff — even overnight on some occasions for an active motorcycle battery we didn't think was in bad shape.
The G750 just seems very fast and the light turns green within minutes on the same batteries that have undergone the same type of usage as when it took much longer with the Battery Tender.
Noco gives a general guide for charging times, which indicate 2.5 hours for a 2.2A battery with an "average depth of discharge" (whatever that means).
In our experience, it takes only minutes to bring any battery we've tried up to full charge with the G750.
Warranty
The Noco G750 (and other Noco chargers) has a five year warranty. There's a $9.95 fee if the charger is returned for warranty work during the warranty period if you have a copy of the sales receipt or $13.95 without the receipt.
Apparently, you have to register the charger to validate the warranty however.
Conclusion
It seemed rather strange to start using the Noco G750, after having used a number of Battery Tender Plus chargers for nearly 16 years straight.
The biggest issue for us in converting to Noco was the SAE adapter problem.
Noco might be well advised to include a plug-in SAE adapter choice for their chargers and perhaps this would convince more die-hard Battery Tender users to make the switch.
In fact, if they gave away the SAE adapters and a free SAE fused harness, they'd probably more than make it up in additional sales. It makes no sense to go with a proprietary adapter in the 21st Century.
The other issue — at least for the G750 — is the built-in wall outlet plug that takes up 2-3 outlet slots.
The G750 is the only Noco charger with this problem and they should definitely address it by using an extension cord on the charger instead.
But other than those to semi-minor issues, the Noco Genius G750 has performed admirably. It's all the charger/maintainer you really need for general motorcycle battery maintenance.
As always, whenever a motorcycle comes back into the garage, it's immediately connected to a charger/maintainer.
This has kept all of our motorcycle batteries in tip-top condition, including a Westco sealed battery that's been in the 1986 R65 for 9 years and counting.
The impact-resistant polycarbonate body housing the G750's brains seems very well made and it carries the Noco design ethos recognizable in their entire product line.
The system has protections guarding against reverse polarity, short circuiting, open circuit, overheating, overcurrent and overcharging and it's spark proof tool.
As a bonus, it charges both 6V and 12V batteries in either positive or negative ground.
The LED lights are clearly visible and the owner's manual is complete, packed with information (and some tips) and covers all the basics.
Have we found a new motorcycle battery charger/maintainer brand? It looks like it…but let's see if the G750 will outlast the decade-and-a-half old Battery Tenders first!
UPDATE on the G750
(March 2017) – Several months ago, after having been connected to a Westco sealed glass mat battery in the old 1986 BMW R 650, the Noco G750 started showing an error condition.
The lights were blinking the single flash "battery will not hold a charge" warning. We tried disconnecting the G750 from the electric wall outlet and letting the charger "rest" for a few hours, then plugged it back in, only to get the same warning.
If we removed the charge cable from the BMW and turned off the G750 and left it for a day or so, we'd get a green light on reconnecting.
Then, a few days later, the error warning again. The battery tests perfectly fine, so we then connected a brand-new Battery Tender Model # 996821. It showed a green light almost immediately and that hasn't changed since.
The conclusion? Either the Noco G750 is overly-sensitive to something or is defective or is giving an error that doesn't exist (or that the Battery Tender isn't picking up).
But that's the end for the Noco G750 as far as we're concerned. The battery tests fine and the Battery Tender doesn't show any errors and frankly, it's not worth messing around with the G750 to try and get it to accept the reality.
Bottom line? It's hard to recommend the G750, after having such good performance with 4 different Battery Tenders over a total of 18 years now and counting.
wBW Motorcycle Battery & Charger Reviews  |  Maintenance & Repair Articles
w

BW

 Review: Noco Genius G750 Battery Charger
List Price (2015): $37.95
Made In: China
Colors: Putty
Sizes: 0.75A for 1.0-30.0 Ah batteries.
Review Date: December 2015
Note:
 For informational use only. All material and photographs are Copyright © webWorld International, LLC since 2000. All rights reserved. See the webBikeWorld® 
Site Info page
. Product specifications, features and details may change or differ from our descriptions. Always check before purchasing. Read the
Terms and Conditions
!
Owner Comments and Feedback
---
From "N.F." (December 2015): "I have the Noco Genius G3500 that I love, EXCEPT for the connectors. They are over-engineered and sturdy, but in all the years of using SAE connectors, I've never had an issue. Why answer a question nobody asked?
They should change to SAE or include the dang adapter with the charger. I HATE it when someone deviates from an industry standard."
---
From "H.S." (December 2015): "I wish you many years of happy charging with the Noco Genius G750. However, it doesn't, er, float my boat, and not just because of its taking up an entire wall outlet.
You note that 'Noco warns in big bold letters that you must not connect to the AC power in the wall outlet until all the other connections have been made. In other words, always plug it into the wall outlet last.' This, too, would be a deal-breaker for me.
When I park my bike in the garage — over night or over the winter — I pop in the business end of my smart charger. And when I'm ready to ride, I pull out that plug, and just drop it on the floor.
That is, the charger is plugged in to an outlet all of the time (with, yeah, a tiny parasitic drain on my electric bill). I have the charger mounted to a leg on my workbench, and plugged into a power strip that's mounted to a different leg on the workbench.
Using a charger day in and day out this way, if I also had to disconnect the charger itself from house current, and then plug it in again, I would consider that an unacceptable nuisance.
By the way, after needing to use my Battery Tender Jr. for my riding lawnmower, a few years ago I purchased a PulseTech Xtreme charger (review). To facilitate ease of (constant) use, I snipped off the ring connectors on one of the Xtreme's cords and put a Powerlet plug on the end.
On recent bikes, I've added a conveniently located Powerlet socket; I use that for the charger, in the garage, and my heated gear, on the road.
Xtreme cons? Unlike the Noco, it won't deal with 6V batteries. And in addition to the higher purchase price of the Xtreme, I think PulseTech is a little out of line in charging $18.95 for its simple mounting bracket.
But all in all, I think many readers would be better served by spending a little more money, in line with your suggestion, for instance, that Noco might want to supply an extension cord in the future.
My suggestion is that some readers might instead want to consider a brand that they can just leave plugged in."
Rick's Reply: Thanks for reminding me, I edited the article to note that actually, every charger/maintainer we're aware of has the same warning regarding connecting the charger last.
Battery Tender, Pulsetech, Ctek, etc. all warn to connect the charger as the last step. That's to avoid sparks at the battery.
They also all warn against using an extension cord unless absolutely necessary. I should have noted that in the article and I just did now.