Nexx X.WST2 Carbon Helmet Review Summary
Review Summary
The Nexx X.WST2 Carbon helmet has a unique look and featherweight design at a bargain price for the materials and features. Its 3D lining made it very comfortable and true to listed sizing with a large viewing window and great ventilation. The removable lining makes it easy to keep clean. It meets both DOT and ECE certification requirements.
Pros
Ergonomic and comfortable fit for prolonged rides
Excellent ventilation system for optimum airflow and reduced fogging
Lightweight
Visor ratcheting works well. Stays in multiple positions even at speed
Wide field of view
Cons
Noisy even compared to other race type helmets
Internal tinted visor only goes down halfway making it difficult to use if not in a race tuck
Poor aero if head position anything other than looking straight into the wind
Nexx X.WST2 Carbon Helmet Image Gallery
Review Summary
The Nexx X.WST2 Carbon is a lightweight carbon helmet at a bargain price of about $500. High end features include multiple air intake and output vents.
The helmet is quite noisy and it takes a bit out of the value for money that you get in a premium carbon helmet.
Made for comfort with 3 shell sizes, removable Coolmax line and 3D cheek pads.
Easy to adjust and replace the face shield. Includes a drop down/internal tinted visor so there's no need to carry an extra shield for changes in day or night riding.
Has an optional integrated Bluetooth system available separately.
Nexx
The Nexx brand got its start in 2001 and is based in Portugal. They boast that they do everything "in-house" and pride themselves on that fact. They produce a variety of helmet types for most any motorcycle application and their helmets adhere to both DOT and ECE standards.
Construction
Starting with the construction of the helmet, the X-Matrix shell is made up of fiberglass, "3D fibers" and carbon fiber. They call it their X-MATRIX technology which is a process that combines multiaxial fiberglass, 3D organic fibers and kevlar, special aramid fibers and carbon reinforcement.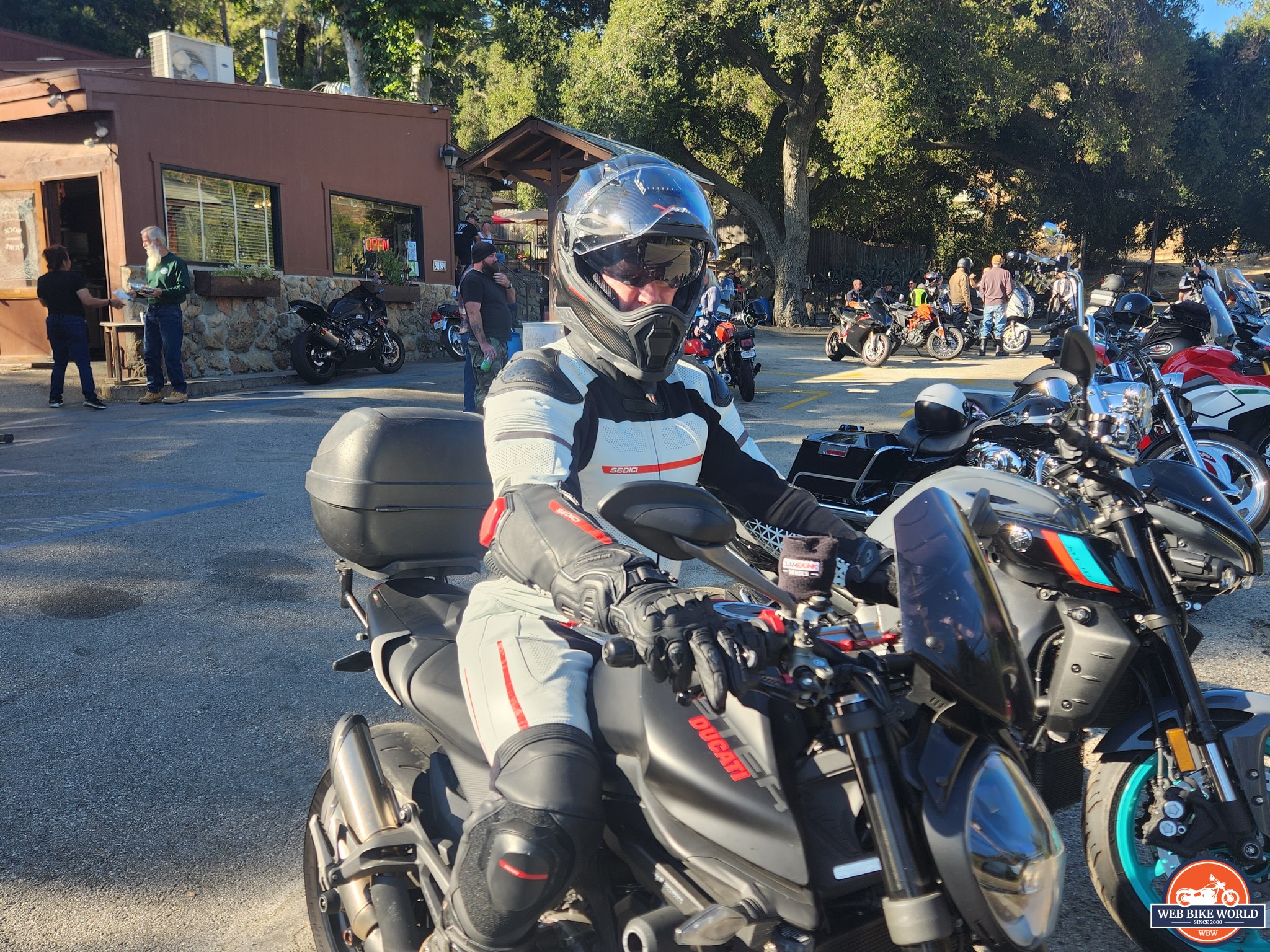 According to them, the result is a super strong and lightweight shell which is 35% stronger than normal fiberglass. I can attest to the light weight but thankfully haven't tested its durability. It is both DOT FMVSS 218 and ECE/22-05 certified so someone else has done that job for me.
It has an integrated "spoiler" to help reduce lift and drag and it feels successful in that goal.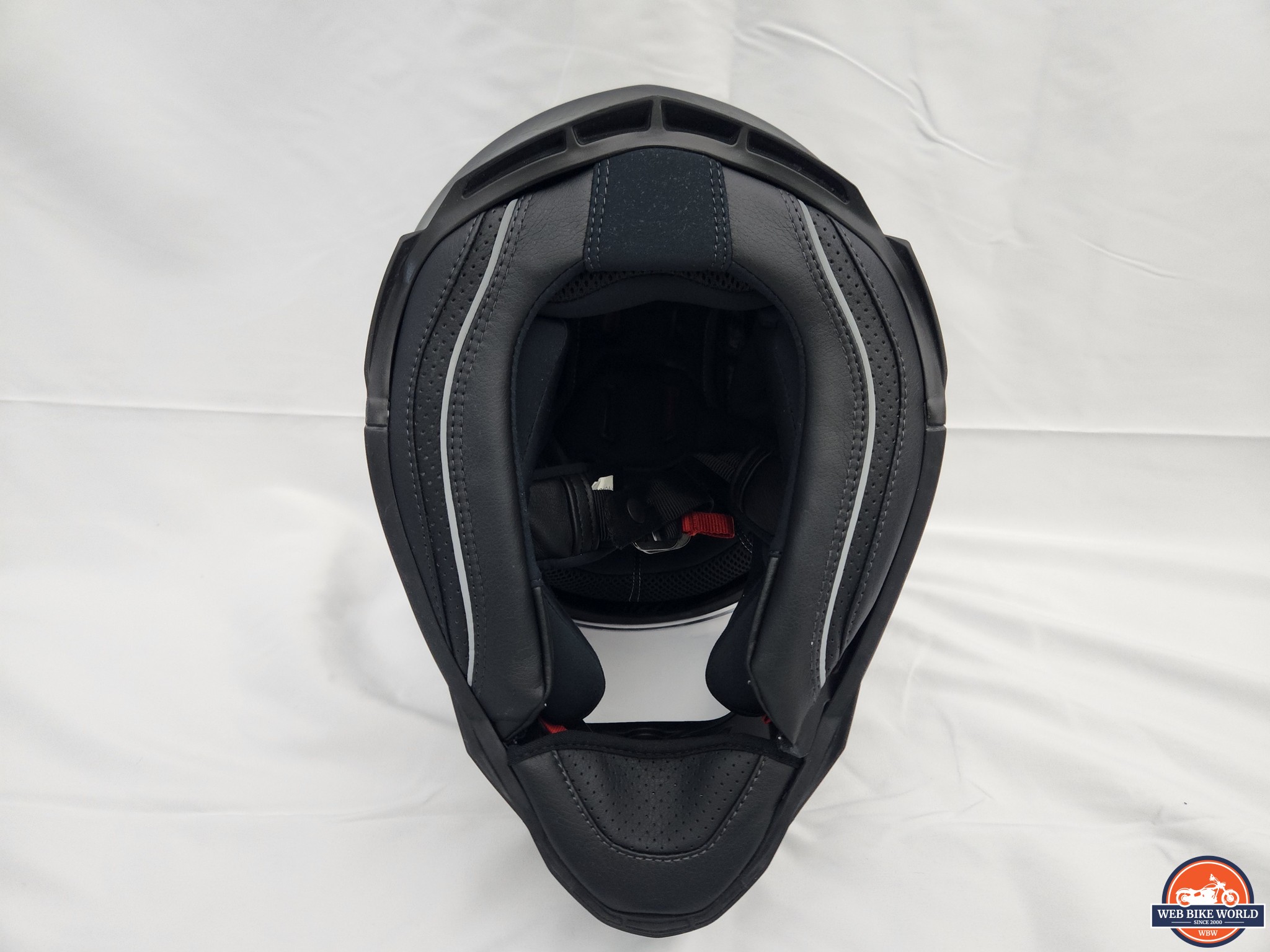 It also includes a chin curtain which likely also helps with aerodynamics and wind buffeting.
Even on my Ducati Monster, I didn't have any issues with the helmet "lifting up" at freeway speeds. The chin strap is a double-D buckle and reasonably comfortable.
Weight
When I received the helmet, I thought the box was empty due to the light weight of this lid! Weighing in at 3.2 lbs (1450 grams) it feels much lighter than my other "race helmets", even the Shoei X-14.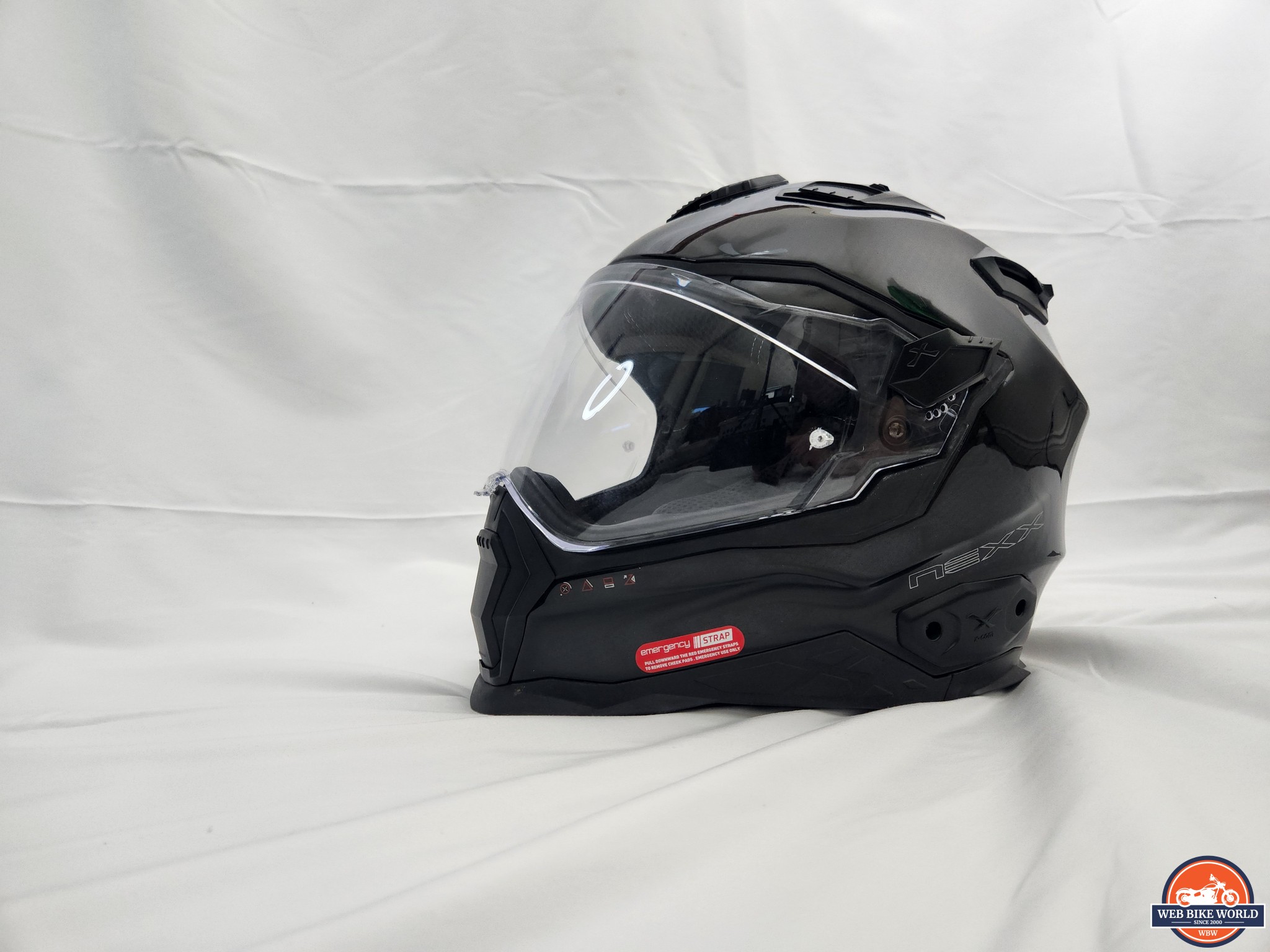 Long rides with a heavy helmet can be uncomfortable and here in Southern California where it can be an hour ride or more to get to the twisties, that is a major consideration. Hundreds of miles later I still find it to be light and comfortable for long periods with none of the neck strain I've had with heavier, modular helmets.
Fit
The first step in getting a helmet is to know your size. The Nexx X. WST2 comes in 3 shell sizes (XS-SM, MD-LG, XL-3XL). If you're a long time rider and know your head shape, it's helpful to know I found the fit similar to Shoei which is commonly considered an "intermediate oval" shape. Make sure to check out the sizing chart over at Revzilla to confirm though.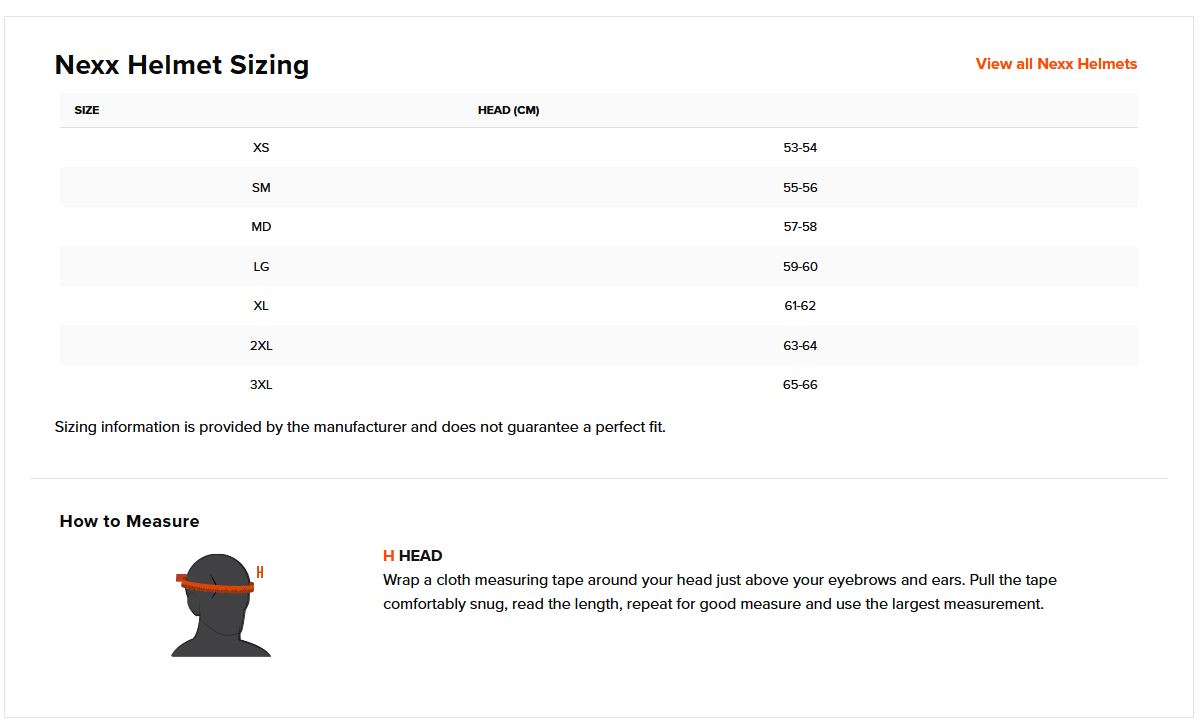 I wear an XS in all helmets I've had and the Nexx fits the same if not a very slightly looser than a Shoei X-14. Wearing an XS it's often tough to find the right fit of being snug without annoying pain points, but I have been a big fan of the Shoei brand and the X series in particular and the fit here is similar.
A long day of riding confirmed that I had no pain in the forehead or temples and the padded chin strap felt fine without digging into the area around it.
Cheek Pads/Interior
The interior is a nice place to spend the day. The Cool Max material is soft to the touch making it comfortable and the check and top padding are easily removable. The same can't be said of putting it back though as it's a bit fiddly where you have to line up all 3 tabs (in the case of the cheek pads) and then slide them all back.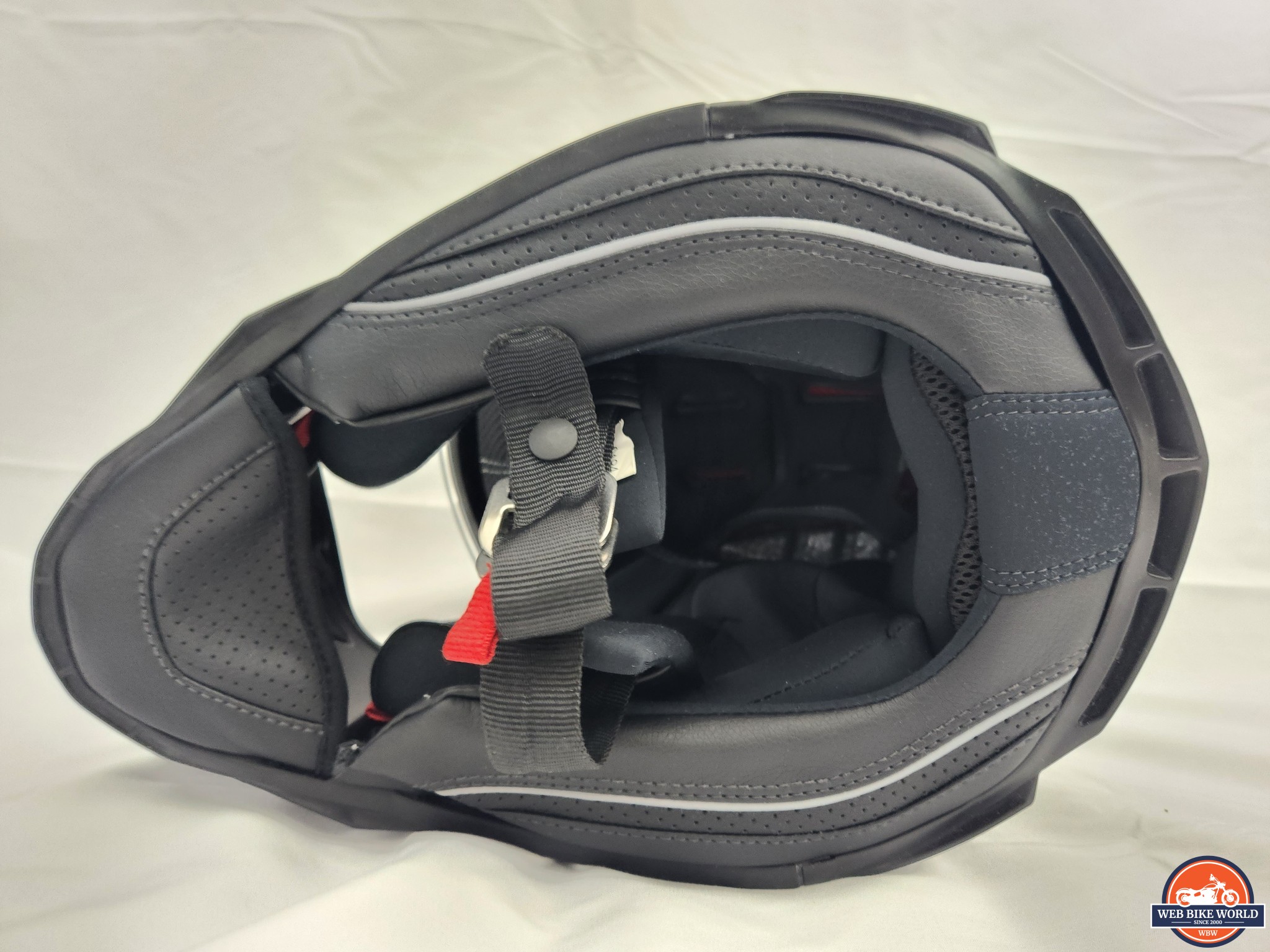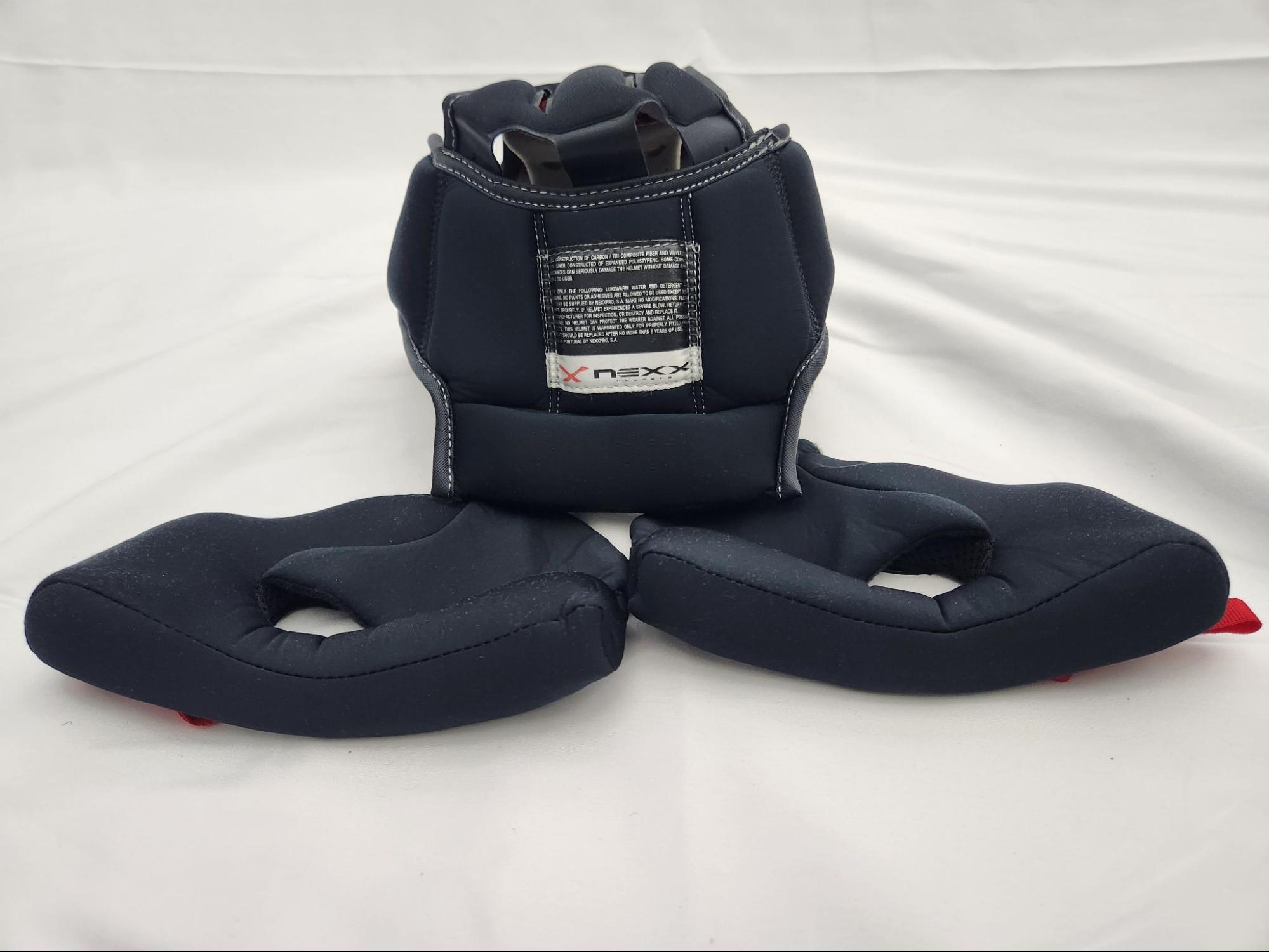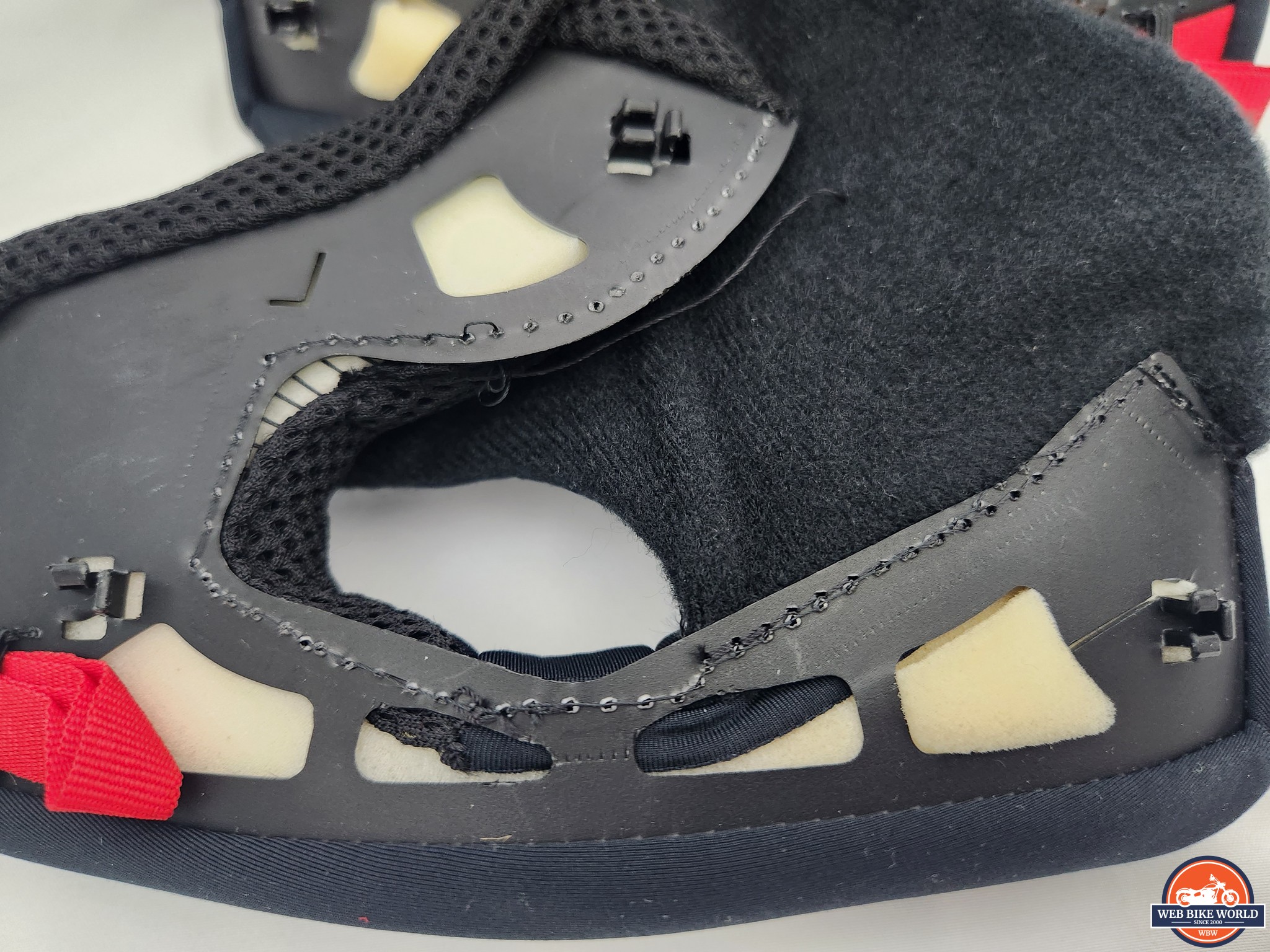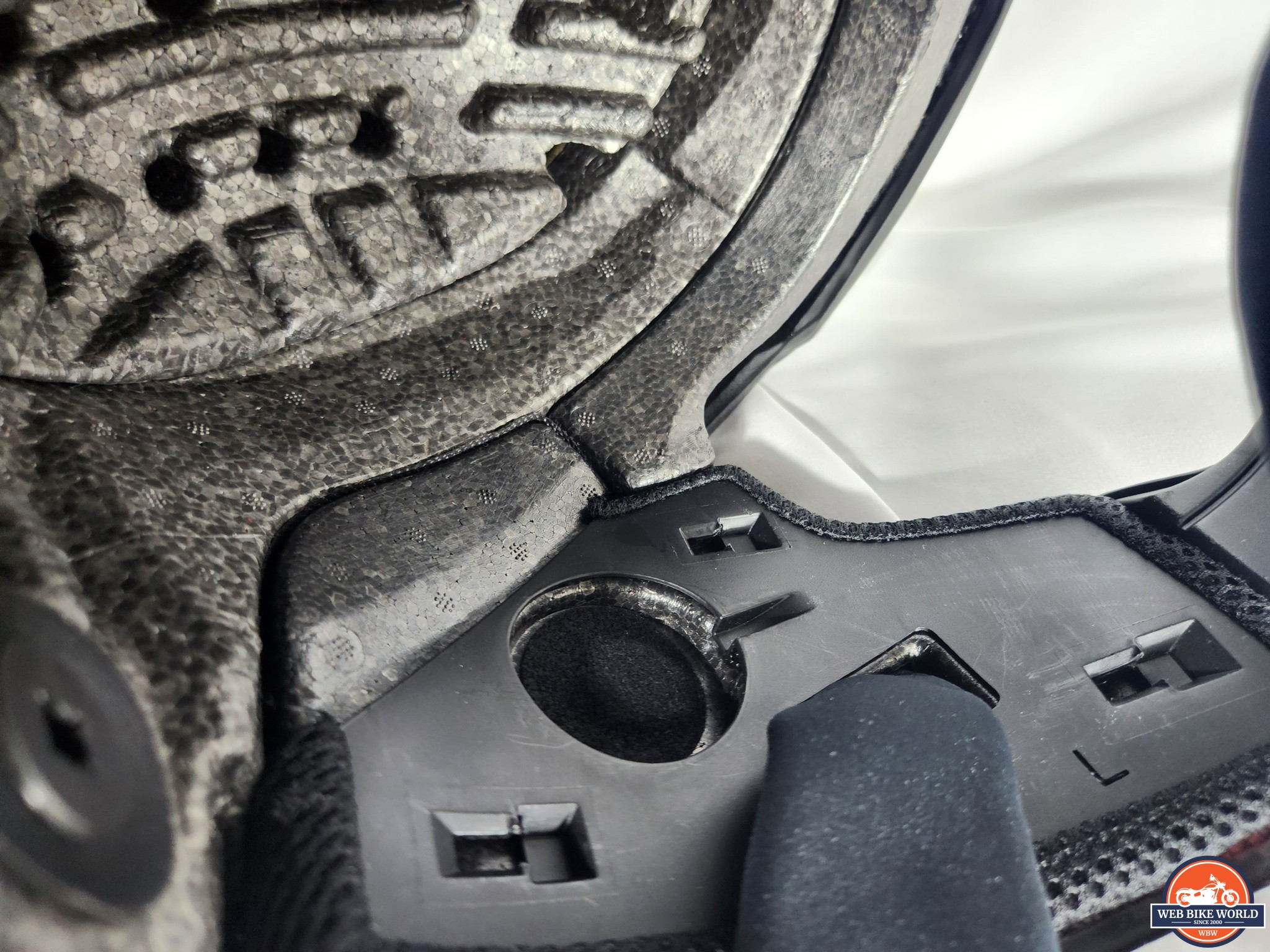 I would have much preferred a simple snap-in like they put in the back for the headliner but as I'm not removing them often it's not a big deal but worth mentioning.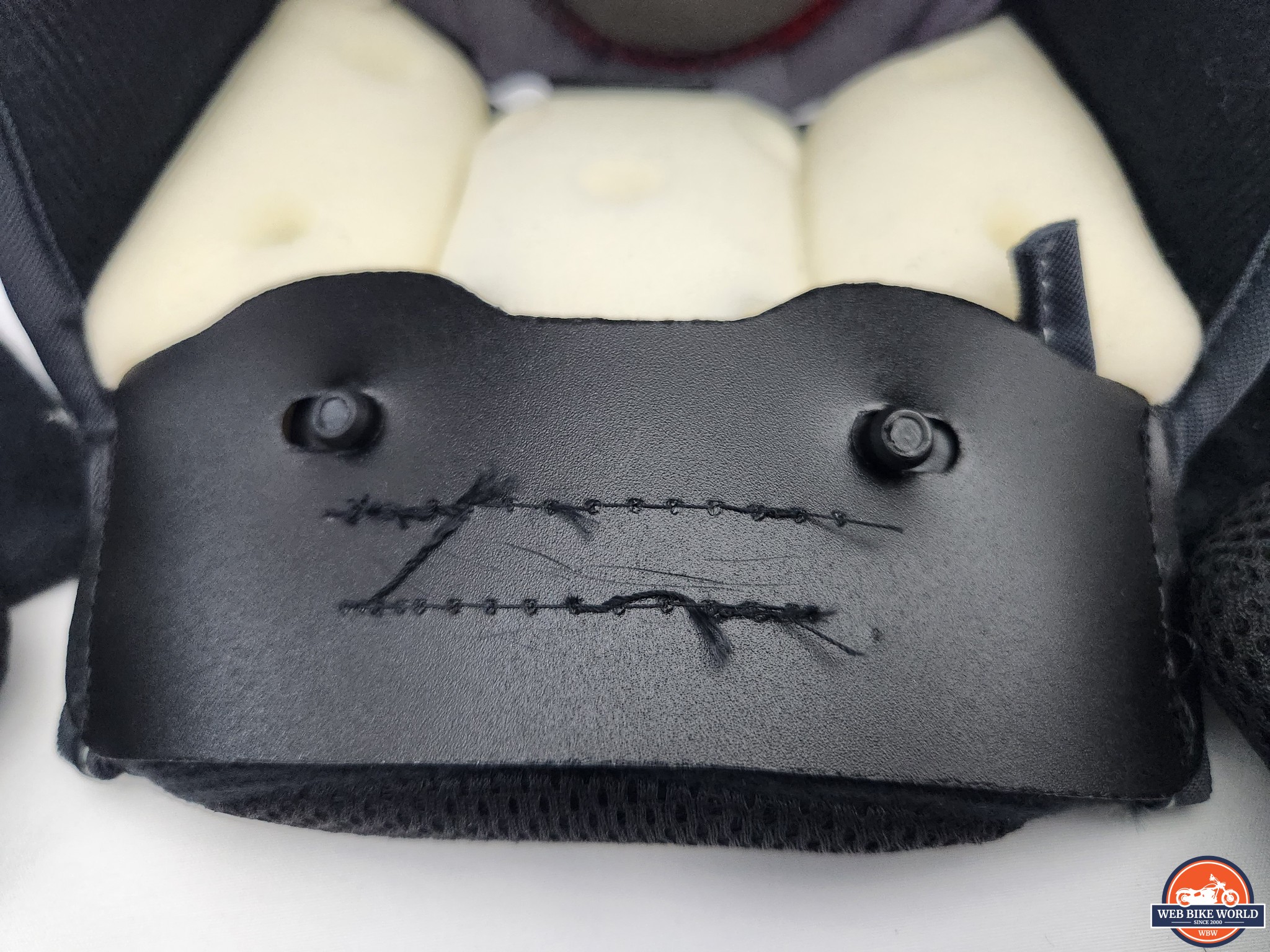 The internal Cool Max lining has kept fresh through a summer of riding in the hottest temps of So Cal including a couple of days in the 90s. I did remove the padding on several occasions to fully wipe it down and air dry after some of these days and though I do wear a helmet "sock", it's nice to know on those sweaty days I can give it a thorough interior cleaning. The cheek pads are supportive without causing any pain points.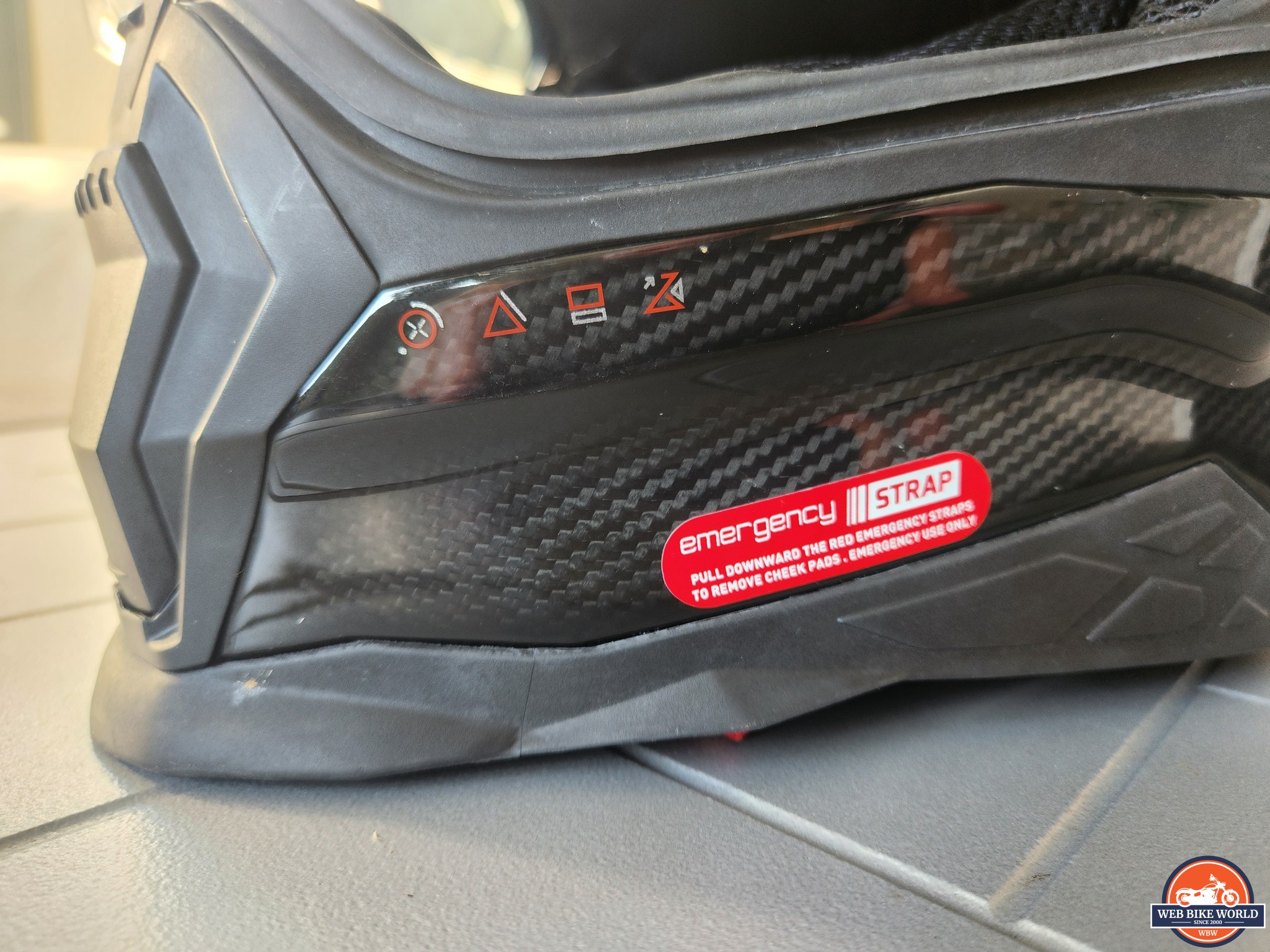 In an emergency where someone else has to take the helmet off, the pads are supposedly released using their Emergency Strap System which is clearly marked on the side of the helmet.
While that may be useful for an emergency personnel who could possibly look for it, I didn't see those little straps tucked away until I was taking all the cheek pads all the way out. I wouldn't expect them to be noticeable unless the wearer was able to call it out after a crash.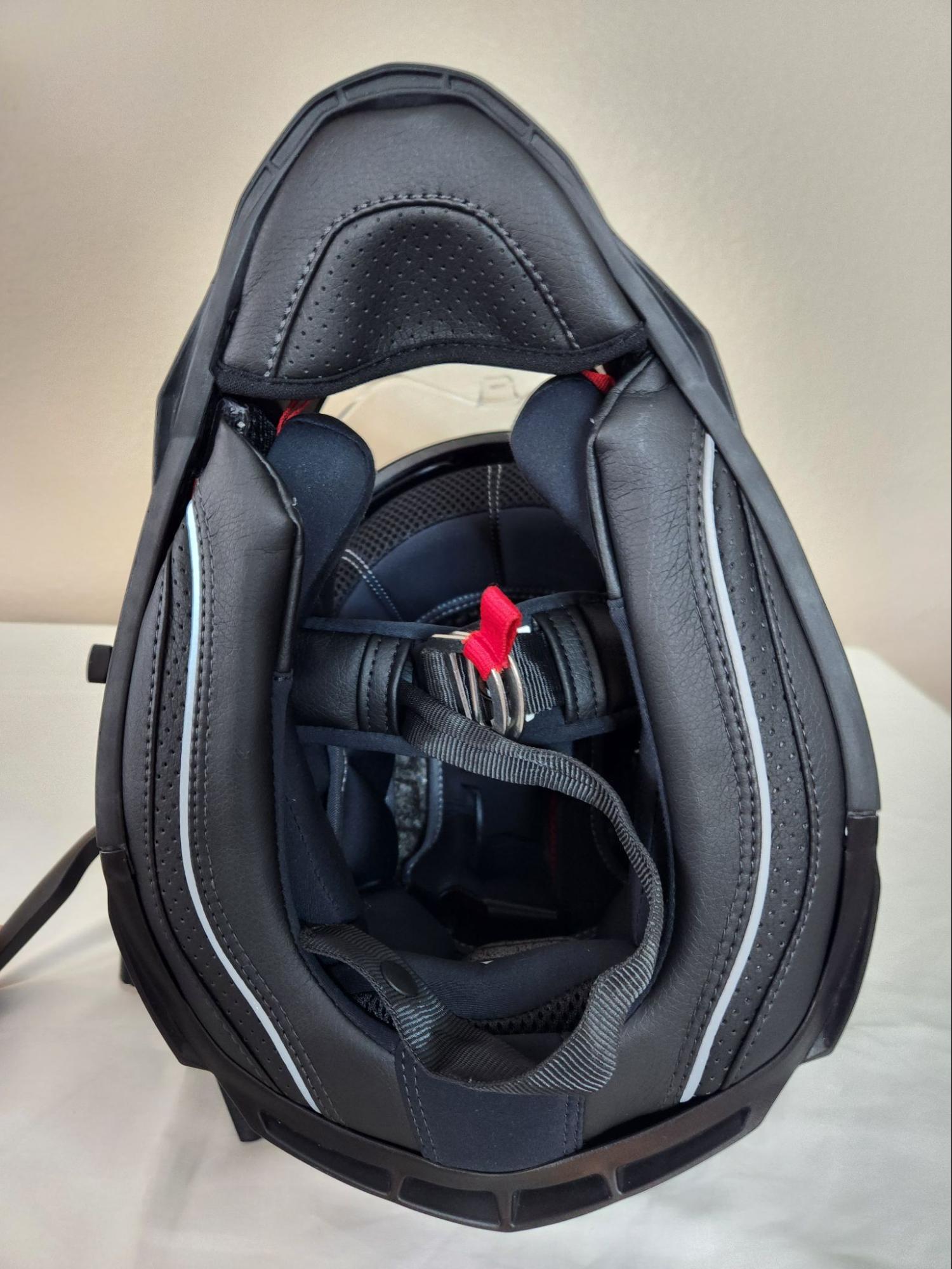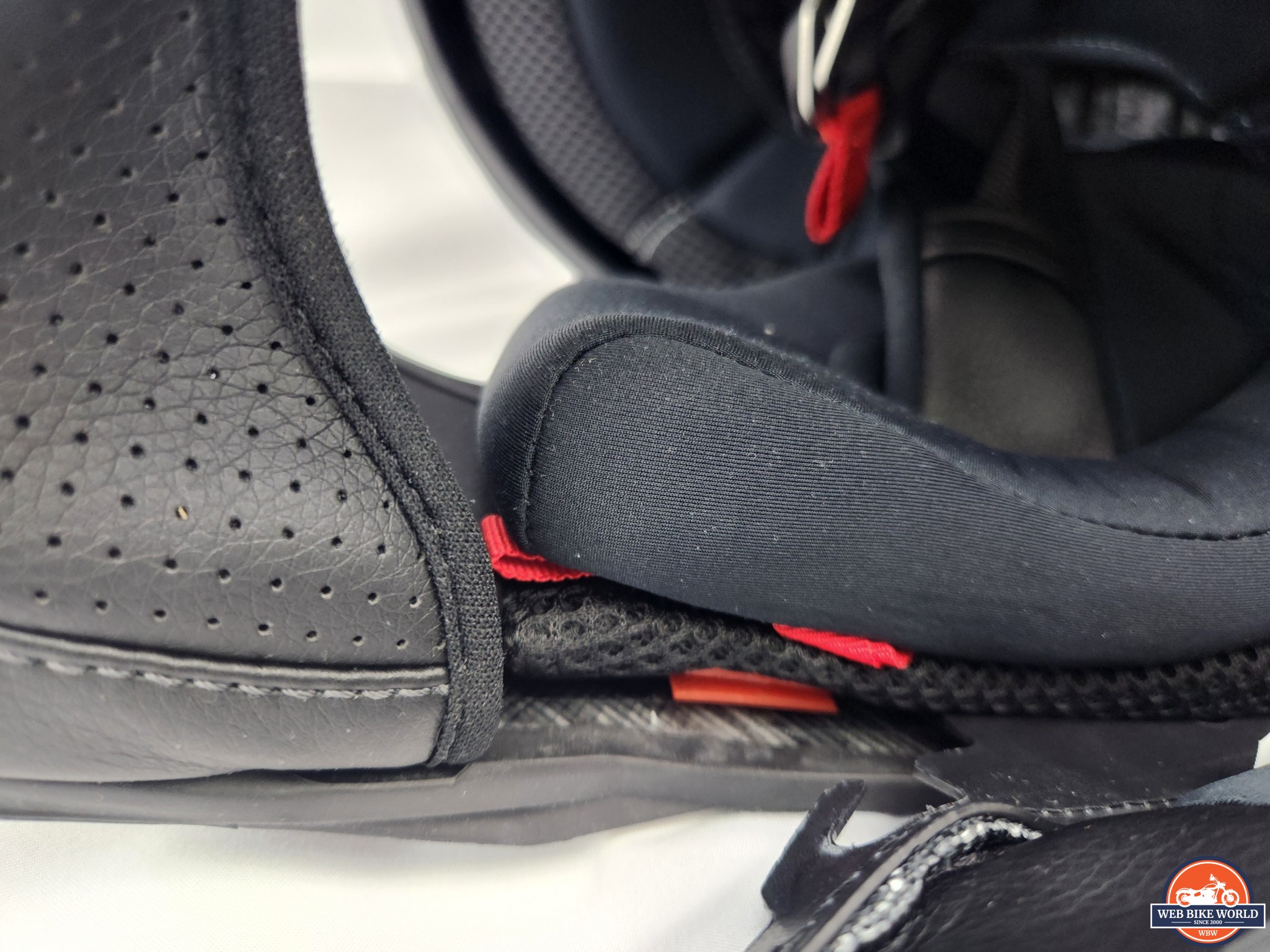 Noise Management
Noise is an important consideration in a helmet. My needs do change according to how I plan to use the helmet.
For example, if this is a track-only helmet, I may not be as concerned about noise because I'm out for a track day session and I'll have earplugs and I will not be listening to music, audio or directions on how to get somewhere from my phone.
Where those scenarios come up is when I'm out for a cruise or taking a long ride to a further out destination or the canyons. I generally expect to be riding for an hour or even a full day and having a high level of noise is fatiguing and makes it difficult to hear my in-helmet speakers that I added from an inexpensive online seller.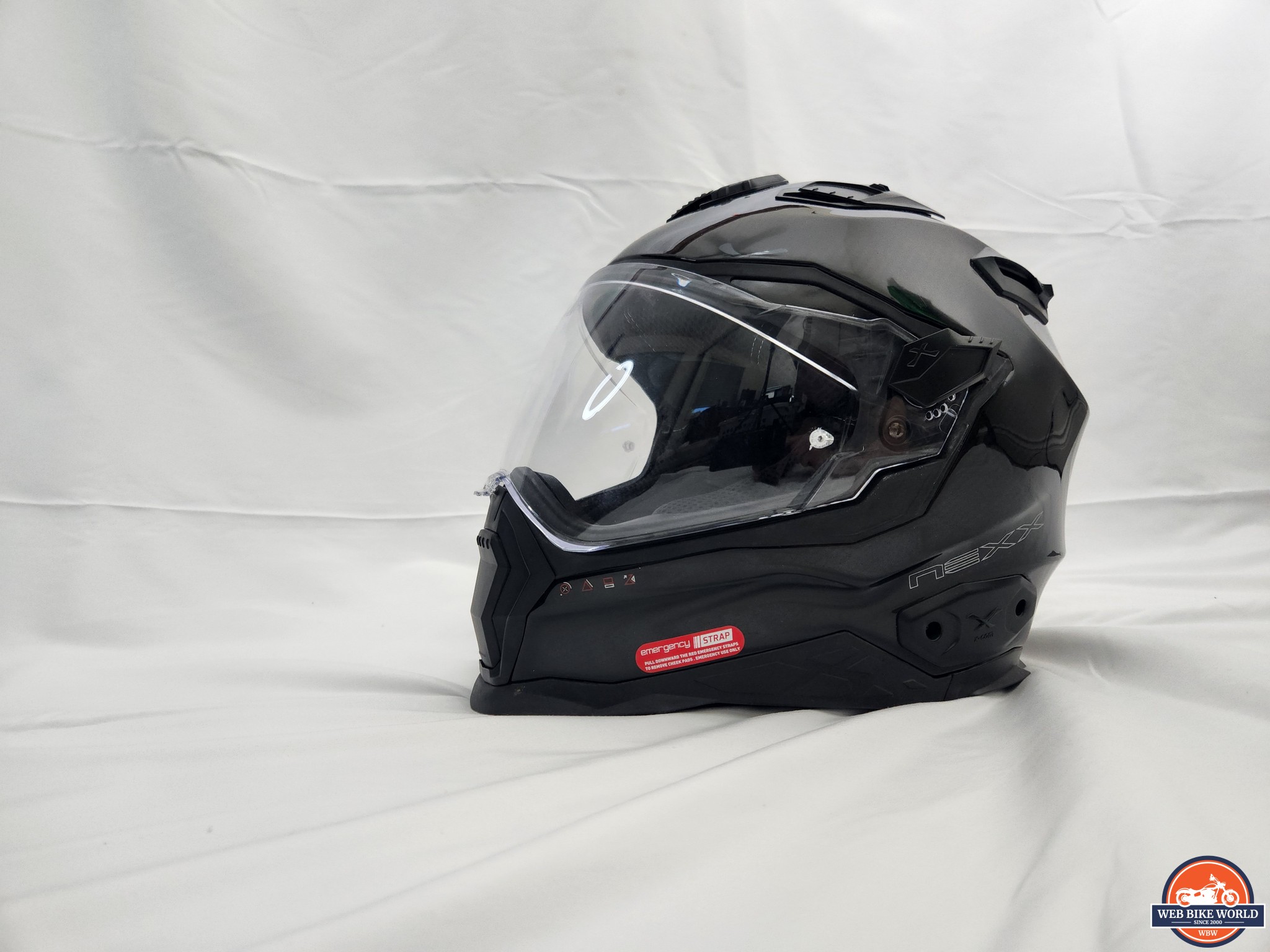 Having great ventilation is high on my list of needs, especially in the summer but when it contributes to this level of wind noise, it relegates a helmet to track only use for me.
Closing the vents had little real effect on noise for me and surprisingly the noise level was louder just by turning my head left or right. When test riding on my Ducati Monster and my Kawasaki Z125 where the seating position is upright with little protection, it tended to be the worst.
Switching to a Yamaha R6 that has some wind protection and a crouched/sportbike forward lean, there was barely any noticeable change. I ride with custom ear plugs anyway but the noise did overcome them and at freeway speeds, I could barely hear my speakers and music.
Ventilation
The shell includes 4 vents total, all and they can be seen from the front. Nexx calls this setup their Air Dynamic System. I'm used to seeing vents on top of the helmet and towards the back but this system is effective.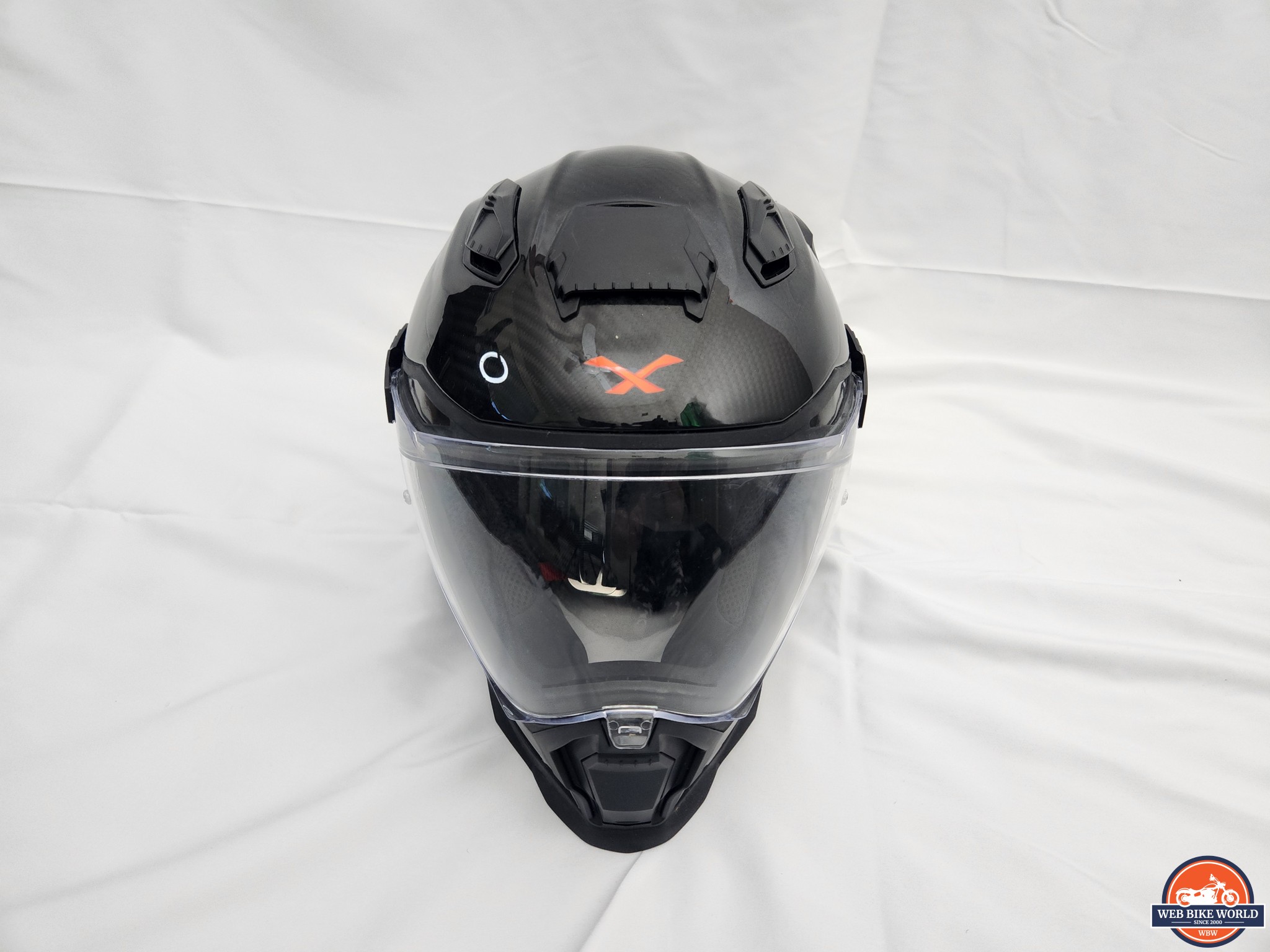 The large chin intake looks interesting as most helmets have a simple mechanism where you either lift the vent cover up or press down. Strangely, you press on the bottom and the top of this intake moves forward. Pressing that button allows a noticeable volume of air.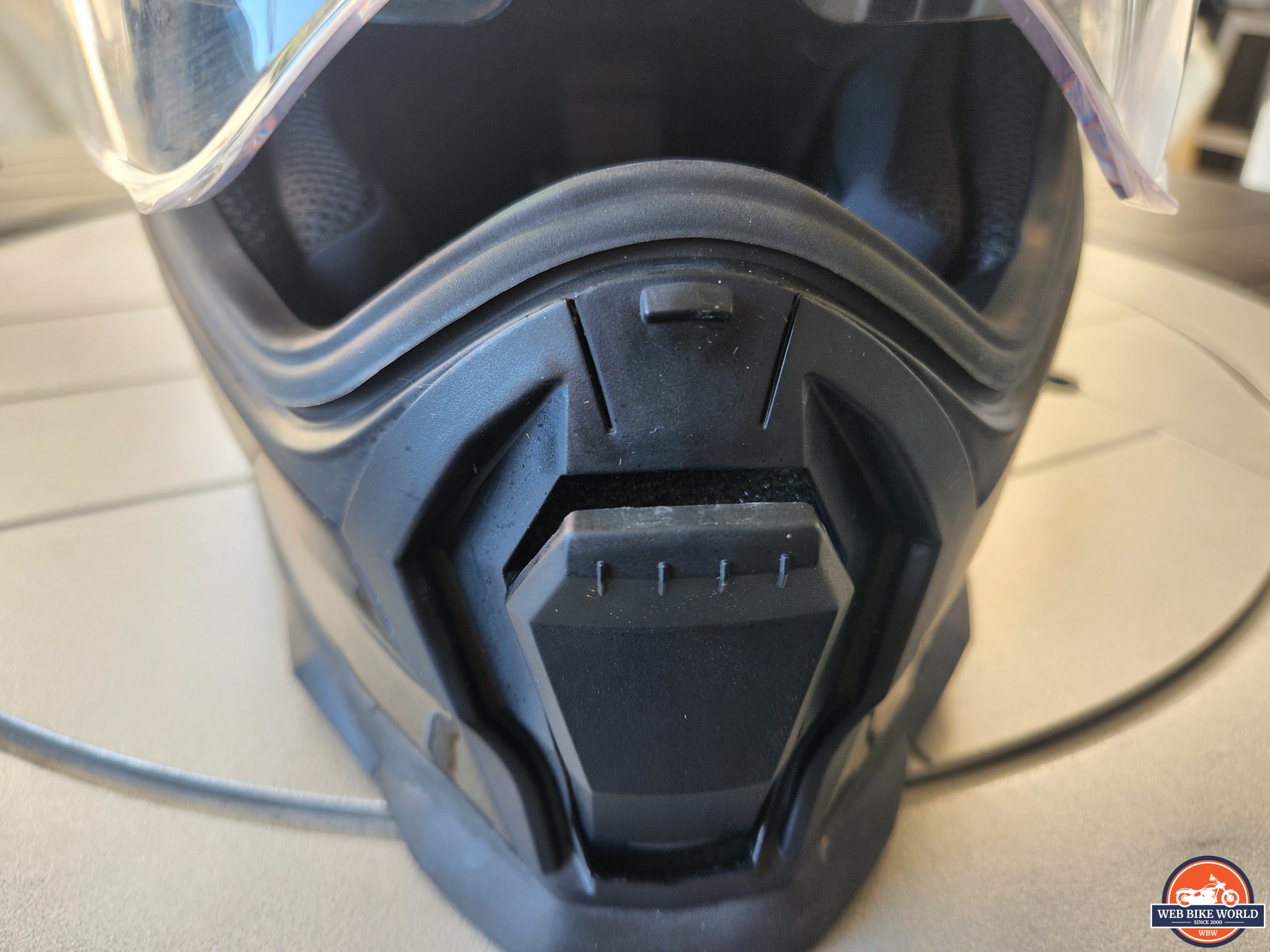 The impact of opening the forehead vent is less noticeable but definitely effective and I instantly felt the air coming in as I slid that cover back. The other two vents flanking the center inlet seem to work and the combination is excellent for hot riding.
All these vents are easily manipulated with summer gloves and I'd expect a similar operation even with my thick winter gloves. The well-designed ventilation system also aids in reducing fogging, guaranteeing clear visibility.
Visor
The panoramic field of view makes it easy to see to the side as well as to the front. The face shield is pinlock-ready and easily changed out. A Pinlock insert forms a sealed air pocket between it and the inside of your helmet's shield. This air pocket helps to insulate your shield from the difference in temperature between the colder outside air and the warmer air inside your helmet which means your visor should remain largely free of fog.
Inside is a drop-down, tinted visor that lowers to about half way down my field of view. While it may be thought of as a convenience, in my experience, it didn't go down far enough and the bottom of the visor cut my view in half making it more of an annoyance than anything.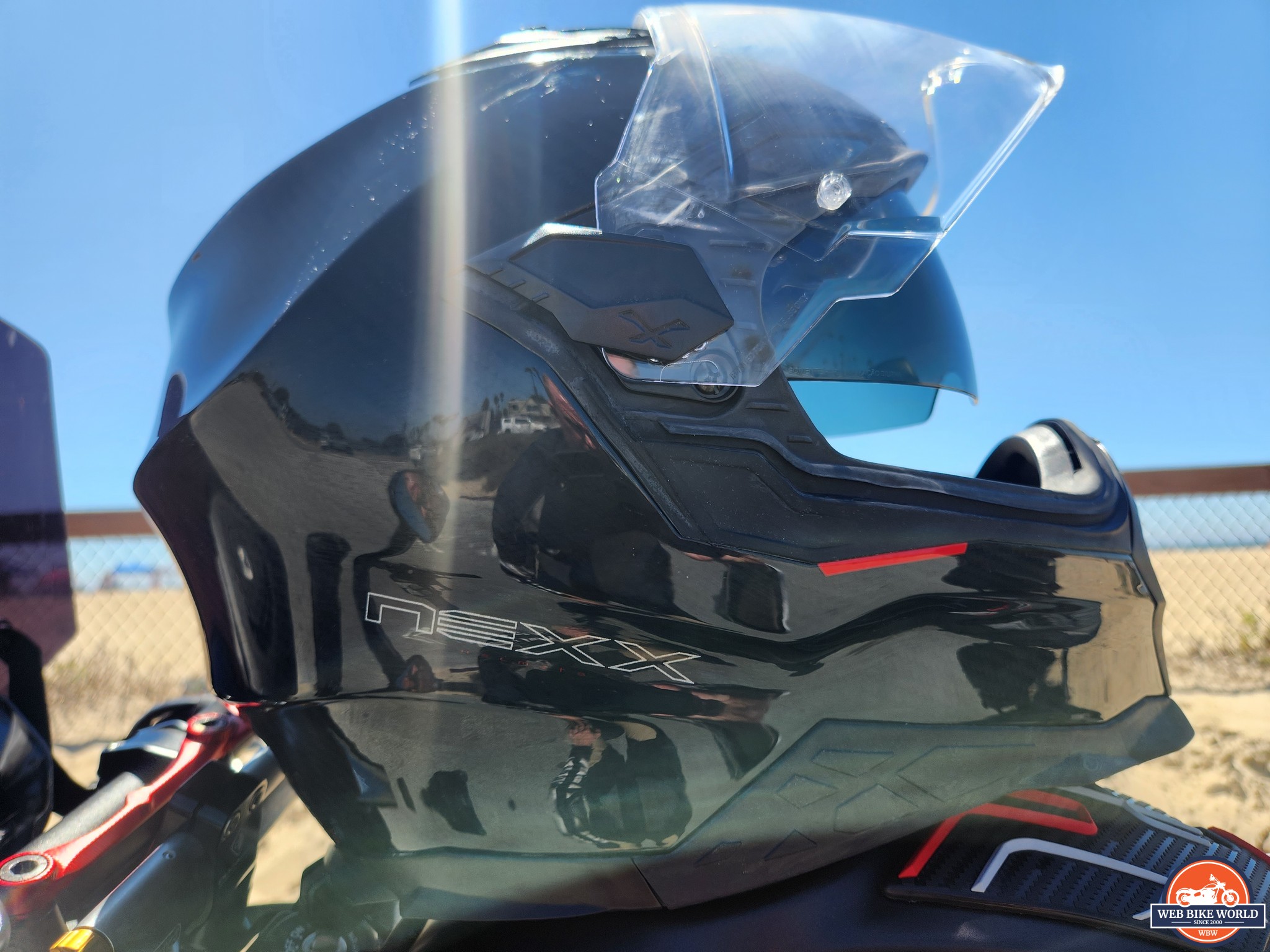 The visor latch is right in front and easily accessed with either hand. I'm used to it being on the left but it was easy to get used to using this way. The visor also ratchets firmly in place at multiple stages of opening and it stayed open, even at freeway speeds. This is a great feature when you want some ventilation during the hot months and not something that all helmets support.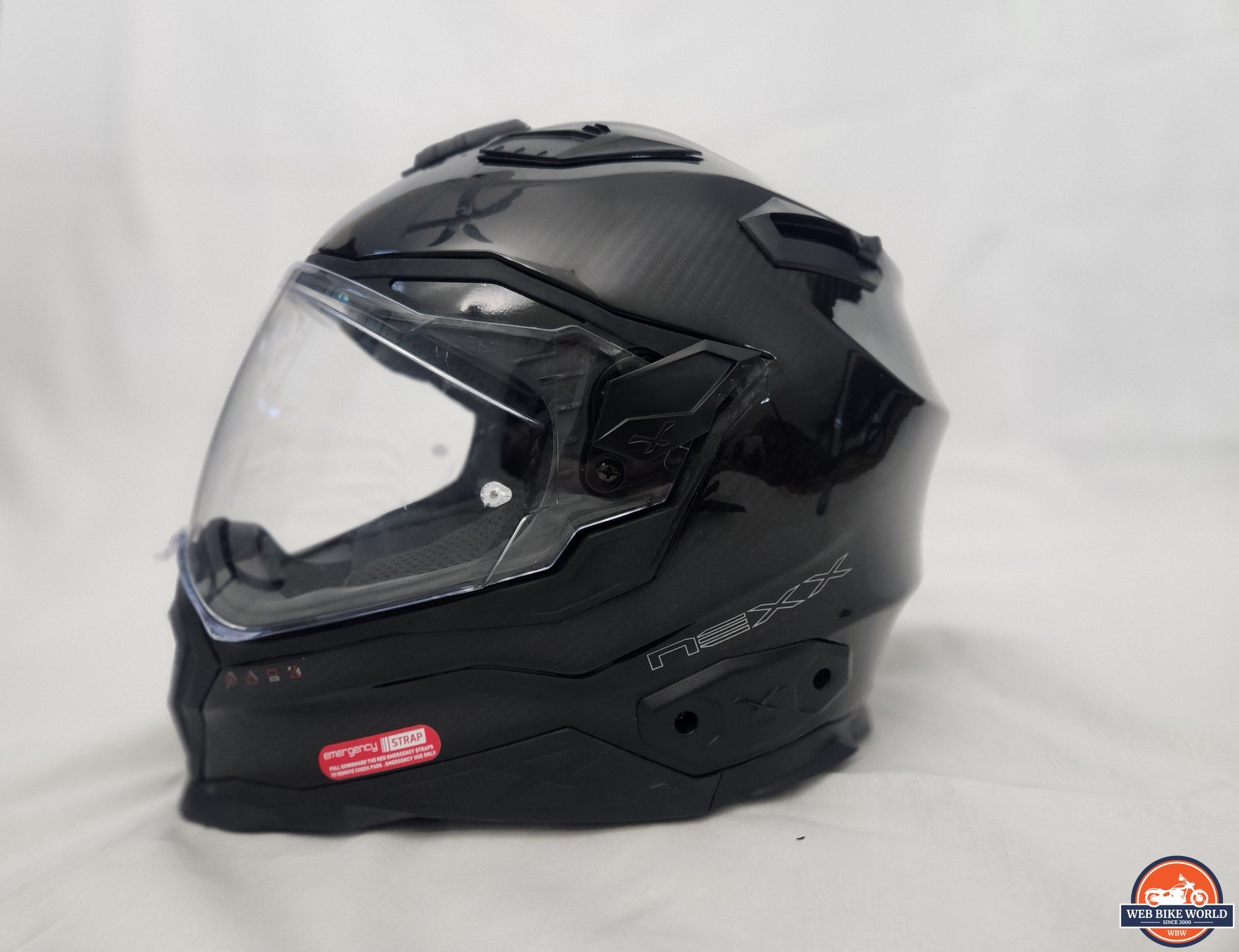 The Nexx X.WST2 helmet offers a broad field of vision, allowing you to have an unhampered view of the road ahead and to the sides. The clear visor is scratch-resistant and comes with Pinlock technology, which prevents fogging, ensuring clear visibility in all weather conditions.
The visor is also easily replaceable, giving you the option to further customize your helmet. I will likely add a tinted visor as I do most of my riding in daylight hours. Luckily the visors are a bargain at about $60!
Readers might be asking why I would want that if it comes with a drop-down, internal visor. The drop-down visor is a neat feature and may be great for some but I found that I couldn't find a comfortable position to look through the tinted visor completely. I either had to tilt my head forward and look up which caused eye strain or I looked straight ahead while sitting up and the bottom of the visor almost exactly cut my view in half.
The expectation might be that this is a race-style helmet and so the rider must be in a forward leaning position but on my Monster or Z125 or even a Yamaha R6, I still ran into the same issue.
Audio/Speaker Options
Another good feature is that there are cut outs for speakers.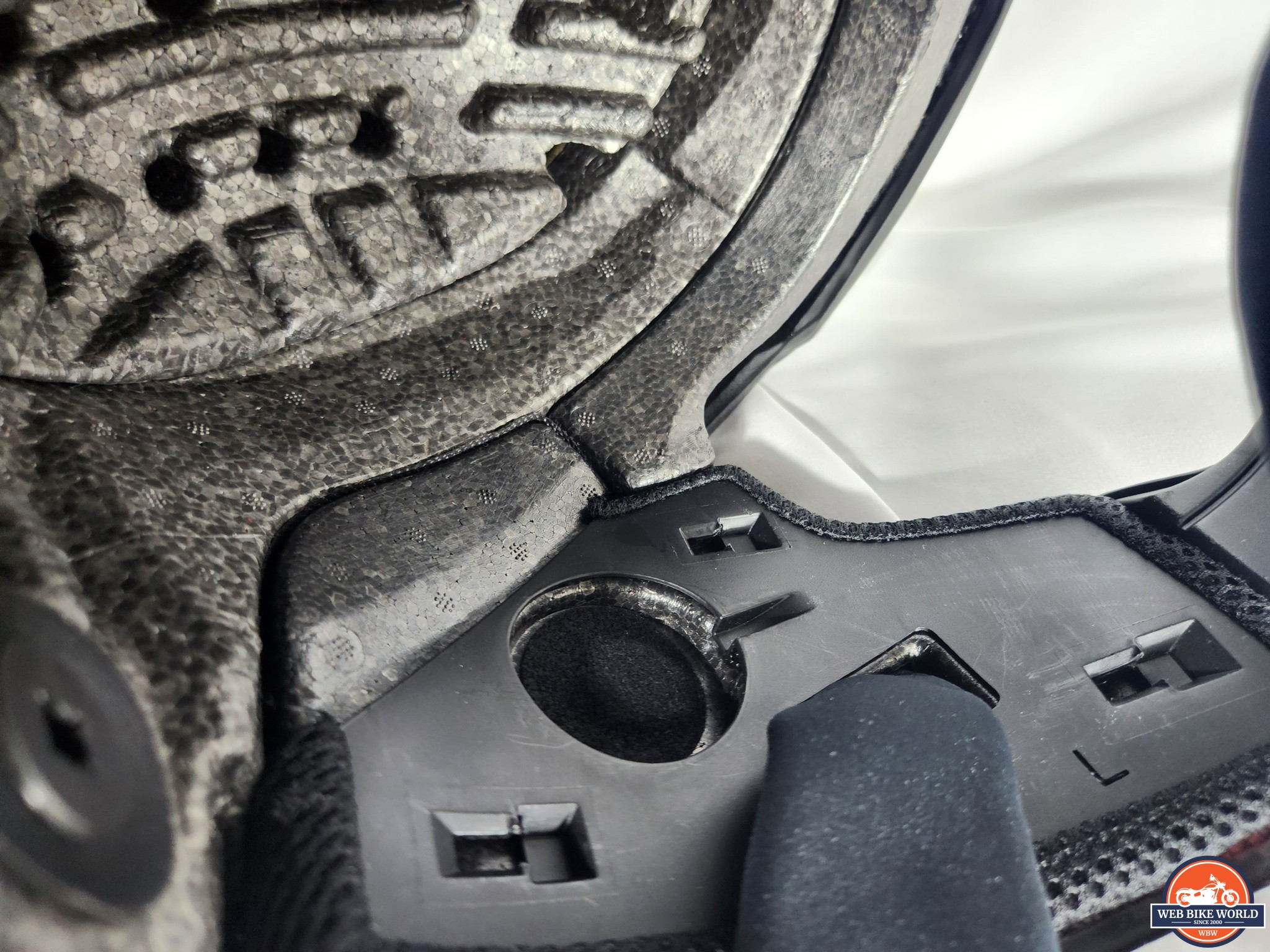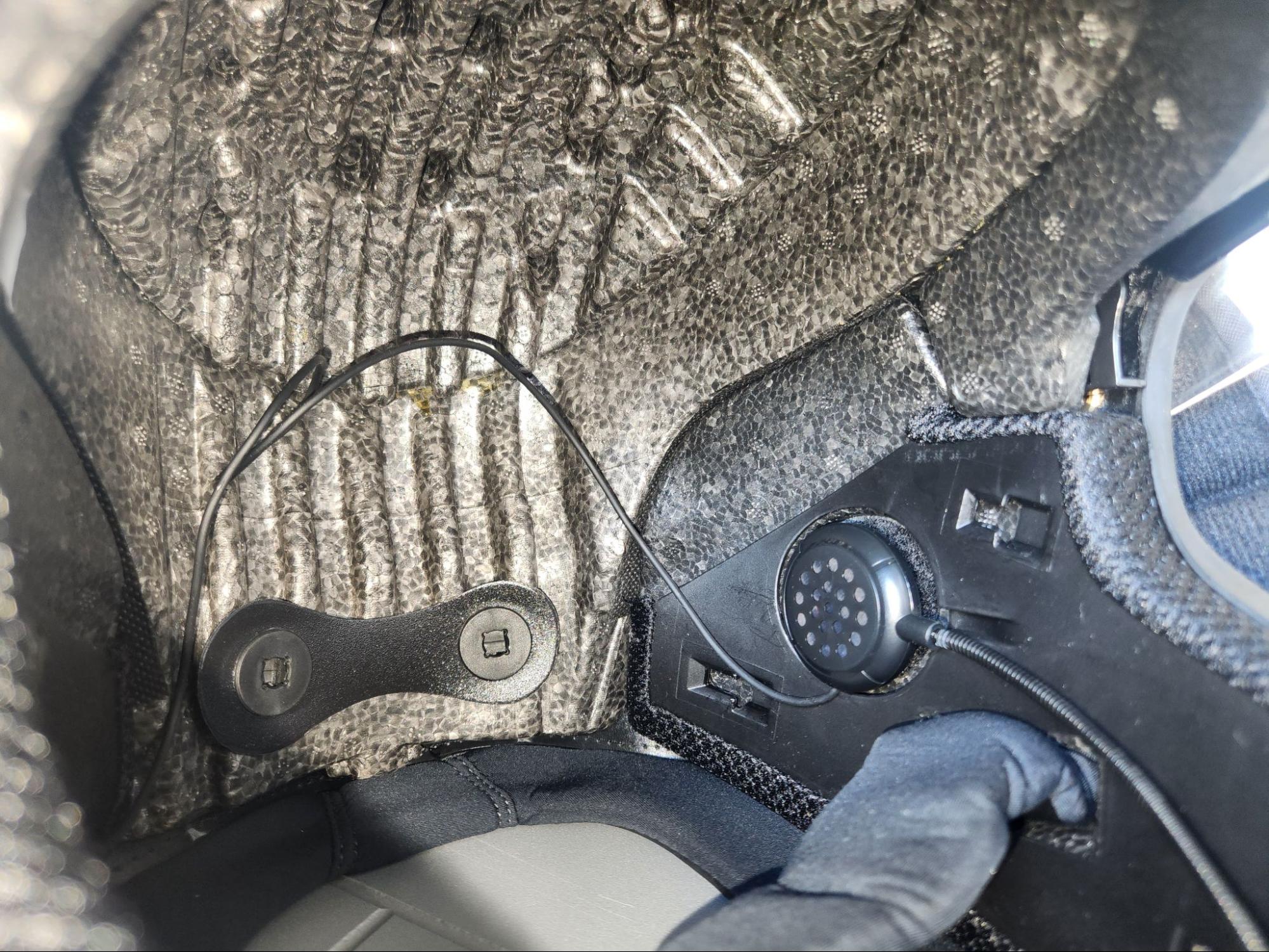 I took advantage of this with a set of inexpensive $30 Bluetooth speakers and microphone. Nexx does have the X-Com 2 Bluetooth their own optional Bluetooth system available but I didn't have the opportunity to test it. At $330 is a substantial investment and there are other high-quality BT options available.
Value for Money
Getting a carbon helmet with all the features and safety certifications found in the WST2 can often put you into a price range that is out of reach for most people.
At $500, the WST2 is a good value considering the materials used in the helmet, ventilation, and removable padding. Other carbon helmets with similar features can cost hundreds more.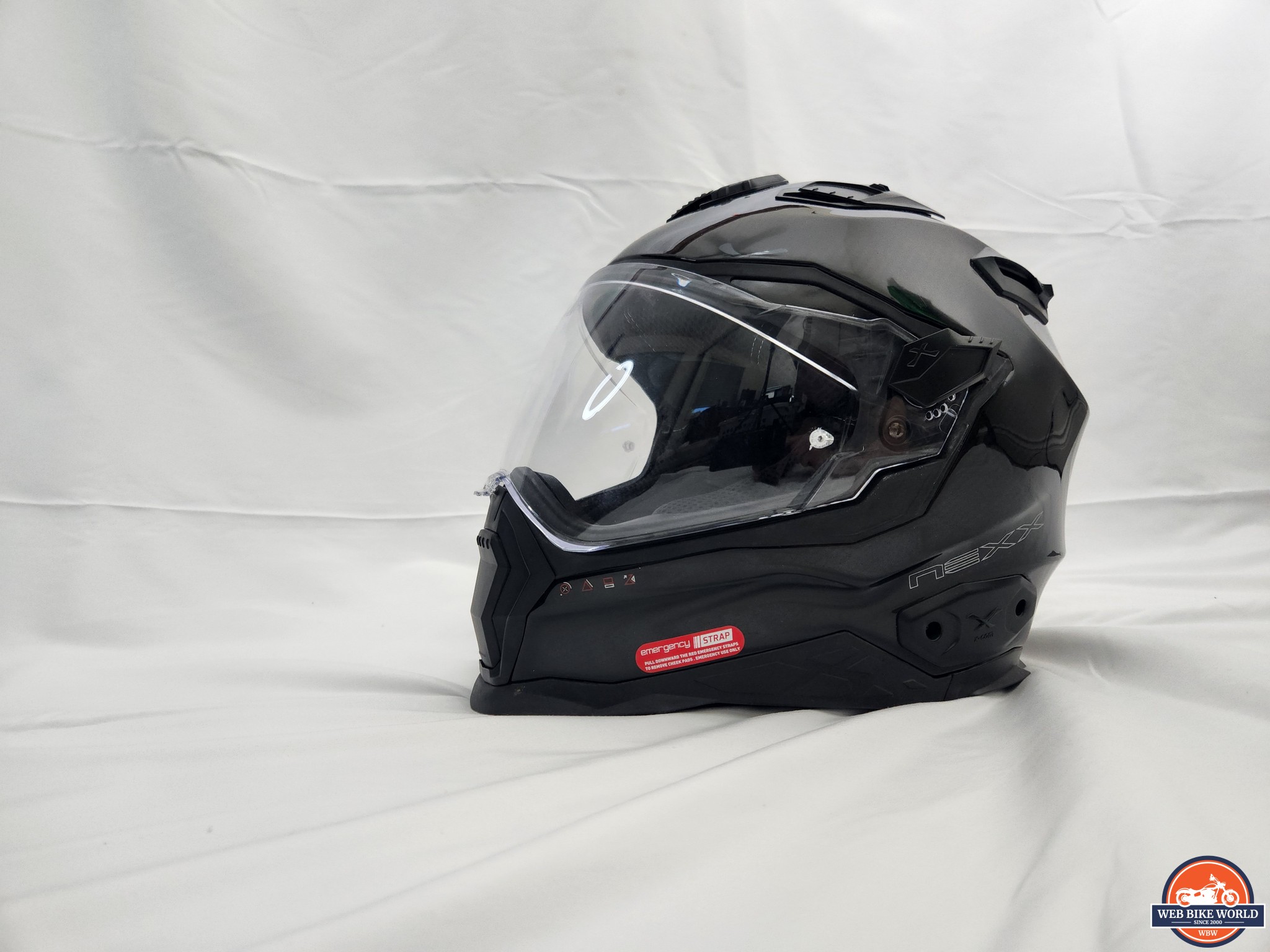 The removable Cool Max lining, plenty of vents, and an easy-to-swap-out face shield check all the boxes that most discerning customers would be looking at.
Two things definitely brought down my overall opinion and they are the noise and the internal visor just not working for me. I wear earplugs on almost all rides and having taken several 200-300 hundred mile rides, I've found it to be tolerable but it definitely intrudes after some time.
After several months of riding and hundreds of miles, it hasn't shown any signs of wear externally, and up until the week of submitting this article it had appeared to be a quality helmet.
However, during normal use and attempting to lower the internal tinted visor this past week, something broke and the mechanism stopped working.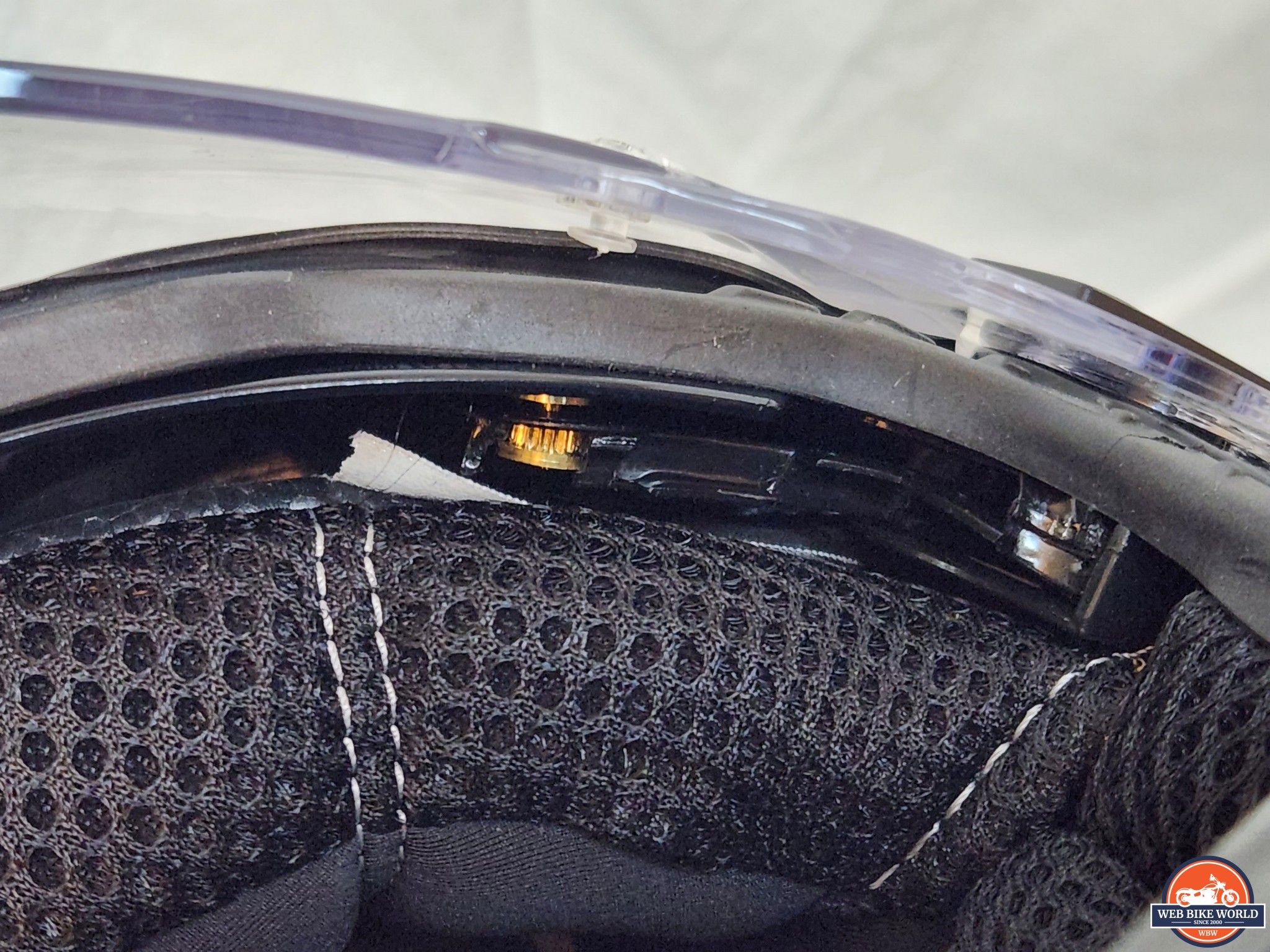 I took the helmet off and heard a rattling sound, lifting the main visor and turning the helmet over allowed a small piece of plastic to fall out! I don't feel I've been hard on this helmet at all and considering it's in rotation with others, I can't imagine it's past the normal lifecycle so this is concerning.
The drop-down visor was easily removed but it's concerning that it broke with only a few months of use.
Verdict
Overall, the Nexx X.WST2 Carbon comes in cheaper than other carbon helmets in the segment and the multiple air intake and vents make for a comfortable ride.
However, the drawback is that it's an extremely noisy helmet even by race standards.
Nonetheless, buyers can expect decent bang for buck in a premium helmet, especially with features like the Coolmax liner and 3D cheek pads.
The option to add an integrated BT system is handy and something many riders will find convenient.
The only other drawback(s) to this helmet is the design of the helmet with the internal visor only going down halfway and the lid itself having subpar aerodynamics, at least for my needs.
Pros
Ergonomic and comfortable fit for prolonged rides
Excellent ventilation system for optimum airflow and reduced fogging
Light weight
Visor ratcheting works well. Stays in multiple positions even at speed
Wide field of view
Cons
Noisy even compared to other race-type helmets
Internal tinted visor only goes down halfway making it difficult to use if not in a race tuck
Poor aero if head position anything other than looking straight into the wind