Portuguese helmet manufacturer Nexx has added a matte black stealth version to its X.R2 carbon range called the Dark Vision.
But is it just adding to our dangerous "invisibility" on the road?'
Sorry Mate I Didn't See You (SMIDSY) crashes are among the most common involving motorcycles.
I have written many articles about the numerous studies into the SMIDSY phenomenon.
The causes are just as numerous and include:
However, safety is a shared responsibility, so riders have to accept some of the blame in SMIDSY crashes and should do their best to avoid them by being seen and heard.
This can mean moving around on the road to attract attention, slowing down, beeping the horn to alert drivers and some suggest a loud muffler can help.
While I don't advocate mandatory bright riding gear, a rider on a matte black bike with a matching helmet and jacket must admit they are a stealth machine that is camouflaged to match the tarmac.
Many riders choose black because it doesn't show the road grime as much as lighter colours.
And no motorcycle accessories manufacturer ever went broke making loads of black gear.
However, we really can't lay 100% blame on a driver for not seeing us if we dress that way.
Stealth helmet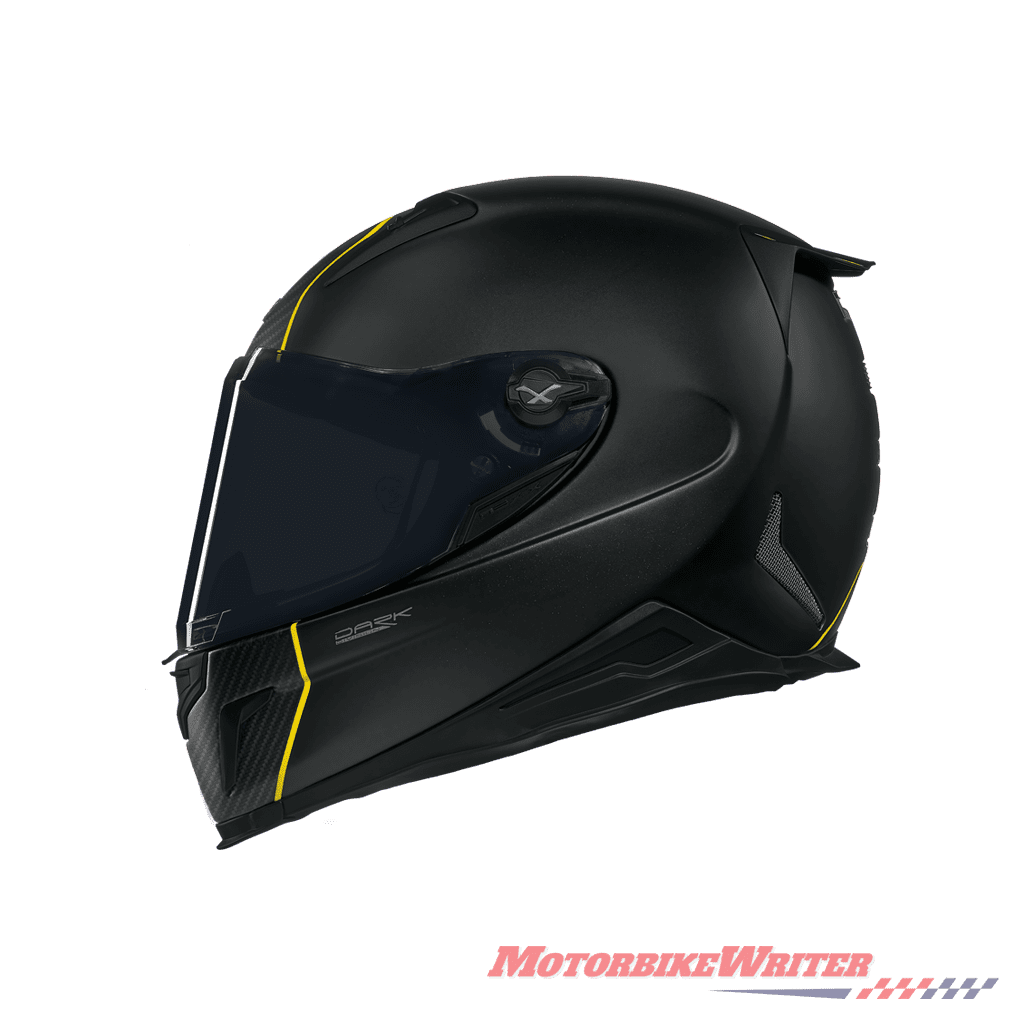 Getting back to the Nexx stealth helmet, like the X.R2 Carbon and Carbon Zero, the Dark Vision Carbon has a lightweight carbon fibre shell in two sizes — XS-L and XL-XXXL.
The only difference is that it is matte black with a tiny yellow stripe on the chin.
It includes their Air Dynamic System with five intakes on the front and four exhaust vents on the back, so it should be cool in summer.
Inside is a three-layer EPS to absorb impact absorption and a removable and washable CoolMax 3D lining.
It also has Ergo Padding System which means you can select different sized padding for a perfect fit.
Other features are a double D-ring fastener, chin spoiler and anti-scratch polycarbonate Lexan visor with central lock system that has a FastShot system for quick removal.
NEXX helmets usually rate three out of five stars in the highly acknowledged SHARP helmet safety ratings.
The entire production process of NEXX helmets is done in Portugal and not outsourced to other countries as many other helmet manufacturers do.
They boast a team of more than 160 workers skilled in helmet shell sculpture, leather manipulation, stitching, paintwork and engineering. Every helmet has to pass more than 50 control steps.
There is no word yet on prices in Australia, but they are available overseas for $US599.95 (about $A830).