Monza Imports sent us a set of new Dunlop Sportmax Alpha-14 tyres for our Ducati GT1000 project bike and they are hot, hot, hot!
The Sportmax Alpha-13 tyres have been well loved by track riders for their high grip levels.
The new Sportmax Alpha-14 tyres look very similar with minimal tread patterns.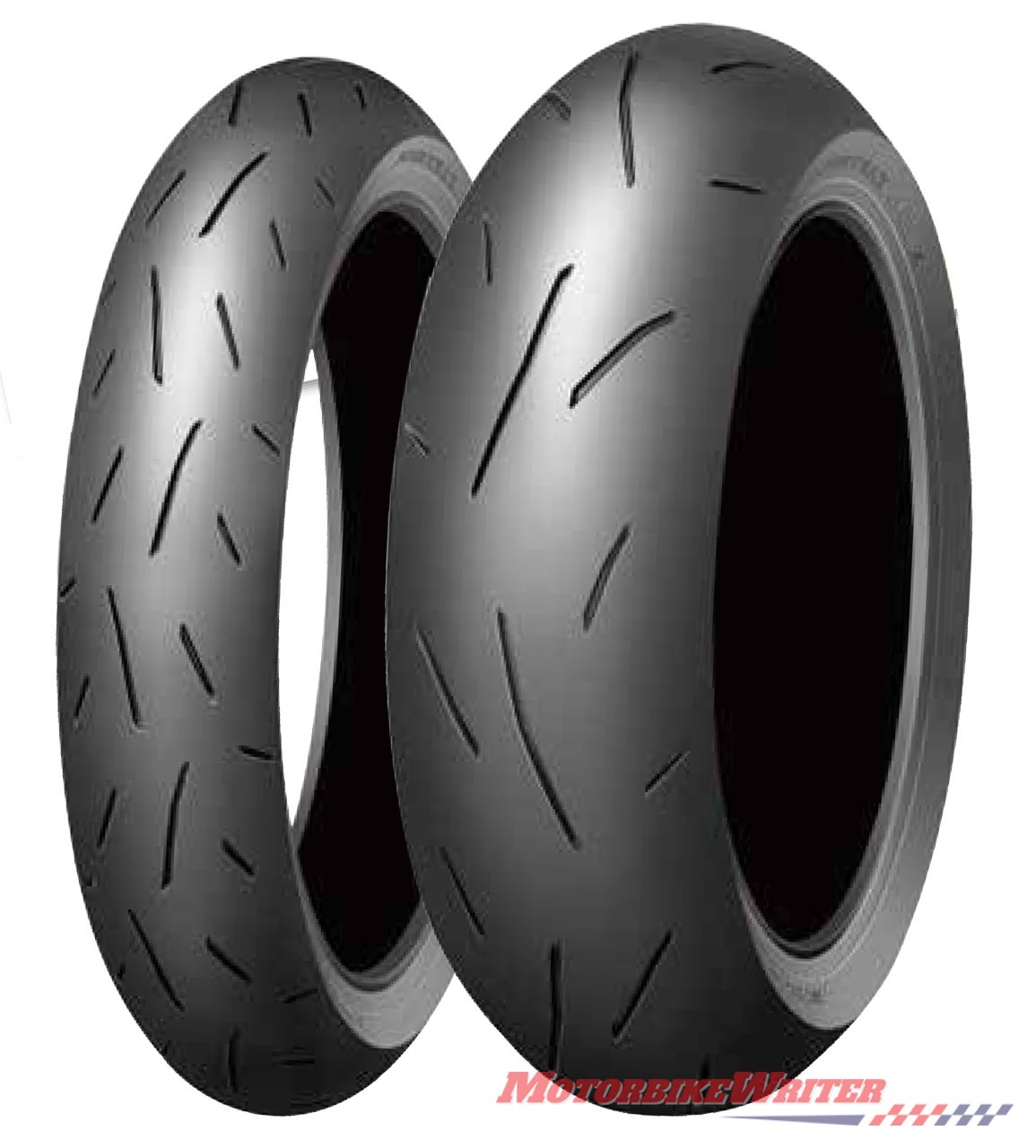 The tech sheet says they feature: Camber Thrust Tuning (CTT) to sharpen steering; fine carbon for improved grip and wear; Jointless Steel Belt (JLB) for shock absorption and road-holding; and Multi-Tread (MT) with a hard centre compound for increased mileage and a lateral-grip compound on each shoulder for grip.
Dunlop Sportmax Alpha-14 test
That all sounds good, but how do they perform?
After just a short ride along the highway, I pulled up to check their temperature and was amazed at how hot they were almost to the edge, even though the bike had been mainly on its centre.
The shiny release agent coating had also disappeared.
These tyres heat up very quickly and become quite sticky. No need for long rides or weaving all over the road to break them in or heat them up!
Read our article on how to break in new tyres.
Instantly I felt comfortable with the grip levels and started leaning further and further and further.
Just around town they felt confidence inspiring, even over metal sewer covers.
The recommended pressure for these tyres is 32psi, so that probably contributes to their quick warm-up, but also the soft compound and fine carbon.
The hard compound in the middle extends to about 30mm from edge with a line visible where the compound changes.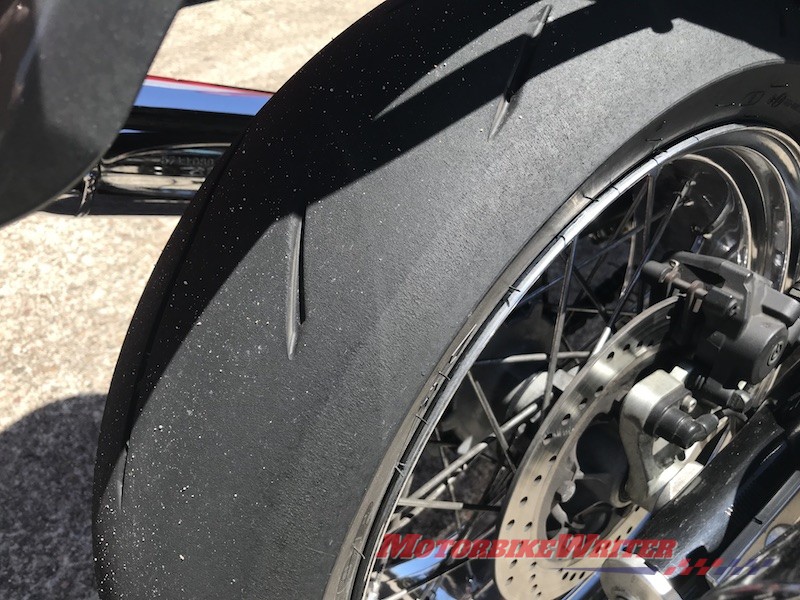 Stick your fingernail into the middle and edge of the tyre and you can feel the difference.
Shortly after having the tyres fitted, we went through a couple of weeks of wet weather and I was reluctant to take them out, given the lack of tread.
However, Dunlop claims the tyres operate well in the cold and wet. So I decided to venture out.
I quickly found they had plenty of grip on damp surfaces and even through standing water, probably because the tyres heat up so quickly.
However, Dunlop says it's because of the high-dispersion qualities of the silica compound.
Whatever; it works!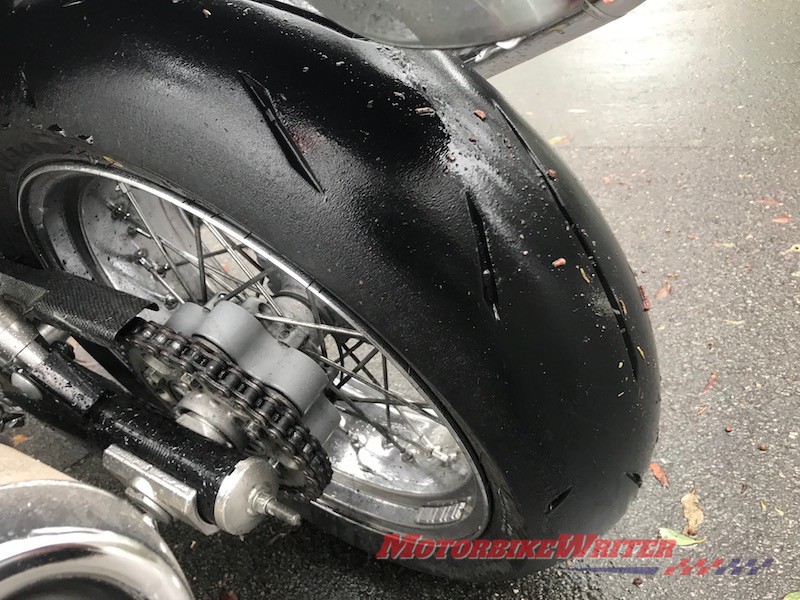 Wear and tear
So far they have only done about 1000km, but they seem to be wearing evenly.
The pulse of the L-twin Ducati is giving them a feathering wear pattern that goes all the way to the edge on the rear tyre.
However, I'm not getting anywhere near the edge on the front. That has a lot to do with my riding style.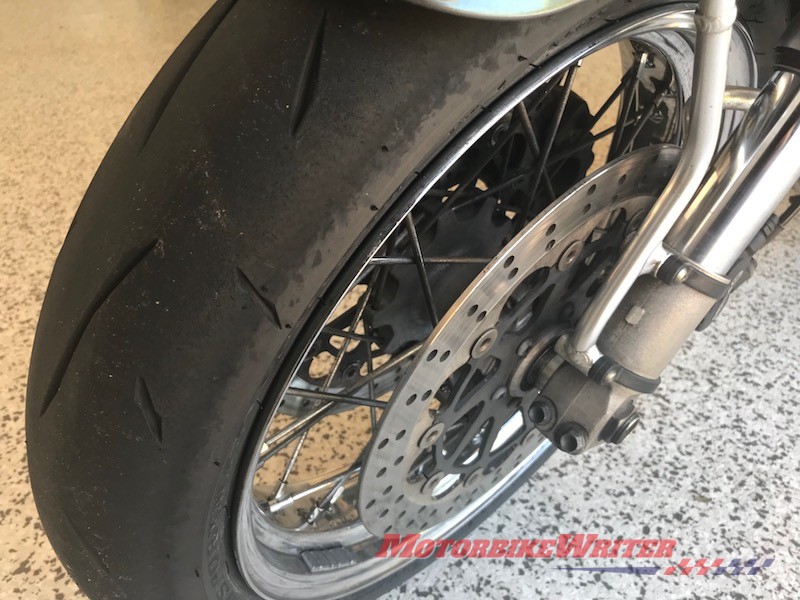 On the rare occasions I push the front, it grips and turns sharply and line-corrections in a corner feel safe and assured.
Because of the high grip under acceleration, I have been hitting the gas a lot earlier in corners when the bike is still on a lean.
In dry conditions, it hooks up and puts the power down, but when the road is wet it does spin up a little.
Braking is also improved with no squirming under hard application and plenty of feedback through the lever.
While many riders have used Sportmax tyres for sporty riding and track days, these seem to have plenty of all-round performance for a range of riders and uses.
We will report back in a few months when we've been able to determine the veracity of Dunlop's claim about increased range.
Meanwhile, read this article on extending your tyre life.
The Alpha-14 tyres are available in sizes for both lightweight (H rated) and mid-to-large capacity sport bikes (Z rated).
Dunlop Sportmax Alpha 14 tyre sizes:
Front/Rear Size L/S TT/TL
F 130/70ZR16 61W TL

F 120/60ZR17 55W TL

F 120/70ZR17 58W TL

R 160/60ZR17 69W TL

R 180/55ZR17 73W TL

R 190/50ZR17 73W TL

R 190/55ZR17 75W TL

R 200/55ZR17 78W TL

R 160/60ZR18 70W TL
Front/Rear Size L/S TT/TL
F 110/70R17 54H 54H TL

F 120/60R17 55H 55H TL

F 120/70R17 58H 58H TL

R 140/60R17 63H 63H TL

R 140/70R17 66H 66H TL

R 150/60R17 66H 66H TL

R 160/60R17 69H 69H TL

R 140/60R18 64H 64H TL

R 150/60R18 67H 67H TL