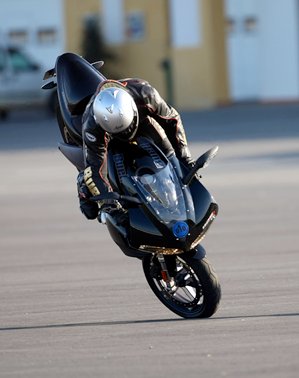 Anti-lock brakes are a must-have for learner riders, but they are too big for small bikes, too expensive and too heavy.
Now Continental has developed a new unit that is half the size and weight of similar units and therefore cheaper, which makes it ideal for cheap learner-approved motorcycles (LAMS).
The MK 100 MAB 2-Channel ABS system also prevents unintended stoppies, where the rear wheel lifts under heavy braking.
It will debut at the EICMA Motorcycle show in Milan from November 7–11, but won't be in production until 2015.
Continental also claims it is a more robust design, making it more suitable for off-road duties. It also has new algorithms that make it suitable for use on the dirt where riders usually switch ABS off.
Depending on bike manufacturer requirements, a sport ABS function adapted for race track operation and a traction control system for compensating for traction loss during acceleration are also possible.
Continental has been developing and producing anti-lock brake systems for two-wheelers for 10 years.
Spokesman Ronan Le Roy says studies show that 20-30% of all motorbike accidents can be prevented by using ABS.
"With the widespread use of ABS systems in motorcycles and scooters, the number of people seriously and fatally injured could be lowered considerably," he says.
In many countries, ABS is mandatory in cars and from 2016 ABS will be mandatory for all new motorcycles over 125cc produced in Europe. That means it will surely flow on to other markets and manufacturers.
Continental already makes a one-channel ABS for smaller motorcycles and scooters in cost-sensitive markets, such as Asia. It prevents the front wheel from locking during braking.
Their two-channel system works on both wheels, but is expensive. With the introduction of the cheaper version, many manufacturers will no doubt introduce it to smaller bikes and scooters.