Motorcycle luggage has to be convenient, practical and attractive, and Nelson-Rigg Commuter Sport tail bag ticks all those boxes for riders on small bikes.
And at just $A139.95*, this expandable commuter tail bag (16.5-22 litres) is great value.
Tank versus tail bag
I love a tank bag on a sports bike for carrying an extra pair of gloves, visor cleaner, rag, multitool, tyre repair kit and other incidentals.
It's also handy to put a map in the top clear-plastic compartment and you know it is secure because you can see it right in front of you.
However, tank bags can get in the way and even scratch your tank if you happen to get a tiny bit of road grit in between the bag and the tank. Nasty!
But this tail bag has all the benefits of a tank bag (except that it doesn't have a clear top nor sits in front for visual security) without the possibility of damaging your bike.
Simply sit it on your seat or luggage rack and it connects via strong webbing straps with four tough nylon clips that are quick and easy to use.
Even though you can't see it, you can be confident it is still there as the fasteners are secure.
It didn't shake loose even on some rough roads where I took my Ducati Scrambler and Triumph Street Scrambler.
You can loop the ties together or use an underseat attachment. Both are secure. There is also a long strap in case it is needed for some bikes where the straps won't go under the seat. 
Quickly un-click the four clasps and you can carry the bag with the flush-mounted handle or add the long strap that turns it into a backpack.
Mind you, the backpack is a bit naff, fiddly to thread the long strap and not very comfortable, so I just use the handle.
Style and construction
Tank bags looks a bit silly perched high up on a bike and spoil the lines. Tail bags look a bit more stylish.
This is a particularly stylish bag that fits in with the lines of a small bike with a small back seat, especially my Ducati Scrambler.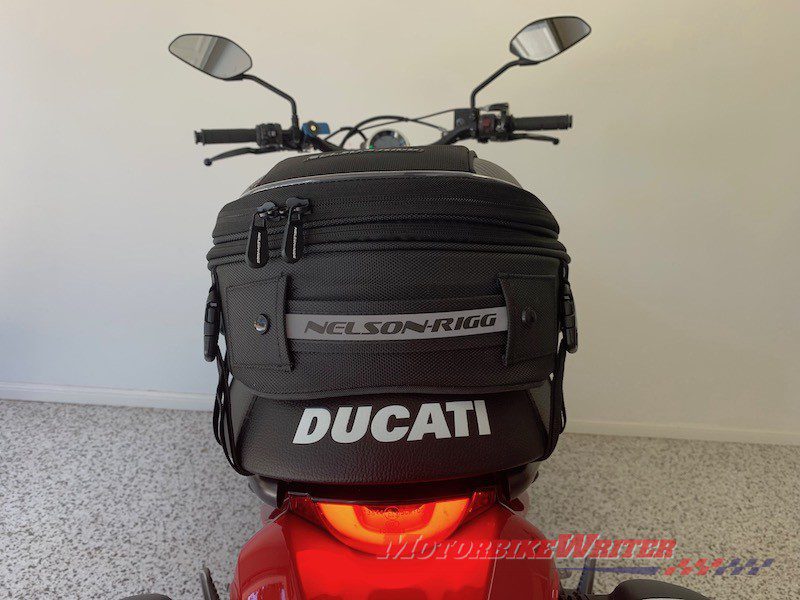 It's almost as though Nelson-Rigg designed it for this bike as the seat is the same shape and size as the bag.
What makes this bag look extra stylish is the semi-rigid top and sides. It doesn't look floppy when there's nothing in it like many other soft bags.
The moulded Fibertech top even has a stylish carbon-fibre-style finish.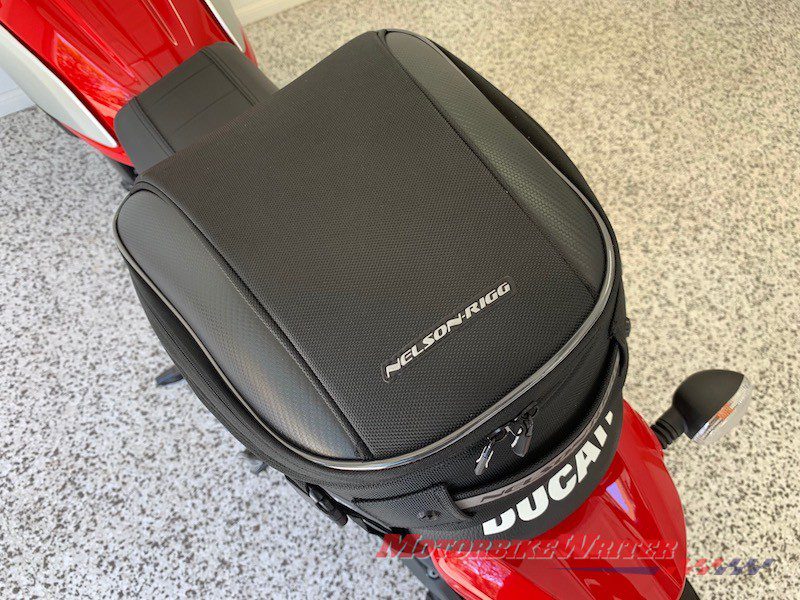 It's good-quality construction all round with robust zips, reflective piping and premium lining.
The instructions are stitched inside so you never lose them.
There are also two straps to keep your stuff from rocking and rolling around, an under-lid storage area with a mesh zipped cover and two stretch pouches to hold pens, multitool, screwdriver or small torch.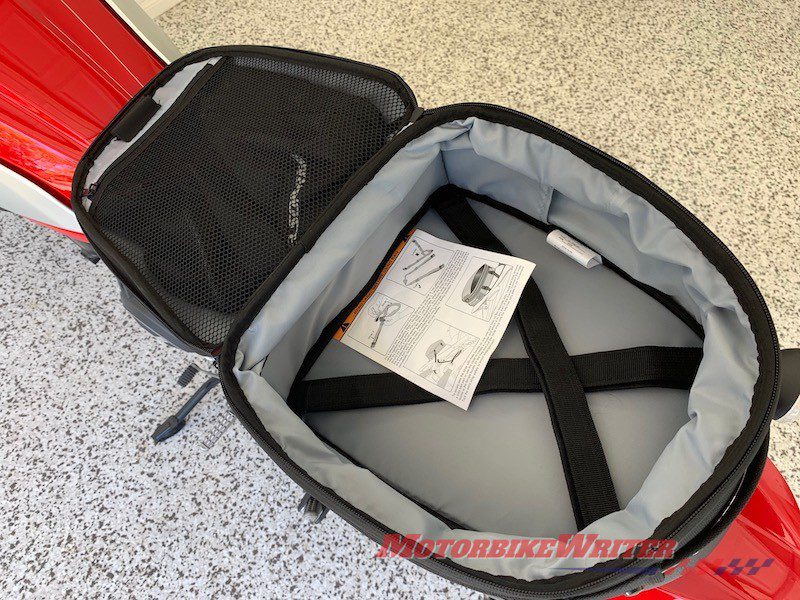 It hasn't rained here for a while, so I haven't been able to test out its weatherproof qualities.
However, it does keep out the dust!
There is also a waterproof cover that you can store away in the top pouch.
Yes, they even thought about the fact that sometimes you have the tail bag zipped out to the expanded 15.7-litre capacity, so the waterproof cover also has an expansion zip.
Warranty
Nelson-Rigg is an American family-owned company that has been around for more than a quarter of a century.
They make a range of motorcycle and scooter accessories, including covers, soft luggage and rainwear.
They stand by their products with a lifetime warranty.
Specifications (CL-1060-S2)
UltraMax® fabric with maximum UV protection

Q

uick-release nylon buckles

M

oulded EVA lid with Fibertech "carbon-like" accents

I

nternal self-fastening straps to secure contents

Lockable reverse coil zippers and hi-density rubber zipper pullers

100% waterproof rain cover

Adjustable shoulder strap

P

rotective non slip base material

Measures: L33cm x W28m x H18cm / L33cm x W28cm x H24cm Expanded

Holds 16.5-22 litres 
(* Link International says the $139.95 price is for Queensland, NSW and ACT only. Pricing may vary in other states.)