The Nelson-Rigg CL-950 Deluxe Saddlebags sleek styling and adjustability will fit many different motorcycles.
Installation and removal is a "piece of cake" with the efficient included mounting system.
Large compartments and the fuss-free ability to attach a Nelson-Rigg tail bag make this the perfect luggage for a week on the open road!
Nelson-Rigg says, "It's not just a bike."
Many motorcyclists feel the same way and to tell us differently will probably start an argument!
There's nothing like the feeling of exploring the countryside on a motorcycle; I had been itching to take a road trip, but I didn't have any motorcycle luggage.
A backpack would have been too small; besides, the additional heat of something covering my back on summertime rides was unacceptable.
After consulting with friends who own Nelson-Rigg luggage, I was pleased to find exactly what I needed. I started with a Nelson-Rigg tail bag for my first road trip; it worked perfectly and I purchased matching saddlebags soon after.
As I opened my shipment of the Nelson-Rigg CL-950 Deluxe Saddlebags I was giddy. Ah…the smell of new luggage!
Their arrival meant my four-day ride through northern Idaho was just around the corner. It took everything I had not to load up my Ninja 500 right then and take off!
And I must say…I have used this luggage several times since and I cannot find anything not to like about them!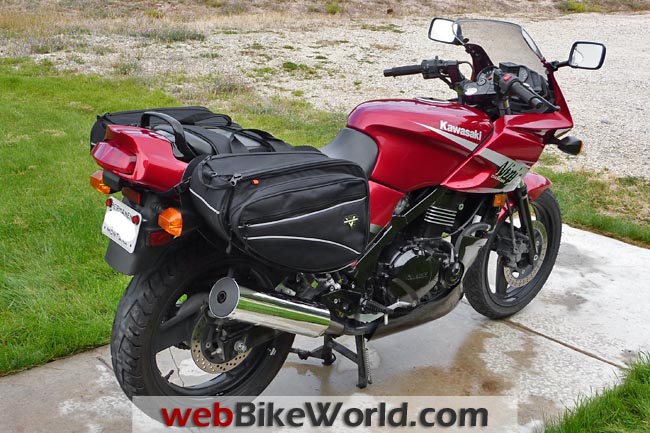 Why Nelson-Rigg?
I chose Nelson-Rigg because they have tail bags and saddlebags with solo- and dual-mounting systems. This means that the saddlebags and tail bags can be used independently or as a set. When used together, the bags connect, making installation and removal super-easy.
Oftentimes with saddlebags installed, it is difficult or even impossible to securely attach a tail bag. With the Nelson-Rigg dual-mounting system, quick release buckles allow their tail bags to connect directly to their saddlebags. Genius!
When selecting your Nelson-Rigg bags, be sure the tail bag and the saddlebags you choose specify that they are the dual-mounting type. Also, check to see if the connectors need to be purchased separately or not.
I also own the Nelson-Rigg CL-165 Tail Roll Bag and it came with the dual-mounting connection straps. This bag is no longer available, but there are still several options that work with the Nelson-Rigg CL-950 Deluxe Saddlebags.
Constructed with UV-treated Tri-Max Polyester, the CL-950 saddlebags will resist degradation due to exposure to ultraviolet radiation and outside elements. The bags feel durable and are well-made with sturdy piping and top stitching for added strength.
Many other features, including large compartments, soft lining, and pockets, made the Nelson-Rigg CL-950 Deluxe Saddlebags a clear choice for me. But, I'm getting ahead of myself and I will cover those details below.
Nelson-Rigg has been producing soft motorcycle luggage since 1972, and with their lifetime manufacturer's warranty, this purchase is a no-brainer!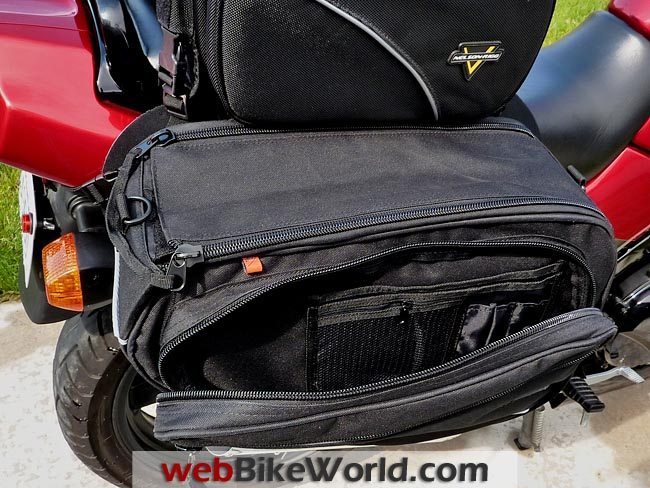 Assembling the Nelson-Rigg CL-950 Saddlebags
The Nelson-Rigg CL-950 Deluxe Saddlebags require a small amount of assemb
ly by inserting the saddlebag stiffeners into the bottom of each saddlebag.
This seems easy enough, but the stiffeners are purposely a tight fight and inserting them can be a test of strength, agility, and patience. You surely would have laughed if you had seen me writhe on the floor with the bags while trying to get the inserts in place without cursing!
Joking aside, it is a very simple procedure and a one-time installation. It actually only took a few minutes to get the first stiffener in place, and maybe a minute for the second side which went in very smoothly.  The stiffeners are a great feature because the bags hold their shape, even when empty.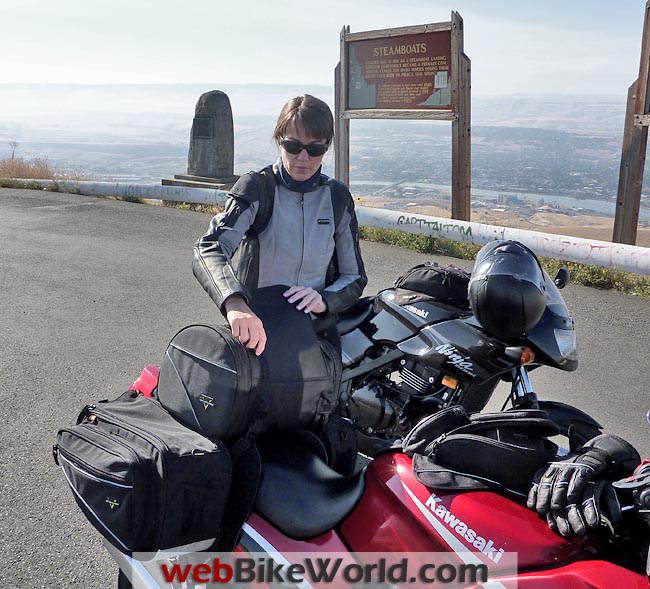 Motorcycle Installation
Next, while the bags are empty, do a test installation of the Nelson-Rigg CL-950 Deluxe Saddlebags on your motorcycle.  This process took me approximately fifteen minutes to adjust fastening straps and securely fit the saddlebags and attach my tail bag on top.
The saddlebags have hook-and-loop straps that can be adjusted to fit a variety of seat or tail widths. Adjust the straps until the tops of the saddlebags are level with the top of the motorcycle; the straps also keep the saddlebags together for carrying but they can be easily taken apart.
At the back of the saddlebags, two straps loop through each other and snugly hug the motorcycle tail to prevent the bags from flapping back and forth when riding.
Straps and buckles that secure the bottom of the saddlebags to the motorcycle can be left on the bike. Simply place each strap around a rear foot peg or part of the frame and feed the buckle end through the loop. Tighten all straps as needed; making sure the straps will never touch tail pipes whether or not the bags are attached.
By the way, these are not the type of straps you just pull to tighten; they must be fed through the rings. This feature is important because the straps will not loosen when riding.
Note that when the saddlebags are full they will hang differently and some minor adjustments to the straps may be needed. These steps are illustrated on the instruction sheet and are very easy to follow. However, after watching a friend install his saddlebags the hard way and taking longer than necessary, I realized he didn't read the instructions. Save yourself time, read the instructions, and make sure all bags are properly mounted to avoid any accidents when riding.
Once the initial configuration is completed, removing and re-attaching the bags is lightning-fast with the use of the quick release buckles and straps. It is truly pain free and takes literally one minute or less — which means more time on the road.
Removable shoulder straps make it convenient to carry the saddlebags to and from the motorcycle, even with a tail bag attached. There are also permanent handles at the top of each saddlebag for easy handling. I really cannot believe how simple it is to use these saddlebags with or without a tail bag. The solo- and dual-mounting systems are an absolute breeze to operate — Nelson-Rigg thought of everything!
Form and Function
The CL-950 Deluxe Saddlebags have a sweeping silhouette that mounts beautifully over most upswept exhaust pipes. As an added precaution, there are heat-resistant panels on the bottom.
A minimum of a one-inch clearance between the bags and exhaust pipes is necessary. And of course, no one wants their pride and joy to get scratched. Therefore, removable padding rests between the saddlebags and the motorcycle to prevent scratching.
Some saddlebags open from the side, but that seems like a pain to use when the bags are mounted. The CL-950 saddlebags have a convenient top-loading design making it effortless to get into the bag without everything spilling onto the ground.
Since I'm a freak about night-time visibility, I am glad the saddlebags have reflective piping on the back and sides, as do their tank and tail bags. All of their bags have classic, tasteful designs that coordinate beautifully with each other.
Waterproof covers are included and the saddlebags have taped seams inside and elastic drawstrings at the bottom to prevent moisture from getting in and getting your luggage and contents wet. The covers also have the Nelson-Rigg logo on them. It hasn't rained during any of my trips, so I cannot attest to how well the rain covers work.
Compartments and Measurements
Each main compartment in the CL-950 Deluxe Saddlebags is 17″L X 6.5″W X 11″H (43 cm X 16 cm X 28 cm) and holds 19.92 liters (5.25 gallons) per side.
Did I mention the main compartments have soft linings? Both main compartments have an interior hook-and-loop pocket with a zippered mesh pocket on top of it that is 9″W X 6″H (23 cm X 15 cm).
On the front exterior, each side has an elastic topped mesh pocket for a water bottle or can. My favorite part: each side has two large outer zippered compartments/pockets. These are handy for holding gloves, maps, protein bars, shoulder straps, etc.
All of the external zippers have large pull tabs for easy opening. Plus, each of those larger outside pockets has two inside hook-and-loop pockets (10″W X 5.5″H or 26 cm X 14 cm) and a zippered mesh pocket and pen holders. Talk about organization! This is awesome for a neat-freak like me!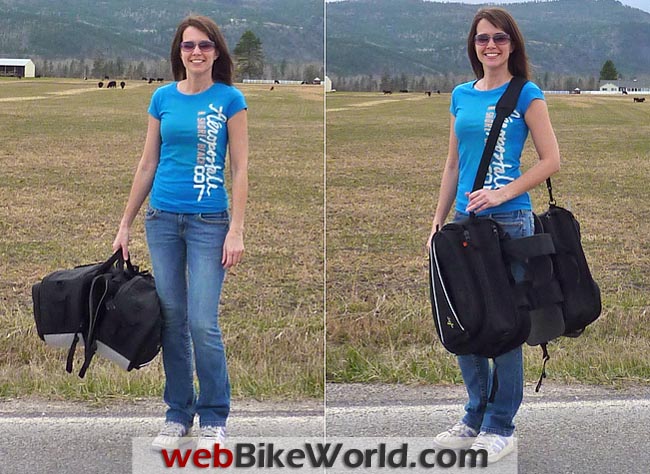 How Much Do They Really Hold?
So, how much stuff can really fit in the Nelson-Rigg CL-950 Deluxe Saddlebags? In one main compartment I put four T-shirts, two long-sleeve shirts, sweat pants, a hoodie, base layers, pajamas, underwear, socks, and a swimsuit. I just folded everything in half one more time to fit inside the narrow compartment.
The other main compartment held a thermal vest and the removable waterproof liners, jeans, two pairs of riding gloves, a camera, toiletries, a towel, and washcloth. There was still enough room left to add make-up and a paperback.
The outside pockets held the shoulder straps and rain covers, flip-flops (I refuse to wear riding boots down to the hot tub!), maps, paper, pens, a microfiber towel, and snacks.
I was amazed by how much I could fit! When I added my tail bag, I was able to carry the above items, plus a dozen small water bottles and more food for the road. This came in handy when trying to cut costs on eating out every day.
Be mindful of the recommended weight limit for each bag; Nelson-Rigg says to limit the weight to ten pounds per side or whatever the motorcycle manufacturer's weight restrictions are, whichever is less. The saddlebags seem strong enough to carry more weight, but the real issue is how the added weight will affect motorcycle handling and performance, so it's important to adhere to the weight restrictions.
A Smaller Option
If you prefer something a little smaller, try the Nelson-Rigg CL-900 Mini Saddlebags. They have the same look and feel as their big brother; they are just…well…smaller.
Each side of the mini saddlebags measures 15″L X 6″W X 9″H (38 cm X 15 cm X 23 cm) and holds 13.27 liters (3.5 gallons) per side. The Nelson-Rigg CL-900 Mini Saddlebags have a suggested retail price of $129.99.
I like to have extra room for souvenirs, but it's never fun when I don't have enough room to even pack what I need. For an extra $15, I personally prefer the 50% more room that the CL-950 saddlebags provide. However, for shorter road trips, or everyday commuting, there will be many riders that prefer the mini saddlebags.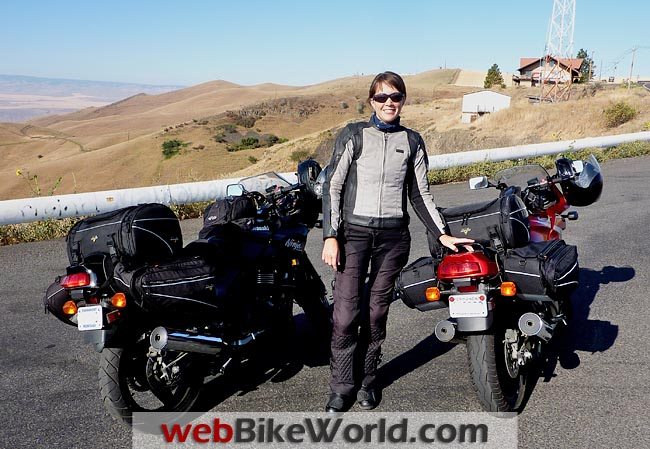 Conclusion
If you've got a road trip coming up, the Nelson-Rigg CL-950 Deluxe Saddlebags might be the perfect soft luggage.  Adjustability to fit many different motorcycles, plenty of storage, zippered pockets, solo- and dual-mounting systems that connect to Nelson-Rigg tail bags, waterproof covers, lifetime warranty and a great price.
Note:
 For informational use only. All material and photographs are Copyright © webWorld International, LLC since 2000. All rights reserved. See the webBikeWorld® 
Site Info page
. Product specifications, features and details may change or differ from our descriptions. Always check before purchasing. Read the
Terms and Conditions
!
Owner Comments and Feedback
---
From "A.P." (April 2012): "I have the older version of these bags. I am a big fan of them. My wife and I did a weekend away with the saddlebags, a tank bag, and a backpack two-up on a Bandit 1200. Handled highway blasts and backroad twisties with no flapping or shifting. If I commuted on my bike, or did a long tour, I'd go hard cases. But for a few times a year, these are great bang-for-the-buck."
---
From "J.L.W." (April 2012):  "I think soft bags are vastly underrated, particularly for dual sports or "adventure touring" bikes. I can't remember the number of reviews of adventure tourers I have read where the hard bags get torn off, broken, etc. If I am going to drop a bike, I would much rather have it fall on a soft bag.
Also, in the real world of either on or off road touring, I think lockability is also overrated. When I stop for the night, I take whatever is in my bags in with me and during the day, the bike is not usually out of my sight for any longer than it takes to make a pit stop."
---
From "D.W." (April 2012): "I have the Nelson Rigg CL-850s for my Z1000. I needed a set of bags large enough to fit a 17″ laptop (a requirement for commuting to work). I did not want a back pack as I find them distracting and the encumbrance impedes my flexibility.
The bags have proven easy to install and remove and durable over the miles. They don't move around at all. I use very small locks to secure the zipper pulls.
I wish the zipper pulls were more robust and that you could use a stronger lock, but considering anyone with knowledge could just uninstall them in a couple of minutes, maybe locks are kind of silly.
Anyway, while not the 950's, I did want to favorably comment on Nelson Riggs and show my appreciation as I could not find any other bag for a sport bike that could fit the 17″ laptop."