MV Agusta has made sport touring more practical as well as stylish with their new Turismo Veloce 800 Lusso SCS that allows the rider to use a conventional clutch to change gears or ride in semi-automatic mode.
I recently took a Turismo Veloce 800 Lusso for a week's two-up tour around northern Italy and it performed well in all conditions. After all, the name means "touring fast luxury".
(A big shout out to kanyarfoto.com for the main photo of the Lusso on the Stelvio Pass.)
There were many things to like about this handsome bike with sexy bronze trim on the pipes and wheels that make it perfect for practical two-up sporty touring: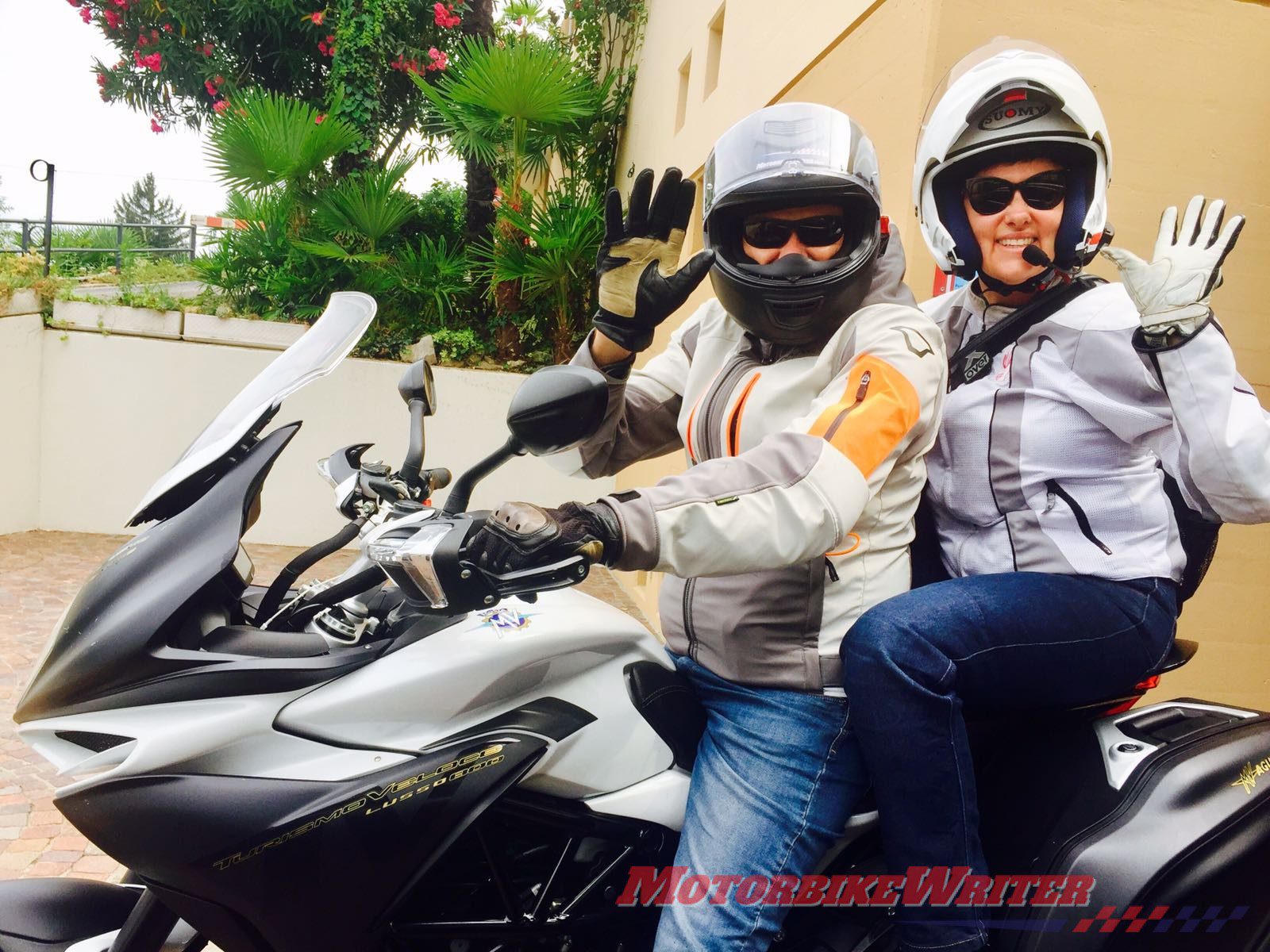 comfortable seats and an upright riding position with an adjustable windscreen;
quick-release 30-litre panniers that fit a full-face helmet each;
cruise control for the autobahn;
centre stand;
bright LED lighting that provided great visibility in the many tunnels of the Euro alps;
multi-level traction control for the varied road and weather conditions;
the handlebars are slightly wider than the panniers so you can judge traffic gaps for filtering;
heated grips for those alpine passes (even in summer); and
electronic adjustable Sachs suspension that is easy to switch between a wide variety of settings to suit everything from solo spirited riding on smooth tarmac to two-up touring with luggage on bumpy roads.
More practical 
The SCS version would have been even more practical.
Unfortunately, I only had a short ride on the SCS around the Verase factory precinct, but it was enough to convince me that the SCS would have made our trip much easier and more enjoyable.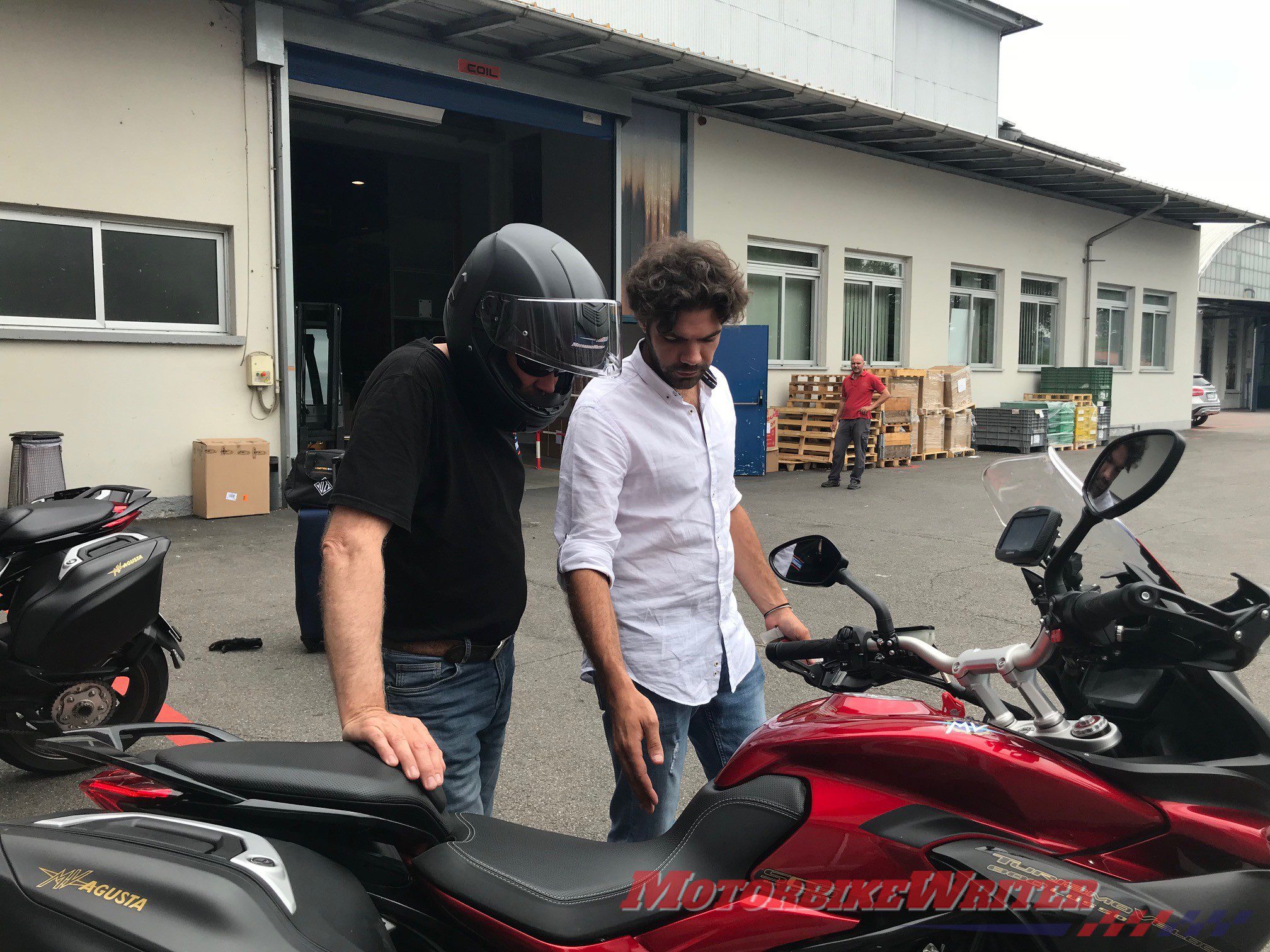 SCS stands for the Smart Clutch System developed with America's Rekluse. 
You can ride it like a twist-and-go scooter, changing gears without the clutch, or shift cogs as normal, using the clutch.
The SCS operates in parallel so there is no need for the ride to hit any switches to go from manual to automatic operation.
When lane filtering or crawling in the heavy traffic of northern trays cities, the semi-auto function would have been great as the "standard" model has a moderately heavy clutch and becomes tiring.
Even on the Stelvio Pass, it would have been handy for those blind hairpin turns that come up on you so fast you don't have time to think about blipping the throttle to change down a couple of gears. It actually blips it for you like a real professional!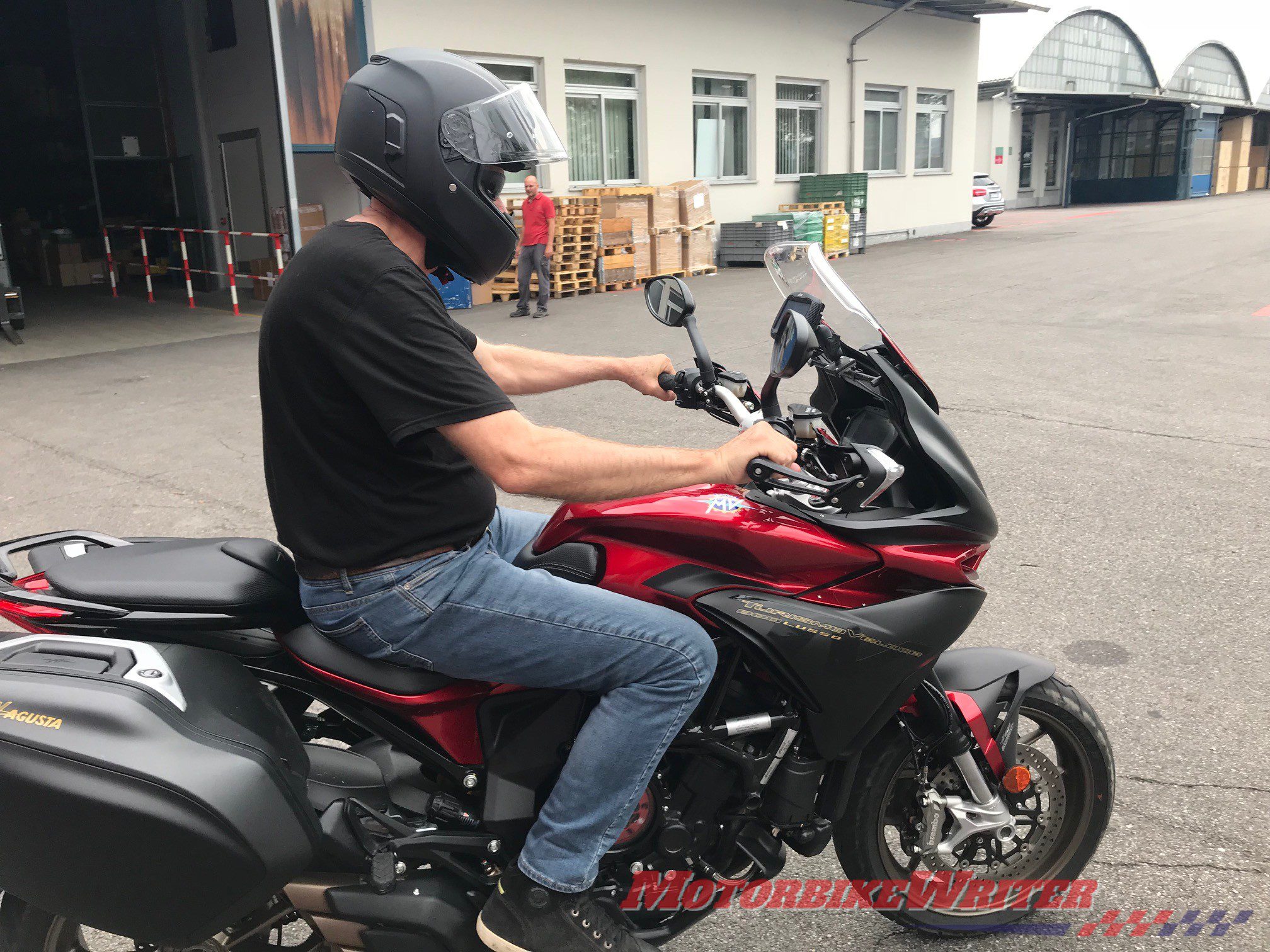 Because the pillion sits fairly close, we would sometimes bump helmets when I pulled the clutch in, but SCS would also have solved that little niggle as well.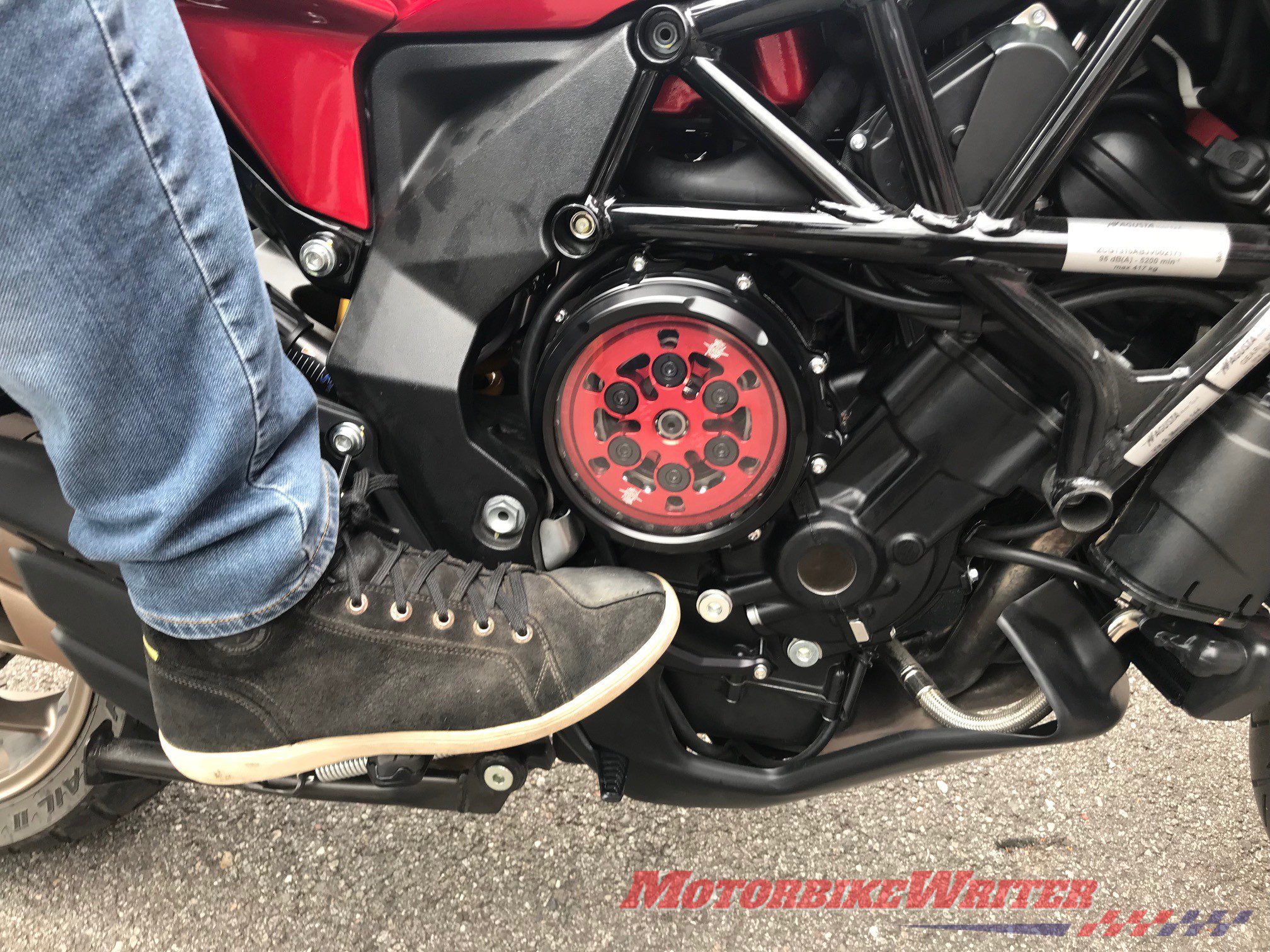 The SCS means it doesn't hold in gear like a normal bike, so it requires the addition of a parking brake to stop rolling off its sidestand. The parking brake is basically a lever to lock the rear brake in place.
Apart from a beautiful transparent transmission cover talking point, MV say SCS adds no weight and acceleration times are similar to their F4 superbike at about three seconds to 100km/h.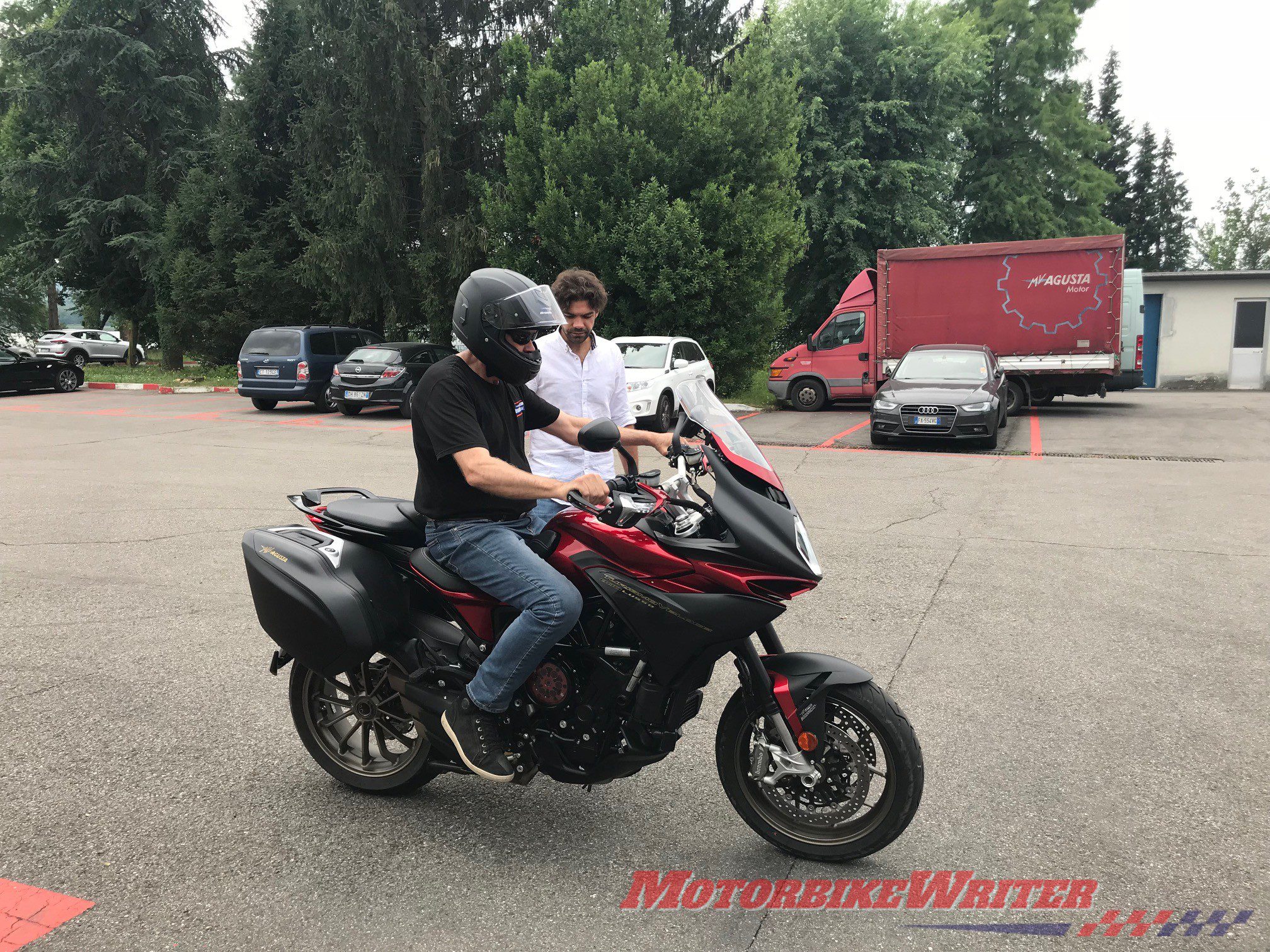 There is no word yet on when the SCS will arrive in Australia or how much it will cost, but it would definitely be worth the wait and the expense.
We expect it to cost somewhere between the current Turismo Veloce 800 Lusso at $A253,499 and the RC model at $A29,880. It will be a $US1000 addition in the USA.
Turismo Veloce 800 Lusso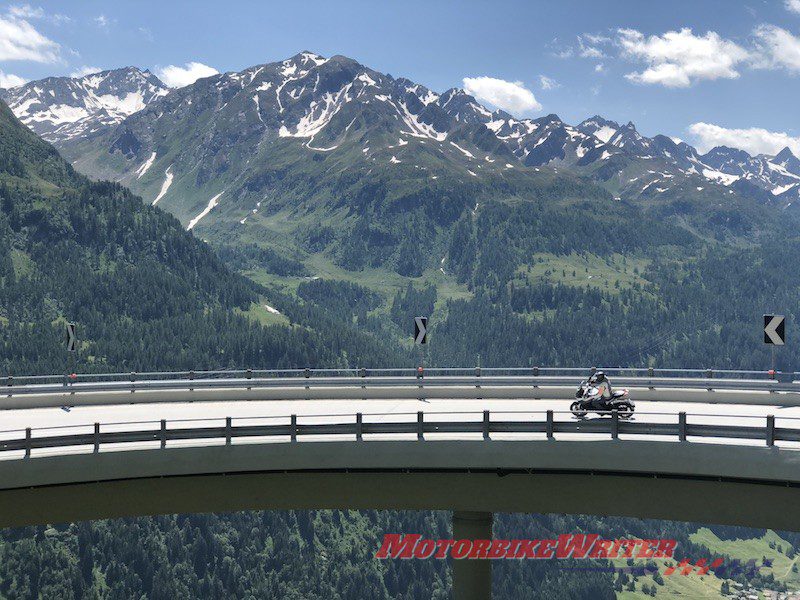 The bike is powered by a 798cc three-cylinder engine with 93kW, dry weight of 207kg and a claimed top speed of 240km/h.
It is more than enough to haul two people and luggage at pace up the 1500m ascent to the 2700m summit of the Stelvio Pass on the Swiss/Italian border.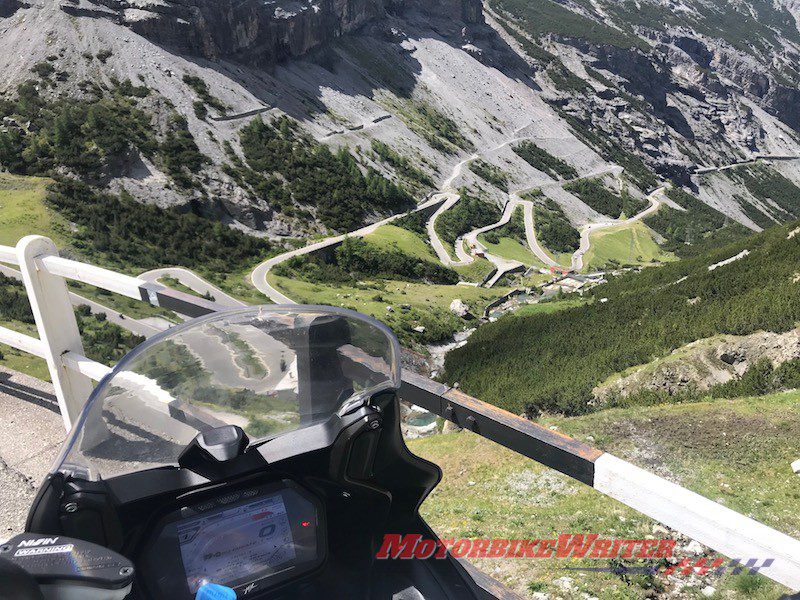 It doesn't have a stack of torque, so you have to work the quickshifter to keep it singing in its sweet spot.
At 8000 revs it really lights up and takes on a whole new character with an induction roar that would put an F1 racer to shame.
Two-up on an open-limit highway, it felt stable until about 170km/h when it developed a slight weave in the turbulence from the heavy traffic.
In city traffic it surged a little at low speeds and it poured a lot of heat out on to my lower shins.
Despite the load, mountain roads and my spirited riding style, the engine delivered excellent fuel economy of less than 6L/100km.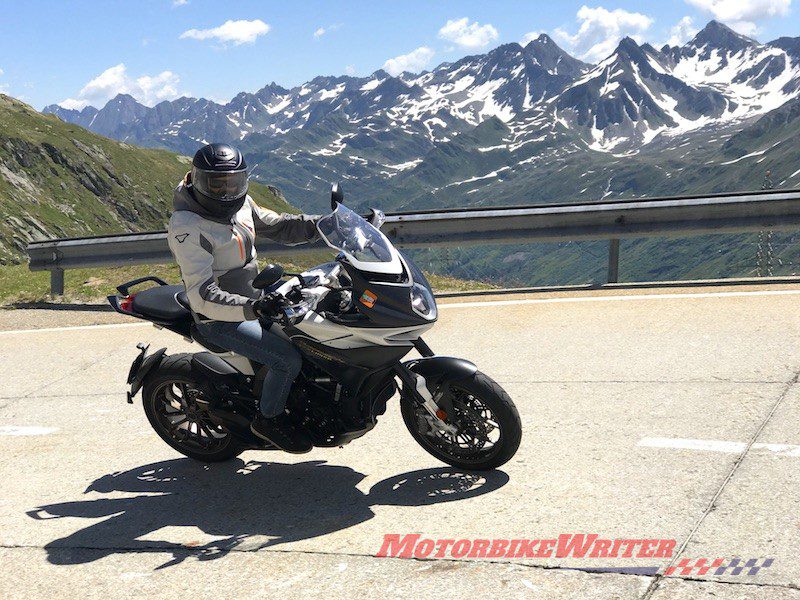 Brakes are brilliant with plenty of bite, power and feel even two-up coming down steep alpine passes with no hint of any fade.
Conclusion
The SCS version is worth the wait for a gorgeous luxury sports tourer that has both high performance and practicality.
MV Agusta Turismo Veloce 800 Lusso
Price: $A23,499
Engine: 798cc, 4 stroke, 12 valve, DOHC, three-cylinder
Bore x stroke:

 

Power: 81kW (110hp) @ 10,150rpm
Torque: 80Nm @ 7100 rpm
Transmission: Electronic quick shift
Suspension: Sachs USD semi-active telescopic hydraulic 43mm forks; Sachs, semi-active single shock absorber with hydraulic spring preload adjustment
Brakes: 4-piston radial Brembo 320mm twin discs; 2-piston 220mm Brembo
Tyres: 120/70 – ZR 17 M/C (58 W) 190/55 – ZR 17 M/C (75 W)