Made in China™
Ever dreamed of riding a Panigale V4 with 1/5th the horsepower and half the displacement? Do you want to trick people into thinking you own a $25,000 bike – when really it cost less than half? Quartz.com said it best themselves, "Your brilliant Kickstarter idea could be on sale in China before you've even finished funding it". China has a knack for making dubiously similar products to ones you can find in the west, at a fraction of the price. Chinese motorcycle manufacturer Moxiao's new 500RR is no different. They borrowed the name from Honda, and the entire motorcycle's design from Ducati. Amazing. The Moxaio 500RR Ducati clone is a sight to behold.
The Ducati Panigale is probably the most recognizable superbike on earth. Even if you don't know much about motorcycles if you cruise the magazine aisle on your frequent grocery trips you've probably seen it a few times without even realizing it. The Panigale V4 is undisputably the gold standard of performance and styling… So why not completely duplicate it? If it ain't broken don't fix it.
Moxiao's 500RR is so similar to the Panigale in its styling you wouldn't be able to tell the difference if it zoomed past you in traffic. Okay, fine… If you had your music blasting in your car then you really couldn't tell the difference. Unfortunately, the 500RR's 47 horsepower parallel-twin engine doesn't quite make the same ear-shattering scream that you would find coming from the Panigale's 200+ horsepower V4.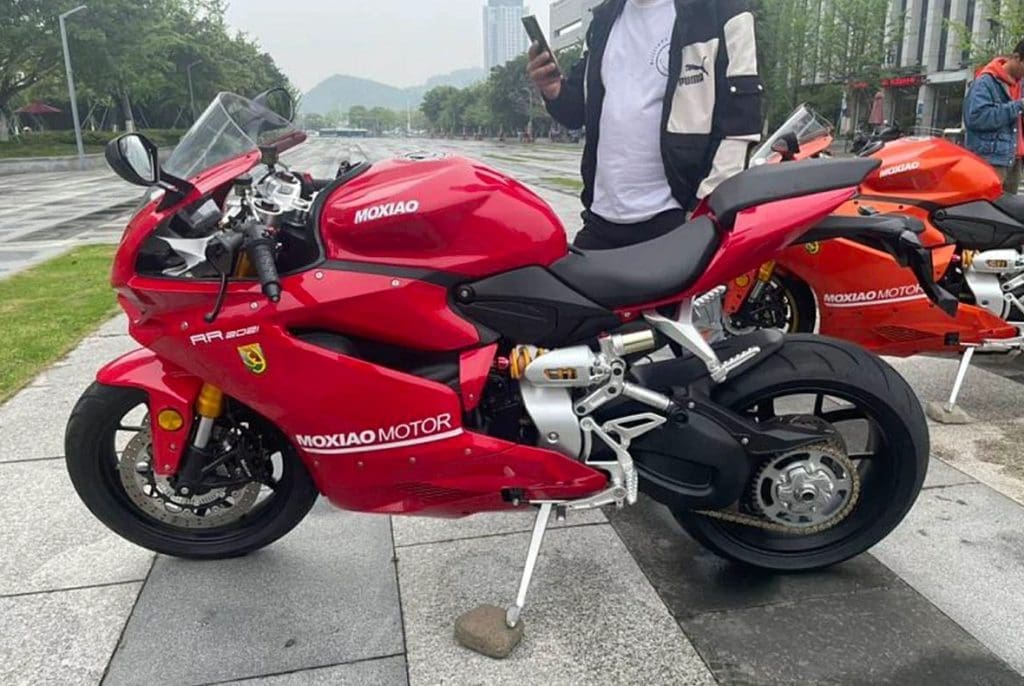 Like most Chinese copies, the 500RR obviously lacks the refinement you would find in your typical $25k superbike (duh), but it's still amazing to see such a dedicated replica repurposed into a manageable commuter. Although it's quite funny to see the god-tier Italian performance bike repackaged into an underpowered clone, it's still charming to see the dedication that went into the project.
The fact that Moxiao managed to even include a single-sided swingarm into the 47 horsepower build is hilariously awesome. These guys really left no stone unturned in the designing process for this bike… Or maybe there wasn't much of a design process, now that I think about it.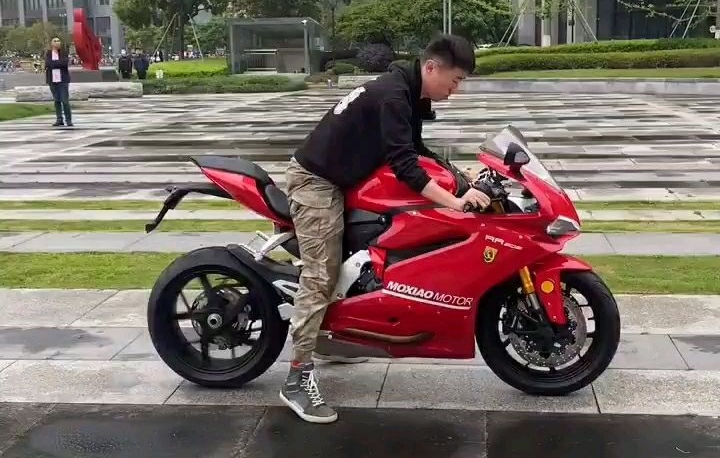 As previously mentioned, this 500RR comes equipped with a meaty 471cc parallel-twin engine that produces 47 (ish) "Italian" ponies and can acheve a top speed of 100 miles per hour.
Love it or hate it, this bike is awesome, and a major "F*** YOU!" directed straight to the pure-bred Ducati track-day snobs and their expensive scotch drinking habits. Who knows if it's even legally possible to import this bike into the west due to trademarking, but I thought it was still worth sharing. I really wish I had some pricing information to really compare this clone to the Panigale, but maybe we'll get those details down the line. Thank you, China.