Motowerk Mirror Extenders Image Gallery
The Motowerk mirror extenders are available for select Honda and Kawasaki motorcycles.
That includes our 2015 Kawasaki Versys 650 LT Project Bike (Blog).
Motowerk is a small company located in San Diego, California.
The mirror extenders are very nicely made and an easy fit on the Versys.
They move the stock mirrors up about 20 mm and out about 50 mm.
This gives a perfect view to the rear of the bike.
In fact, for the first time ever, I see only what's in back of the bike and not one millimeter of shoulder, elbow, arm or jacket.
That alone is an amazing fact; not bad for 36 bucks, 10 minutes worth of effort with two 14 mm wrenches and a dab of Loctite!
It makes a real difference in riding and safety and I notice it every time I go out for a ride.
It's like having a 360-degree view for the first time ever on a motorcycle.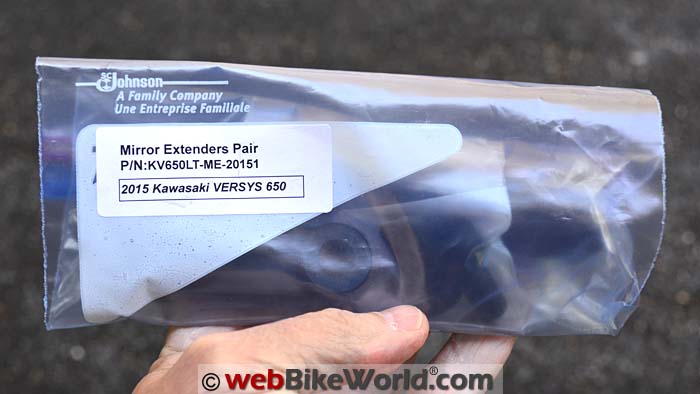 Introduction
Mirror extensions are pretty much a "must have" accessory for modern motorcycles.
We've reviewed a few, including the SW-Motech mirror wideners (review) for the Suzuki V-Strom 1000 ABS (Blog) and the "wedge" mirror extenders for the BMW F 800 S (Blog).
There are even more reviews on the wBW Motorcycle Mirrors, Grips and Handlebar Reviews page.
The stock mirror placement on the 2015 Kawasaki Versys 650 LT isn't bad actually. Or should I say it's better than most?
The mirrors have an odd angular shape, with the wide end pointing towards the outside. At least the mirrors are oriented in the horizontal plane.
The view to the rear is good but would probably be better if the stylists hadn't been given the upper hand.
A wide rectangular mirror would probably be best, but it would surely be more boring, at least to the stylists.
If you're not fussy, you could probably get along without a problem with the stock mirrors. But I just don't like looking at any part of my shoulders or elbows instead of the road behind me.
I can use all the help I can get when it comes to 360-degree vision, so anything blocking the view in the rear view mirrors is a problem.
That led to a search for some mirror extenders for the Versys.
I've been kind of surprised that there aren't more accessories for this popular motorcycle, which means there's probably a business opportunity or two just waiting to happen. Somebody?
My usual source — SW-Motech — came up empty for the Versys but I found Motowerk, an apparently very small manufacturer out in San Diego.
They don't have a large selection of parts but what they do have is made in the U.S.A. and — based on my experience with the mirror extenders — is excellent quality.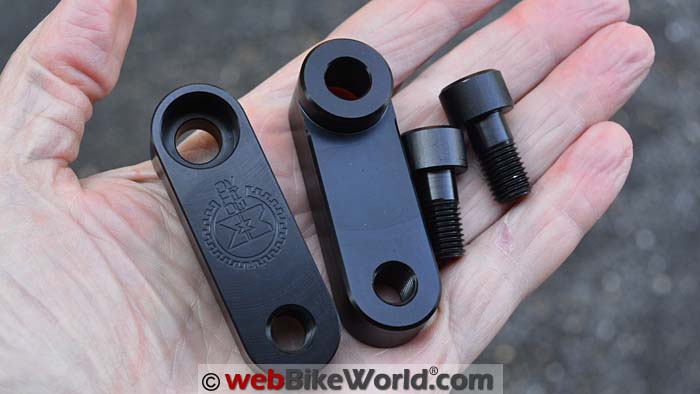 Motowerk Mirror Extenders
Mirror extenders are usually a pretty simple product, although that depends on the make and model of motorcycle you're interested in outfitting.
For the Versys, the Motowerk Mirror Extender kit consists of two machined aluminum bars, anodized in black. And a couple of Allen head bolts (6 mm socket head cap screws actually) that hold the extender bars where the stock mirrors are (were) attached.
Installation
Installation on the Versys is a piece 'o cake. You'll need a 6 mm Allen wrench and two 14 mm open-end wrenches (i.e. "spanners").
First, pull up the rubber cover at the base of the mirror. It protects the unpainted hardware that holds the stock mirror — a 14 mm nut and a special 14 mm bolt that screws down into the mirror mounting brackets on the handlebar.
After the mirror nut is loose, turn the entire mirror on its stalk until it unfastens from the mirror mount.
Next, remove the stock bolt that acts as the base for the threaded mirror stalk. Then add the extenders with the Motowerk bolts, then re-attach the mirrors using the stock hardware out at the end of the extenders.
Tighten all the bolts snugly but not too tight — just tight enough so you can still move everything around. Next, aim the mirrors, being careful not to move them from your aiming point.
I found that by pointing the extenders at a slight angle forward of the hand grip, I could locate the mirrors perfectly so I only see what's behind me and not a lick of jacket, shoulder or elbow.
I then went for a quick ride and I took the two wrenches along to make sure the mirrors were aimed to my liking. Another quick adjustment and then I gave the bolts and nuts a last tightening.
By the way, there's a left- and right-hand extender bar but you can't mix them up. I added a touch of blue thread locker to the bolt threads also.
Here's a look at the process in some photos: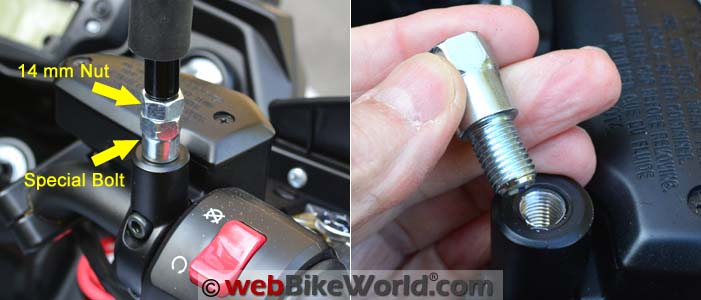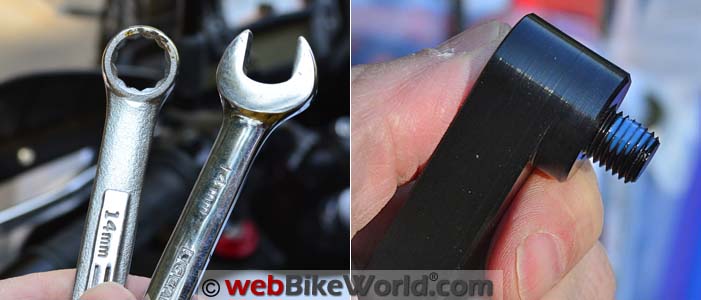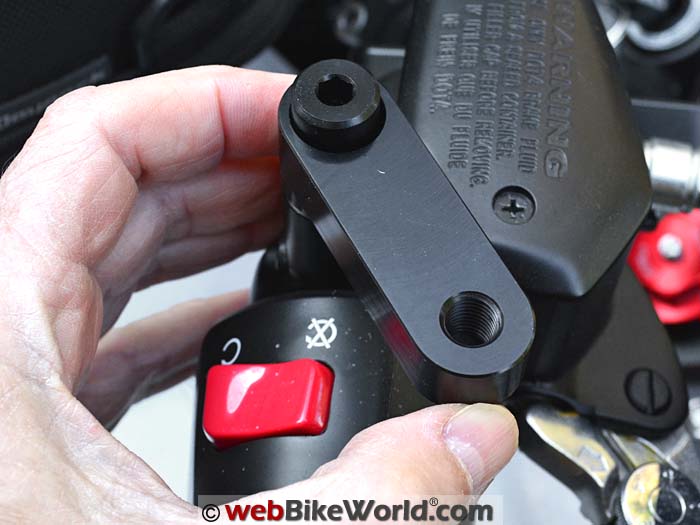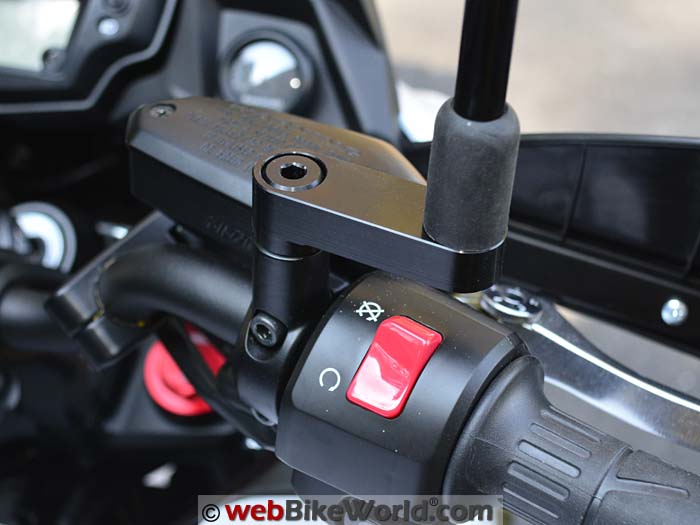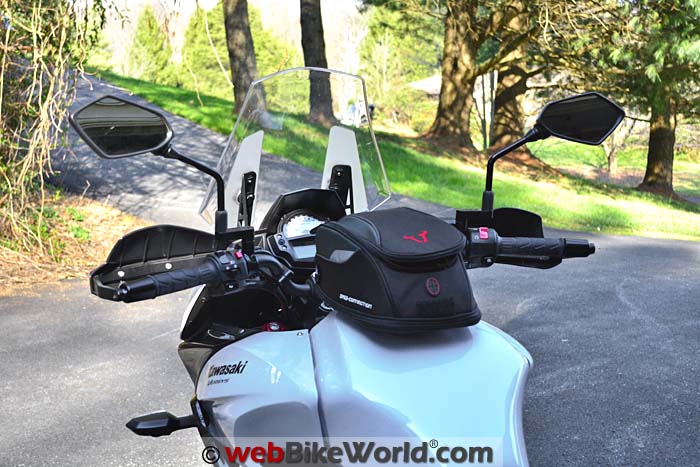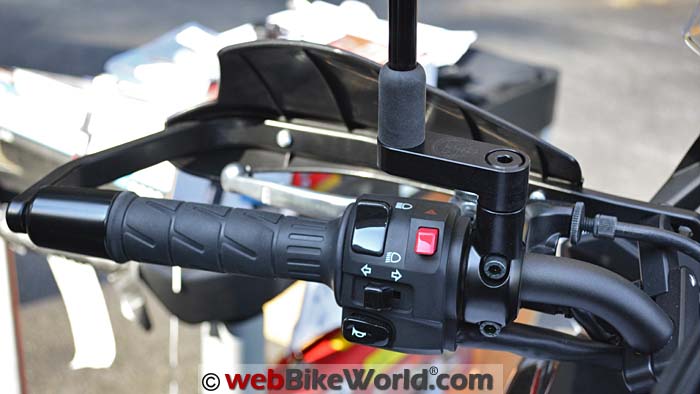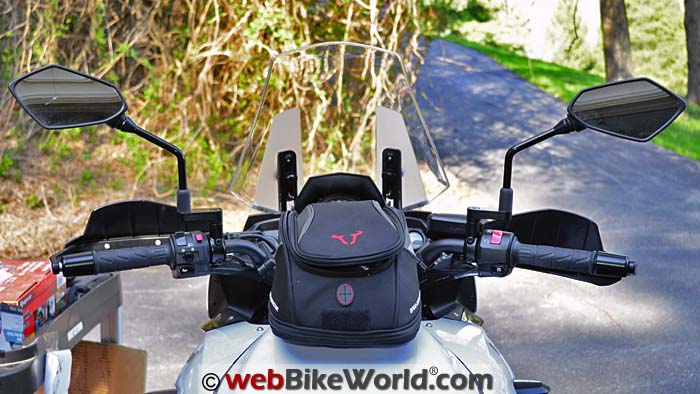 Conclusion
The Motowerk Mirror Extenders are very nicely made, very easy to install and work like a charm on the Versys.
For the first time I think ever since I've been riding motorcycles, I have an unimpeded view of everything behind me. It's amazing actually and I have noticed it every time I've been on the bike since.
It makes motorcycle riding that much safer but it also seems to remove some stress, because it gives me much more of a 360-degree "heads-up" feeling.
Definitely a must-have accessory for the Versys 650! And to be honest, these are dirt cheap at $36.00 for the pair.
w

BW Review: Motowerk Mirror Extenders
List Price (2016): $36.00
Made In: U.S.A.
Colors: Black
Sizes: Honda and Kawasaki motorcycles.
Review Date: May 2016
Note:
 For informational use only. All material and photographs are Copyright © webWorld International, LLC since 2000. All rights reserved. See the webBikeWorld® 
Site Info page
. Product specifications, features and details may change or differ from our descriptions. Always check before purchasing. Read the
Terms and Conditions
!
Owner Comments and Feedback
---
From "H.R." (June 2016): "What is totally aggravating for me on this and other products is that the contacts at sales or service refuse to tell me the size of the fittings, instead just listing the bikes the product is known to "fit."
If your bike is more than a few years old, or a dropped model name — like my Honda 1992-2003 series CB750 Nighthawk — I have no way to find out if what they are selling can fit.
I contacted the company and asked the screw size of fittings, and no one tells me.
I have the same problem looking at replacement mirrors, highway pegs, or other items that should be simple to measure fittings.
When buying some lowers, Motorcycle Superstore would not let me purchase a product because their fit list did not include my bike, though calipers and a ruler told me what would grip the relevant part of the frame.
When I was buying fork deflectors for hardware already on the bike I couldn't buy the plastic without a statement of my bike being on their list of fit.
It isn't just motorcycle equipment. I shop for a briefcase, and they won't give dimensions, just saying it fits an iPad (regular, Air1, Mini or Pro? They don't say).
Replacement pedals for an exercise bike says a few products they fit, but not if they are the standard half inch or 9/16th inch screw bolts."
---
From "D.H." (May 2016): "Have them on my Versys. Changed from seeing my shoulders to seeing traffic. Highly recommended."
---
From "I.C." (May 2016): "I have used the Motowerk mirror extenders for 3 years on my Versys. They are a life saver.
I fit them so that they extend forwards, not out to the side. By being further away from me the field of view is extended, so I can see clearly behind me, but I do not make the bike any wider. That is handy in the UK as we can filter (lane split) and I do that a lot when commuting.
The mirrors are also clearly in my line of site so I get a good view in my peripheral vision and hardly need to move my eyes, let along my head to see them."