Motorola MU350R Image Gallery
Lets put it this way: the Motorola MU350R Bluetooth Radio has lots of potential but it isn't the total hands-free solution envisioned or needed by motorcyclists, at least not yet.
But even eliminating one wired connection, at least, between the two-way radio and the paired Bluetooth helmet headset is a good thing.
Although the physical Push-to-Talk (PTT) button is still needed, the MU350R two-way radio works well in providing a longer range group communication option for motorcycle riders and users, mounted or dismounted.
Solidly constructed with features geared towards rugged outdoor activities, it has so far held up very well to the rigours of being used on and off the motorcycle, although its size may present challenges in finding the best positioning for easy access to the PTT button on the MU350R.
And it is this PTT access requirement that is the main detraction or issue in successfully adapting the Motorola MU350R Bluetooth two-radio for use with a motorcycle-mounted Bluetooth helmet headset.
Having to physically access the MU350R's PTT switch is not a "hands-free" solution by any means and although it does eliminate some of the wired connections, in reality, the Motorola product doesn't present a "game changing" solution.
Even if the expensive Motorola 1693 Bluetooth PTT module were available and added to the configuration, the package still wouldn't be that much more advanced than what is already available by using the Sena SR10 (review) or the UClear WT300 (review) Bluetooth adapters that provide reasonably-priced solutions and long range, along with handlebar-mounted PTT devices for anyone who needs them.
So the Motorola MU350R Bluetooth compatible two-way radio by itself just isn't the solution, even though it does provide another wireless component that contributes to the solution; that being a true wireless hands-free communications environment for riders.
webBikeWorld readers have been waiting for the Motorola MU350R Bluetooth two-way radio for some time.
Now it's here but the implementation isn't quite what we were hoping for.
The idea — or so everyone thought — was that each Bluetooth motorcycle intercom user would pair with a Motorola radio and have a huge boost in range with unlimited number of "party line" users.
So while the concept is good, the reality is quite different.
As currently implemented, the Motorola M350R requires a Push-to-Talk or "PTT" button push on the radio itself. Motorola was supposed to release the Motorola 1693 wireless PTT gizmo (which would still require a button push) but…it's a no-show.
So the bottom line is that you cannot currently connect a pair of Motorola Bluetooth two-way radios to a Bluetooth intercom pair, turn everything on and chatter away over long distances.
Well, you can…but having to pair the Motorola radios with certain Bluetooth intercoms and (still) press the PTT switch on the MU350R for each transmission to communicate just isn't the same as activating the Bluetooth helmet system's intercom and chattering away, so why bother?
Most or all of the motorcycle intercoms we have reviewed have a huge range anyway, so adding more complexity to the system doesn't really buy you much.
Oh well — another dream shattered…

Introduction
Advancements in Bluetooth and related wireless technologies for motorcyclists now provide Bluetooth helmet system-to-system intercom ranges of up to 1.6 km or one mile and further. And when multiple systems are configured for multi-hop operations, operational intercom ranges of two to five kilometres or even longer are possible.
Whether riding in town, on the highway or off-road, in pairs or as part of a group, travel distances between individual motorcycles can change quickly for all sorts of reasons, and these separations can quickly overcome the range of many Bluetooth helmet intercom systems, even those with extended range capabilities.
A two-way radio or common radio allows everyone so equipped to communicate using an agreed-upon channel. And outside of the one-way (Simplex = Listen or Talk only) limitation, there is no real limit on the number of users and longer-distance communications are possible.
This is a very useful capability for group or multi-group rides where communications and coordination are key factors, especially in passing along warnings. I have been using amateur radio and consumer-based two way radios for many years on motorcycles and snowmobiles even though early solutions weren't always elegant or very effective overall.
But we now have lots of options and with the right pieces in place, using a Family Radio Service (FRS), General Mobile Radio Service (GMRS) or a hybrid FRS/GMRS device, Multi-Use Radio Service (MURS), Citizens Band (CB) or Amateur radio device as a common two way radio makes a lot of sense.
A great introduction on how to use a two-way radio with a motorcycle intercom system was done by Bob P. for webBikeWorld and the article remains an excellent tutorial in how to connect by wire a two-radio to an intercom system.
As identified in the article, one enabler is the fact that some Bluetooth helmet system manufacturers offer a separate wired or wireless Push-To-Talk (PTT) adapter. These devices, like the previously mentioned Sena SR10 or UClear WT300 adapters, work with just about any Bluetooth headset and make adding a two-way radio a whole lot easier…albeit still with some wires.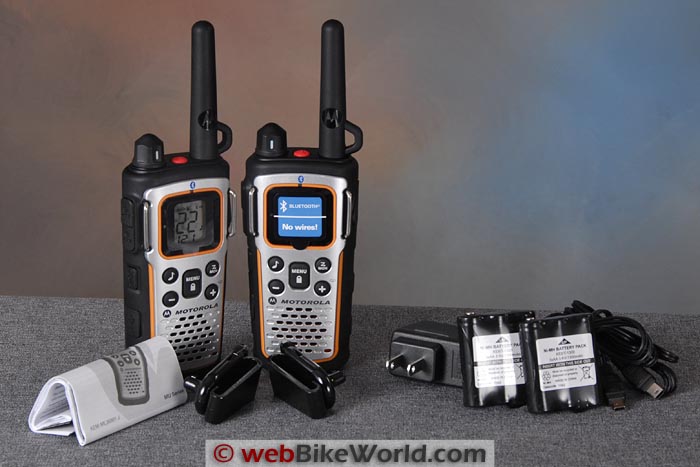 The Motorola MU350R
For anyone wanting to reduce the wire "clag" where possible, the Motorola MU350R Bluetooth-capable two-way radio comes in as a potential solution. When paired via Bluetooth to the helmet headset, at least one of the cords can be cut (if you're already using a two-way radio in your communications system), resulting in a functional option for users wanting a common and hopefully low cost solution for group purposes and longer range communications.
Advertised as "bold, powerful and adventurous", the MU350R radio is also touted as a "game changer". Motorola also says "But most of all, its arrival changes the landscape of two-way communications". That's all marketing spin — statements that need to be put to the test.
Motorola MU350R Details
The Motorola Talkabout MU350R FRS/GMRS two-way radio is pretty hefty compared to many of its peers and seemingly well prepared for outdoor use. This is evidenced by its combination of hard outer shell with tactile surfaces for easy handling, solid interface controls and numerous small features adding to its rugged appearance.
An IP-54 rating (dust and wet weather) lends further credibility to its role as the rugged member of the Talkabout family. As such, it has pretty much all of the standard features found in the Talkabout series and similar FRS/GMRS radios from other manufacturers.
While many think these features may be wasted or pointless add-ons, in reality they aren't and can be very valuable, particularly the weather broadcast feature. I, for one, have always appreciated the NOAA or Environment Canada weather broadcasts available to varying degrees almost anywhere in the US and Canada.
The information cycles through audio weather broadcasts, advisories and alerts keeping you informed as you travel north, south, east or west. On occasion during my travels in said directions the broadcasts have been invaluable, especially in areas where other wireless services coverage is sparse or nonexistent.
An emergency alert button can also be used to initiate a 30 second broadcast out to all radios in the group; an eightj-second steady tonal signal is sent out as an initial alert after which the PTT switch can be pushed to allow a further voice broadcast to all radios. This is a great emergency or pre-arranged group warning feature.
And when it gets dark, there's even a small LED flashlight in the bottom of the housing that helps you find that that dropped key or the way to and from your tent.
From a Bluetooth perspective, the MU350R is a qualified Bluetooth headset (Bluetooth SIG) 2-Way Radio based on version 2.1, supporting Headset (HSP) version 1.2.
With a one-watt (Class D) amplifier and digital signal processing (DSP), the MU350R provides crystal-clear audio…although its advertised optimal range of "up to 35 miles" (56 km) is more marketing hype than reality. Users of this type of radio will know that ranges of two to eight kilometres (1.2 to 5.0 miles) are closer to the norm, depending on the terrain (natural or man-made).
But sometimes reality is, well, reality and during one trip out west some years ago a similarly powered set of Midland FRS/GMRS radios were providing communications well beyond 10 kilometres or 6.2 miles.
Batteries and Features
Multiple charging options for the MU350R are a plus. Use the provided AC/DC charger with its Y-lead with two mini-USB connectors, a USB2.0+ compatible cable (not supplied) to trickle charge from a PC or on-board USB port, swap the rechargeable 1300mAH battery pack out for three standard AAA (recyclable) batteries (you do carry spares don't you) or order the optional AC/DC desk charger. Note: the radios cannot be used while being charged.
The radio weighs 236 g (8.3 oz.) with the standard battery pack (that provides up to fifteen hours of use) and basic measurements are 7.77 inches tall by 2.58 inches across by 1.43 inches thick. Like most FRS/GMRS radios, the MU350R has 22 channels: 7 FRS, 8 GMRS and 7 shared FRS/GMRS channels, with 121 "Interference Eliminator Code" settings available for increased privacy.
The Motorola MU350R kit contains two radios, two AA 1300mAh NiMH rechargeable battery packs, two belt clips, AC/DC charging adapter with dual mini-USB connectors and a small-print fold-out user guide.
Pairing the MU350R
Reading the complete small-print fold-out instructions once or twice will probably bring on eye strain, so downloading theUser Guide (.pdf) and reading it in larger scale is far easier. Then play with the devices; it doesn't take long to get the basics down and the radios configured for initial use.
To pair the MU350R, first make sure other nearby Bluetooth devices are disabled or turned off. Then turn on the MU350R radioand use the Menu button to scroll through the visual selections until the small "Bluetooth" icon is displayed in the upper right quadrant.
If the text indicator says "Off", press either the Minus or Plus button to toggle Bluetooth on, which will then be indicated by the flashing Blue light on the centre of the bezel just above the display.
Let the radio go back to the main channel display menu, then press and hold the "Minus" button for three to four seconds to activate the Bluetooth pairing, indicated by rapid flashing of the Bluetooth LED. Now put the Bluetooth helmet headset into its pairing mode and wait for the two devices to pair which should result in the respective LEDs going to a steady slow Blue flashing.
And before getting into actual function and performance of the MU350R as paired with Bluetooth intercom headsets, it pays to learn what all the various features and settings of the radio can do, especially pertaining to PTT and monitoring operations.
Remember also that the MU350R uses the basic headset profile (HSP), rather than the more fully featured hands-free profile (HFP) and the Motorola User Guide identifies the need to still use the physical PTT button on the MU350R to talk, unless the optional Motorola 1693 Bluetooth wireless PTT button is used. However, the 1693 has been listed for some time on the Motorola website but hasn't been put into production and it's not clear if it will at this point.
It also pays to understand the pros and cons of the iVOX (hands-free using internal microphone) and VOX features as they can impact standard PTT functionality in ways that can prove to be very frustrating.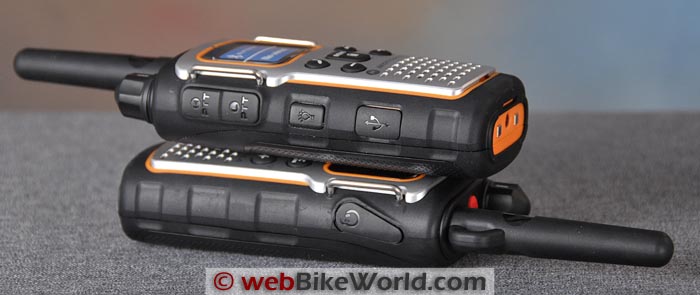 Bluetooth Function and Performance
Without the Motorola 1693 wireless Bluetooth PTT button available, this evaluation is focused on just using the MU350R Bluetooth two-radios with some of the popular Bluetooth motorcycle helmet headsets previously evaluated by webBikeWorld.
NOTE: For clarity and to avoid confusion in terminology, the term "Bluetooth helmet headset" or "headset" is used to identify the Bluetooth motorcycle headset system rather than just calling it an "intercom". This is done to avoid confusion when referring to the internal intercom capability provided by most of these systems.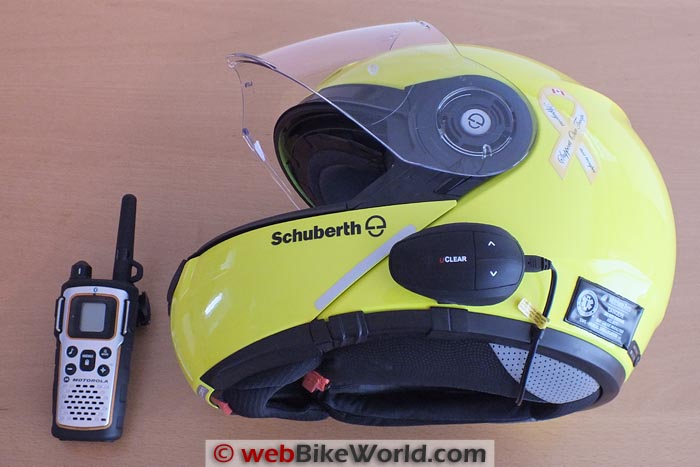 Sena Bluetooth Systems and the Motorola MU350R
Three Sena systems were used to connect to the Motorola MU350R. These included the Sena SPH10 (review) with firmware v4.2.1; the Sena SMH10B (review) with firmware v5.0.1; and the Sena SMH5-FM (review) with firmware v2.0.
Being able to utilize the Selective and Multipoint discrete pairing features of Sena systems to pair and work with various non-intercom Bluetooth devices remains one of the best attributes found on all Sena headsets and it sure helps in minimizing device conflicts.
Taking advantage of the Sena Multipoint feature that provides simultaneous support for two HFP devices, an iPhone 4s was paired normally using the Phone button and once that was up and running with phone and stereo streaming services, the MU350R was paired via the Multipoint process briefly described here:
Hold the Jog Dial for five seconds until the rapid flashing/beeping is seen/heard, then within two seconds tap the Phone button. The LED turns to flashing Blue with high tone double beeps heard followed by the spoken status announcement voice saying "Multipoint Pairing"
With the MU350R two-way radio in Bluetooth pairing mode, it will pair with the Sena in seconds, confirmed by the announcement stating "Your headset/device is paired". The applicable current smartphone connections will typically also be announced again confirming that all connections are good.
In this typical configuration the Bluetooth headset (helmet or personal) is now paired to both the smartphone and the MU350R two-way radio via Bluetooth. The smartphone can be monitored for incoming calls while music is streamed from it to the Bluetooth headset and the two-way radio is on standby.
The activities for a typical two-way radio session are as follows:
Press the MU350R PTT switch – wait a half second or second until the radio link opens (white noise).
Talk into the Bluetooth headset microphone as you would when using the internal intercom.
With the radio link open, audio from the microphone is pushed from the Bluetooth headset to the paired two-way radio and then out over the communications channel to the other radio or other radios that are on the same radio channel and within range.
Once speech is ended, release the PTT switch to close the (one-way) radio link.
If no incoming two-way radio session follows, the previously streamed music should resume in the Bluetooth headset.
Two-Way Radio Switching With the Sena Systems
Using the Bluetooth helmet headset and switching back and forth to the Motorola MU350R had mixed results, although it actually works better than originally anticipated. Pressing the PTT button on the MU350R during an intercom session sometimes halted the intercom and initiated two-way radio communications…and sometimes it did not.
And sometimes it seemed that both the intercom and two-way radio audio links were open at the same time, although this could be attributed to other things.
In reality, as the MU350R Bluetooth two-way radio link uses the Hands-Free or HFP profile activating the PTT, thus the two-way radio link should be the higher priority over the internal intercom capability (based on the stated audio switching priorities for the respective headsets).
A comparative example of what could be happening is the situation encountered when a two-way radio is connected by wire to the Sena SR10, which is then paired to a Bluetooth headset using Multipoint. This configuration allows an active headset intercom session to continue while the two-way audio is active as background audio for monitoring purposes.
In doing further testing, there does seem to be a conflict of sorts, indicated by the fact that the Multipoint link is often dropped. However this is quickly resolved with a single quick tap on the Phone button, with the action confirmed by the Voice. (Note: don't make this a prolonged push, as it may result in a response from the smartphone or with the iPhone, from Siri if enabled).
Using the UClear HBC200 With the Motorola MU350R
With the release of firmware 2.05 for the HBC200 Force intercom systems (review), UClear has added a multi-point capability so that two compatible devices can be supported simultaneously — a very positive step up from previous pairing limitations.
I reset one of the UClear HBC200 intercoms (firmware v2.05) and paired it to the Motorola MU350R radio, then the iPhone was paired to the headset. After rebooting everything, music could be streamed from the phone and pressing the PTT switch on the radio instantly paused the music and activated the radio link with great audio from both parties…this seems promising.
After two of these open and close exercises during which the music resumed seamlessly, the third pass proved problematic… PTT activation came about but a few seconds later a loud beep was heard and the UClear module turned itself off? I was able to recreate this issue on the other newly updated HBC200 unit as well. Testing with the HBC100 Plus system is ongoing.
Needless to say, some further testing is going to be done with the UClear HBC200 Force units; with a query being sent off to the UClear representative to see if they can shed some light on what might be happening.
Using the Cardo Scala Rider Q1/Q3 With the Motorola MU350R
Using the Cardo Q1/Q3 (firmware v1.1) intercom systems was simple and very effective overall. As is typically done, I paired the secondary device (in this case the MU350R Bluetooth two-way radio) to Channel 2 (volume and minus button) of the Bluetooth headset.
Press the "volume and minus" buttons for five seconds until the Red/Blue sequence starts then put the two-way radio into its pairing mode. After fifteen seconds, the two devices paired. Then the iPhone 4s was paired via Channel A (Volume and plus buttons) of the Bluetooth headset. As always the devices were re-booted.
With music streaming from the iPhone to the Q1/Q3 Bluetooth headset, pressing the PTT on the two-way radio muted the music and activated the two-way radio link in less than a second with very clear audio from all parties. Releasing the PTT switch closes that circuit and the music resumes a second later – simple, efficient and virtually silent.
Two Way Radio Switching With the Cardo Q1 and Q3
The Q1 and Q3 devices were seamless in switching between an active headset intercom session and a two-way radio session with the Motorola MU350R when the PTT on the MU350R was pressed.
The radio link opens up in a second and when closed the intercom link reopens in less than two seconds; and when the intercom session is ended music streaming resumes immediately, just the way it should.
The Missing Motorola 1693 Wireless Bluetooth PTT Solution
So in lieu of having a Motorola PTT solution, wired or wireless, this evaluation was restricted to using the tried and true method of directly activating the radio's PTT switch, which meant the radio had to be kept relatively close and accessible.
Strangely enough, Motorola does not offer a simple wired PTT button that could be connected to the radio providing a basic but effective handlebar or proximity mounted switch. But there are various Talkabout headsets available for other applications.
As identified earlier, Motorola does seem to have the solution in providing a truly wireless two-way radio operating environment, that being the Motorola 1693 Bluetooth PTT button that is still not available and continued slippage of the posted availability date isn't a positive sign that it will ever become available, to say the least.
And when/if it does become available, those anxiously awaiting one will have to shell out more than the whole radio set costs. The Motorola 1693 PTT button is currently listed at $99.99 USD (ouch), although Amazon has it listed for less, but states that it "usually ships in 1 to 2 months". So while this wireless module may be the solution to actually achieve a wireless system, it isn't going to be cheap.
In reality, using the 1693 PTT button, once paired to the radio, will allow the radio to be tucked away or clipped to clothing, with only access to the PTT needed for communications.
The non-existent 1693 button is claimed to have rechargeable Li-polymer cell (non-replaceable) with 140 mAH capacity, giving it a rated battery life of around eight (8) hours with normal use. As well the module is rated as IP40 (protection against touching with tools, wires and protection against small solid bodies).
For added flexibility of use, Motorola claims that the button provides an interface for wired 3-pin Talkabout headsets (56320, 53725 or 53728). But again, all of this is moot, considering that the 1693 is vaporware.
Conclusion
Focusing on what I had on hand and not worrying about the long overdue and expensive ($99.99 USD) Motorola 1693 Bluetooth PTT provided some interesting and generally positive results with various Bluetooth motorcycle helmet intercom systems.
The Cardo Scala Rider Q1 and Q3 (review) were the clear winners when paired to the MU350R Bluetooth two-way radio.
Just being able to monitor one or two communication channels along with the weather service broadcasts via the wireless Bluetooth audio link is a nice capability by itself and it only takes some fine tuning of respective volume levels to make it all work well.
But the MU350R Bluetooth two-way radio isn't the answer that motorcyclists have hoped for. It does eliminate one (or two) wired connections if you're already using a two-way radio plumbed into your communication system, but like the Sena SR10 and UClear WT300 implementations, it does not eliminate the physical PTT control and at best represents a limited and impractical option, not the solution.
We are (finally) seeing the technology that allows different Bluetooth motorcycle intercom system brands to communicate with each other. Now the manufacturers need to provide a totally hands-free VOX or voice command activated solution that would allow a hands-free means to activate a two-way radio. The technology is available, the need is there, so we just need the "will"..
Note:
 For informational use only. All material and photographs are Copyright © webWorld International, LLC since 2000. All rights reserved. See the webBikeWorld® 
Site Info page
. Product specifications, features and details may change or differ from our descriptions. Always check before purchasing. Read the
Terms and Conditions
!
Owner Comments and Feedback
---
From "R.H." (March 2015): "I recently purchased a pair of MU350R radios and one Motorola 1693 Bluetooth PTT button. I paired my UClear HBC200 headsets (review) running 2.19 firmware. I tried UClear earbuds and helmet speakers.
When I keyed the transmitter on the Motorola I would get about 3 seconds of transmit, hear a beep, and the Bluetooth would cut off. I was using the transmit button on the radios. The lights on the Motorola showed that transmit was working but the Bluetooth cut off.
I also had some instances when the UClear cut off and went completely dead. I had to reinstall the firmware to get the HBC200 to come back to life. I had a music and phone connection to the HBC200. Music usually resumed on the HBC200 after keying the Motorola.
I tried pairing the Motorola's with Plantronics Backbeat Go 2 and LG HBS 700 headsets and had the same problem with Bluetooth; I could get about 3 seconds before Bluetooth stopped.
Another problem with all of these headsets was feedback squeal. With no Bluetooth, the radios could be side-by-side in operation and no feedback.  When a Motorola was paired to a Bluetooth headset, the Motorola's had to be 30 feet apart or there would be constant feedback.
The 1693 PTT button is too large, not waterproof and is slow to work. There would be a 2-to-4 second delay between the time the button was pushed and radio transmit. I tried a wired Chatterbox PTT with a 2.5 mm connector. The connector is a two pin plug and when the plug is inserted, the radio went into transmit mode and stayed in that state.
I tried another wired PTT from eBay, but it had the same kind of plug and same transmit problem. I found a 2.5 mm three connector plug and I made a PTT switch that worked. When using the Motorola in Bluetooth mode I could key transmit with my wired PTT but unfortunately it would only last about 3 seconds before Bluetooth cut off.
With my UClear HBC200 I now use the earbuds and I find the sound quality to be much improved over the UClear speakers. If the Bluetooth function on the MU350R radios worked as advertised, I would probably live with them using my home-made PTT switch but I returned them for a refund.
I tried contacting Motorola through email but I haven't received a response so far. I contacted UClear and got a quick response but nothing to solve the problem. Since I had the same problem with three different brands of headsets, I had to conclude that the problem was in the Motorola MU350R radios."