Motorcycle Volt Meter Image Gallery
For the past 8 years and 180,000 miles, all of my motorcycles had an ambient temperature indicator installed.
So when I purchased my 2002 BMW R1150GSI was a bit disappointed the instrumentation didn't include one.
This might seem like a minor issue, but I find that a temperature gauge is very helpful during the winter to help determine the possibility of freezing conditions.
I also find it interesting to see how temperatures will fluctuate with altitude changes during the different seasons.
On my commute I have to traverse two ridges of the Appalachian Mountains, and the weather at home can be entirely different to what's happening along the way or at work.
For example, yesterday's temperatures (mid January) fluctuated from a low of 25 degrees F (-4 C) to a high of 41 F (+5 C) and this swing repeated several times through the nearly 50-mile commute.
My three biggest requirements for an ambient temperature gauge were: 1) It had to be visible in the dark, thus it had to have its own illumination; 2) Not be battery operated and; 3) Of course, it needed to be pretty much waterproof.
Oh yeah — as usual, I didn't want to spend a fortune.
The Show Chrome Accessories "Digital 5-Function Volt Meter"
I remembered from the past where I had seen an electronic instrument advertised with five functions: volt meter, clock, stop watch, and a thermometer with a flashing ice alert LED.
This is the Digital 5-Function Volt Meter, made by Show Chrome Accessories and distributed by Big Bike Parts in Rice Lake, Wisconsin.
I found the meter was available for purchase through quite a few different websites that cater to motorcyclists, but I was unable to find any further information on an actual company called Show Chrome Accessories on the Big Bike Parts website.
Show Chrome Accessories products appear to be popular in the aftermarket, with many different types of goodies (mostly chrome, of course) primarily for the cruiser and touring segment.
Having a volt meter on the bike would be a bonus even though it's never been a priority. My "new" '00 BMW K1200LTC has one, but I rarely look at it especially since I have to shift my view away from the road to see it.
All of my motorcycles have been equipped with large alternators (a requirement) capable of handing the additional loads of accessory lights and heated gear. The stop watch function would most likely never be used, but having a flashing LED ice alert could be handy and the price was perfect!
During my search for other waterproof ambient temperature gauges the only other choices I found were some that simply clip onto the handlebars with a clock face, and a few unexciting gauges designed primarily for marine use.
Previously, I had come across a couple of topics on the Internet that mentioned that the Show Chrome Accessories 5-Function Volt Meter was NOT waterproof, not even remotely. Owners mentioned that if it got wet, the display would go blank. Most displays returned to normal operation once they had dried out while a few never recovered.
Some owners had solved this by wrapping their Volt Meter in plastic or something similar, while others had gone through the trouble of sealing every opening in order to keep the device operational when wet.
I noticed that all of the websites offering the meter for sale used the same photograph, showing the device mounted on the dash of a motorcycle, but none made mention that it wasn't waterproof, only that the sensor was "water resistant".
So the question is, why in the world would a company make an electronic device that's not water-resistant, let alone waterproof, and then imply it was suitable for use on a motorcycle?  Maybe they had only the fair-weather riders in mind when they designed it…
Luckily I had learned of this deficiency before I bought it, so I had a plan to overcome the non-waterproof issue.
I chose to purchase my 5-Function Volt Meter from California Sport Touring because they had the best price, I had dealt with them before and was pleased with their service.
After opening the package, inspecting the display unit and reading the instructions, it became obvious that this thing is really meant to be installed in an automobile and not on a motorcycle exposed to the elements.
How do I know this? Some of the giveaways were things like "Strong Velcro tape for car dash attached", while the volt meter is said to display "The actual voltage of your car battery". Other features are things like "Time a car's speed"; "Inside & outside temperatures" and there are several openings in the housing with exposed electronics visible.
I think repackaging it as being appropriate for use on a motorcycle is blatantly misleading, but as I said, I had a plan to make it waterproof.
Measuring only 1″ (25 mm) tall, 5 ½" (140 mm) long and only 11/16″ (17 mm) thick, the device is fairly compact. The meter has a black plastic housing, a LCD display across the front and several buttons and switches on the front, sides, top and rear.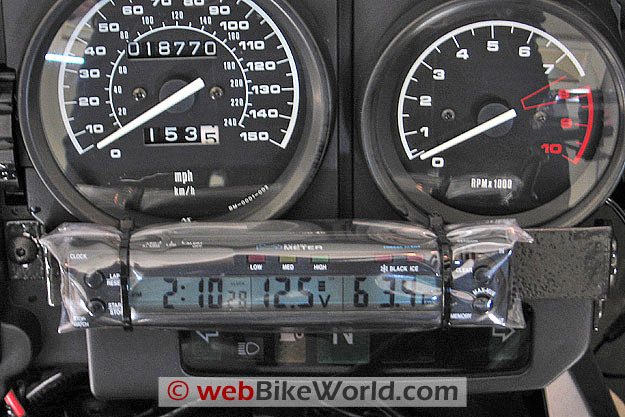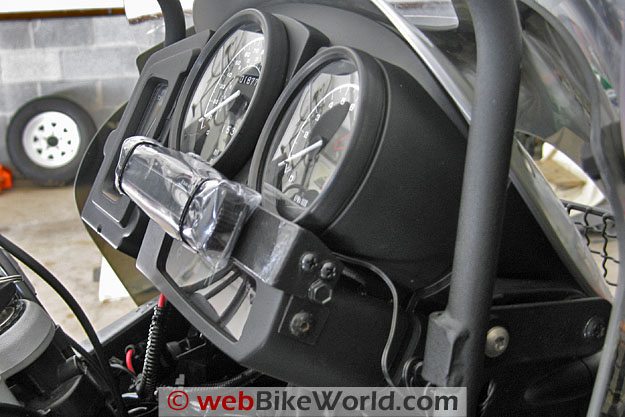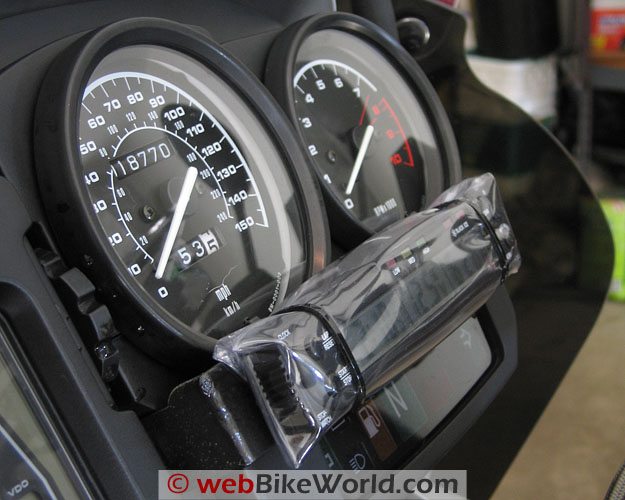 Mounting the Volt Meter on the GS
There are very few places to mount accessories directly onto the dash of the GS. My solution was to fabricate a support made from 1/8″ x 1″ aluminum flat stock I had laying around in the garage.
With some simple bending and filing, a couple of revisions later I had a mount that would place the meter just above the "idiot" lights and just below the tachometer/speedometer cluster. This would place it within my immediate vision yet keep it out of the air blast that comes over the top of the dash.
Once the bracket was painted and dry I attached it to the instrument panel with one screw on each end. As the photos show, the mounting screw nuts were in tight quarters and required some slight modifications, but nothing extreme.
The Digital 5 Function Volt Meter needs only three wires to be connected: a battery "hot" (one that's always "on"); a ground; and a "keyed" power source (goes on and off with the key), all of which were available behind the dash on the GS.
Note that the entire LCD display on the 5-Function Volt Meter is always "active" to maintain the clock memory. I did not measure the consumption rate nor was there one listed in the supplied information, but it is probably a very minute drain on the battery. The LED's for illumination and indicator lights are suppressed with the key off.
The wires on the Volt Meter are a very small gauge and are easy to damage if care is not taken when striping off the insulation. The attached three wire harness and remote sensor lead have plenty of length which gives you flexibility for placement.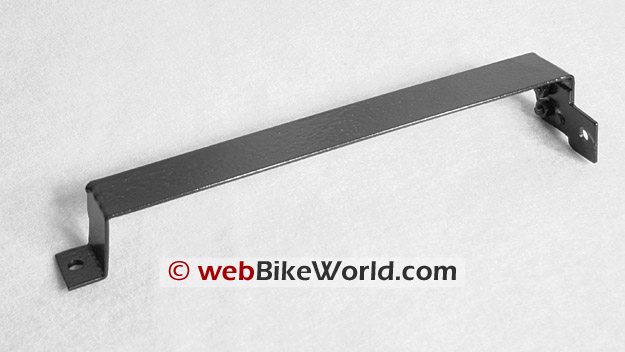 Making it Waterproof
My plan was to use a section of clear, heavy-duty shower curtain to make the 5-Function Volt Meter display unit waterproof.
My thinking was that the shower curtain is clear and waterproof yet flexible enough to be able to operate all of the buttons and switches that I felt were important on the 5-Function Volt Meter. And it will be a simple matter to replace the clear vinyl if the material deteriorates over time.
I wrapped the Volt Meter unit with the shower curtain and folded the ends in first, and then fastened the entire unit to the bracket with two small nylon tie-wraps.
The "outside" temperature sensor was run to the right side of the lower windscreen where I drilled a small hole, inserted a rubber grommet through which the sensor was held fast via a snug fit. This location would put the sensor out in the airflow prior to any heat sources. The excess lead for the sensor was bundled and tie-wrapped out of the way.
Operation of the Volt Meter
The left side of the display is for either the clock (which can be set for either a 12- or 24 hour format via a switch on the back) or the stop-watch function. You can toggle between these via a slide switch on the far left end on the unit. Start/stop and reset buttons are on the left side face.
The center is the battery monitoring area with a digital voltmeter with three LEDs above it: one red = low (below 11.0 Volts), one yellow = medium (below 12.5 Volts) and the third green = high (below 16.0 Volts).
For a quick check it's only necessary to glance at the lights; if all three are lit, all is good. Should only one or two be lit, then depending on the load and engine speed, you may have a voltage problem. I have found, however, that the LEDs are impossible to see in any amount of daylight, but at least the LCD display is easy to see in those conditions.
The right side is for the temperature display, both inside and outside. Toggling between the two is done with the sliding switch on the far right end (I left it on the "outside" sensor setting). Monitoring the "inside" temperature is done via a sensor behind a slotted opening in the face of the display housing.
Minimum and maximum temperatures are stored automatically and can be recalled and cleared via the two buttons on the right face. You can choose between F (Fahrenheit) and C (Celsius) via a switch on the back of the housing.
Above this display are two LED's that flash when icing conditions are probable. The thresholds for one light is between +33.8 F (+1 C) and 37.4 F (+3 C) and for both LED's is 30.2F (-1 C) and 33.8F (+1 C). There's an audible alarm too, but I haven't been able to hear it when in motion.
On the Road
So, how does the 5-Function Volt Meter do on the road?  In daylight the digits are large and easy to read at a glance. In the dark the backlighting is not as bright as I would have liked, mostly because the illumination is only from the bottom edge leaving the top ½ of the numbers dimmer.
The outside temperature sensor is very responsive and the ice warning lights activate exactly at the temperatures programmed.
The battery status is easily checked in the dark via the three LED's without having to focus on the numbers.
UPDATE (March 28, 2009): Thus far, the 5 function meter has worked like a charm in all kinds of weather, rain, cold etc. There was a question about the accuracy of the meter so, using a Fluke 87 DVM & a Fluke Tempo-coupler probe I found a .4 Volt difference (higher) reading @ the battery terminals and a .4 degrees difference in the ambient temperature than what was displayed.
Considering voltage drops & connections, I find that well within allowable. Amazing what a little bit of weather proofing can do 🙂
Conclusion
An ambient temperature gauge on a motorcycle can be a useful tool. It can advise you when temperatures are approaching the freezing point, thus alerting you to the possibility of icy conditions.
Being able to directly monitor your battery voltage can be helpful too, should you develop any charging system problems, and a clock is an added plus if your bike doesn't already have one.
All three, along with a stopwatch and ice alerts, are combined in the Digital 5 Function Volt Meter by Show Chrome Accessories, a compact unit at a very reasonable price. Just beware that the housing is NOT even remotely waterproof. But, if you're willing to be inventive and devise a method to protect it from water intrusion, then I think it will fit the bill.
wBW Motorcycle Battery & Charger Reviews  |  Maintenance & Repair Articles
w

BW 

Review: 5-Function "Motorcycle" Volt Meter
Available From: Big Bike Parts
List Price: $29.95
Colors:  N/A
Made In: China
Review Date: February 2009
Note:
 For informational use only. All material and photographs are Copyright © webWorld International, LLC since 2000. All rights reserved. See the webBikeWorld® 
Site Info page
. Product specifications, features and details may change or differ from our descriptions. Always check before purchasing. Read the
Terms and Conditions
!
Owner Comments and Feedback
---
From "C.C." (March 2012):  "Thank you so much for your review of the Digital 5-Function Motorcycle Volt Meter. I was about to purchase one of these … and I contacted the vendor who advised that sensor was fully waterproof and the unit was water resistant.
Clearly from your review, the unit not water resistant and not specifically designed for motorcycle use. Thank you again for this enlightening review, much appreciated."
Editor's Note: Note that it is possible that the manufacturer may have changed the specifications since our review was published in 2009.
---
From "T.P." (02/11):  "The article on the show chrome 5 function volt meter was very helpful. I mounted mine tonight and was thinking that I had done something wrong.
I figured that it would only show one color of the LED's at a time but it makes since after reading this I was a little disappointed with the back light again I thought I had done something wrong maybe a ground?
But I see yours was dull also nothing like the package shows. But overall for the money it might work out good for me as well."
---
From "T" (09/10):  "I am going to return this product. The thought that it would not be water resistant never even crossed my mind. Had it installed for 10 hours before it became useless.
I was expecting that any product sold from such a great company would be more rugged and adventure riding savvy.
With that said, it installed easy, though took time to do it properly, and worked great for the few moments I was able to enjoy it.
My suggestion, read the (webBikeWorld) reviews before you buy anything, this is junk and I am very upset that I took the hours to properly install it just to have it become useless."
---
From "H.L." (4/09):  "The price was great, but the LEDs and alarms never worked. Lighting was minimal and useless under streetlights. Same issues with wiring as others have noted. The voltage reading is 0.2 less than actual."
---
From "J.M." (2/09):  "I'd have to agree this is not made for a bike. I mounted mine on my handlebar risers and it seemed the perfect solution for a clock and Voltmeter.
When I set my helmet on top my tank like I have hundreds of times before I broke the LCD which then leaked inside the unit. I can't read the display at all. I'm still shopping for a voltmeter but bought a clock. I highly recommend them. They've got thermometers too."
---
From "M.H." (2/09):  "I owned two of the Motorcycle Volt Meters that you reviewed (purchased from RiderWarehouse, Show Chrome brand), and coincidentally they were installed on my 1150GS.
These units are not sold as weatherproof, and indeed that proved to be the case, even tucked under the dash they would suck water in a like a sponge and obscure the display.
The deal killer was that they were astonishingly inaccurate: both thermometers were off by more than 10 degrees, and the voltmeters were off by 0.6 to 0.8 volts.
As an instrument, this is basically worthless. I returned both units. Having shared my experiences with my online buddies, this was a very common experience with this product.
What I can highly recommend in this field is:
Thermometer:  INFORMER BL – $49.95 by Glacier Chain Supplies. Waterproof, backlit, accurate. A bit ugly, easily remedied with Krylon. I've had mine for three years, and it's done well rain, heat, cold, ice, off-road.
Voltmeter:  Digital Meter.com  Again, waterproof, illuminated, and accurate. Three years old, works great. Costs a bit more, of course, but by the time I paid shipping both ways on two junky meters, I would have been ahead just to buy the good stuff to begin with."
---
From "A.B." (2/09):  "I saw these years ago and thought hey what a great idea – a voltmeter, clock, and temperature all in one unit with backlighting that only comes on with the ignition.
Then I bought one, so far I've had two of these, biggest pieces of crap that I've ever bought.
My first one lasted about 6 months before dying, and it took the vendor a few months to replace it under warranty, then the replacement only lasted a month before dying.
As others have said, these are not waterproof or even barely water resistant and the accuracy is questionable also, as mine were off by quite a bit. I replaced it with a Datel Digital Volt Meter (see the link in the comment above from M.H.).
The Datel unit is sealed, waterproof, and accurate. As for the time & temperature functions I now have Formotion gauges (review) for that."
---
From "LL75" (2/09):  "Hi Guys, I just finished reading your review of the Show Chrome Digital 5-Function Motorcycle Volt Meter and thought I might add my two cents into the mix.
I've just finished installing my 2nd one and after a short but wet 30-minute ride in the rain I'm sad to say it's gone.
This surprised me as the first one survived nearly all of a 6-week ride up the Alcan/Haul road to Prudhoe Bay last summer.
When the first one died I figured it was due to excessive roughness of the BC & Alaskan roads plus the weather was horrendous; rain, wind, very nasty stuff.
By the end of the first week the aluminum mounting bracket I'd made broke in two places and had to be duc-taped to keep it in place.
This was somewhat forgivable as I'd used a scrap piece of aluminum that was apparently too light. The meter actually continued to work although after a couple more weeks it became intermittent and by the time we reached Deadhorse it was finished.
Oddly enough when I got home it snapped out of it and began to work again. Maybe it finally dried out?
Encouraged, I made a new mounting bracket out of much heavier aluminum stock using the same pattern and reinstalled it. The meter continued to work for a few days, then for no apparent reason the clock died while the temp continued to function, then within another week it too died.
I really liked this little gadget so I ordered another one from Aerostich. Normally I wouldn't have done that but I figured the Haul road and it's associated weather was an unfair test of the meter's robustness.
Although the 2nd one is still working you can now see a small quarter-inch distortion on one part of the display that is reminiscent of fogging. The overall brightness has diminished and I suspect it may be due to condensation.
With all that said I'm sending it back to Aerostich and they can deal with the manufacturer.
I agree totally with your comments, if this device is being sold into the motorcycle market its should be weather resistant or if not, then a very large disclaimer should be posted in the specifications."