Ride North: A Memoir Of Northern Thailand
In December 2011, I embarked with three other riders on a 7,000 km round trip from our hometown of Singapore to northern Thailand.
Thailand and Malaysia are both popular choices for bikers here, since Singapore itself is only 714 square km (roughly 276 square miles) in terms of land area, most of which is urban development and boasts little in terms of exciting roads and destinations.
Thailand is perhaps a better biking destination than Malaysia — even if you have to go through one to get to the other!
As far as motorcycle journeys go, it's not epic, but it felt like a real accomplishment for all of us who were pretty green in terms of long-distance touring. Now that I'm back home and have let all the experiences soak in, the best thing I took away from it was discovering just how beautiful northern Thailand can be.
I hope the webBikeWorld readers can get a feel of what it's like, imagine doing it, and finally, hopefully, try it out for themselves one day soon. If you enjoyed this piece and want to know more, just join the Ride North Facebook page we made for this trip to check out the many photos.
Who Says You Can't Tour On A Sportbike?
Now I'm assuming most of you webBikeWorld readers have some experience touring, so we don't need to go through the ABC's of it all.
But one thing I did find interesting when it came to preparing for this trip (which certainly was the most significant journey of my 29 years on this earth!).
If you ask five people about something, you'll get five responses — and that holds especially true for bikers. Everyone else got their rides settled way before and made good, solid choices: Cherie on a Kawasaki Versys, Joshua on a Suzuki V-Strom 650 and Victor on a Yamaha TDM 900.
But three months to D-Day, I didn't even have a motorcycle. Despite riding for the past four years, the vagaries of Singapore's graduated licensing system meant I was only able to legally buy a machine of more than 400 cc displacement after June of 2011.
Like any self-respecting (read: obsessed) biker, I did so much research with magazines and the Internet that I couldn't make a choice. But when I actually went out to view prospects, it became much easier. My heart was set on a sportbike, despite lots of advice to the contrary.
I ended up buying the third bike I viewed almost on the spot, because it was a great deal, a great bike and I've always loved the idea of owning an older Honda sports machine: a 2000 Honda CBR929RR, with just 26,000 km on the clock. That was just the first step.
On my first ride home I thought I'd made a terrible mistake since I came off with an aching back and wrists from just half an hour in the saddle. Three months of considering other options and trades evaporated through laziness and in the end I hunkered down, blitzed eBay for accessories and stayed with the Fireblade (as it's known in Japan and Europe). Was I glad I did!
Some mild modifications turned it into an awesome sports tourer — higher handlebars (Convertibars), a Zero Gravity double-bubble windshield, mirror extenders, tank grip pads and a rear tyre hugger.
Once I put in more miles on it, my body got used to the riding position and the aches disappeared. For luggage, I used a Kriega R20 as a tank bag — stuffed all my clothes in it and rested my upper torso on it. Two soft side panniers from RS Taichi completed the outfit.
The huge underseat storage space was able to hold the toolkit, disc lock, lock and chain, user manual with room to spare for odds and ends. With all that, I was able to do six to eight hour riding days, most of it tucked behind the windscreen in a sportbike crouch without any major paralysis or limb damage.
So what I learnt was this: First, sportbikes from the early 2000s and before make excellent sports touring machines now, with a great combination of flexible, but not overwhelming, power, comfy ergonomics and practical features. And second, if you're a biker and you really want to do something, ask around for advice. If the advice given includes words or phrases like "crazy", "can't", "won't" or "never" and if you still feel the same way, just go and do it anyway.
Those of you who are more interested in the subject raised can listen to the advice of mad Englishman Nick Sanders, who went around the world a few times on a Yamaha R1 in his "Nick Sanders' Advice on Sportsbike Touring".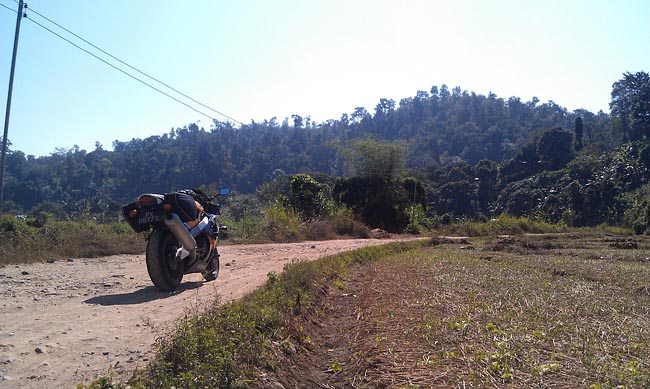 The Road North and the Songkhla Province
The first step of the journey literally took us through Western Malaysia, basically a 900 km highway run the entire length of the main North-South Highway.
Malaysia warrants a whole other story to itself, but riding through the night across an entire country is quite the experience. We left at 9pm and rode through the night to avoid the heat, humidity, traffic and traffic police that haunt the North South Highway by day.
If the stories are to be believed, there's more that might be haunting certain stretches of the route, especially in accident-prone areas like the hilly regions north of Ipoh.
Malaysia being what it is, even if your eyes can't see beyond the highway lights, your nose tells you quite a few stories along the way; the foggy smell of rainforest, the occasional scent of something burning far away and, more often than not, the fragrance of chicken and pig farms which took turns to assail our nostrils at one point in the night.
Some minor sign language, lots of waiting around, and my first ever hands-on experience with cross-border bureaucratic graft later, we got through the Sadao Border Crossing and straight onto the (in)famous town of Hat Yai in Thailand's southernmost province, Songkhla.
To find out the reason for its reputation, you can read Laurence Osborn's excellent article in Harper's Magazine on Southern Thailand and its contradictions. We even had dinner at the hawker stalls right outside the Pink Lady mentioned in the story.
Hatyai is much like any other city in southern Thailand, which means to say it's just like medium-sized nowhere towns in Malaysia too, aside from the language difference. There's not much fun to be had there on two wheels, or on any other form of transport, really.
Phrachuap Khiri Khan and Cha Am
About 600 km north from Hat Yai, you'll start to hit the region of where Thailand is thinnest (the mid-point of the country's "lower jaw"), the Isthmus of Kra.
The east coast of this is what faces the Gulf Of Thailand and is ringed by some of the country's best known tourist spots: Koh Samui, Koh Phang-an, Hua Hin and Rayong.
Hua Hin gains its credibility for being the official retreat of the royal family, so it's a popular destination for Thai and foreign tourists. But our ethos on this journey was to take it as it came and to avoid "typical" places and jams — which is why Bangkok was a definite no-no — so we stopped just short of Hua Hin at the slightly-less-well-known beach town of Prachuap Khiri Khan.
There we found a cheap beachside hostel, our first proper night market (see the section on night markets below) of the trip, got watered and fed.
We arrived near dusk and left before dawn, so didn't have time to soak in the sights and sounds of the place properly. It certainly was pretty, from what little we saw, with unobstructed views of the South China Sea and mountainous islands sticking out in the middle of the ocean.
Cha Am, in the vicinity of Prachuap Khiri Khan, was the town we chose to stop over on our way back down south, and it was very much in a similar vein, just without the cool islands — a small, laid-back sort of place that thrived and developed, literally and figuratively, along the horizontal lines of the beach in front of it.
It's remarkable for the fact that it has a sizeable population of German and Scandinavian retirees. A number of restaurants advertised cuisine to match, including the famous meatballs and gravlax. Pink, wrinkled specimens of the European species roamed the town and beachside clad in the inevitable hat, shorts, slippers and socks.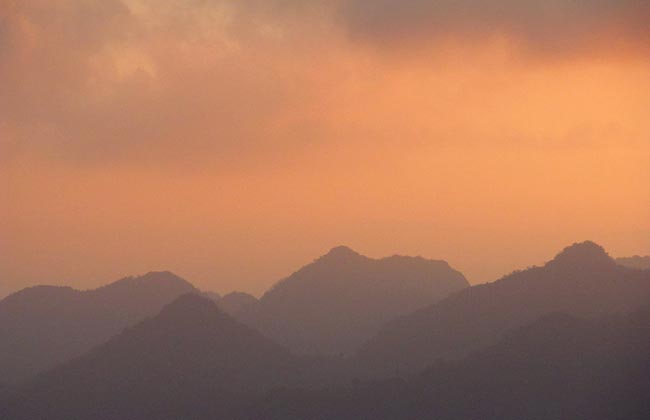 Nakhon Sawan
Touring throws up surprises that are good, bad and some in between. The South of Thailand, as you might know, was hit by major floods in 2011. We didn't encounter any of them directly, but the aftermath was certainly something to behold.
Thailand is a huge country. Sometimes staying cooped up in my home town of Singapore — a small island city — you lose track of just how big the world is. It makes me feel like Morgan Freeman's character in The Shawshank Redemption who says "Pacific Ocean? Hell. Like to scare me to death, somethin' that big."
The vast green fields, tropical crops (banana, tapioca, oil palm) and padi were bisected by a huge four-lane highway on the way up to the mid-point town of Nakhon Sawan. The city, and province, share the same name, which means "heavenly city".
Further on down the line, the highway was framed by embankments, visibility was limited to the tops of trees and palms, with occasional glimpses of mountains. Small pools of water gave us an idea of what was to come.
At one point traffic ground to a halt, which was out of the ordinary since we were far out in the boonies. Then we found out the entire four lanes had been cut through, perpendicular, by the flood waters earlier on, leaving only a makeshift gravel embankment for traffic to pass through.
It was only a mild off-road section thirty or forty metres long, but it left very little room for error, since on either side of the uneven track was a good five or six-metre drop straight into drink!
We stopped to take a few shots of this little dose of adventure — not much I admit — but it led to a spectacular view of a lake. I imagine the Tonle Sap or Lake Tanganyika looked something like it, water as far as the eye can see, flocks of water birds, a man fishing from a boat, all quite a breath-taking sight, the sort that would be proudly printed on a postcard or high-quality photo print.
Then I realised it wasn't a lake; the only thing out of place was the half-submerged trees and, in other places, the roofs of houses. It was only because the flood blasted through the highway and embankments on each side that we finally got to see what was on the other side.
It's one thing to read about floods happening somewhere, but another to see it first hand. On the road back home we took a different route through Nakhon Sawan and the experience was just as breathtaking, except in reverse; we rode a section of highway that sat higher than the rest of the ground and it was nothing but water on both sides as far as I could see — like literally riding through a lake.
Chiang Mai
Chiang Mai is the capital of North Thailand and also where we rendezvoused with our unofficial expedition leader, Weijie, also known as the Wedge.
He's the sort of biker that is good to know, a dyed-in-the-wool two-wheeled fanatic that no amount of danger or tragedy will discourage.
He flew in and hired a Kawasaki D-Tracker, a lightweight 250cc motard, which really came into its own when we hit the mountains. He's also a proven "Iron Butt" man, having done a run from Singapore to the Chinese border on a Honda XR400 single!
Chiang Mai is the biggest city in the north, but it's dead easy to navigate. Because of the constant wars with neighbouring countries like Burma (as Myanmar was known), Chiang Mai was designed right from the start to withstand sieges.
The central part of town is a huge square ringed by a moat and stone wall — both are still highly visible. If you get lost, you simply have to figure out which corner of the moat you're at and take your bearings from there.
The city itself is useful as a base of operations for riding throughout the north, since all the big motorcycle stores are there and getting service or parts for any major makes of bike is possible.
We stayed in Chiang Mai for two days, exploring nearby sights, then left for Chiang Rai and the upper reaches on the North, stopping by once again on our way back down south.
It's a big town, but nowhere near as crowded as Bangkok and traffic flows pretty smoothly, even in the heart of the city. Also, the tourist police who patrol there are on hand to help out and they're friendly and efficient — we found out first hand — but then their Chief is a biker himself, and insisted on letting what seemed like the entire bureau take photos with us and our motorcycles.
Doi Inthanon
"Doi" in Thai refers to a mountain, as does "khao", so figuring out some place names is rather easy. Doi Inthanon (or "ethanol" as Victor says, although there was no alcohol up there) is Thailand's highest point.
I'm usually not one for geographical attractions, but the road up the mountain includes some very beautiful scenery, since you have to wind your way through the Inthanon National Park to get there.
It has to be stressed that there's a huge difference in the terrain and climate between the north and the south of Thailand. The south is always flat, since it's where the rice-growing country is, there usually isn't much to see unless you're around the Gulf of Thailand. The roads are generally straight, long and sometimes superslab, which is terrible on a sportsbike.
In this case, the national park roads were well worth the ride, huge fun for those who love bends and the terrain would open up to show plantations, valleys and clouds in the distance. As we climbed higher, it got chillier, and some light fog even came out to play.
The viewing point itself is also a major tourist attraction, which is where we acquired some new friends from Holland, a lovely older couple, who plied Africa on a BMW GS, and a Malaysian family on holiday.
The way down also provides a major distraction, thanks to roadside barbeque stores and a tremendous waterfall; we recommend the roast pork and chorizo-esque local sausage (flavoured with lemongrass!) with the excellent chili dip.
Waterfalls and caves are seemingly everywhere in north Thailand, as you ride through the country you'll see signs pointing you to them wherever you go. The one near Inthanon (called Wachitharan) was one of the larger, more spectacular examples, but there are also smaller, less crowded ones which are good places to have a quiet sit down or lunch.
Doi Angkhang
The other Doi we visited was Angkhang, which seems even higher and more remote than Inthanon. It's closer to the Burmese border and came highly recommended by the Chief of the Tourist Police in Chiang Mai.
It's a popular camping site for locals — we didn't see any other foreign tourists there — and sits right inside a military outpost.
As we rolled in, we felt rather conspicuous, since everyone else was on cars or Humvees, while soldiers waltzed back and forth curiously, with rifles. A fleet of trucks and Quonset huts gave everything a very Vietnam war look.
Nobody seemed to think it weird at all, camping right next to the military, so we took it in our stride as well and hired a tent for the night. The campsite afforded a great view of Chiang Mai by night, as there wasn't so much light pollution that the stars got blanked from view either.
Angkhang is famous for its lovely sunrises and ours didn't disappoint. The coldest temperatures of the trip we experience here, it was 4 or 5 degrees centigrade at night and we basically froze our bollocks off, despite packing thermals and flinging on every piece of clothing we could find. The misty ride back through the temperate forest (it seemed more like Japan than Thailand at some points) made the cold a little more worth it.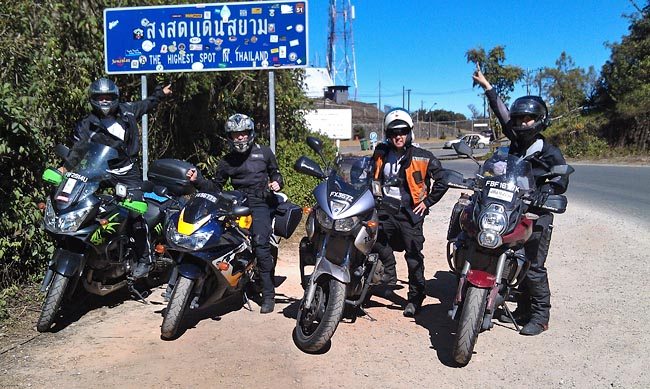 DisplacedPeople
I'll take a short detour here to talk about the people of north Thailand. Being at the Golden Triangle (the junction of three countries: Myanmar, Laos and Thailand), one of the busier parts of Indochina, it's not populated by one homogeneous people.
Awareness of the various tribes and ethnic groups has increased in recent years (Eastwood's excellent Gran Torino brought attention to the Hmong people, for example) but it's still a hugely complex issue due to the sheer number of different peoples.
Some of the more well-known tribes are the Karens and Shans, who are mostly located in Myanmar. The Karens have been rebelling against the military junta, who have been brutally oppressive on minorities. The fighting leads to refugees and many end up in Thailand.
I cursed Weijie for making us do a few kilometres of off-road trail to visit the Karens, which was easy for the rest — but hell on a sportsbike! A tall first gear meant I couldn't amble along at low speed without feathering the clutch and steep downhill gravel slopes meant I couldn't touch the brakes either!
But we finally got to the Karen village in one piece and in the end it was well worth it. Karen villages dot northern Thailand, having escaped Burma to avoid the conflict between the rebels and the Junta, like all refugees their status is technically in limbo. The Thai government grants them leave to stay in Thailand, but they're not residents or citizens and so have to fend for themselves.
I was a bit hesitant about visiting, as a tourist, especially since this tribe had the long-necked women so often studied by anthropologists, but that's simply their way of life which may not continue in the modern world.
As we found out from an Australian guide, the villagers have to rent the land from the owner and their only income is from what they can sell, often to tourists – so we all bought a few souvenirs from the village too.
The village itself was tucked away into a small valley, so it was still cool despite the strong sunshine and a contrast to the dry dirt roads we took to get in. There were animals of all sorts about — ducks, pigs, dogs, cats — most running about freely and subjected themselves to random poking by strangers.
The hilly terrain meant there weren't much crops, as far as I could see, and growing anything in major quantities must be very challenging. The living conditions were basic, wooden huts and houses raised on stilts, though they looked comfortable.
Most of the water came from a stream that ran through the village, and they used pumps and ducts to funnel higher up in order to irrigate the crops.
Most of the villagers were women, who apparently do all the work. We met one young lady who spoke superb English — the result of having attended a missionary-run Karen school — who explained to us that their specialty was fine, hand-driven loom weaved cloth. We met her later on in the town of Pai, where she sold the shawls made by her village.
It was quite something to see the older ladies, those with the rings on their necks, create beautiful works all by themselves. Each piece took 30 to 45 minutes to make, and was excellent quality.
The kids, of course, were fascinated by the bikes which overcame their initial shyness. TDM rider tip: if you want to impress children, buy Leo Vince pipes! We sat down and had a little pow-wow with them. Victor, being a Christian, had his missionary instincts kick in and he showed them the concept of a smartphone and bequeathed the only bottle of hand sanitiser we had to them.
Mae Hon Song
This was the real "meat" of the trip for motorcyclists. Mae Hon Song is the name of a province and its capital town, but it also lends its name to a legendary road trip loop.
We traversed the best bits of it, heading from Chiang Mai to the town of Mae Hon Song and onto another small town, Pai. The highway, route 1285, was only recently completed along with the airport, which is why the area is slowly opening up to the outside world.
It took nearly ten years to finish and this is the reason why: over 300 km, there are more than 3000 turns. The loop has corners of every single kind you can imagine. Fast, slow, sweeping, tight, uphill, downhill, off camber, on camber, hairpins, blind drops.
The meanest had to be the extremely sharp, downhill hairpins and the complete opposite — the super-sharp and super-steep uphill hairpins.
Usually you turn your head to look deep into the corner, in order to "go where you look", but for these you have to have to look over your shoulder after the apex, that's how tight they are.
On some bends, I felt like a fly crawling up a wall. Here's where the Fireblade proved a great choice, since it was lighter than the other bikes (with the exception of the D-Tracker, which was the quickest bike through).
Check out some raw footage of the route in this YouTube video, fast forward to 3:30 to skip traffic.
Many areas are gravel strewn, and landslides means parts of the road are sometimes non-existent, but by and large it's safe to ride — if you leave a good safety margin and always keep your wits about it.
At one time we ran late and had to cover more than 100 km of the Mae Hon Song at night; not something I fancied or to be encouraged, but it was an eye-opening experience to say the least.
Wind chill was kept out by the fairing and windscreen somewhat, but it was still bloody cold and demanded total concentration. It was pitch dark, so you simply have to trust your tyres and navigate with the lights of the bike in front of you. Not something I'm keen to repeat anytime soon, but something that will make you a better biker…or bust.
Being high up, the loop also gave great views of the surrounding terrain as it carves its way though the hills of north Thailand. Watching the scenery change is another fabulous experience, as you go from greener, thicker growth down low to more temperate, brown and crisper weather as the altitude increases, the vegetation also shifts from plain shrubs and wild grass to eucalyptus, conifers and wild flowers.
Stopping by in the town of Pai is highly recommended, since it's become a popular spot for tourists, but hasn't become an overcrowded den of scum and villainy just yet. It's known for its bohemian air, with lots of artists, musicians and artistic types around, and there are plenty of great guest houses there too.
Another superb riding route is highway 1148, which is similar to the MHS loop in the type of riding roads offered and scenery. It's quite a distance from Chiang Mai, but all the guys on the ground swear by it and on the plus side it's also a little less crowded since there are no major towns of significant tourist interest along that stretch.
Mae Sai and Myanmar
It's kind of a waste to haul your posterior all the way up north and not take the chance to dip your toes into the neighbouring countries of the Golden Triangle, but time and equipment, were not on our side.
Laos, Cambodia and Burma have far less developed road systems than Thailand, and although I read the story of another Australian maniac who equipped his GSX-R with knobblies in Chris Scott's legendary Adventure Motorcycling, I wasn't about to emulate him anytime soon.
We needed to exit Thailand in order to get our visas renewed, anyway. Singapore (the three others) and Australian citizens (me) don't require visas to enter Thailand, but are granted automatic tourist visas valid for 30 days — if you enter by air. If you enter by land, you have twice the number of cooties (I kid) and can only stay for 15 days.
So we popped across the border at the northernmost town of Mae Sai, through the Tachilek checkpoint and on to Tachilek market for an hour or two. We parked our bikes at an open lot in the market right next to the Thai side and waltzed through.
I worried about entry to Myanmar, since Australia isn't exactly known for supporting dictatorships. Call me paranoid, but I needn't have bothered because all the border guys wanted was 500 baht straight up.
Myanmar, as I found out, is a staging point for fake Chinese goods and they have everything you can dream of. It's like being in the consumer equivalent of the Matrix, except the simulation is run on old Apple Macintoshes with Lotus Notes and no spell checking whatsoever.
Brand name clothing, high grade watch fakes (Panerai and Rolex, no less), electronics (I bought a cheap charger that charges rats: the label said "rattery charger"), torchlights, crossbows (immediately brought Rambo 3 to my mind), bags, computers, smartphones and so on, ad infinitum, ad nauseum.
The kicker was a place selling motorcycle gear, with full leathers, gloves and boots for sale — at not exactly cheap prices either.
The funniest bit are vendors with baskets who'll approach anybody looking remotely foreign, their containers filled with sorts of aphrodisiacs with rather interesting packaging. Our border crossing fee turned out to be 500 baht well spent, since we found out that most of the stuff there you could also buy at the market on the Thai side to begin with. But we had to go across to find out. That's touring for you.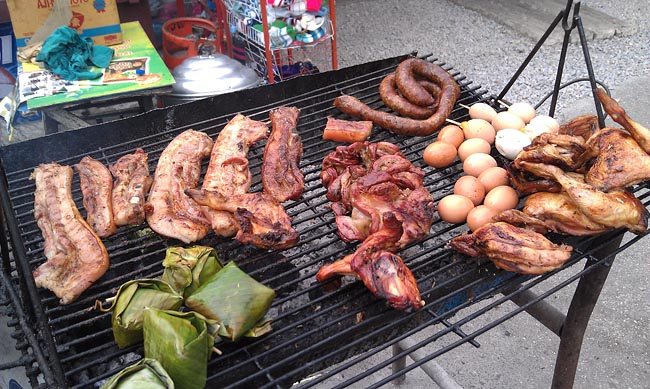 Some Practical Advie On Riding In Thailand
Climate
Southern Thailand has your typical equatorial/tropical climate, which is endemic to Singapore and Malaysia as well. Pre-dawn is cool and dewy, typically around the light 20s, and the best time to kick off riding is before the sun gets high, 11am is when things start to get uncomfortably hot.
Showers can occur at any time, but traditional is the equatorial thunderstorm, which arrives in the form of towering cumulonimbus clouds formed by rising water vapour earlier in the day. They usually don't last long, but some heavy weather systems can be huge.
Our ride in Krabi, for example, was 150km of sodden misery. If it gets heavy or continues for more than half an hour, stop and dry off. Chill from the wind and wet can be a real danger, even if you are in tropics, as one of our riders found out first hand.
Northern Thailand is heaven on earth for bikers. The wet season lasts from May to September (the south only has two months of dry season!).We saw not a single spot of rain during our 15 or so days in the north.
The thing to watch out for is dehydration, sunburn and the cold. Dehydration is a fact of biking, so drink plenty of fluids whenever you stop (pee-stops be damned) and use a balaclava to cover your neck and face.
Sunburn is self-explanatory, since north Thailand enjoys strong sunshine. It can get as hot as 30 plus degrees in the day, although it's not as humid as in the south. Riding at night can be a trial if you've got no wind-blocking layer. Lightweight thermals and/or fleece is strongly recommended if you have to cover distances at night.
Fuel Costs
Gasoline in Thailand isn't cheap, it's about the same rate as Singapore ($1.50 USD or 1.9 SGD or 40 Baht per litre). Most bikes will do fine on the cheaper 92 octane fuel, although some stations sell gasohol — a gasoline ethanol mix of up to ten percent alcohol. Fuel-injected bikes will have no knocking problems, but carb-fed engines may not do so well with it.
Fuel stops are very easy to find, and you won't have to travel more than 100 km to find a service station, so auxiliary fuel tanks or safari tanks aren't needed. Also, in Thailand you pump and pay the attendant directly and the bigger gas stations have a wonderful array of instant food if you manage to miss breakfast.
Parts and Service
Parts and service for Japanese bikes are generally easy to find in Thailand. Bangkok, naturally, has everything but Chiang Mai is also a haven for bikers looking for service. Our Versys did a full oil change there with no worries.
Kawasaki is the best-represented manufacturer in Thailand, as it has domestic production and parts facilities. Hondas and Yamahas also have many dealerships, though these will all be used to taking on small-capacity bikes and scooters.
Thailand has a punitive tax on big capacity bikes, so the only big machines on the road will almost always be foreign ones. Thankfully we didn't have any major mishaps on the way, the only serious one was a broken shift lever when our V-Strom slipped on some wet wooden sleepers – yet another flood-destroyed bridge around Krabi.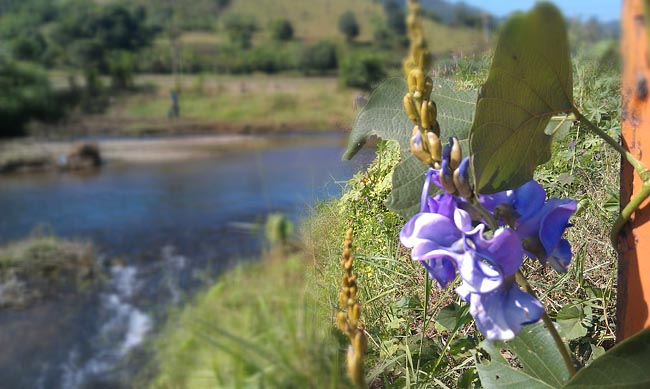 Road Manners
Thais are generally good, considerate drivers. On my unofficial scale of Southeast Asian Driver Skill, they rank higher than the Malaysians, who rank higher than the Singaporeans. There are also correspondingly less of what I term "road f*ckers" the further north you go.
It must be something in the water — or perhaps the proximity to large swathes of marijuana, I don't know. In any case, north Thailand has a refreshing lack of willy-wavers, who feel the need to prove their manliness against that most masculine (I kid, of course, given our group composition) of machines, the motorcycle.
Practically speaking, speed limits in most of Southeast Asia are optional. By no means is this an encouragement for you to break the law in other countries, I'm simply saying that law enforcement on this issue is lax there — all bikers should know their limits and ride at the pace of the slowest rider.
Safety announcement over, the only thing you'll have to watch out for are the eighteen-wheelers and huge pickup trucks that are ubiquitous in the north. You'll see more of them than passenger cars, actually. The bigger highways are generally safe, but the two-lane carriageways must be treated with caution, as many drivers are given to suicidally (or more often, homicidally) optimistic overtaking manoeuvres.
Another thing to watch out for are small displacement motorcycles, which are essentially all bastardised versions of the Honda Dream step-thru "scoot-cycle". You don't need a license, or a helmet, to ride them in Thailand, which is why you'll see anyone from school children to geriatrics piloting them. Also, they don't count as traffic, but rather, as really quick pedestrians.
You can count on them to do anything: ride on the road shoulder toward oncoming traffic, cross the highways through bushes and scrub, do U-turns at strange places and generally behave like the two-wheeled equivalent of a neutrino.
When making a turn, especially in the middle of towns and cities, always check your blind spot for lurkers and don't be afraid to use your horn.
Other hazards are general and include gravel, dirt and dust, road works and road kill. Potholes are common, as is bad surfacing. Just keep your eyes far out and be ready for anything, but that's a normal modus operandi for motorcycle riding anyway.
One happy side-effect of the tax on big bikes is that they are exceedingly rare in Thailand and riding in a group, it'll bring constant attention, questions and photo-taking. Bikes are always ice-breakers and conversation starters to begin with, plus Thai people are very friendly and you'll sometimes go away with the embarrassing feeling of being famous for doing nothing whatsoever. But hey, it beats being treated like a maniacal speed demon that's a danger to himself and society at large, right?
Cuisine and Night Markets
If you've never been to an Asian night market, you're missing out on the spice of life, really, because you can find almost anything at one. Thailand's night markets are awesome — part bazaar, part giant cook out and part-anything-else-whatever-anyone-can-think-of. They differ slightly, according to region, but it's all riffs on the same theme.
Staple stalls include those that sell fresh tropical fruit, mango sticky rice and coconut milk, fried quail's eggs, Thai-style barbeque, a noodle store, an omelette and rice store and hundreds of others. Sweet, sour, savoury, spicy, super spicy or anything in between, you can probably find at a night market.
We recommend trying everything once, although you may do the penance on the night or morning after. And that's just the food. You can find all manner of strange but cool things to purchase there.
Highlights include a baby hedgehog, hot-air balloon-style lanterns, some strangely awesome doughnuts, lava lamps, soap carvings, rice-grains carved with your name on them and other equally strange products.
Special Mentions
We tried out a range of new products just for this tour, some of which have been featured on wbw before and here's what we found.
Motul MC and Rider Care Range French Lubricants: Motul is more well-known for its high-performance oils, but it has also just revamped its line-up of rider and bike care products. This product range spans everything from brake cleaner, leather/vinyl restorer, plastic freshener (for fairings) to hand-cleaning cream.
We didn't get to try everything on tour itself, since it would have been too heavy to lug the whole shooting match with us but a few products stood out.
Helmet Interior Cleaner which disinfects and deodorises the inside of helmets was great, especially after long riding days. We found it useful to take the funk out of boots, riding pants and socks that couldn't be washed every day as well. A great addition to any rider's arsenal.
 Helmet & Visor Cleaner: This one's a no brainer, although the bottle is a bit large for touring use. Decanting it into a smaller container would be perfect. Using this in conjunction with the Insect Remover was a godsend against the bug Armageddon we put up with daily.
Waterless Hand Cleaner: This is a particularly ingenious solution to hand-washing when there's no water around. Since our bikes were all chain-drive, regular lubrication was a necessity but that also meant filthy hands because of caked road dust and dirt. The hand cleaner removed all that gunk – it dispenses as cream but becomes little dried 'shavings', like eraser shavings, that take the dirt with it into oblivion.
Bridgestone BT-016 Pro Tires
I tried out Bridgestone's new "super sport" tyre; it replaces the old BT-016's, or in some markets, supplements the range. It's Bridgestone's top-of-the-line performance tyre, but I tested it on the entire journey up north and then some.
Handling in the dry is excellent; stable, but fast turning and more grip than I'd ever know what to do with. Particularly impressive were the wet handling and overall grip levels — it behaves the same in wet conditions.
On one downhill, dusty section of the Mae Hon Song my Fireblade exhibited much less fishtailing than the other machines. 7,000 plus kilometres of hard road in all conditions also left them with just a little wear on the centre, and a little squaring, but far less than I expected and nowhere near their wear indicators. Impressive stuff for a tyre you're meant to flog on the racetrack.
Sena SMH-10
Communications was essential, and the SMH-10 (review) did not disappoint. I used manual engagement all the way, and despite the slight lag, the SMH-10s worked perfectly 90 percent of the time.
It was occasionally tricky to pair the headset to my phone, but a second try always worked fine. Streaming Bluetooth audio from my HTC Incredible gave very good sound quality, especially in conjunction with sound-isolating earphones (Etymiotic Research ER6i)
Note:
 For informational use only. All material and photographs are Copyright © webWorld International, LLC since 2000. All rights reserved. See the webBikeWorld® 
Site Info page
. Product specifications, features and details may change or differ from our descriptions. Always check before purchasing. Read the
Terms and Conditions
!
Owner Comments and Feedback
---
From "T.K." (March 2012):  "Good write up, N. Thailand is such a great place to ride. I've been living in Chiang Mai for the last year and you did a good job conjuring the place in writing. Scooters as "the two-wheeled equivalent of a neutrino" is dead on!
Technically though, everyone needs a license AND a helmet to ride them, but as you point out, enforcement is more of a hobby of the police than a job. They set up the occasional checkpoint and give 400 Baht helmet tickets, but I've only ever seen one person actively pulled over. Glad you enjoyed your time here!"
Other WebBikeWorld Tours Posts