The good news is that motorcycle theft is marginally down in 2014.
The bad news is bike theft remains high as a proportion of all vehicles and if you live in the theft hotspots of Brisbane or Perth your insurance rate is going to stay high.
According to National Motor Vehicle Theft Reduction Council figures, motorcycle theft dropped just 1% last year to 8224, which is a sharp turnaround from the 7% rise in 2013, but a lot slower than the drop in passenger vehicle thefts (down 1544 to 41,961 or -4%).
And while motorcycles represent 10% of all registered vehicles, the theft rate has risen from 9.5% of all vehicles in 2013 to 15.5% last year.
While most bikes were stolen in Western Australia (2505 -11.1%), the biggest theft zone in Australia is South East Queensland which represents 8% of all bike thefts across the country. Next worst region was around Perth.
Most motorcycles were stolen by "professional" thieves. Profit-motivated bike theft was down just 36 to 4484 or -1%. Meanwhile, short-term motorcycle theft, or joy riding, fell by 76 (2%).
Motorcycle theft may only be experiencing an incremental decrease, but at least it is a change from the past few years of theft rises.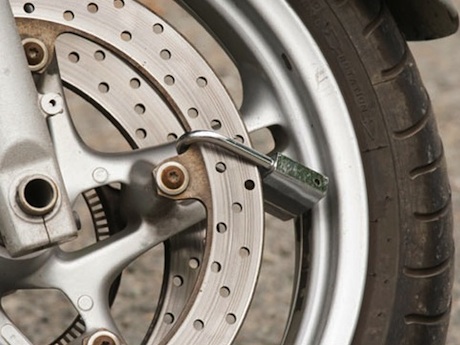 Over the past four years motorcycle theft has increased 6.3%.
The biggest decrease has been in NSW, down 25% to 1488 in the past four years, while the largest increase has been in Victoria, up 38% to 1795.
The most popular makes stolen are the Japanese models, reflecting their abundance in the marketplace.
However, scooters are highly sought-after by thieves with scooter brands such as SYM, Longjia and TGB rating in the top 10 most stolen brands.
Most motorcycles stolen are modern with 40% being model years 2000 to 2009 and 31.4% more recent.
2014 Australian motorcycle thefts
ACT

 

116 (39.8%)

NSW 1488 (0.1%)

NT 224 (31.8%)

Qld 1485 (0.9%)

SA 481 (-5.7%)

Tas 130 (21.5%)

Vic 1795 (6.3%)

WA 2505 (-11.1%)
2014 Australian motor vehicle theft
                        Short term                   Profit                         Total
Motorcycle    3740 (-76 -2%)           4484 (-36 -1%)         8224 (-112 -1%)
PLC               31,523 (-2,023 -6%)   10,438 (479 5%)      41,961 (-1544 -4%)
Other               1316 (-151 -10%)        1464 (-3  0%)            2780 (-154 -5%)
Total             36,579 (-2,250 -6%)    16,386 (440 3%)     52,965 (-1,810 -3%)
Top motorcycle theft targets, 2014
Honda

               

1595
Yamaha

               

1520
Suzuki

                   

739
Kawasaki

             

705
KTM

                      

469
SYM

                      

200
Longjia

                  

195
Harley Davidson

 

158
Hyosung

               

145
TGB

                        

132