w

BW

 Motorcycle Sales Statistics and Information
---
This information is compiled from various sources around the world regarding motorcycle sales numbers and trends. Motorcycle sales data is very difficult to obtain; please feel free to contribute by sending any information to editor@webbikeworld.com
Also, see the wBW live news feed or read more stories in the wBW Motorcycle News page.
BMW Reports Record Sales Yet Again
July 12, 2016 (Press release edited by webBikeWorld) – BMW Motorrad has closed the first half-year with a new sales record for the fourth time in succession.
80,754 motorcycles and maxi scooters were supplied to customers worldwide as of June 2016 (previous year was 78,418 units) for an increase of 3% over the same time period in 2015.
For the first time ever, BMW sold more than 80,000 vehicles in the first six-month period of a year.
With 14,993 (previous year: 15,490 units), sales in the month of June were just under the record result of June 2015 (-3.2 %).
Heiner Faust, BMW Motorrad Head of Sales and Marketing, said "As of June 2016 we were able to set our fourth six-month record in succession, at the same time supplying more than 80,000 motorcycles and maxi scooters to our customers by the middle of a year. Based on this positive development we will now strive to achieve another sales record for the year as a whole."
The strongest growth is coming mostly from the major European motorcycle markets of Spain (+22.6 %), Italy (+6.9 %) and France (+5.6 %). The smaller markets of South Eastern Europe also saw pleasing growth.
The Chinese market in particular is continuing to show considerable growth potential for BMW Motorrad with a dynamic increase in sales. Compared to the equivalent period of the previous year, sales increased by 74.3 % to 2,388 units.
Sales in Thailand (+62.6 %) and Japan (+10.4 %) were also well above the previous year.
Germany remains the traditionally largest market for BMW Motorrad, with 13,792 (+2.0%) units sold, Germany is the overall market leader.
In the over 500 cc capacity segment, BMW also leads the market in Spain, Austria, Belgium, the Netherlands, Russia, Brazil and South Africa.
BMW R 1200 GS: It remains as the best-selling BMW Motorrad model. Now in its fourth year of sales, supplies increased as compared to the previous year by 3.8 % to 14,630 vehicles.
BMW R 1200 GS Adventure: Has continued to increase in what is now its third year of sales. 11,732 (+12.5 %) units were supplied in the first six months of the year. 44.5 % of all GS motorcycles were ordered in the Adventure variant this year.
BMW S 1000 XR: 5,480 units sold.
BMW S 1000 RR: 5,291 units sold.
BMW R 1200 RT: 5,123 units sold.
BMW R nineT: 4,629 units sold.
BMW Scooters: Demand for the C 650 maxi scooter is also well above the previous year. As of June, 5,259 units (+73.2 %) were sold of the new edition of the two premium scooters.
In addition to this, 447 BMW C evolution electric scooters were supplied in the same period (+1.4 %).
Predictions for Q3 & Q4: In the second half of the year, BMW Motorrad expects the sound level of demand for current BMW products to continue.
At the same time, additional stimuli will be provided by the second model of the BMW "Heritage" world of experience, the new R nineT Scrambler (market launch from September 2016), the new G 310 R (market launch from October 2016) an attractive model facelifts in the boxer and F series. .
U.S. Motorcycle Sales Totals
April 22, 2016 (Various Sources) – The 2015 U.S. motorcycle sale numbers are in, compiled by the Motorcycle Industry Council and others.
Sales are up again (slightly) and 2015 marks the 5th consecutive year of slight increases in U.S. motorcycle sales. The 2015 sales total for street bikes, dual-sport and off-road motorcycles is 500,678.
That is up about 3.45% from the 483,526 reported in 2014 (2014 was up about 3.7% from the 465,783 total reported in 2013).
Those numbers are nothing like the boom years of 2004-2005, when nearly 1.1 million motorcycles were reported sold in the U.S.A.
Here's our updated graphic showing U.S. motorcycle sales from 1992 to 2015.
These numbers are based on best available knowledge at the time and should not be considered exact, but rather as an overall general indication of motorcycle sales trends in the U.S.A.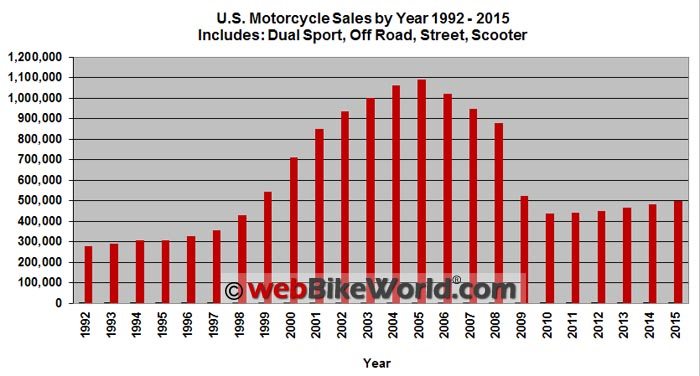 2015 Japan Motorcycle Production
April 22, 2016 (JAMA) – The 2015 Japanese motorcycle manufacturer production figures are in.
Motorcycle production was down significantly all year in 2015.
Japan Motorcycle Production by Engine Displacement
(Changes from the previous year in %)
January 2015 to December 2015

2015 Record Year for BMW
March 31, 2016 – (BMW Motorrad, Edited by webBikeWorld) – BMW Motorrad USA has set a new all-time year-end sales record. With 16,330 units sold in 2015, BMW motorcycle sales grew 9.3 percent above the total 14,945 units sold in 2014.
The S 1000 RR "Supersports" bike was BMW's best-selling model, accounting for 13.3% of total 2015 volume.
Other best-selling models included the ever-popular R 1200 GS Adventure at 12.2% of total volume and the R 1200 GS at 11.5% of total volume.
The S 1000 R power roadster and BMW's first adventure sports bike, the new S 1000 XR Adventure, also bolstered annual sales in the BMW Motorrad S-Series model range.
The R nineT was one of the top performing models in December 2015 with 138 units delivered and in combination with the new R 1200 RS sport tourer, helped grow flat-twin engine R-Series model retails by 21% to 575 units compared to 477 in December 2014.
BMW's F-Series middleweight machine sales grew by 11% in December 2015 with sales of 235 units compared to 211 in December 2014.
Master Listing of All wBW Motorcycle Product Review
Note:
 For informational use only. All material and photographs are Copyright © webWorld International, LLC since 2000. All rights reserved. See the webBikeWorld® 
Site Info page
. Product specifications, features and details may change or differ from our descriptions. Always check before purchasing. Read the
Terms and Conditions
!