Australian motorcycle sales took another 8.1% dive in the third quarter which contributes to a 33-month downturn in the industry.
By comparison, car sales are down 7.9% last month which is the 18th month in a row of decline, according to official data released by the Federal Chamber of Automotive Industries (FCAI).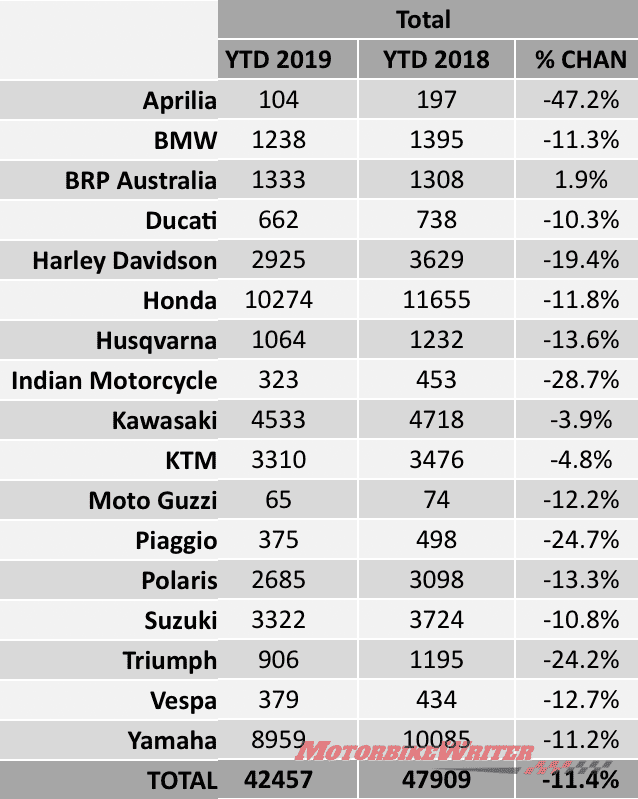 The FCAI figures come during the third annual Ride Your Motorcycle to Work Week.
It's the economy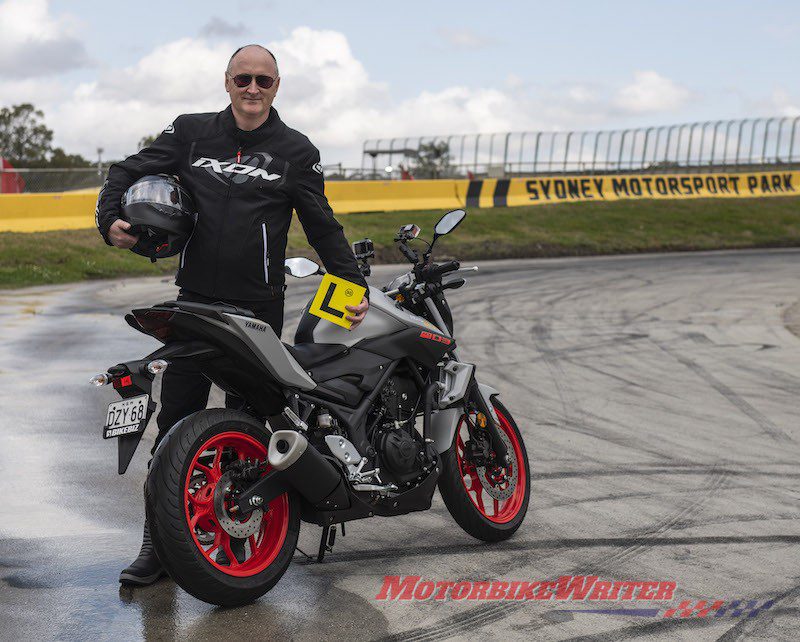 FCAI boss, Toby Weber, who is learning to ride a motorcycle, says the bike and car sales decline is "in line with the broader economic environment in Australia".
"We have seen many factors, including multiple weather events, Federal and State elections, and tightened lending practices contribute to the overall economic conditions," he says.
In the nine months this year, 62,898 motorcycles, ATVs and scooters were sold, compared with 68,460 for the same period in 2018.
Honda was the overall leader with a 23.1% share of the national market, followed by Yamaha with 21% and Kawasaki with 10.6%.
Road bikes dive
The biggest drop was in road bikes, which took a 13.8% dive.
Harley-Davidson was the road bike leader again with a 19.6% share, while Honda had 16.8% and Yamaha 16.6%.
Honda used to lead this segment, but as been hit by Australia Post not buying postie bikes, but converting to three-wheeler electric bikes.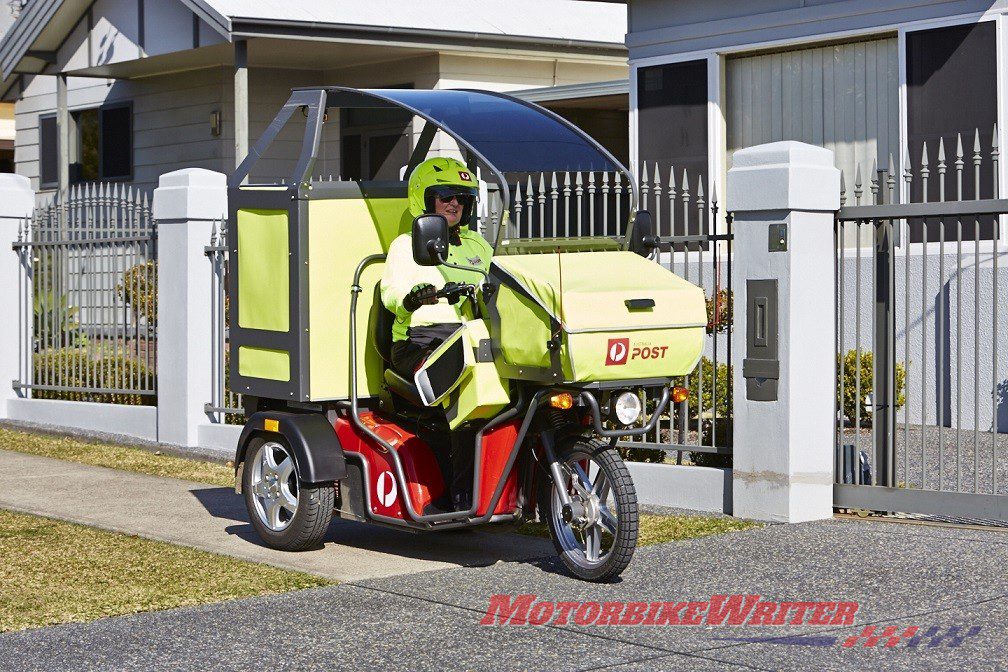 Across the industry segments, Scooters defied the trend, with a 14.5% climb in sales during the first three quarters.
Honda held a 39.9% scooter share, followed by Vespa with 14.8% and Piaggio with 14.2%.
The ATV/SSV took a 11.3% dive with Polaris the leader on 28.1% share, followed by Honda 22.5% and Yamaha 19.3%.
Off-road category sales fell 2.4%, led by Yamaha 28.1% share, Honda 27.4% and KTM 18.8%.
Top 10 by Category – Road Bikes

January – September 2019 compared to January – September 2018

Manufacturer

Model

Total

YTD 2019

YTD 2018

% CHAN

Honda

CB125E

756

851

-11.2%

Kawasaki

NINJA 400

749

749

0.0%

Yamaha

MT07L

693

736

-5.8%

Yamaha

YZF-R3A

687

597

15.1%

Harley Davidson

FXBRS

625

552

13.2%

Yamaha

MT-09

580

550

5.5%

Harley Davidson

XG500

541

694

-22.0%

Honda

CMX500

441

536

-17.7%

Kawasaki

Vulcan S

428

513

-16.6%

Honda

GROM

416

520

-20.0%

Top 10 by Category – Cruiser

January – September 2019 compared to January – September 2018

Manufacturer

Model

Total

YTD 2019

YTD 2018

% CHAN

Harley Davidson

FXBRS

625

552

13.2%

Harley Davidson

XG500

541

694

-22.0%

Honda

CMX500

441

536

-17.7%

Kawasaki

Vulcan S

428

513

-16.6%

Harley Davidson

FLFBS

335

305

9.8%

Yamaha

XVS650/A

335

326

2.8%

Harley Davidson

FLSB

326

248

31.5%

Indian Motorcycle

Scout

275

358

-23.2%

Harley Davidson

FXBB

263

419

-37.2%

Harley Davidson

FXLR

162

184

-12.0%

Top 10 by Category – Sport Touring

January – September 2019 compared to January – September 2018

Manufacturer

Model

Total

YTD 2019

YTD 2018

% CHAN

Yamaha

YZF-R3A

687

597

15.1%

Kawasaki

Ninja 650L

202

220

-8.2%

Yamaha

MT09TRA

137

129

6.2%

Kawasaki

VERSYS-X 300

103

102

1.0%

Honda

CBR650FL

86

247

-65.2%

Yamaha

MT07TRL

84

71

18.3%

BMW

S 1000 XR

83

110

-24.5%

Kawasaki

Ninja 1000

80

110

-27.3%

Suzuki

GSX-R125

73

61

19.7%

Kawasaki

Versys 1000

57

25

128.0%

Top 10 by Category – Touring

January – September 2019 compared to January – September 2018

Manufacturer

Model

Total

YTD 2019

YTD 2018

% CHAN

Harley Davidson

FLHXS

253

193

31.1%

Harley Davidson

FLTRXS

149

74

101.4%

Harley Davidson

FLHTK

139

101

37.6%

Harley Davidson

FLHRXS

102

86

18.6%

Harley Davidson

FLHTCUTG

90

76

18.4%

Yamaha

FJR1300

84

78

7.7%

BMW

R 1250 RT

78

0

100%

Indian Motorcycle

Chieftain

77

53

45.3%

Harley Davidson

FLHXSE

68

70

-2.9%

Harley Davidson

FLRT

56

55

1.8%
Top 10 by Category – Adventure Touring

January – September 2019 compared to January – September 2018

Manufacturer

Model

Total

YTD 2019

YTD 2018

% CHAN

KTM

790 Adventure 2019 R

354

0

100%

Suzuki

DR650SE

344

414

-16.9%

BMW

R 1250 GS

282

0

100%

BMW

R 1250 GS Adventure

277

0

100%

Honda

CRF1000

264

442

-40.3%

Honda

CB500XA

226

174

29.9%

BMW

G 310 GS

168

158

6.3%

Suzuki

DL650

163

160

1.9%

Kawasaki

KLR650

153

184

-16.8%

KTM

690ENDR

151

127

18.9%

Top 10 by Category – Naked

January – September 2019 compared to January – September 2018

Manufacturer

Model

Total

YTD 2019

YTD 2018

% CHAN

Honda

CB125E

756

851

-11.2%

Yamaha

MT07L

693

736

-5.8%

Yamaha

MT-09

580

550

5.5%

Honda

GROM

416

520

-20.0%

Yamaha

MT03LA

371

502

-26.1%

Kawasaki

Z900RS

221

315

-29.8%

KTM

390DUKE

215

266

-19.2%

Yamaha

XSR700LA

186

204

-8.8%

Yamaha

MT10

175

170

2.9%

Honda

Monkey

157

167

-6.0%

Top 10 by Category – Super Sport

January – September 2019 compared to January – September 2018

Manufacturer

Model

Total

YTD 2019

YTD 2018

% CHAN

Kawasaki

NINJA 400

749

749

0.0%

Honda

CBR500R

371

437

-15.1%

Honda

CBR650R

245

0

100%

Ducati

Superbike

156

43

262.8%

Honda

CBR1000RR

131

94

39.4%

Suzuki

GSX-R1000

112

97

15.5%

Yamaha

YZF-R1

111

118

-5.9%

KTM

RC390

110

190

-42.1%

Suzuki

GSX-R750

91

161

-43.5%

BMW

S 1000 RR

89

172

-48.3%
Top 10 by Category – LAMS Approved

January – September 2019 compared to January – September 2018

Manufacturer

Model

Total

YTD 2019

YTD 2018

% CHAN

Yamaha

WR450F

909

816

11.4%

Honda

NSC110

779

359

117.0%

Honda

CB125E

756

851

-11.2%

Kawasaki

NINJA 400

749

749

0.0%

Yamaha

MT07L

693

736

-5.8%

Yamaha

YZF-R3A

687

597

15.1%

KTM

300EXC

645

817

-21.1%

KTM

500EXC

614

572

7.3%

KTM

350EXCF

578

469

23.2%

Harley Davidson

XG500

541

694

-22.0%
Top 10 by Category – Scooters

January – September 2019 compared to January – September 2018

Manufacturer

Model

Total

YTD 2019

YTD 2018

% CHAN

Honda

NSC110

779

359

117.0%

Suzuki

ADDRESS

459

316

45.3%

Vespa

GTS 300

259

288

-10.1%

Honda

MW110

242

142

70.4%

Piaggio

Fly 150

217

237

-8.4%

Honda

WW150

208

221

-5.9%

Yamaha

XMAX300

151

114

32.5%

Vespa

PRIMAVERA 150

148

150

-1.3%

Yamaha

GPD150A

143

106

34.9%

Piaggio

Medley 150

90

66

36.4%