Your motorcycle jackets, pants, gloves and boots that are supposed to protect you in a crash, can sometimes experience failures of the most basic test of simple wear and tear.
However, it is important to differentiate a product failure from a rider error.
Product failures
We recently bought a pair of motorcycle gloves (pictured above) that split the stitching at the cuff after a few weeks of normal riding.
The gloves had a one-year warranty and the shop contacted the distributor who replaced them.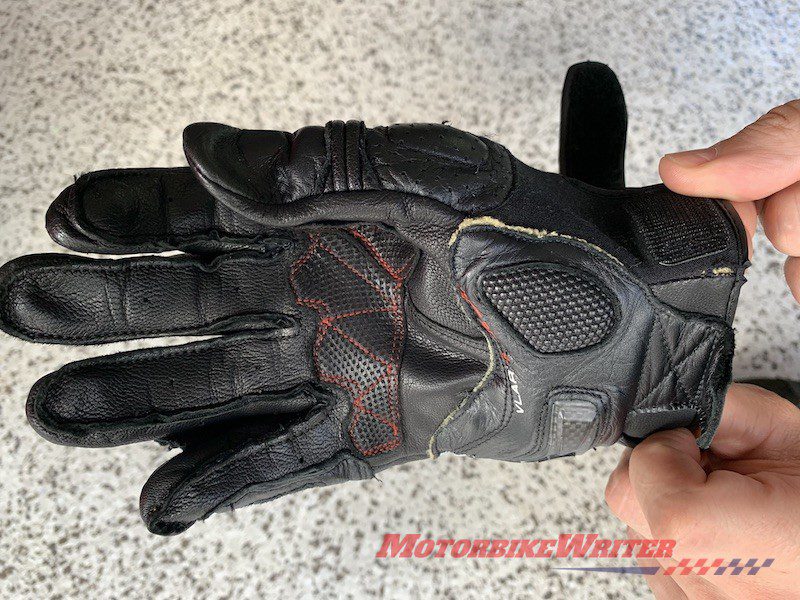 Only a few weeks later the second pair failed in exactly the same way.
Obviously there appears to be an inherent design fault in the gloves.
This is not the only example of motorcycle protective gear failing the basic wear and tear test.
Dr Chris Hurren who researches protective materials for a living and worked with Dr Liz de Rome and others to produce the protocol used by MotoCAP for testing has also experienced basic wear failures.
While trying on a pair of protective denim pants in a store, the top button above the zip pulled apart and fell off.
"This was obviously a problem that the manufacturer knew about as the garment came with a spare metal button however in reality should the product have been in the market place in the first place," he says.
"This failure before even leaving the store should be a quick indicator of the build product of a garment."
It's not Dr Hurren's only personal encounter with a wear failure.
After spending $700 on a leather jacket, he found the zip failed after two years.
"I have since observed new jackets hanging in store from the same manufacturer with a zip that was corroded and already causing trouble during use," he says.
"The addition of a low-cost zip to a high-cost jacket significantly reduces its working life.
"Closures like zips, buttons and clips often have higher loading due to body size and may be strained to failure during impact grip with the road in a crash."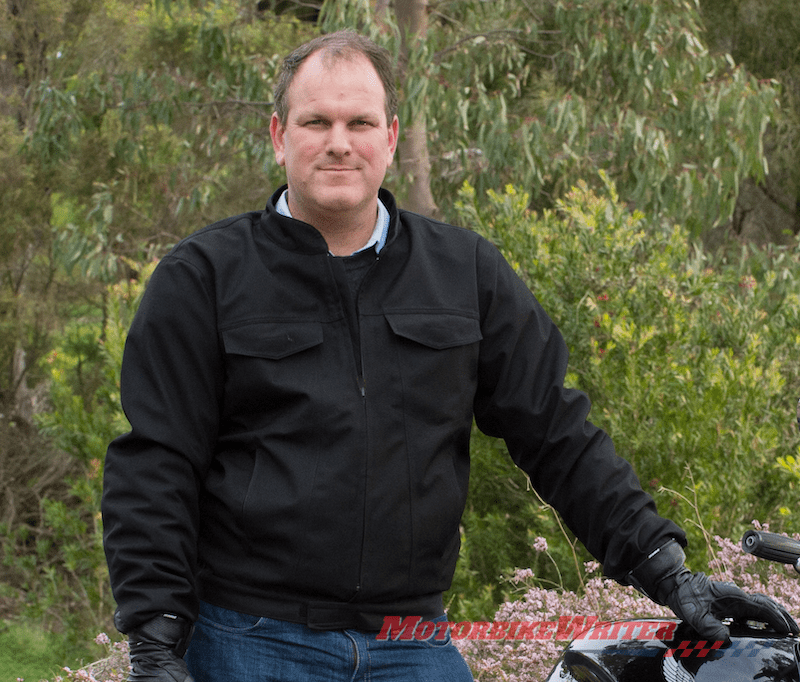 Rider error
However, some complaints about protective clothing failures can be due to rider error, not product failure.
Waterproof claims are a classic example, says Link International product manager Ron Grant.
"You can have the best jacket in the world, but if you don't get all the closures correctly positioned, ensure your shirt collar or cuffs aren't exposed (which creates a wicking point for water entry) you will still get wet," he says.
"The majority of wet claims I believe are mainly due to incorrect usage or fitment.
"If you wear gloves over your cuff, water penetrates through the jacket stitching in the chest and arms, runs down between the outer shell and the outside of the waterproof liner (so the rider is still dry) and drains straight into the gloves. This is not a glove issue but a rider fitment issue.
"Likewise with waterproof boots. I see riders buy 'shorty' waterproof boots and then complain they get wet feet.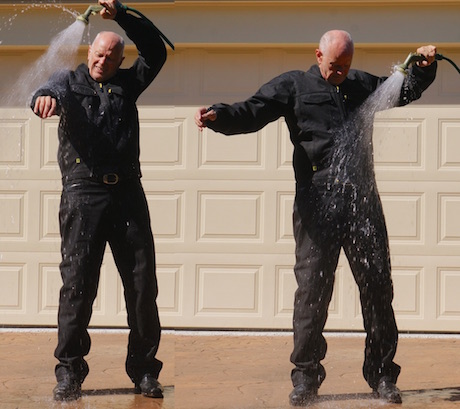 "If you have a look at their rain pants when their feet are on the pegs, the rain pants may ride up just enough to allow water into the boots."
Riders also have a duty to maintain and treat their gear appropriately.
For example, zippers can get dry from dust and bugs etc. An occasional rub over with a candle or an appropriate wax on the zipper teeth will help the zipper slide smoothly and last longer.
Likewise, screwing up a zip in waterproof liner and securing it under a couple of Occy straps can damage the waterproof coating allowing water to enter the jacket. 
Warranty
If your riding gear has experienced a genuine product failure, you may be due a replacement or repair under warranty.
Click here to find out more about warranties.
Have you ever had motorcycle gear fail a basic wear test? Leave your comments below.