Protective Underwear Image Gallery
Moto-Skiveez expands on their lineup of motorcycle riding base layers with a new, "longer" offering. The new performance tights take a different approach than the original Skiveez by way of a tighter fit and an improved pad.
Also in this review we'll take a look where the tights leave off, literally, with the Moto-Skiveez Compression Riding Socks with Aloe. Combined with the tights they create a base layer set for one's lower half designed to increase comfort and enable longer rides.
I was a bit taken aback just now as I went to look at our first wBW review of the Moto-Skiveez riding underwear and realized it has been three years since that review. Since that time they have moved from a small operation selling direct from their website to being found at major online retailers like Revzilla and Cycle Gear.
If you're not familiar with Moto-Skiveez, they produce motorcycle riding base layers with an emphasis on comfort and ease of care. Company founder, Shawn Lupcho, started Moto-Skiveez out of his own desire for motorcycle specific underwear that would allow longer periods in the saddle. Being an avid bicyclist himself, he already had experience with padding used for non-motorized two wheeled transport.
Shawn took what he knew about this and worked closely with padding manufacturers to develop a pad that is specific to motorcycle use. He then took that a step further and designed three types of riding underwear tailored to sport, cruiser, and adventure riding styles by adjusting the shape and position of the pads.
These three options comprised the original Moto-Skiveez lineup. Fast forward three years and Shawn has expanded the offerings to include socks, shirts, tights, and women's offerings of the original "Skiveez".
Over the past few months I've had a pair of the Moto-Skiveez Compression Riding Socks with Aloe (to which I have added a second pair) and put them through the paces. The socks have been available for some time but recently Moto-Skiveez has also released a pair of Performance Tights.
Why Tights? I asked Shawn this very question on the phone the other day. It turns out that the development of the performance tights came from customer requests. While the original Skiveez have served many riders well in the adventure touring and recreational riding segment, competitive riders were looking for something longer and closer fitting.
The tights are so new they don't even appear on the website as I'm writing this. They should be on there by the time this gets published. With all the history out of the way, let's have a look at the latest from Shawn and Moto-Skiveez.
The Moto-Skiveez Performance Tights
The new Performance Tight takes a different approach than the original Moto-Skiveez by way of being "close-fitting" rather than the more loose fit of the shorter "Skiveez". It should be made clear that the new performance tights are not replacing the Skiveez underwear options but will sit beside them as another option.
I have to admit I think the tights look pretty cool out of the package. The black fabric panels joined with grey seams look like they would be at home hanging in a Marvel superhero's closet.
Around the waist is a thick band with the Moto-Skiveez branding and red/blue logo that feels very sturdy and is similar, if not the same, to the durable waistband on the original Skiveez.
The tights are a ¾ length arrangement with the leg openings stopping around the mid to upper third of the calf depending on one's build. It might seem a little odd at first glance but all of my various riding socks easily reach over the leg openings.
Construction and Fit
The main body of the tights uses two different types of fabric, a solid fabric and a mesh fabric, both of which offer 4-way stretch. These are used in different places throughout the garment to provide a balance of durability and comfort. There is also a method to the pattern of the fabric sections around the knee area that allow it to move well with little, if any, bunching up.
Stitching is what I would call over-done, which I think is great. The main panels are attached using a 4 thread overlock stitch which provides very good strength and durability.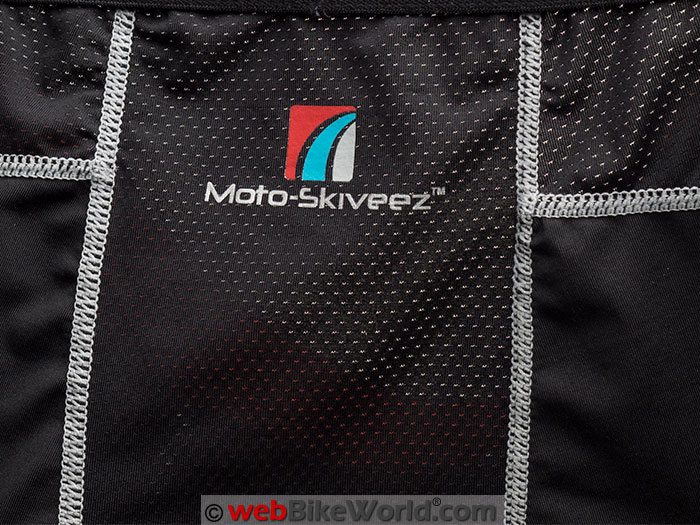 This type of stitching obviously uses a lot of thread and takes more time than a standard double stitch might, but Moto-Skiveez seems more concerned with quality and durability than just meeting a price point.
Another example of this attention to detail can be found in the waist bands of the tights and of the original Moto-Skiveez. When looking at the tights or shorts from the front, one will see the Moto-Skiveez logo is centered. This takes extra time but it is important to Mr. Lupcho that the garments coming from his company are properly put together and reflect their dedication to quality.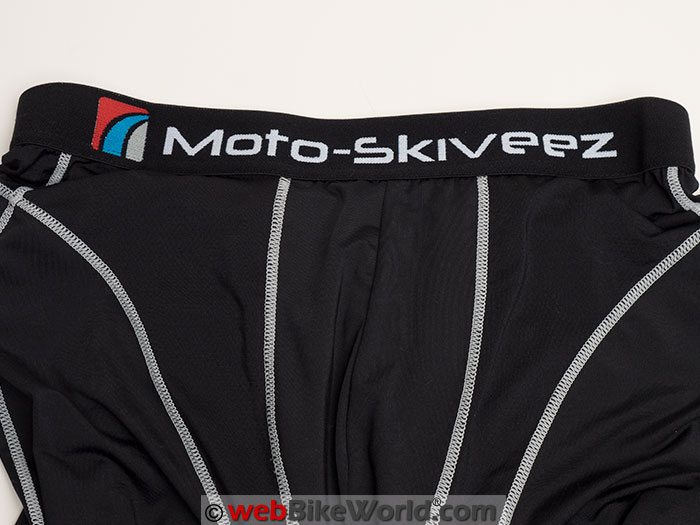 For my 36 inch waist, the size Large are recommended according to the Moto-Skiveez size chart. This is on the smaller end of the 36-39" range for this size but they still fit closely and snug as they should.
The 4-way stretch-ability of the fabric allows for a lot of "give" and I would think they should be comfortable across a wide range of body types and sizes.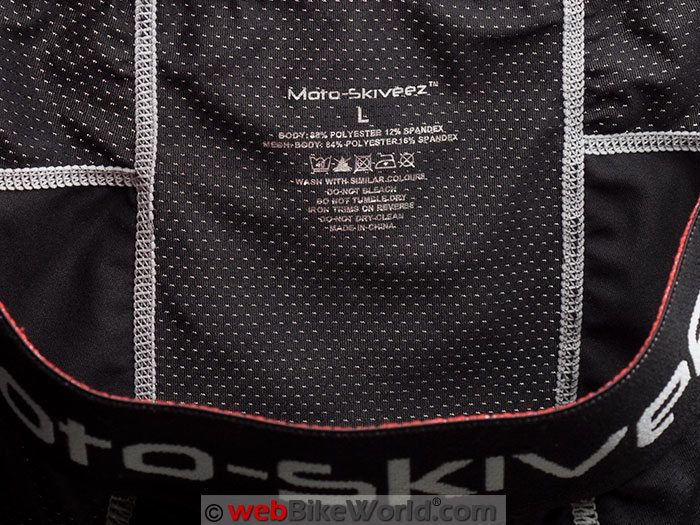 New Padding
The star of the show of the Performance Tights is the new padding in the seat. This new pad design, shared with the latest version of the Adventure Skiveez, is step up from the technology used in the original Skiveez.
When developing the original Moto-Skiveez, the state of the art in seat padding involved multiple layers of differing densities of foam to create a high performance seat pad. This has now been surpassed.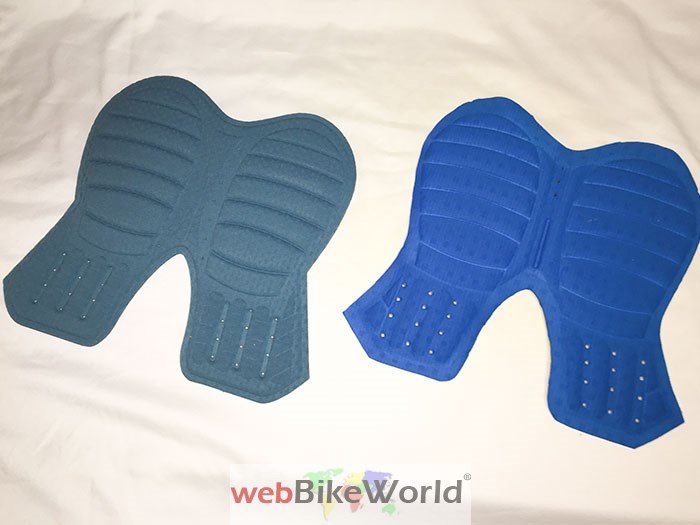 The new padding uses a single density foam that is cured in a new way. The closed cell foam is placed in a low pressure environment which causes the cells to burst throughout the foam. This in turn fractures the overall structure of the pad.
Normal pressure is then applied and the material returns to it's original thickness. However after this process, the foam now breathes much better thanks to the fracturing in the structure but still retains the support it possessed before the curing process. Better airflow helps reduce "hot-spots" between the rider and the seat.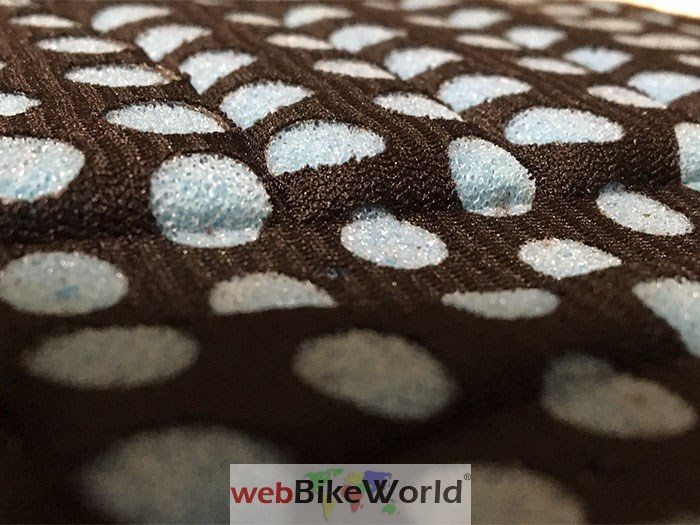 When comparing the new padding to the original, it is the same thickness, but it has a more dense feel to it. This is interesting because despite the more dense, or firm, feel, they really do breathe better than the padding in my first generation Adventure Moto-Skiveez. More on this below.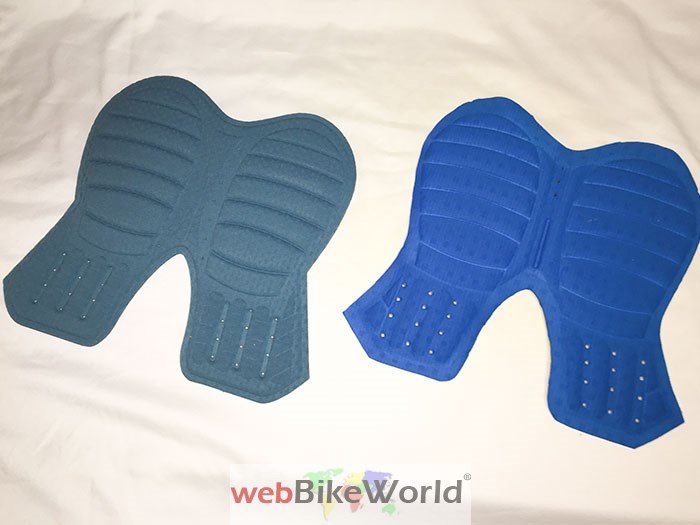 In Use
Even though the performance tights are designed with hard core adventure and competitive riders in mind, mere mortals that ride only on the street can find them useful too.
For instance, they make a great base layer for use under summer mesh riding pants. This past weekend I made my annual ride to Leeds, Alabama for the MotoAmerica road races. This is usually in July but even though the races were in September this year, it was still warm and very humid.
This was the perfect opportunity to see how the tights faired over a longer distance, in this case about 180 miles. That's not all that far for some riders but for me it is a fair test as I typically need to stop every hour or so on the NInja 1000 and get off the seat for a few minutes.
Wearing the Performance Tights under my Olympia mesh riding pants proved very comfortable. The tights breathe very well and the padding works just as described. The usual hot spots I get when riding for extended periods on the highway were still present, but it took longer for them to appear.
For my experience I can say that the changes to the padding appear to work, at least for me. The fabric seems to wick moisture effectively and I could feeling the cooling effect of evaporation when I would start out again.
There are other benefits to having a base layer like these tights. For instance, they make the separate knee pads I wear under my riding pants more comfortable to wear. I'm not a fan of built-in knee armor as it can move around a bit. Of course the straps of the pads can be a bit scratchy at times so having the tights under them is welcome improvement.
They also work very well under leather racing pants. Wearing these under leathers makes them easier to put on and also makes a nice barrier between one's skin and interior which is welcome as some leather pants aren't exactly smooth on the inside.
Compression Riding Socks with Aloe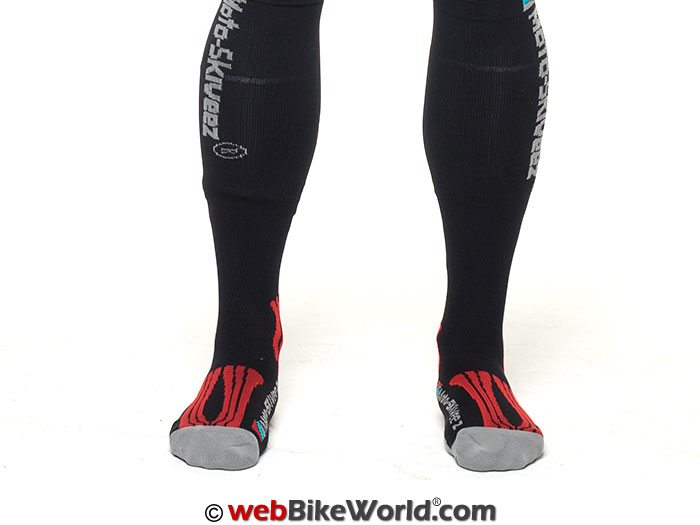 A good pair of socks is not always easy to find and not everyone has had good socks. It can be easy for some people to dismiss a "performance sock" as unnecessary as socks are just socks, right? I think only people who haven't owned a good pair of high quality socks would say that.
For years I've been wearing RoadGear's Coconut socks. These have been my go to riding socks and even though a couple of my pairs are coming up on 7 years old, they are still going strong. The problem with them is that Roadgear no longer makes them so when they do finally need replacing, it will have to be something different.
Enter the Compression Riding Socks with Aloe from Moto-Skiveez. After having a good experiences with my other MotoSkvieez gear including their underwear and their technical riding shirt (review coming) I decided to give their socks a try.
Pulling the socks out of the package they have a decidedly "techie" look to them. The main body of the socks is black with red and grey lines run about the lower portion. The Moto-Skiveez name is present down the front of the shin along with their red, blue, and grey logo.
Construction and Fit
The compression riding socks' fabric is made of 40% aloe fiber and 50% nylon. The remaining 10% is elastane which provides stretch to the material. Also the socks have a freshly laundered smell which is nice and light.
The Aloe fiber has anti-microbial properties that should help it to resist bacterial growth which can cause odor. Within the material are tiny, waterproof "cells" containing aloe vera extract that break open as they come in contact with skin. It is supposed to continue to work for many wearings and washings.
This sounds very complicated but if it works I can see how having socks like this would be a great boon to those spending hours with feet inside of hot and sweaty boots.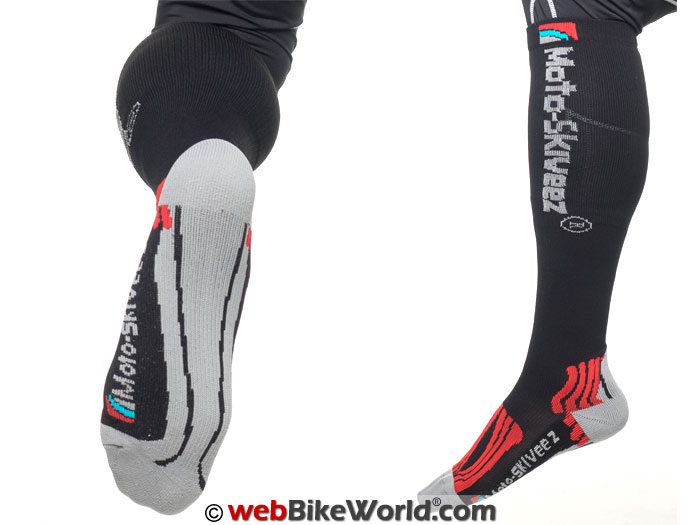 At eighteen inches high, the socks easily reach the top of my calves and could possibly even pull up a little higher. The fit is very snug. They are described as a "light compression" and I would agree with that description.The compression aspect is purpose-designed to help reduce lower leg swelling that can occur from longs hours in the saddle.
I wear size 10.5 shoes / boots and the the 9-12 size fit as expected. A larger 12-15 size is also available as well as a 6-9 size option with the smaller size being 2 inches shorter than the other two.
In Use
Once one has put the socks on they feel cool. They breathe very well and better than my normal cotton socks as well as my coconut fiber socks. As such I expected them to do very well during the hot months of the year. Will they be too cool to wear in the winter remains to be seen.
To test the Compression riding Socks I wore them on my commutes to and from work as well as kept them on all day while at work and once back at home. This past summer has been hot and humid which is pretty normal for the Southeastern Unites States so this is a great climate to test them out.
Day long wearings resulted in no drama as they were comfortable and completely forgettable during wearing. They also stay in place with no slippage requiring a "pull-up" throughout the day.
My recent ride down to Leeds, Alabama from Nashville, TN and back during 80-90 deg F temps also found them to be comfortable. Despite the heat of the day and from the engine my feet felt fine. But what about the odor controlling properties?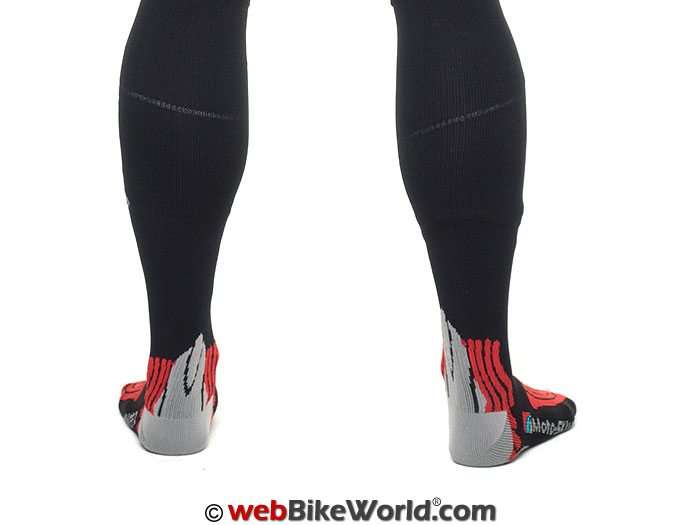 I had the opportunity to torture test the socks on a recent to trip to South Africa. While there was no motorcycle riding involved, there was a time and "smelly shoe" factor involved.
Knowing I had over 16 hours of flight to Atlanta and then to Johannesburg, I knew this would be tough on any socks. From the time we got up on Friday morning until we landed in South Africa Saturday evening I was wearing my Moto-Skiveez socks.
After a couple of hours on the long leg of the flight I thought it would be a good time to take off my shoes. I was immediately aware that the shoes I had chosen to wear had a sleeping beast that had woken up during the past several hours of wearing.
For the sake of my fellow passengers, I put those shoes back on. Once we got to our lodging in Jo'Burg, I took off the shoes (and considered burning them) and then took off the socks. I then gingerly put the socks to my nose sure that they needed to be burned as well.
I was pleasantly surprised that they still smelled clean and fresh as they did when I first put them on some 30 hours earlier. Despite the hostile environment the socks worked as advertised and repeating the process on the way home (albeit with newer, less stinky shoes) they remained pleasant to the nose.
I want to point out that the socks I took on this trip had already been washed and worn many times over the summer before going on this trip so the antimicrobial properties have held up well so far.
Conclusion
Moto-Skiveez has had great success with the original Moto-Skiveez and it is great to see they aren't sitting on their laurels. The new Performance Tights are a nice addition to the lineup and I like them better than the originals.
Part of that is the new padding design but also the closer fitting nature of the tights as it keeps the pad closer to the body. As such it doesn't "hang" in the shorts which can feel kind of "odd"
The Compression Riding socks have been around for a while but they are maybe even more impressive than the tights in my opinion. The really live up to the claims of providing comfort and remaining odor free even under the torture test I presented this pair with.
Of course it must be stated that these items worked well for me but with such a variety of body types and sizes out there, they might not be everyone's "cup of tea". Fortunately Moto-Skiveez customer support has been very responsive and friendly even though I didn't identify myself as a reviewer when contacting them (excepting the specific call to ask questions for this review).
For $25.00 (USD) a pair, the Compression riding socks are a good value. I've already purchased a second pair for myself and another, smaller pair for my girlfriend who rides.
The new Performance Tights at $80.00 (USD) may be a bit more specialized but I like them more than the shorts for my usage. I feel they are priced right for what they offer.
I should point out that the tights and socks reviewed here were purchased by me directly from Moto-Skiveez's website. They were not alerted that I was purchasing them for review.
w

BW

 Review: Moto Skiveez Performance Tights and Compression Riding Socks
Manufacturer: Moto Skiveez
Colors, Socks: Black w/grey and red
List Price, Socks: $25.00
Color, Tights:  Black
List Price, Tights: $80.00
Size, Socks: Men's 6-9, 9-12, 12-15
Made In, Socks: China
Size, Tights: S, M, L, XL, XXL
Made In, Tights: China
Review Date: September 2017