Motorcycle Phone Mounts Image Gallery
 Many motorcycle owners are now mounting a smartphone on their motorcycle.
Not that I'm advocating taking and making actual phone calls; indeed, most of us try to get away from that aspect of our lives when we ride.
So no, that's not what I'm talking about.
It's for things like music streaming using Bluetooth connectivity through your intercom system.
And there are riders who don't want to get lost, period.
I'm sure many of you, like me, use GPS apps on your phone while on a ride and consider it essential.
Other uses for an on-board smartphone include integration with some TPMS (Tire Pressure Monitoring System) sensors.
For example, I recently installed the FOBO TPMS (review) system on my latest bike and it uses Bluetooth to connect with the sensors.
While I use my phone only for a pre-ride pressure check, I can also use the phone to get real-time tire pressures and more importantly, system alerts.
I imagine there are other uses for a bike-mounted smartphone as well, but you get the picture.

Mounting Notes
We're going to do something a little different here by comparing 4 different phone mounts for your motorcycle.
For this comparison, I've selected four very good phone cradles, all of which I own and have used.
But before we actually get to the mounts, one important note: all of the mounts — as I've configured them, anyway — are based on using RAM balls and an extension ("double socket arm" in RAM-speak) to affix to a bike.
Everyone's familiar with the RAM line of products…right?
Some RAM products have already been discussed in various webBikeWorld reviews, for instance in H.B.C.'s Using a Tablet as a Motorcycle GPS and in Burn's More Motorcycle Video Camera Mounts (review).
In any event, we'll be using the RAM 1″ (25 mm) ball and RAM extensions, even though two of the four cradles employ, by default, different (non-RAM) mounting systems.
(Editor's Note: Hopefully we'll follow up with Bill's primer on the RAM system.)
As it turns out, all of these phone holding systems are quite easily adaptable to RAM-based mounting.
Also, except where noted, I'll be cradling my iPhone 6, ensconced in its protective Incipio Stowaway case (and tempered-glass screen overlay).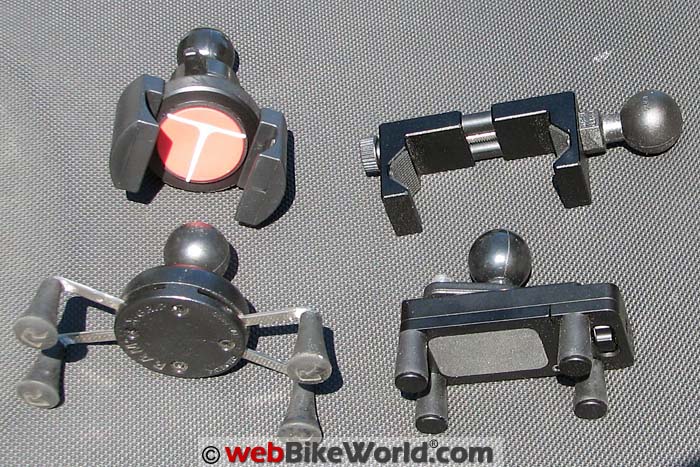 One More Thing: Only Adjustable Mounts
There are many motorcycle phone mounts out there, but we won't be looking at single-model mounts here.
For instance, RAM makes the RAM-HOL-AP9 mount for the Apple iPhone 4. I mention this one because I happen to own one, from years back, but there are similar products for almost all phones.
This one is a "high strength composite cradle."
You add a RAM baseplate-with-ball in the back, and snap your phone into the front. It's held in place by a flexible tab.
Such cases, however, will fit a particular phone only when it's not enclosed in a case and then it requires that you purchase a new special RAM case every time you get a new phone (or GPS).
But, yes, they're available and they work OK on smooth roads and they're cheap enough (the RAM model is only $11.99), but they won't do for our rough-and-tough purposes.
The Rankings
Okay — finally! — let's see what the four motorcycle smartphone mount contenders have to offer, starting with last place and moving up to the "winner".
4th Place: RAM Universal X-Grip
The first product is the widely used RAM X-Grip. This is RAM part number RAM-HOL-UN7BU, with a list price of $27.99.
The X-Grip comprises a central hub, from which spring-loaded arms emanate. At the far ends, these arms are bent at 90°, forming posts that are then covered with rubber bumpers.
Phone insertion is extremely easy: squeeze two of the posts toward each other with one hand, position the phone with the other hand, and let go.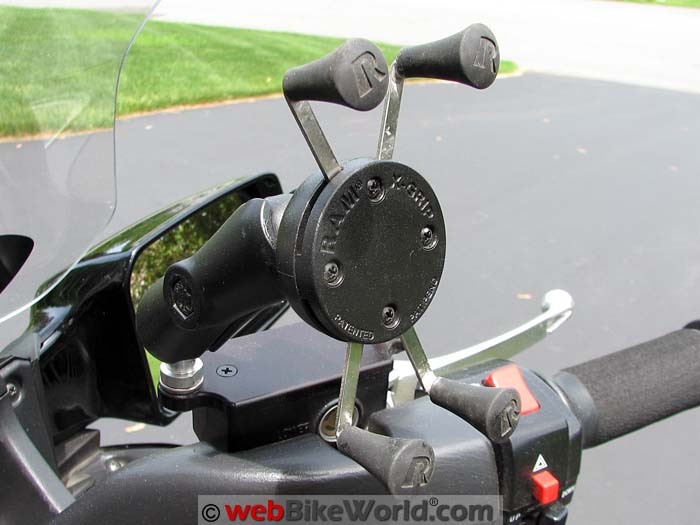 RAM X-Grip: Pros
In actual use, over many months and miles, I've never had my iPhone 6 fall out of the X-Grip, even on bumpy — but paved — roads. I would not, however, trust the device if I were venturing off-road in any manner.
Some aspects of the X-Grip aren't intuitively obvious, so let me add a few notes.
The X-Grip now includes the RAM Tether for UN7 X-Grip Holders.
The tether slips behind the X-Grip mount and then you stretch it around and over the front of the four posts (i.e., on top of the corners of an already mounted phone).
The tether wasn't included when I received my X-Grip as a gift about two years ago; long-time owners can purchase the tether separately for $3.99.
I would feel better using the tether in bumpier terrain but on the other hand, that takes away the X-Grip's gold star for ease-of-phone-insertion.
I've also read a comment or two that it's a pain to stretch in place.
RAM X-Grip: Cons
Depending on how you place your phone, the rubber bumpers of the X-Grip may press against the buttons on the phone.
On my iPhone 6, centering the phone vertically results in either the up- or down-volume buttons being pressed, so I have to keep the phone higher up than I prefer.
This, of course, depends on the phone in question, but I tried the X-Grip using a friend's Samsung Galaxy S3 and it was abysmal — the buttons on both sides of the phone were pressed.
So keep that in mind; it's best to try out your particular phone on an X-Grip first, if possible.
Speaking of placement, because the spring-loaded arms on the X-Grip require slots in the X-Grip's hub for movement, the arms — with a phone cradled in them — can rotate in those slots.
This depends on the width of the particular phone or phone with case that you're using. With my iPhone 6 in the Stowaway case, this amounts to about 36 degrees of rotation.
Mind you, the springs are still pressing the arms and posts against the phone, but such movement is annoying.
Regarding the posts, RAM recommends (in its instructions) taking off the rubber bumpers, putting some super glue in them, and putting them back on. I did this, and let them dry overnight.
Particularly on a bike without a windshield, you want to make sure that those bumpers stay affixed to the metal arms.
And one last caveat: make sure you place the back of the phone firmly against the X-Grip's hub. That is, you don't want the phone suspended in mid-air, held that way by the tension of the springs only.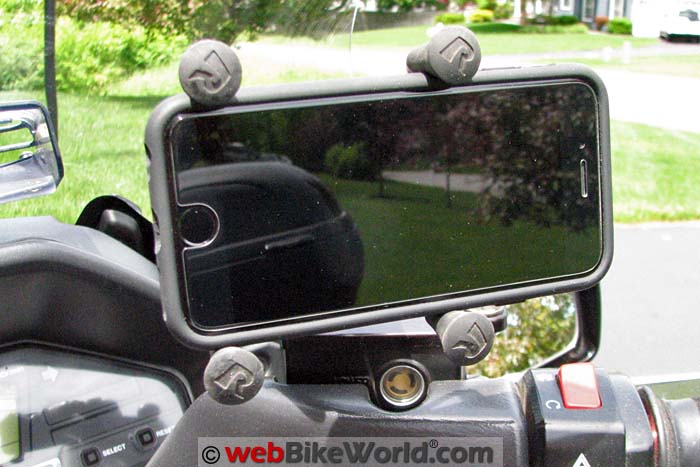 X-Grip: Summary
The RAM X-Grip is a nice mount, it gets the job done and it is certainly reasonably priced. And it can easily accommodate phones of assorted heights and widths.
However, it may not be the most trustworthy for riding fire roads, or if you target-fixate on a jumbo-sized pothole; I certainly wouldn't use it on a motocross track. (Don't laugh — we'll get to that anon.)
The tether may obviate this problem — I don't know — but it makes phone insertion more of a hassle.
Also, the occasional rotation of the phone due to the X-Grip design is at best disconcerting.
And if your phone has buttons near the corners, you may not be able to center the phone in the X-Grip mount although if you'll be using the X-Grip for some other device, this may not be a problem.
You have to wonder, now that RAM includes the tether and, as I recently learned, some glue with each X-Grip. Were there too many complaints, or is RAM simply being more proactive these days?
I guess, on balance, I'd recommend getting a different phone mount. That's what I did and this brings us to our next candidate.
3rd Place: Techmount TechGripper
Next on our list is the Techmount TechGripper. The TechGripper has a loyal following and it has a list price ranging from $39.95 to $94.90.
Like the X-Grip, the TechGripper is a spring-based device and it has a padded central hub.
But unlike the X-Grip, it does not have four corner posts.
Instead, the TechGripper employs two pieces that slide apart on two metal rails, each with its own internal spring.
The inside of each end piece has a rubber-covered arc shape, so that the two pieces come together and grip the phone. A lip on the outside of each of the two grippers cradle the phone.
The plastic base of the TechGripper is threaded on the outside and it has slots cut across the threads to render it slightly flexible.
You place the TechGripper's locking collar around a 17 mm ball, pop the TechGripper onto the ball, and then tighten that collar.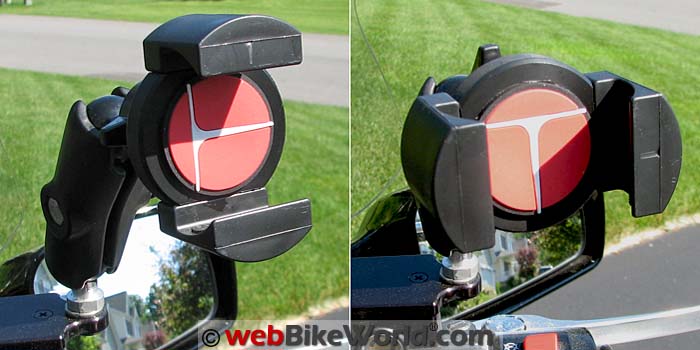 TechGripper 17 mm Ball Notes
Something to note is that the TechGripper uses a 17 mm ball size.
17 mm is something of an industry standard; Garmin, for example, uses the same size ball in many of its mounts.
Thus, there are many aftermarket mounts that are geared to to fit a 17 mm size, although perhaps not as many as the huge variety that are available for RAM mounts.
If you'd like to use the RAM mounting system with its most common ball size of 1″ (25 mm), you can purchase a ball-to-ball adapter for the TechGripper that is 17 mm on one end and 25 mm on the other.
The adapter I use is made by Arkon Resources, priced at $5.95 (various Arkon products availablehere through this wBW Amazon.com affiliate link).
As far as I know, RAM doesn't sell a similar product, but Arkon has been making these for years (as have, I believe, some other companies).
To use the adapter, pop the small end into the TechGripper and tighten the collar.
You now have a cradle that terminates with a standard RAM ball, and you never have to mess with the TechGripper's locking collar again.
There is nothing intrinsically wrong with a 17mm ball, and the Techmounts handlebar mount and movable arms are very nicely made and very robust.
That said, I'm not a fan of that system.
First, the common RAM ball is about half again as large, and so provides a larger gripping surface.
In addition, if you want to remove the TechGripper, you have to spin that locking collar about four revolutions, move the collar over the ball, take off the TechGripper, and maybe put the collar back on before throwing the cradle in your saddlebag.
By contrast, to remove a RAM extension, you turn the locking knob about two and a half turns, pull off the extension (with cradle attached to the other end), and you're done.
Yeah, the extra work with the TechGripper's default mounting system is not a show-stopper, but if you can eliminate some of life's little nuisances, why wouldn't you?
Last, while movable, the arms on the TechGripper handlebar mounting system are secured via bolts.
That means that if you want to alter your phone's position — maybe to reduce solar reflections — in a major way (as opposed to merely loosening the collar for a small adjustment), you have to get out an Allen wrench.
That's a far cry from loosening a RAM extension knob, which then allows complete ball-to-extension repositioning on both ends.
Techmount TechGripper: Pros
The spring tension of the TechGripper is pretty strong, even at the narrowest opening — stronger than the RAM X-Grip.
The end pieces are about 1-1/4″ (approximately 32 mm) wide, which allows most phones to be centered, without the typical button-interference problem of the X-Grip.
Techmount TechGripper: Cons
The arc on each of the holders or grippers on the TechGripper has a large radius, so if you have a thin phone used without a case, the phone may move around slightly.
And I guess I'm just not a big fan of springs because springs don't seem as trustworthy as a screw thread (which my higher rated phone mounts employ).
Further, I think you risk dropping your phone just pulling on one or both sides of the clasping arcs of the TechGripper when you want to remove the phone.
It's just not a smooth, predictable operation to persuade the jaws to release their prey.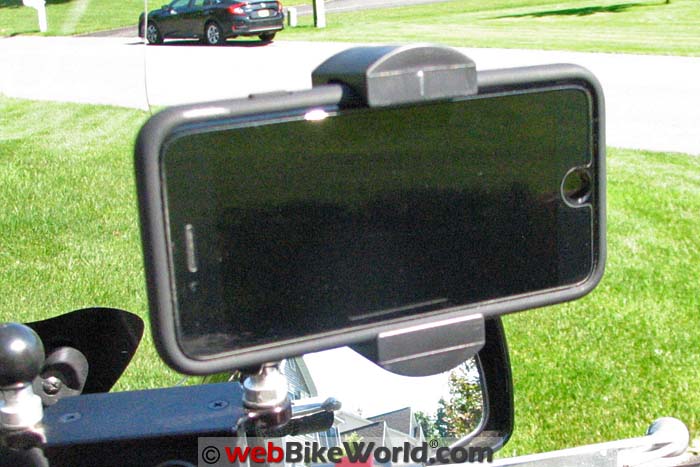 TechGripper Summary
The TechGripper is a nice phone mount; better, in my opinion, than the RAM X-Grip. It can handle most phones well and the springs have good tension.
Note also that the TechGripper is sold under other brand names; e.g., the MotoXtek Moto-Gripper.
Incidentally, you may know that I'm always on the lookout for methods of holding transponders, if you've read my earlier wBW article A Survey of Motorcycle Toll-Tag Holders.
I mention this because a while back I settled on using a Tech-Gripper to hold my E-ZPass. Unlike a phone however, I never remove the transponder from the Gripper, so dealing with those hefty spring-loaded jaws is not an issue.
I mount the cradle holding the E-ZPass when necessary. And I do leave one of those 17 mm-to-25 mm adapters installed in it as well.
2nd Place: RetiCAM Smartphone Tripod Mount
The next product is the RetiCAM Smartphone Tripod Mount.
The RetiCAM mount is a vise-like holder, with a rubber-covered "V" trough at each end. Width adjustment is provided by a central screw, with flanking guide posts.
RetiCAM describes it as being "precision CNC machined from solid aluminum and finished with hard anodizing for exceptional strength and rust/scratch resistance."
It is, in fact, very nicely made, such as the incorporation of beveled corners.
RetiCAM also asserts that it is the "No.1 rated phone mount on Amazon!". I don't know about "No. 1," but it does indeed have exceptionally high review scores — quite remarkable, really, for a product with that many reviews on Amazon.com.
The RetiCAM mount has a list price of $24.99.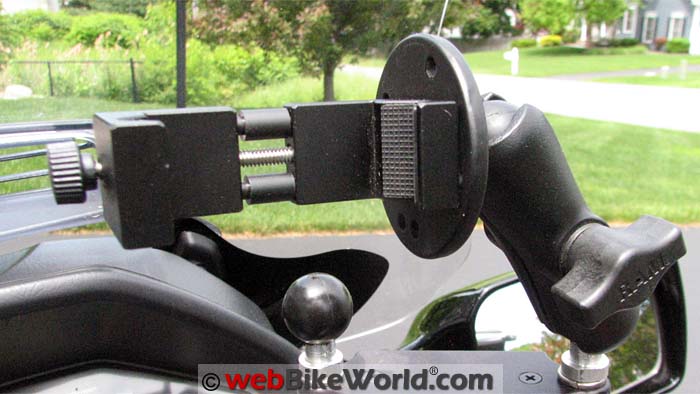 RetiCAM Notes
The RetiCAM mount has standard camera tripod female threads machined into its aluminum frame (a nice touch, as opposed to having some sort of insert).
This means that, continuing with our RAM-based system, you need something that has suitable-length male 1/4-20″ threads on one end and a 1″ RAM ball on the other.
These three RAM products all work (and there are probably similar products from other manufacturers):
RAP-B-379U-252025 RAM 1″ Tough-Ball Base with 1/4-20 X .25″ Male Threaded Post ($7.99)
RAM-B-237U RAM 1″ Ball with 1/4-20 Male Threaded Post for Cameras ($8.49)
RAM-B-202U RAM 2.5″ Round Plate with the AMPs Hole Pattern with B Size 1″ Ball ($7.49)
Is this tripod-to-RAM-ball an acceptable solution? I'd say that it is, in the case of the RetiCAM.
In More Motorcycle Video Camera Mounts (review), Burn looked at some systems for mounting video cameras to motorcycles.
Examining a configuration that uses that round RAM-B-202U mounting plate, he had this to say about the round RAM base:
Unfortunately, the RAM mount also does not have a locking collar on the tripod mount screw, a fatal flaw in my opinion. … Again, it is not recommended to thread a camera all the way down on a tripod mount and to count on that for holding the camera tight (especially on a motorcycle, which can have a lot of movement and vibration).
In the case of the RetiCAM however, the male threads on these three products will not bottom out when screwed in.
This mean that their bases can be secured very tightly (and since the RAM ball itself can be rotated in the extension, you can then swivel the RetiCAM as desired within the extension).
Put another way: in this case, consider the base of any of those products to be the locking collar, as it abuts against the frame of the RetiCAM, and the RAM ball to be the tripod swivel.
In my experience, the RetiCAM with a ball-and-tripod-screw add-on stays put, no issues there.
If you're not convinced, you can always add some thread-locker, dedicating the reasonably priced RetiCAM to bike-only use.
RetiCAM Pros
Just like the vise on your work bench, the RetiCAM holds a phone tightly. The rubber-covered "V" jaws work as advertised.
The outside width of the jaws is narrow — about an inch (25 mm) — which means that most phones can be centered with no interference with their buttons.
RetiCAM Cons
First, there is some sideways stress put on that central screw in the RetiCAM, the one that's doing all the work.
That screw is slightly smaller than an M5 in size, and even just using a thumb and forefinger I can tighten it enough, such that there is a noticeable bow in the back of the RetiCAM's frame.
Although I experienced no problem with this, I'm not thrilled from an engineering standpoint. See below, however, for a possible work-around for the bowing.
Second, note that the "V" grooves don't come to a sharp point.
So, like the TechGripper, if you have a thin phone and don't use any sort of case for it, this may be a problem. You may not be able to secure it as tightly as you would with thicker or case-enclosed phones.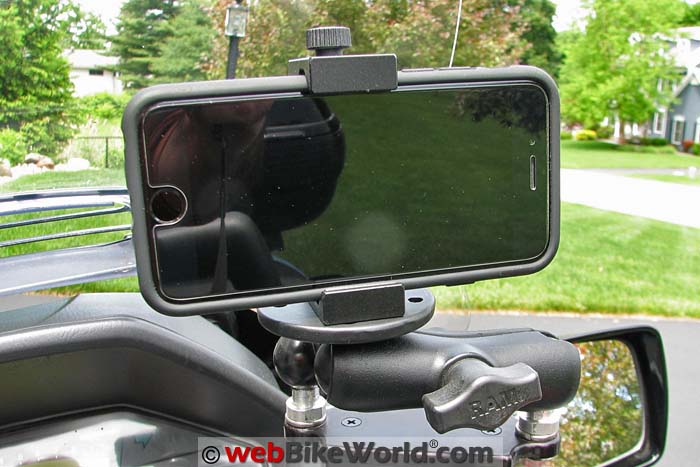 RetiCAM Summary
Still, if you're on a tight budget, I think the RetiCAM is a better choice (even adding in the cost of a ball with a tripod screw) than the X-Grip, and it's less expensive than the TechGripper.
The RetiCAM clamps like a vise, all right, and doesn't have a large side-of-phone footprint.
There's that potential sideways stress on the bolt (which bolt itself seems straight), introduced by the frame bowing (I may be overthinking the problem here though).
Reading through those favorable reviews on Amazon, I learned that one possible solution is to replace the Delrin (plastic) guide rods — which just rest in place — with metal rods.
If the RetiCAM were my primary mount, I'd probably undertake this modification.
Doing that eliminates the potential bowing, I've read, and if you're willing to make this simple modification I think you would reap a nice benefit.
Regardless of the guide rails, I think the V-channel ends of the RetiCAM provide a more secure grip than the modest arc of the ends of the TechGripper, irrespective of the threaded-screw vs. spring clamping system differences.
However, the RetiCAM certainly excels when used in a more controlled environment, connected to a device that already has a tripod screw.
For instance, if you want to mount a phone on a car windshield or other smooth surface (e.g. for data recording during your next track day), the RetiCAM is a perfect companion to something like the PanaVise 13101 ActionGRIP Shorty Suction Cup Camera Mount or similar products.
The PanaVise has a built-in tripod screw, and the screw holder ratchets and locks in place (and includes a locking collar). This is what I mostly use the RetiCAM with, and I can vouch for this combination.
But getting back to the realm of motorcycles, let's move on to my first place phone mount.
1st Place: The Hondo Garage Perfect Squeeze Phone Mount
Remember that I wrote that the X-Grip wasn't suitable for motocross riders?
Well, welcome to the Hondo Garage Perfect Squeeze. Here's what Hondo Garage has to say about its product:
"We designed it specifically for off-road motorcycle riders and racers who want to use their phones as a GPS. You can ride the track or the gnarliest washboard and your phone won't budge, but when you stop for lunch it's easy to pop your phone in and out."
Think of the Perfect Squeeze as a cross between the RAM X-Grip and the RetiCAM…on steroids.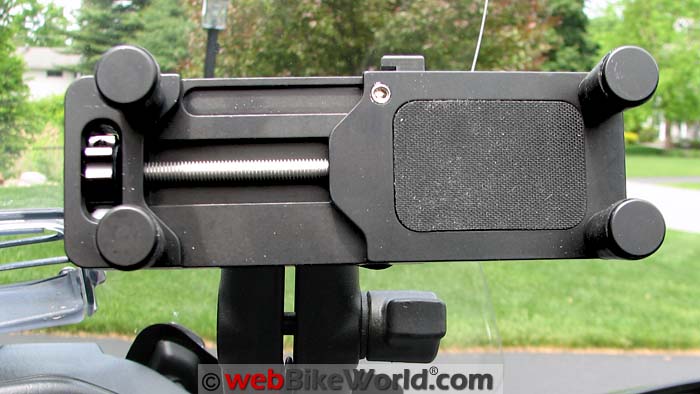 Like the X-Grip, the Perfect Squeeze has four posts that hold the phone in place. These are similarly tapered, i.e., narrowing at the base.
Unlike the X-Grip, the posts on the Perfect Squeeze are beefy, rigid and metal, screwed into the base plate (as opposed to the mildly flexible bent arms of the X-Grip).
And the posts are covered with EDPM (synthetic rubber), held securely in place with caps (no glue needed here).
Like the RetiCAM, the Perfect Squeeze uses a screw-and-thumbwheel system to brings the ends toward each other.
The outer diameter of the screw in each cradle is about the same, approximately 0.18″ (4.6 mm), but the screw in the Perfect Squeeze has a thicker core and a finer thread pitch.
Instead of using the RetiCAM's guide-post approach, the Perfect Squeeze is a two-part system.
The parts slide over each other using full-length machined-in tracks and the tracks are reminiscent of a dovetail joint, and the two halves are thick aluminum. There's no bowing here.
There is also a spring-loaded "Quick-Adjust" button on the Perfect Squeeze.
Pressing this down bypasses the positioning screw, allowing for rapid approximate positioning of the end posts. Think quick-release button on wood-working clamps, for instance.
Further, the thumbwheel incorporates a ball-and-detent mechanism, to prevent it from turning under the vibration of your off-road "thumper."
Last, the flat surface of the Perfect Squeeze is covered with a thin rubber (or EDPM, or something flexible) pad, to prevent the back of the phone's being scratched.
All of this is yours for $79.00 list. The shipping (within the US) is free, but you'll also need to purchase an add-on piece for mounting purposes.
Mounting the Perfect Squeeze
You need to attach something to the back plate of the Perfect Squeeze, which has four threaded holes, or else you just have a very nicely machined work of art.
Your choices at Hondo Garage are: "Low Profile Clamps" ($25.00); something called a "Bar-Tab" ($17.00); "With RAM Ball" ($8.99); or "RAM Bundle" ($38.47).
I included the RAM ball with my order.
What you get with that is a RAM-B-238U Diamond Plate B Size 1″ Ball. Had I known that, I would've passed on it, because I already had two of those lying around in my spare-parts box.
If you don't own such a spare, as I write this you can get one from Amazon or you could just order it from Hondo Garage with the Perfect Squeeze, with free shipping.
The necessary socket cap screws are included with the Perfect Squeeze itself, although you'll have to supply your own 4 mm Allen wrench.
Motocross? Really?
I haven't ridden a motocross bike for about half a century, and don't have any immediate plans to do so, but Hondo Garage's bringing up the subject gives you an idea of the alleged robustness of the Perfect Squeeze itself and its grip on a phone.
I often keep this quote in mind:
"You can't believe everything you read on the Internet." — Abraham Lincoln.
Still, if you can believe some of what you read — in this case, Hondo Garage's "gnarliest washboard" assertions, above, along with the putative owner comments on that page — some people seem completely satisfied using the Perfect Squeeze on off-road bikes.
If this speaks to you, I'd recommend that you purchase the $25.00 Low-Profile Clamps. RAM products are tough, but direct handlebar mounting will provide a more protected location for your phone.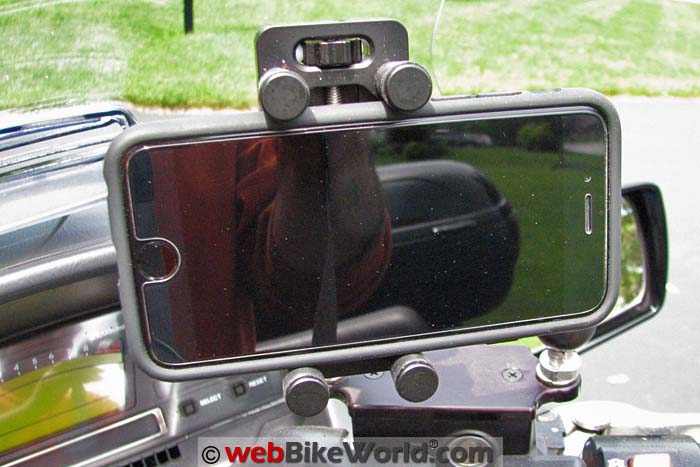 Using the Perfect Squeeze
Place the phone against the pad on the plate, depress the Quick-Adjust button to save wear and tear on your thumb and slide the halves toward each other, against the phone (at which point you can let go).
After a final thumbwheel tightening, the Quick-Adjust button is magically disabled — I haven't figured out how that works — which is actually a security feature, in my thinking.
In actual use, given that I have but one phone, I dispense with the Quick-Adjust.
The inter-post opening is where you left it when you removed the phone the last time, and some thumbwheel turning tightens or loosens the grip sufficiently.
On the Perfect Squeeze, the grip width (depending on the thickness of the phone, as the posts are tapered) is about an inch and a half (38 mm). This is slightly wider than the holding areas of the TechGripper and the RetiCAM.
This is fine; wider is better, up to the point at which the posts would interfere with phone buttons, and there's no problem here.
Perfect Squeeze Pros
This is one tough phone mount. Maybe there's some tougher mil-spec housing for use inside battlefield tanks, but I doubt you could remove and remount a phone as easily when stopping at your nearest PX.
Perfect Squeeze Cons
All right, using a thumbwheel to insert and remove a phone takes a little more time than using a spring-loaded device. Yep, a minor annoyance, but it's the price you pay for achieving a vise-like grip.
Also, be careful when turning the thumbwheel; you don't need to tighten this to multi-mega Newton meters, especially on a phone with a lot of plastic (e.g., Lumia 640) or a weak surrounding frame.
And yes, there is the cost: we're talking about $90.00 or so here. On the other hand, what did you spend for your phone?
Perfect Squeeze Summary
This is the one to get in my opinion.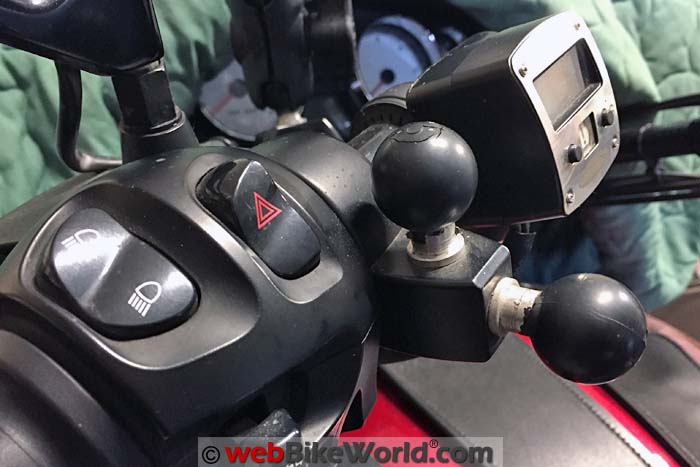 Conclusion
First of all, these are all good phone cradles. All quality products, but the design approach differs among them.
Next, if you disagree with my ordering, at least I hope I've provided some useful information, perhaps given you some criteria to think about that you hadn't considered before, if you're in the market for a cradle.
Last, I found the two outliers pretty easy to rank.
The RAM X-Grip is popular and RAM doesn't sell junk. I've used mine for a couple of years, without incident.
But I was never delighted with it.
For a lot of phones, unless you — somewhat precariously — place them off center, you'll have buttons pressed by the posts. And the occasional rotation within the hub can be alarming.
Also, the new HTC U11 has the "Edge Sense Squeeze" feature, with "squeeze sensors" on each side of the phone that can be programmed to activate various functions when the phone is squeezed.
You may have to disable Edge Sense Squeeze to use the U11 with any of these phone mounts.
The Hondo Garage Perfect Squeeze, the most recent mount in my collection, is the bee's knees.
It is easily the most ruggedly built of the bunch, and the manner in which it grips a phone is the most secure.
The designers seemed to have considered all the factors when designing this product and wound up doing an excellent job when it came time to actually produce it.
Publication Date: June 2017
Also: Motorcycle Camera Mounts Reviewed
Note:
 For informational use only. All material and photographs are Copyright © webWorld International, LLC since 2000. All rights reserved. See the webBikeWorld® 
Site Info page
. Product specifications, features and details may change or differ from our descriptions. Always check before purchasing. Read the
Terms and Conditions
!
Owner Comments and Feedback
---
From "M.H." (June 2017): (No relation to M.H. below) "Thanks, as always, for your reviews! As a RAM partisan, I'd like to weigh in with my experience with the current version of the RAM X-Mount.
I was enticed to buy one by two of my riding buddies, one of whom rides enduro with his phone in an X-Mount without the lanyard. They both highly recommended the X-Mount.
I think if you can't eject the phone high speed riding Forest Service trails, it's secure.
When I was obsessively researching this and reading reviews of the product, it seemed like some early reviewers suffered catastrophic failures, either of the mount falling apart or the rubber feet falling off.
My mount came with the lanyard, which simply slips over the ball mount and a little tube of super glue.
I couldn't get the rubber feet off to glue them on, so problem solved there, and I decided to use the lanyard for belts and braces security.
In use, I can easily one hand mount the phone, and though the lanyard requires both hands, it really only takes a couple of seconds to secure the phone.
With my iPhone 7S Plus in a Thule case, I do need to make sure that I'm not engaging a button, but as I mount the phone horizontally for GPS, it doesn't matter much to me how it is oriented with regards to the mount.
I can definitely disengage the phone with one hand quite easily and quickly (it helps to have massive hands ).
I peeled the RAM label off of the face of the product, to reveal a more subdued surface, and stuck the label to my tool box. Looks way better that way.
I definitely agree with you, this is not an area to go cheap in. Losing a $900 device makes the cost of the mounts seem trivial. I'm glad that we have at least four good choices out there."
---
From "M.H." (June 2017): "One thing that I did to ensure my phone staying secure was to apply a piece of adhesive pile side Velcro to the center of the circle on the X-Mount.
And the matching piece of hook side to the back of a cheap, silicon phone skin, which I only use on the bike.
Works a treat and stays very secure."
---
From "D.H." (June 2017): "I've been using the larger-sized RAM X-Grip with my Kyocera Duraforce XD, a very large and heavy waterproof/vibe-proof/glove-friendly phone I bought specifically for on-bike-only use.
I've added some Velcro to the center hub of the X-Grip and to the phone back, which makes it a little more secure and stops the rotating on bumpy roads.
As noted in your article, the rubber pads on the arms can interfere with buttons, in my case it's the on/off button, so I have to mount it off-center quite a bit.
While that's probably OK for my on-road-only use, piece of mind is worth a lot to me, so I'll be buying a Perfect Squeeze based on your review and reviews on ADV.com. Thanks for the excellent comparo!"
---
From "T.F." (June 2017): "I think you missed a better phone mount then all the ones you tested.
Take a look at RAM RAM-HOL-PD3U.
This mount is what I have used for the last 6 years, it adjusts to your phone and gives you 4 sides of stability.
I have only had my phone come loose one time when I hit a dead deer at 65 MPH and the shock of the spring compression of the forks caused the phone to come loose.
I had a power cord on it and it wasn't lost but I swear by this mount.
It is under $20. Order one to try it, I think you will be impressed. Oh, you will need one of your diamond mounts to attach to this mount.
Take care and ride safe."
---
From "A.H." (June 2017): "I *loved* reading the smartphone mount review.
I actually ordered the Hondo Garage mount immediately after I finished reading the review — yet another example of me purchasing a product after reading about it first on wBW. Thank you!!!!
Meanwhile, I have a few comments on the article:
1. I think this statement is confusing for a couple of reasons: 'The tether slips behind the X-Grip mount and then you stretch it around and over the front of the four posts (i.e., on top of the corners of an already mounted phone).'
What Bill is calling the 'front of the four posts' is ambiguous. Front in reference to the front of the motorcycle? Front in reference to the portion of the mount that is closest to you?
When something is facing you, you often think of the front of that something being closest to you.
On the other hand, in the case of Bill's use of front, he seems to be referring to the portion of the mounting posts that is closest to the front of the motorcycle — in this case, what many people would consider to be the backside of the mount.
This is doubly confusing because Bill also says 'behind the X-Grip' earlier in the same sentence. What's front versus behind?
Moreover, Bill stating that the tether stretches 'over the front of the four posts' is additionally confusing because it implies that the tether grabs the four posts, which it doesn't. It grabs the phone, not the posts.
A better way to explain the tether action would be to remove the mention of the posts altogether and instead go directly to what Bill says in the parentheses.
For example: 'The tether slips behind the X-Grip mount and then you stretch it over the four corners of an already mounted phone.'
2. My experience with X-Grip:
I've used RAM Mounts to hold various devices in all of my powered vehicles — call me a fan. But the X-Grip was a huge disappointment.
When it was first introduced, I bought one for my wife's Prius; and over the course of a year, she went through two more of them before I gave up replacing them.
All three examples of the X-Grip I mounted in her car eventually suffered from cracks in the thin plastic of the central base, and their rubber bumpers kept slipping off. (This was before RAM started recommending and including glue for the bumpers.)
RAM's customer service was great — the company sent out replacements every time I called them. But given my experience with the X-Grip in my wife's car, I would never use it on a motorcycle."