Don't panic if you see this motorcycle in your rearview mirror; it's not a cop but a special vehicle used to monitor road surfaces.
It's the Queensland Transport and Main Roads instrumented motorcycle that rides around popular motorcycle roads gathering date from danger spots.
The data is used to develop safety measures, improve road design and identify areas for roadworks.
The Yamaha FJR1300 is outfitted with a vast array of expensive tech gear including sensors, two cameras, two microphones, a gyroscope, accelerometer and GPS, all attached to data logging systems.
These various sensors measure things such as roll rate, pitch, yaw, G forces, location, lean angle and even relay data about the activity of the suspension over bumps and lumps and in corners.
The rider can narrate over the video and rolling data as he rides along the road to give a personal viewpoint of the information.
The commentary and data are then provided to engineers to apply various maths functions and export to other software such as GIS for spatial analysis.
If it all sounds too tech, the benefits for riders are immense.
It means TMR isn't just guessing about how bad our roads are designed and maintained. It gives them real data.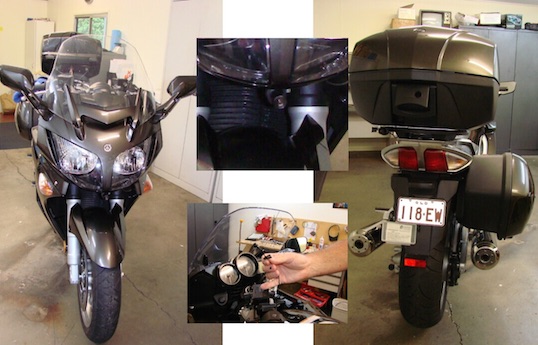 It also means they can do proper investigations of crash sites, rather than the nominal investigations by police that usually result in the verdict that the rider was speeding or otherwise at fault.
Most importantly the very existence of the TMR motorcycle means they realise that there are specific road hazards for motorcycles that may not impose a hazard to other vehicles.
These include, gravel, potholes, lumps, slippery paint, lateral and longitudinal groves, and even different types of tarred surfaces.
Main Roads spokesman Darren Mulholland says the bike is the only one of its kind in Australia, but they have had contact with others considering the same type of vehicle.
UK and Malaysian transport research and road safety groups also have similar instrumented motorcycles.
Darren says road surfaces and other features that can be problematic for motorcyclists, but not necessarily for other road users include:
Road design elements (for example, horizontal alignment and intersection design)

Road surface friction

Road side hazards

Maintenance condition
"Previous research shows that single-vehicle motorcycle crashes are more likely to occur on a straight section of road during commuting periods, and on a curve during recreational riding periods," he says.
"Multiple vehicle crashes involving a motorcycle have the same likelihood of occurring on a curve during both commuting and recreational periods, however they are 2-3 times more as likely to occur on a straight section of road during commuting periods."