License Plate Stash Box Image Gallery
When I purchased my 2003 Suzuki DR-Z400S, it never entered my mind where I would store the registration and insurance card on the bike.
On all of my previous and current, bikes there has always been a convenient, secure place to keep that sort of paperwork, either under the seat or in a top case.
I don't like to carry all that stuff packed in my wallet and I like to keep the appropriate papers with the corresponding bike.
But alas, having finally gotten the DRZ road legal, I discovered that it has no compartment or stash space.
I thought about securing the paperwork in the air filter housing, but somehow I just can't bring my self to put it in there.
If for some strange reason a LEO wanted to see my registration and proof of insurance cards, removing the seat is a real pain, because of the IMMIX Racing luggage rack (review) that is attached using the seat mounting bolts.
While browsing through the ProCycle website, I came across a product called the "Stash Box". I had to laugh at the name because back in the '60's a "stash" had a different meaning and it sure didn't have anything to do with motorcycles…but then, that was a previous life.
Anyway, the "Stash Box" is a small, lockable storage box made of polypropylene (hey, that's what my long underwear's made of) that fits under the motorcycle's rear license plate. The plate or tag is then fastened on top or the outside of the Stash Box.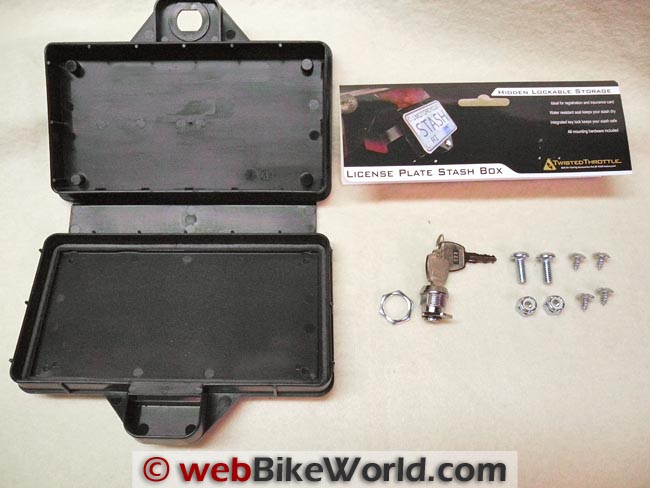 The License Plate Stash Box Solution
The claim is that the Stash Box is "sized to work with all standard size license plates as well as the current Wisconsin and Ohio cycle plates".
Not sure if those states have bigger or smaller tags (read the 2009 webBikeWorld article "Motorcycle License Plate Dimensions for States in the U.S.A."), but it was a perfect match to the new smaller tags here in Maryland.
The outside dimensions of the Stash Box are 7″ (18 cm) by 4″ (10.5 cm) by 1″ (26 mm) thick, although the lock sticks out another inch on one side.
If your license plate is much more that 4.5″, it might overlap the lock a little, but nothing a small die grinder couldn't resolve. The inside dimensions of the Stash Box are 6.3″ (16 cm) by 2.2″ (5.6 cm) by 0.8" (2 cm), so you can see there's not a lot of space in there.

Stash Box Details
The motorcycle license plate Stash Box looks small enough to be indiscreet and barely noticeable. Hmmm — this could very well be the answer to my dilemma and best of all, it's inexpensive at just under $20.
The order was placed, along with a couple of other items, all of which arrived in short order.
As it turns out, the "License Plate Stash Box" is manufactured by or for Twisted Throttle. It has no markings that indicate in which country it was made, but I would venture a guess that it came from "off shore".
The Stash Box comes with all of the necessary hardware to fasten it to the bike. It fits into the space where the license plate would normally mount. Then the license plate is attached to the cover. It comes with a cam lock and two keys, a "document pouch" and a foam padding insert.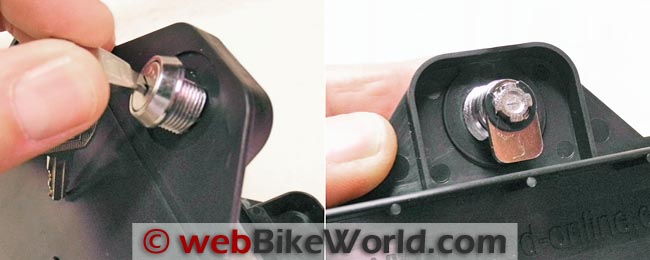 The motorcycle license plate Stash Box can be installed in any orientation and it can lock at the bottom, top or side, as long as the surface where the license plate mounts is not facing up, since this could encourage water entry and/or retention.
The cam lock must be installed into the box, preferably prior to mounting the box to your bike, which is simply a nut that threads on to the lock housing. Just be sure to use a little liquid thread locker to keep things from vibrating loose.
Next, two 1/4″ holes need to be drilled through the back of the box to fit the license plate mounting holes on your bike. There are a pair of concave points inside the box to use as guides when drilling.
The Stash Box is then bolted to the bike with the included 1/4-20 bolts and Nylock nuts.
I noticed the hardware is not stainless stell, but if you're concerned about them being exposed to the muck coming off the rear tire you could easily replace them with stainless steel fasteners from your local hardware store.
Now, someone might think it would be easy to simply remove the nuts and run off with the whole Stash Box, but the nuts are not going to loosen if the head of the screw isn't held.
With the box in place, it was a simple matter of installing the license plate to the box with the four included self-tapping screws and voila! installation complete.
Oh yeah, the "document retention pouch" included in the kit was too small for my papers so I didn't install it.
The foam I guess is to keep things snug, but you might want to use a little glue to keep it in place because it fell out every time I opened the box (along with my documents).
With a sealing ring between the cover and body of the box, it's termed "weather resistant" but I'm not sure I would rely on the box keeping things completely dry, since it's most likely going to end up getting blasted with whatever flings off the rear wheel.
I always laminate my papers in clear sheeting so they'll be dry no matter what gets to them. It might be a wise to shoot some silicone grease into the lock to help prevent the lock from rusting up.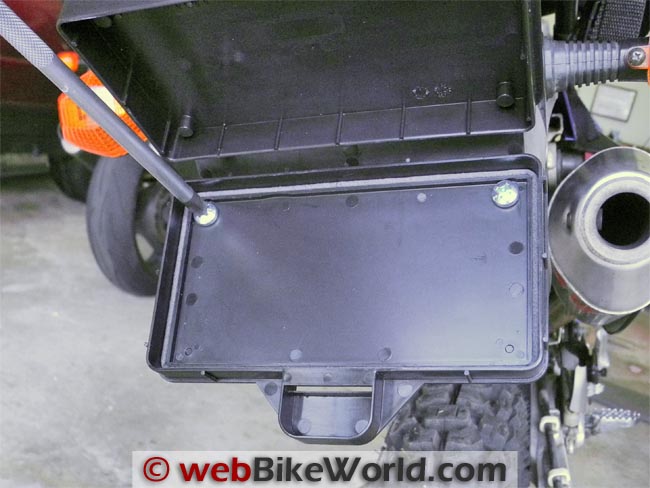 Conclusion
I love it when someone comes up with a simple solution to a problem and at a reasonable cost. The "License Plate Stash Box" by Twisted Throttle is one such solution. It blends in with the bike (my friend didn't even see it), convenient, easy to install and by all appearances, it's durable.
I wouldn't pack too much in there and as far as security is concerned, yes, I guess someone could pry it open with a screwdriver or something, but if they want it that bad, they're going to get it anyway.
We'll see how it stands up to the western half of my Trans America Trail ride this coming summer. Want more? Here's a report on my $5.00 Motorcycle Tool Tube "stash" storage!
w

BW

 Review: Motorcycle License Plate Stash Box
Manufacturer: Twisted Throttle
List Price: $19.99 (here)
Colors: Black
Made In: Unknown
Sizes: Fits most bikes.
Review Date: July 2012
Note:
 For informational use only. All material and photographs are Copyright © webWorld International, LLC since 2000. All rights reserved. See the webBikeWorld® 
Site Info page
. Product specifications, features and details may change or differ from our descriptions. Always check before purchasing. Read the
Terms and Conditions
!
Owner Comments and Feedback
---
From "B.W." (September 2013): "I'm not happy with mine. Had it for a few months and the back started to crack. I ride a 125CC bike in the city. Nothing fast or crazy. Cheap storage, but doesn't last. P.S. You guys are awesome! I love reading your reviews!!!!"
---
From "L.K." (July 2013): "Used mine to mount a taillight modulator in on a cruiser style motorcycle."
---
From "F." (July 2013): "I  had seen something similar several years ago, all aluminum, and have been looking for one ever since. However, now I just store my registration and insurance cards (for both my bikes) between the helmet liner and the foam insert. Since I never ride without my helmet, I always have them handy."