Motorcycle Lever Skins Image Gallery
"Why in the world would I need padded clutch and brake levers?"
I understand the need for softer handle bar grips or perhaps some gel padding in the palms of riding gloves.
And maybe having a seat redone to make it more comfortable.
But come on — have we gotten so "soft" that we need to have more padding on everything?
Well, please read on…
I happened across Lever Skinz at Motovation Accessories while researching frame sliders for my '06 Yamaha FJR (wBW review).
At first I didn't pay much attention, but Lever Skinz must have registered in my subconscious, because a couple of weeks later I found myself wondering what it would be like to have a pair on the FJR.
I guessed that the idea was to give the levers a little more grip along with some cushioned comfort for the fingers.
I was very pleased with the frame sliders I had purchased from Motovation Accessories, so I returned to the website, took another gander at the Skinz and decided, why not? Besides, at $4.99 per pair, how could I possibly go wrong?
As with the frame sliders, the package arrived in just a couple of days. How is it I can order an item from one vendor and it arrives in only a few days whereas a package of similar weight takes 3 weeks from another?
In the dealings I've had with Motovation Accessories they have been prompt in both their shipping and responses to any of my questions.
They've been great to do business with thus far! Also, the invoices always had a handwritten note of thanks, which is a nice touch.
The "Skinz" are 4" (100mm) long and made of EVA (Ethylene-vinyl acetate) foam rubber which is a common product used for padding in equipment such as ski boots, hockey, boxing, and mixed martial arts.
Since EVA has excellent resistance to UV radiation and tolerates low temperatures well, they should withstand the elements and they're made to simply slide over the clutch and brake levers.
With four different colors available (Blue, Red, Yellow and Grey) it should be easy to pick one that compliments any bike. Cool!
Although I have to wonder if it wasn't a women's influence here to include them in colors, because most of guys would probably have just made them all black or grey…
The Lever Skinz have molded contours for the fingers, which are also where the color accents are located. I'm not one for adding things to the bike just for looks, but I have to admit that they do look slick.
I've already had co-workers asking where I got them because they'd like a pair too.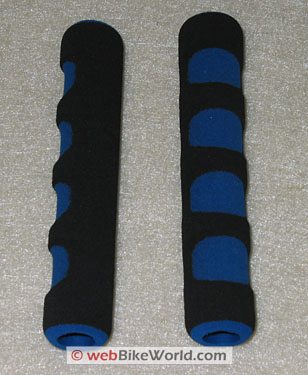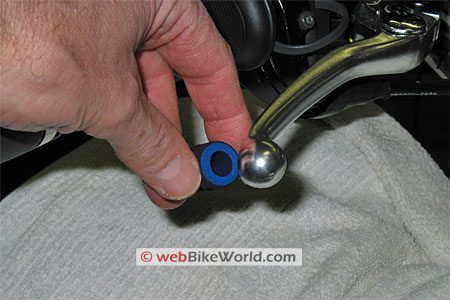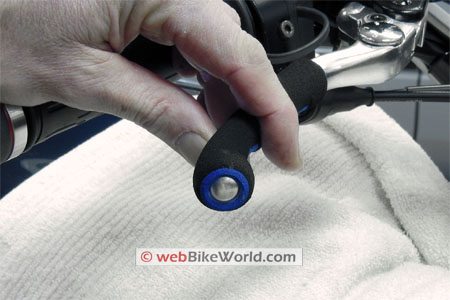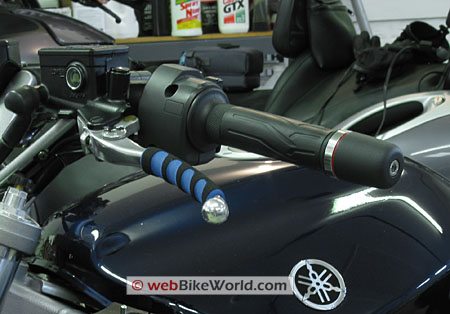 Lever Skinz are one of those items that are so simple, yet functional; you wonder why you haven't seen more riders using them. Maybe they're just not aware that the product exists?
That's what we like to do here at webBikeWorld, discover interesting products that we think are worthy of your attention .
Installation is a simple matter of sliding them on to the brake and clutch levers, but when you see the size of the bulbous ends that might be present on your levers and the tiny hole in the Lever Skinz…you're probably going to think the same thing I did.
"There's no way this is going to go slide over and not rip apart!"
With the aid of some soapy water (do not use anything other than soapy water) and just a little patience the "Skinz" will expand enough to slide over the ends.
Once they are completely dry, they will stay firmly in place (although a Lever Skinz that's half-way on the levers reminds me of those pictures you see in the nature magazines where the snake is swallowing something something larger than its width!).
One small item I did notice is that the Lever Skinz will slightly affect the distance the fingers need to reach to fully grip the levers. This can be easily remedied with adjustable levers.
Conclusion
I'm pleasantly pleased with the performance of the Lever Skinz.
They're simple to install and very inexpensive and I've had a pair of their blue Lever Skinz (which blends in well with the blue on my FJR) now for a month or so and have found them to be very comfortable.
They provide a soft but positive grip and it's not likely your fingers will slip on the levers with a pair of Lever Skinz installed.
The color accents add a nice subtle touch which catches the eye, especially since padded brake or clutch levers are rather unusual.
It's hard to predict the life expectancy of the Lever Skinz, but at $4.99 per pair, does it matter?
Master Listing of All wBW Motorcycle Product Reviews
w

BW

 Review: Motovation Lever Skinz
Manufacturer: No longer made?
List Price (2007): $4.99
Colors: Black with Yellow, Red, Blue or Gray accents..
Made In: Unknown
Review Date: April 2007
Note:
 For informational use only. All material and photographs are Copyright © webWorld International, LLC since 2000. All rights reserved. See the webBikeWorld® 
Site Info page
. Product specifications, features and details may change or differ from our descriptions. Always check before purchasing. Read the
Terms and Conditions
!
Owner Comments and Feedback
---
From "E" (2/10):  "Recently bought 5 pair, mostly as replacements for the Original Lever Skins. They are no longer made. A shame, too, as they were rubber with thick ribs and would 'shrink' when exposed to air for a very tight fit.
Like the newer product, they were a tight fit and needed to be installed only with WD-40 or Windex. I typically would get 3-4 years out of a pair; but I had them on all four of my bikes. I ride year 'round in Seattle."
---
From "F.F.":  "I am excited to try the lever skins product but not for the reasons you mentioned. I find that the hardest part of my body to keep warm are my fingers because they are continually touching bare metal.
I currently have some plastic tubing tie wrapped to my levers now. These ought to work better. I might not know until next winter, well then again you never know.
Thanks for doing the review."