Several different types of motorcycle backpacks are available from a variety of sources, but most of them seem too large for casual use.
Hard-shell backpacks are also available, but surely carrying something with a hard case on your back would be a liability during an accident.
I also try to avoid carrying hard objects in my jacket or pants pockets when riding.
This is because I'm afraid they'd cause a serious injury (i.e., broken bones) if I landed on them during a get-off.
But modern sportbikes and anything less than a tourer usually don't even have enough storage capacity for a milk 'n cookies run, much less a laptop or other work essentials.
Tank bags and panniers are fine, and we've reviewed many different combinations (see the wBW Motorcycle Luggage Reviews for more information).
Bbut in the end, a backpack really does come in handy for commuting.
That is, as long as you don't crash while it's filled with Dad's collection of antique hand tools…
I'd probably look silly carrying my goodies back and forth in a tank bag, even if it does have a pair of hidden carrying straps — I'm not sure the folks in the office recognize a tank bag for its full value.
The BikeSeen Visi-Bag Backpack
But this Visi-Bag motorcycle backpack by BikeSeen is a good solution. It looks small, and it is, relatively speaking, and I've been amazed at how much it can actually hold.
Someone must have figured out the maximum amount of internal volume for a given dimension and come up with this shape.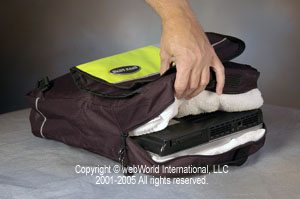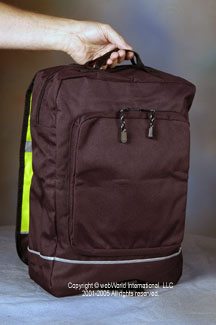 Construction Materials
The Visi-Bag is made from a thin but adequate "ballistic nylon" type material.
It's not 100% waterproof, but it does have a nylon lining and the cover that folds over the top provides some protection from the elements.
I haven't used it in a heavy downpour, so I'm not sure how it would deal with those conditions.
The backpack measures approximately 17″ long (43 cm) and 12″ wide (30 cm). It expands to about 4-5″ thick (10-13 cm) and it's very "stuffable".
It can easily swallow my 11″ by 13″ by 2″ thick (28 cm by 33 cm by 50 mm) Compaq laptop (Laptop?  The thing is more like the boat anchor for the Queen Mary) with room to spare.
The photo on the left shows the Compaq sandwiched in between two full-sized bath towels, and you can see there's room to spare.
And that's without even using either the inside zippered pocket, which is 10″ wide by 12″ deep (25 cm by 30 cm) or the identical pocket on the rear of the pack that hides the shoulder straps when not in use.
There's also a separate pocket on the front of the backpack, underneath the reflective flap (see bottom photo).
This pocket measures 9″ across (23 cm) and 10″ deep (25 cm) and has a dual zipper that opens up the three sides.
Inside there's several more open pockets, a business card holder with a clear cover, a couple of pen pockets and a permanent clip to hold a key ring.
That's a lot of functionality packed into a small bag.
In addition to the hidden (and padded and adjustable) backpack straps, the Visi-Bag has two fabric handles sewn on to the top so it can be carried like a vertical briefcase.
The reflective flap is flipped over to reveal the handles. This actually hides the reflective portion, making the backpack, or briefcase/bag, look more mature.
The Visi-Bag also has a handle on the outside of the reflective flap, so it can be carried three different ways.
Speaking of reflectivity, the outer flap of the Visi-Bag is covered with a large surface area of high-visibility yellow fabric and two 1″ wide (25 mm) strips of highly reflective fabric.
It's similar to the BikeSeen fluorescent waterproof motorcycle jacket (review), or blouson, which we reviewed recently.
The flap connects to the bottom of the bag with a huge nylon clip that should last virtually forever. There's also a thin width of reflective piping which continues around the base of the bag in a radial fashion.
Conclusion
I almost always carry a shoulder bag (aka messenger bag (review)) with a laptop, pad, camera, pens, cell phone and other goodies wherever I go, so I have many opinions on what works and what doesn't.
The Visi-Bag is a very usable bag that holds a surprising amount of kit in a surprisingly small amount of space.
It only weighs about 1 lb., 8 oz. (about 700 grams) when empty, and its vertically-oriented shape fits nicely on one's back. It doesn't get in the way when riding, and it works better than most when off the bike also.
At only £17.50 (including postage in the UK), it's a steal.
Note: Apparently BikeSeen is no longer in business as of April 2008.
w

BW

 Review: Motorcycle High-Viz Backpack: The Visi-Bag by BikeSeen
Manufacturer: Bikeseen
List Price (2005): £17.50 incl. postage in UK.
Colors: Fluorescent yellow and black.
Made In: Unknown
Review Date: August 2005 Note: Apparently BikeSeen is no longer in business as of January 2008.
Note:
 For informational use only. All material and photographs are Copyright © webWorld International, LLC since 2000. All rights reserved. See the webBikeWorld® 
Site Info page
. Product specifications, features and details may change or differ from our descriptions. Always check before purchasing. Read the
Terms and Conditions
!
Owner Comments and Feedback