Defend Your Head, Wear a Helmet!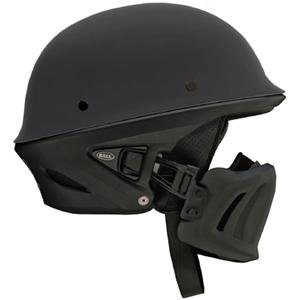 The sun is out and the temperature is starting to rise, which has got motorcycle enthusiasts across the US preparing for those long cruises on the open road. The best way for bikers to keep safe while hitting the saddle is to use gear, especially headgear, that offers proper protection while making them look storm-trooper-cool at the same time.
Riding Gear:
It is true that motorcycle riders are always pre-occupied with their self-image, and it is the keeping up of that image which causes them to make stupid mistakes, like not wearing a helmet when they should. While most people blame it on the motorbike culture itself, the underlying cause of this stupidity can always be traced right back to YOU, the rider.
Safety on the road is a well ridden topic, especially for bikers, and many a motorbike rider will tell you that there is nothing more stressful than watching their pride and joy laid-up on the ground and them in need of stitches. In essence, nothing can protect you more in a crash than a helmet. The fabric and foam of motorcycle helmets help absorb the impact of a fall that saves your head from bouncing off the tarmac.
So You Bought a Harley, Congratulations!
In today's modern society, a lot of effort is put on measuring risk and how we shape our lives by the decisions we make in relation to those potential risks. When hitting the open road, protection is primordial whether it is the professional motorbike rider, newbie roadie or the weekend enthusiast.
There are over six hundred thousand motorcycles registered in the US and those numbers continue to climb, mostly due to the fact that, in recent years, motorcycle riding has become a more established recreational sport. Because these hogs are entertaining to watch, many people enjoy riding their Harley's and keep them as a hobby.
But they also pose a serious threat when un-accompanied by the proper equipment. Motorcycle helmets, despite having some imperfections, do offer several benefits to the rider when it comes to protection, which is the reason why they should be worn in spite of having certain drawbacks, such as vision and hearing impairments.
The number one cause of motorcycle fatalities is head injury, so a motorcycle helmet, when fitted properly, can save your life. According to State laws, not only should you be wearing a helmet, but the helmet should be properly fitted and should not be more than 5 years old.
Motorcycles, Headsets and Audio:
Nowadays, helmets come with all sorts of assorted gadgets and gizmos that are pre-installed by the manufacturers. The plug-in style headsets are just one of the options and are designed for all types of motorcyclists. There are also a few stand alone systems for other types of motorbikes. Some of these motorcycle helmets also come with Bluetooth headsets for wireless communication and tracker systems that show the exact location of the rider.
Helmet Face Shields:
It doesn't matter how much thought you have put into your road-trip, it can easily be taken down by the unforgiving heat and nature's endless supply of bugs. In that sense, face shields provide the motorcyclist with much needed protection from the rays of the sun, the rain, the sand and the sawflies.
Helmet Accessories:
For bikers, it's about the image. If you are looking for a little something that will spice up your helmet, you can get a Spike, Mohawk, or a red ponytail for your helmet. Apart from these customized accessories, you can also choose from a variety of protective sunglasses, to protect your eyes and motorcycle locks and alarms.
Helmet Features:
Motorcycle helmets are designed and developed for maximum protection and performance while on the road. Helmets come with a variety of exceptional features, some of which are given below:
• Maximum stability and temperature control with minimal noise.
• Lightweight shell made up of composite poly-carbonate alloy.
• Contour cheek pads.
• Removable comfort liner.
• Padded wind collar to reduce wind/road noise.
• Integrated speaker pockets.
• Anti-fog, anti-scratch and UV protected face shield.
• Padded chin strap.
• Certified by Snell/ DOT.
DOT Helmets: The Pinnacle of Safety!
Over the years, some motorcycle helmets have earned more than enough trust to make their name synonymous with motorcycle helmets, one case in point are the DOT certified helmets like Bell. In fact, when it comes to safety first, DOT approved motorcycle helmets are the way to go.
Shop for a Brand:
If you are in the market for a motorcycle helmet, then you need to look no further. Online motorcycle stores have mind-blowing assortments in premium branded motorcycle helmets for both men and women. These online stores also guarantee the best quality at affordable prices, making sure you get the best option for all situations.
Conclusion:
Motorcycle riding, in general, is one of the best feelings in the world, so you might as well do it in style. The Shorty is ideal for a quick cruise and the full-face helmet offers the ultimate fit and safety. The Retro lids are light-weight and crafted with a narrow profile.
The bottom line is that protecting your head is serious business and one that definitely should not be taken lightly when one's laying down those motorcycle miles.
Until next time, Ride Safe and may your day be Badass!