Helmet-mounted cameras and Bluetooth units may be legal, but they may not necessarily be safe, according to a helmet importer.
Cary Murphy, who imports the innovative Reevu helmet, says attaching a camera or Bluetooth unit to a helmet could have safety, aerodynamic and legal issues. He has called on the government to assess the issue.
This follows a recent report of a Victorian rider being fined for having a GoPro on his helmet.
While it is legal to fit a Go Pro or similar camera, or a Bluetooth unit via a clamp, suction cup or tape, it is illegal to secure anything to a helmet by drilling holes which would compromise its safety integrity. Read my report here.
Cary agrees with the article and he should know as he has been closely involved in the lengthy process of having the Reevu helmet certified for use in Australia.
He also recently went through the arduous certification process again for the upcoming flip-up Reevu helmet. (It is due to hit the market in March, but stay tuned for an exclusive review of the helmet – pictured below – coming up soon in MotorbikeWriter.com.)
"My understanding, or should I say interpretation of the AS/NZ 1698 certification, is exactly what you pointed out in the article," he says. "Any component of the helmet that is deemed integral, structural or in any case a genuine part of the helmet which is presented for certification must not protrude x amount of millimetres. Given an aftermarket product is exactly that, aftermarket, then any non-original item falls well outside any governance under the AS/NZ1698 legal requirements. In short, the helmet is legal for road use just as Bluetooth devices are."
However, he says he does see some hazards.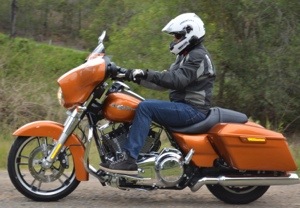 "Although the law is rarely of commonsense, this may just be the unfortunate case in this instance," he says.
"Some particular brands of cameras I believe are a hazard on race tracks, roads, helmets, cars, bikes, anything."
He says these cameras are not aerodynamic which could result in riders being fatigued by buffeting and uneven weight distribution; exposed to sudden wind gusts, especially large vehicles passing in the opposite direction; and unable to judge the correct space if any urgent head movement is required such as ducking or diving.
"These may sound insignificant, and a little trivial, however the offset weight and uneven airflow can greatly increase fatigue, lead to distractions and also cause an imbalance in perception. Just one of these issues can have deadly consequences," he says.
Cary points out that the police submit their helmets and aftermarket communication devices to an independent facility for additional safety testing. Although the helmets have already been AS/NZ1698 approved, this additional procedure focusses on the behaviour of the installed comm device when an impact occurs. This is to ensure any particular objects/debris from the comm device does not expose, or increase the risk for potential hearing, facial or general trauma-related injuries to a user.
"I don't for a moment believe a camera would alter the structural integrity of the helmet, however I do believe that if an accident occurred and the camera was the first point of impact, one would think the helmet's shell may be compromised. Any item of solid material attached to a helmet can become a penetrating object. It may inhibit a helmet's ability to absorb, move or even function correctly in the event of an impact."
Cary also says a dislodged camera could be a road hazard or "potentially a projectile that may result in another motorist being injured".
"If certain organisations created a more suitable shape and application to help accommodate for motorsport, then I believe the risks would be down," says Cary whose company sponsors four riders in various Australian motorcycle and kart series.
"One brand that does fit that description is Contour'" he says. "However, it still has a metal outer construction that could cause considerable (helmet) shell damage.
"The government needs to make a decision on this matter before someone is either hurt or thrown in jail for not paying fines due to a misunderstanding or incorrectly enforced law.
"Cameras on the road are useful in the likelihood you're involved in an accident or an untoward event. In fact, insurance companies, especially in Eastern Europe, have now made these mandatory in all vehicles to help identify a driver at fault, through to capturing criminal or fraudulent behaviour with the many road scams that seem to be rife in that part of the world."
RECOMMENDED READING: Fined $330 for loose helmet strap.
RECOMMENDED READING: Michael Schumacher's helmet cam being investigated.