Police continue to be plagued by "over-zealous" officers issuing "petty" fines with the latest being a $330 penalty for not securely fastening a motorcycle helmet strap.
It follows recent reports of Queensland Police issuing a fine for 61km/h in a 60 zone and a $44 fine for leaving a parked car's window slightly open on a hot day.
In the latest incident former Brisbane Deputy Lord Mayor (and my brother), David Hinchliffe, was fined for not securely fastening his helmet. He was pulled over on his 50cc scooter on New Year's Day by police conducting a random breath test.
"As soon as I blew in the RBT thing the officer reached over and tugged on the strap and said, 'You know that's not regulation' and fined me $330," he says, pointing out that his BAC reading was zero.
"I didn't have it (the chin strap) double looped. (See photo) "It was through the double D clasp and crossed over so it didn't flap, but I hadn't threaded it back through the second loop. When he tugged on it, it did come loose."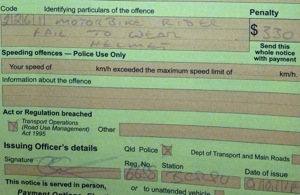 It is an offence not to wear a "securely fastened" helmet just as it is to not wear a fastened seatbelt. The issued ticket stated "motorbike rider fail to wear helmet".
"I was wearing the helmet, just not fastening it as securely as I should have," David says. "Him drawing attention to my helmet contributes to my safety and that's fine but on New Year's Day I would have thought he would just warn me to make sure you double loop."
Whether it is considered petty is debatable, he admits. However, he points out that in the current light of police copping bad PR over petty fines on the back of recent intimidation of motorcycle riders since the Vicious Lawless Association Disestablishment (VLAD) Act, perhaps the officer could have issued a warning.
"I have no doubt that these guys are working to 'kill' targets," he says. "They've been told by upstairs to boost the revenue. That's what all this petty stuff is about."
What do you think? Have you been fined for a "petty" traffic offence? Leave your comments below.
RECOMMENDED READING: Is it legal to have a Go Pro camera on your helmet?