Do you wear your gauntlet gloves under or over your jacket cuff?
While most gauntlet gloves are made to be worn over the cuff, some riders like a tight gauntlet so they can pull the cuff over the top of the glove.
Harley-Davidson has now released a special all-weather glove that can be worn under the cuff.
It's called the Admiral Under-Cuff Gauntlet (98226-18VM) and retails for $126 and comes in sizes small to 3XL.
We've been successfully trialling the glove in varied weather conditions, from 41C dry heat in the Los Angeles to single-digit temperatures back here on a cool Queensland spring morning.
We also copped a light shower of rain and stayed dry.
Fitting under cuff
They feature a "power-stretch" gauntlet cuff that wraps tightly around any size wrist thanks to an adjustable wrist strap and zipper closure.
It slips under the jacket cuff to obstruct wind and cold.
We have tried it with several jackets and find it works quite well.
However, it is a bit difficult to shove under the cuffs of a jacket with snap-lock buttons. It's easy to fit the first glove with your ungloved hand, but difficult to snap the buttons with the other gloved hand.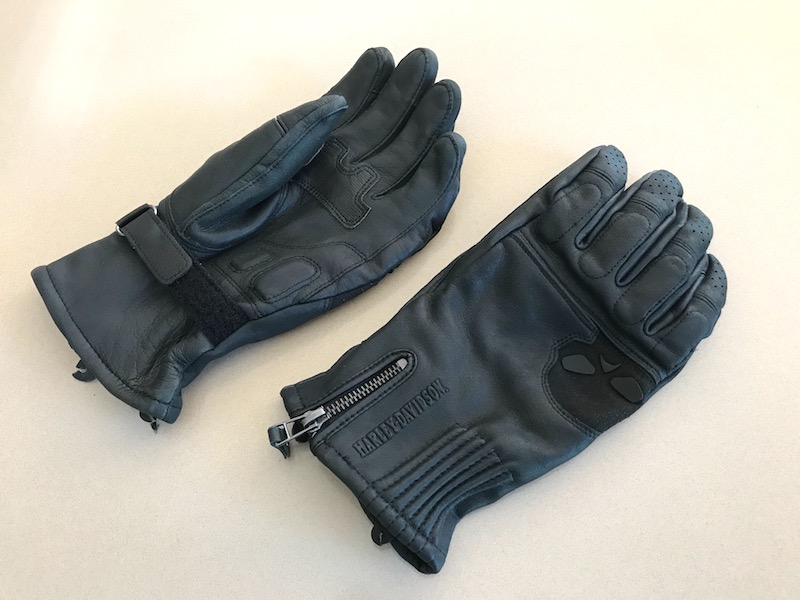 Summer/winter gloves
The gloves are made of ultra-soft distressed sheepskin leather with pinhole perforations in the fingertips.
These holes allow a nice flow of air without allowing light rain to permeate.
In summer, you can leave your sleeves a little loose so the wind can rush up your arms.
The gloves are also insulated with a heat-reflective lining that doesn't come out when you pull your hand out.
I also found that in the furnace-like dry LA heat we didn't get sweaty hands.
They are not extra-thick for use in polar conditions, but they seem ok for mild cool conditions and keep the wind from rushing up your sleeves.
Protection and comfort
Like most Harley gear, they are designed more for comfort than for protection so there are no hard knuckle protectors.
However, they are extremely comfortable with 30-degree pre-curved padded fingers and what they call "envelope knuckles" which is an elasticised panel across the knuckles.
The palms are padded to protect against the jackhammer effect, but still thin enough for maximum feel.
There are also anti-slip grip pads in the palms and the seams don't have irritating hard interior stitching.
Unfortunately, they don't have touch-sensitive fingertips for use with touchscreens.
They come in black and feature subtle, embossed Harley and skull graphics.