Shoddy roadworks continue to trap motorcycle riders with one Queensland rider coming to grief in a detour through clay that had just been hosed.
Luckily Yamaha Super Tenere rider Mark Taylor of Brisbane received only minor knee injuries thanks to quality gear, but his bike was substantially damaged and one pannier ripped off.
Other riders have not been so lucky. One NSW rider died last year after hitting a pothole near Canberra.
Mark says his crash occurred in roadworks on the mainly dirt Winton-Jundah Road in outback Queensland.
"They had a side track set up with a 40km/h limit on it," he says.
"I came along on my way back to Winton (having ridden out that way a couple of hours earlier) and was aware of the road works.
"The ride around track was clay based and they had hosed it.
"Luckily I was only doing around 25km/h and as soon as I hit the clay down I went. Like riding on an ice skating rink. Back wheel tried to overtake the front as you can see by the tyre marks on the road."
Mark says there were no warning signs about the condition of the sidetrack.
"And as the place is in drought, you don't expect to come across this," he says.
Mark says he rang the shire engineer three times (he didn't return his initial two calls) and advised him of the incident.
"I told him the road crew, who had gone home on a Friday afternoon, should have had the 'Slippery' signs up," he says.
"He said he would advise them."
Civil engineer Simon Miller says he crashed last year in roadworks on the Great Alpine Road which, in his professional opinion, were not legal because the contractors had left loose gravel on the road without an alternative route or appropriate traffic control.
Victorian motorcycle advocate Rodney Brown has long campaigned for fast and appropriate road maintenance to ensure the safety of all road users and for proper warning signs to be posted of hazards.
"Road repairs, maintenance and reinstatement works should be carried out in a timely and effective manner to avoid creating significant hazards for motorcyclists," he says.
"Adequate warning of hazards should be provided if repairs cannot be made immediately."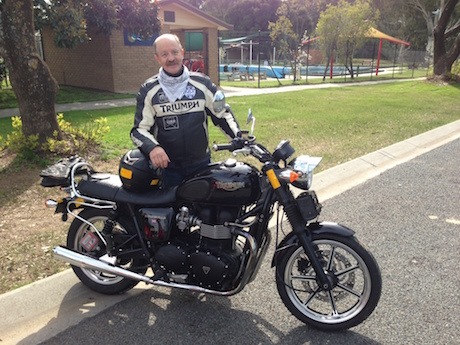 Maurice Blackburn Lawyers principal Malcolm Cummings, who works in their motor vehicle accident injuries department in Melbourne, says roadworks contractors have an obligation to provide a safe alternate route for all road users.
He has represented several riders who have come to grief in substandard roadworks.
QUALITY GEAR
Meanwhile, Mark says Alt Rider crash bars saved his bike from a lot more damage and quality riding gear saved his head and hide.
"I ended up sliding along the road for a couple of metres on my back with my right foot caught under the crash bars," he says.
"My foot was turned 90 degrees to the left and I still don't know how I didn't break any bones, but I do have one sad and sorry twisted knee.
"The Nolan 104 modular helmet appears to have superficial damage which almost looks like it will polish out.
"The top vent broke off and the black trim that holds the built-in bluetooth device in came off, too.
"So the helmet did distort a lot and the internal foam lining fractured.
"Obviously the helmet is now a piece of junk, but the damage appears superficial."
He says his Biker's Gear kevlar jeans saved him from gravel rash.
"My jeans, although very dirty with ground-in mud after the incident, are no worse for the experience. Not even the top layer worn through. A wash in the machine and apparently good as new," he says.
He says Shannons insurance is sorting out his damaged bike, jacket, helmet, Bluetooth, helmet cam and boots.