"S" Motorcycle Brands
Names, Logos, & a Brief Company History
We are attempting to create a massive database on all things motorcycle, and archiving the history of the brands that have helped shape this industry is something that we think is important.
We consider this list "complete for now", but it will never be finished– we are building and expanding our motorcycle brands research section over time. If you know of another motorcycle brand or custom bike builder that starts with A and isn't listed here, please get in touch so we can add you to this list!
Popular Brands

Suzuki is the third-largest Japanese motorcycle brand by domestic sales volume and has been manufacturing motorcycles since 1952. Their brand is synonymous with iconic machines, such as the GSX-R600 and the legendary Hayabusa.
All Brands
Siambretta
Siambretta was a project by two companies Siam Di Tella and Lambretta in 1948 to produce motorcycles. This initially consisted of a deal to import 2,000 obsolete model A's that had failed to sell in Italy, 75 of which were donated to President Juan Perón's youth group UES. Contemporary LD models were soon added to the range and in the early 1960s SIAM began producing an Li/TV Series 2 variant. Some of these were exported to Chile and Uruguay. Siambretta production ceased by 1970 with around 200,000 units having been sold.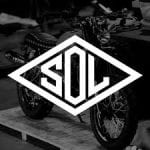 Sol Invictus Motorcycle Co.
Sol Invictus Motorcycle Company is an Australian motorcycle brand specialising in low-to-high capacity street and tourer style bikes. The first Sol Invictus Motorcycle was approved for sale in Australia by the Department of Infrastructure in 2007. In 2017 Sol Invictus Motorcycles were also approved for sale in Nepal and Indonesia.

Scorpa
Scorpa is a manufacturer of trials motorcycles based near Alès, France. It was founded in 1993 by Marc Teissier and Joël Domergue. The first model produced by the company was the WORKS 294 in 1994, powered by a single-cylinder, two-stroke Rotax engine. In 1998, Scorpa signed an agreement with Yamaha Motor Company to use its engines in subsequent models.

Sherco
Sherco is a French and Spanish motorcycle manufacturer, specialising in off-road motorbikes. Sherco are best known for their extremely popular trials bikes, although they also make enduro and supermoto bikes. The company was founded in 1998, and currently has two production facilities. A factory in Caldes de Montbui, Spain, some 30 kilometres (19 mi) north of Barcelona is where the company's trials bikes are manufactured. Enduro and supermoto bikes are built at a factory in Nîmes, France, close to Italy.

Suzuki Motorcycle India Limited
Suzuki Motorcycle India, Private Limited (SMI) is the wholly-owned Indian subsidiary of Suzuki, Japan. It was the third Suzuki automotive venture in India, after TVS Suzuki (1982–2001) and Maruti Suzuki (1982). In 1982, the joint-venture between Suzuki Motor Corporation and TVS Motor Company incorporated and started production of two wheelers in India. In 2001, after separating ways with TVS motor company, the company was re-entered as Suzuki Motorcycle India, Private Limited (SMI), in 2006. The company has set up a manufacturing facility at Gurgaon, Haryana with an annual capacity of 5,40,000 units.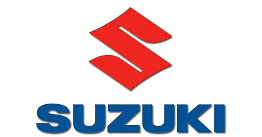 Suzuki Indomobil Motor
PT Suzuki Indomobil Motor  is a joint venture between Suzuki Motor Corporation and the Indomobil Group. The company is located in Jakarta, Indonesia and specialized in manufacturing Suzuki vehicles for the local market. Suzuki has done its first activities on the Indonesian market in 1970 about its import firm PT. Indohero Steel & Engineering Company. Six years later they built the manufacturing facility in Jakarta which is the oldest part of the Indomobil Group. Their first product was the ST20 Carry (introduced in 1978), it saw extensive use as an Angkot. Nicknamed "Turungtung", it was built until at least 1983.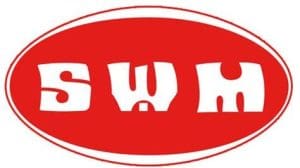 SWM
SV.VM (Sironi Vergani Vimercate Milano) was an Italian motorcycle manufacturer founded in 1971 by Piero Sironi and Fausto Vergani. Based in Milan, Italy, SWM manufactured Observed Trials, Enduro, Motocross and off-road motorcycles in the 1970s and 1980s. They started with small capacity Sachs engined enduro bikes and began making Rotax engined trials bikes in 1977. The other main manufacturers at this time included Fantic Motor, Bultaco and Montesa. Making the announcement during the EICMA 2014 show in Milan, SWM are back on the market by introducing six street and off-road bikes with engine size between 300 and 650cc.

Suzuki
Suzuki Motor Corporation is a Japanese multinational corporation headquartered in Minami-ku, Hamamatsu. Suzuki manufactures automobiles, four-wheel drive vehicles, motorcycles, all-terrain vehicles (ATVs), outboard marine engines, wheelchairs and a variety of other small internal combustion engines. Suzuki started manufacturing motorcycles in 1952, the first models being motorized bicycles. From 1955 to 1976 the company manufactured motorcycles with two-stroke engines only, the biggest two-stroke model being the water-cooled triple-cylinder G2F5. Suzuki's domestic motorcycle sales volume is the third-largest in Japan.

SYM Motors
Sanyang Motor Co., Ltd. was founded in Taipei in 1954 by Huang Chi-Chun and Chang Kuo An. The company's headquarters is established in Hsinchu County, Taiwan and sells its two-wheeled products under the brand name SYM. The company manufactures and sells scooters, motorcycles and ATVs under the SYM brand, while it also manufactures automobiles and mini-trucks under the Hyundai brand. Since it began, the company has produced more than 800 thousand automobiles and 16 million scooters and motorcycles. The annual sales revenue of the company exceeds 1 Billion US dollars and it produces about 600,000 units of motorcycles and 20,000 automobiles per year.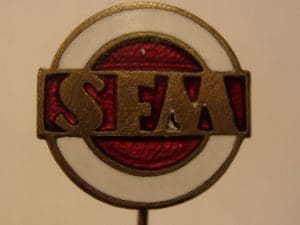 SFM
Szczecińska Fabryka Motocykli or SFM is a Polish motorcycle manufacturer. The company is best known for the Junak brand of motorcycles which was produced in Poland between World War II and the Revolutions of 1989. At the time of production Junak was a very expensive motorcycle for a common Polish worker. Eventually, a crash in the sales of large motorcycles led to a halt in production in 1965. Junak is called by some "the Polish Harley", being the heaviest Polish post-war motorcycle, recognized today commonly as a classic in Poland. Despite some of its shortcomings Junak found many fans. Its characteristic exhaust and loud valve train are easily recognized, which is another similarity with the Sokół and the only with the Harley. Half a century later the Junak is still the most advanced Polish motorcycle in the heavy category as no other models were produced.

Sanglas
Sanglas was a Spanish motorcycle manufacturer which was founded in Barcelona (Poble Nou) in 1942 and ceased production in 1981. Sanglas motorcycles were of relatively large engine for its time, especially for Spain. The company was born with the intention to position itself as an alternative to brands such as BMW, Zündapp or DKW to provide motor vehicles to official agencies.
Saroléa
Saroléa was an historic Belgian manufacturer, initially of bicycles from 1892 followed by motorcycles, ending production in 1963. Saroléa was the first Belgian producer of motorcycles, and one of the first producers of motorcycles in the world. This Belgian factory was established in 1850 as a weapons factory by Joseph Saroléa. In 1892 bicycle production started. The name was acquired and used by a new business from 2008.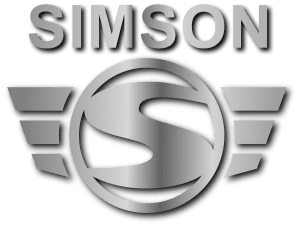 Simson
Simson was a German company which produced firearms, automobiles, bicycles and motorcycles, and mopeds. Under the Third Reich, the factory was taken from the Jewish Simson family, and was renamed several times under Nazi and later Communist control. The Simson name was reintroduced as a brand name for mopeds produced at the factory in the former German Democratic Republic (GDR). Simson mopeds were then produced in Suhl (Germany) until 2002.

Santamaria
Santamaria was a company in North-West Italy producing motor bikes with 49cc, 69cc, 98cc, 123cc and 147cc engines produced by Franco Morini, JLO, Minarelli, Sachs, Zundapp.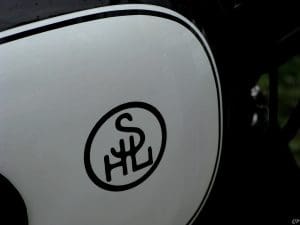 SHL
SHL is a brand of Polish motorcycles, produced from 1938 until 1970 by Huta Ludwików. Most popular model became the SHL M11 – some 180,000 made in 1961–1968. It was a new model, although being a development of the M06T, powered by 175 ccm engine. In spite of its rather limited capacity, it was the second Polish motorcycle at that time, as regards to the capacity and power, after the Junak. Some M11s were exported, even to the USA, and in 1962 the Escorts group bought a licence to manufacture this model in India, under a brand Rajdoot. According to some information, it became a staple of Indian rural milkmen and its licence production lasted until 2005.
SIS
SIS was an important Portuguese motorbike and moped manufacturer, based in Anadia. In addition to motorbikes it produced light three-wheeler pickup trucks (a type of vehicle once very popular, especially in Southern European countries). Its products used Sachs engines and were quite successful in the local market, especially in the 1970s. SIS Sachs exported to USA, Germany, Austria, Greece, Morocco, Angola and Mozambique. The most iconic model was the SIS Sachs V5 produced from 1965 until the 1980s with several upgrades and different versions. Due to the growing competition of manufacturers from Asia, SIS had to close business in September 1995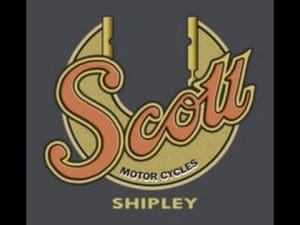 Scott Motorcycle Company
The Scott Motorcycle Company was owned by Scott Motors (Saltaire) Limited, Shipley, West Yorkshire, England and was a well-known producer of motorcycles and light engines for industry. Founded by Alfred Angas Scott in 1908 as the Scott Engineering Company in Bradford, Yorkshire, Scott motorcycles were produced until 1978.

Singer Motors
Singer Motors Limited was a British motor vehicle manufacturing business, originally a bicycle manufacturer founded as Singer & Co by George Singer, in 1874 in Coventry, England. Singer & Co's bicycle manufacture continued. From 1901 George Singer's Singer Motor Co made cars and commercial vehicles.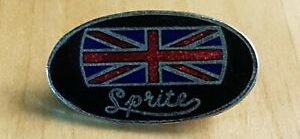 Sprite
Sprite was an historical British brand of off-road motorcycle, built by Frank Hipkin, of Hipkin & Evans, trading as Sprite Motor Cycles, initially at Cross Street, Smethwick, Birmingham and later by Sprite Developments Ltd., Halesowen, Worcester (1965–1971). The Sprite slogan was "Built by riders—for riders".
Stevens Motorcycles
Stevens Motorcycles was a company founded by the Steven brothers (the same brothers who founded the A. J. Stevens & Co. Ltd). The new company aimed to make 3-wheel delivery vans. These used a 588 cc single-cylinder engine driving the rear wheels through a 3-speed gearbox and chain drive. The van could carry 5 cwt. It was improved in 1935 with a shaft drive and upgraded to 8 cwt. The last ones were made in 1936. In 1934 they also produced a new range of motorcycles under the Stevens name. These were made until 1938 after which the company continued until 1956 as a general engineering business.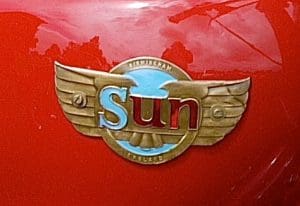 Sun
The Sun Cycle & Fittings Co. Ltd. was an English manufacturer of motorcycles, mopeds and bicycles. The company was based in Aston, Birmingham. The company was founded as James Parkes & Son, a brass foundry producing lamp fittings and various other products. In 1885 the company started to manufacture frames and fittings for the bicycle trade. In 1897, the company became The Sun Cycle & Fittings Company Limited, and around the same time began making its own bicycles. The first Sun motorcycle was produced in 1911.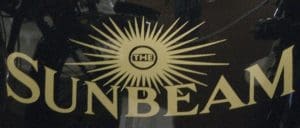 Sunbeam Cycles
Sunbeam Cycles made by John Marston Limited of Wolverhampton was a British brand of bicycles and, from 1912 to 1956 motorcycles. Sunbeam Cycles is most famous for its S7 balloon-tyred shaft-drive motorcycle with an overhead valve in-line twin engine.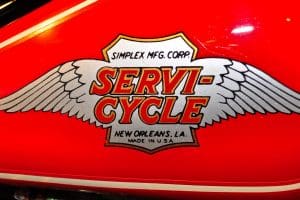 Simplex Manufacturing Corporation
Simplex Manufacturing Corporation was an American manufacturer that made motorcycles from 1935 to 1975. Between 1935 and 1960, Simplex made variations of the Simplex Servi-Cycle including the 1953–1960 Simplex Automatic. Simplex was the only motorcycle manufacturer located in the Deep South for many years, until Confederate Motorcycles began production.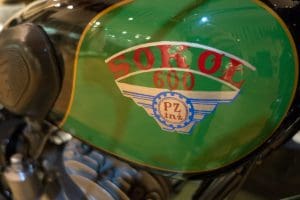 Sokół
Sokół was a brand of motorcycles manufactured in Poland before World War II for both civilian and military use. Initially designed and produced by the Centralne Warsztaty Samochodowe CWS company (Central Automotive Workshops), they were continued after its takeover by the PZInż between 1934 and 1939.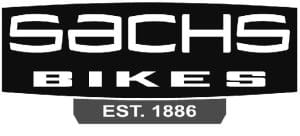 Sachs Motorcycles
Sachs Motorcycles is a German-based motorcycle manufacturer, founded in 1886. It is one of the world's oldest motorcycle manufacturers, and manufactured their first motorcycle in 1904. Peugeot, the oldest extant, began manufacture in 1898. Indian Motorcycle began producing bikes in 1901.Triumph produced bikes in 1902 and Harley-Davidson and Husqvarna both in 1903. The company produced ball bearings, motorcycle engines and bicycle parts. Sachs Motorcycles was a subsidiary producing motorcycles, mopeds, motorised bicycles and all-terrain vehicles (ATVs). The manufacturing of motorcycles was broken out of Sachs into its own company and the parent company producing automotive parts was bought by ZF Friedrichshafen AG to form ZF Sachs.