The all-new Moto Guzzi V9 Roamer and Bobber arrives in Australia in June to take on the new 900cc Triumph Bonneville Street Twin.
Both V9 models will arrive at $16,500 which is substantially more than the $13,350 Triumph Street Twin, but less than the 1200cc T120 Bonneville which is listed at $17,000 to $19,490 depending on where the dealer is located.
While the Triumphs are now water-cooled and more potent, the Guzzi remains an air-cooled, shaft-driven alternative.
They are built on a completely new platform from the Italian manufacturer with both powered by the air-cooled 853cc, transverse, 90-degree, V9 engine with 41kW at 6250 revs and 62Nm of peak torque at 3000Nm with a six-speed transmission.
By comparison, the Street Twin has 40.5kW of power and 80Nm of torque from the 900cc parallel twin with chain drive and a five-speed transmission.
The V9 Roamer will be available in Giallo Solare (yellow), Bianco Classico (white) and Rosso Rubino (ruby red) while the V9 Bobber comes in Nero Massiccio (black) with yellow highlights on the tank and guard and Grigio Sport (grey) with red highlights on the tank and guard.
Like the new Triumphs, the Guzzis arrive with a host of electronics such as ride-by-wire throttle, two-channel ABS, adjustable two-stage traction control, key immobiliser and USB socket.
You can also option up with the Moto Guzzi Multimedia app which includes information such as speedometer, rpm indicator, engine power and torque, instant and average fuel consumption, average speed, battery voltage, longitudinal acceleration and extended trip computer. It also shows you where the fuel stations are when you get low on fuel and guides you on how to ride economically.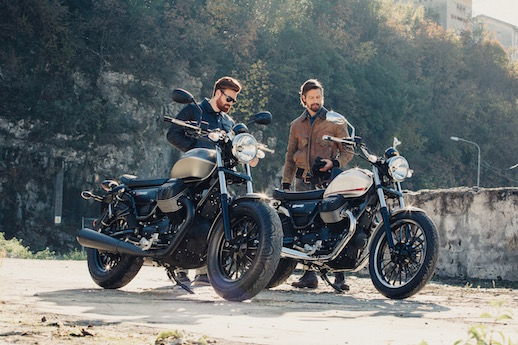 The Guzzis have 40mm forks, Brembo brakes, 320/260mm brake discs, 15-litre tanks, metal fenders, aluminium side panels and weigh 199kg in running order, without fuel.
Compared with the Street Twin, it has a 3-litre larger tank, weighs 1kg more and has bigger brakes.
The retro-styled Roamer and Bobber feature 22-spoke wheels rather than the wire wheels of the V7 range, single front discs, thin seats and a single round instrument pod.
The Bobber has hi-profile Continental ContiMilestone "balloon" tyres on 16-inch wheels while the Roamer has more conventional rubber and a 19-inch front wheel.
As the name suggests, the Bobber has shortened fenders and matte exhaust while the Roamer has more chrome and gloss paint.
The Roamer has an 87cm seat height and the Bobber is lower at 78cm, which are both higher than the Street twin at 75cm.
Dealers are already taking orders for the classy new Guzzis.