Moto Guzzi has revealed that its retro V7 will have modern two-channel ABS and traction control in 2015. It will be called the V7 II.
While ABS will be a welcome safety addition, you have to wonder about the need for traction control on a 744cc lazy V-twin with just 37kW of power and 60Nm of torque. It hardly breaks a sweat, let alone traction!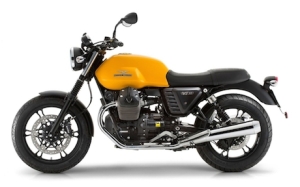 Traction control will only add to the price of the bike which already struggles against the cheaper Triumph Bonneville.
I suspect ABS and traction control may only be offered as options on the stripped-down Stone edition which is a wonderful blank canvas for customisers, while it may come as standard on the flagship Special and Racer models.
While the V7 doesn't get any extra power, it may be a livelier and sportier ride with a six-speed transmission and new clutch will hopefully be lighter than the current heavy lever. The step up from a five-speed gearbox will give it the edge over the Bonneville. It may also improve the bike's touring range from the 17-litre fuel tank.
Moto Guzzi has also tilted the V7 engine forward by 4 degrees for more knee room. Together with a lower seat and lower footpegs, it should attract a wider variety of riders, tall and short.
So far, Moto Guzzi has only revealed images of their Stone model, but it appears to have dropped the pillion handles and replaced the chrome on the rear springs, taillight and mirrors with matte black.
The full range is expected to be unveiled at the Intermot motorcycle show in Cologne next week.